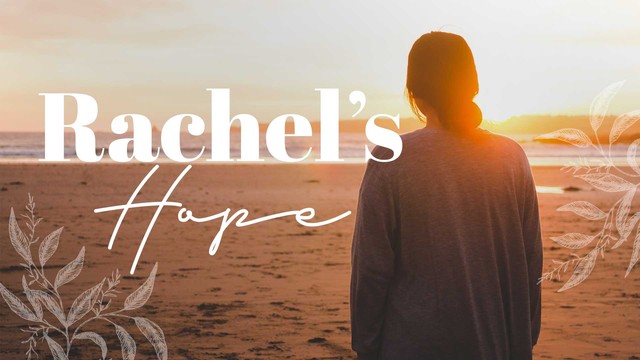 A Faith that Saves
Dannah Gresh: This is Revive Our Hearts with Nancy DeMoss Wolgemuth, co-author of You Can Trust God to Write Your Story, for Tuesday, May 5, 2020. I'm Dannah Gresh.
When Rachel Barkey was diagnosed with terminal cancer, it gave her important perspective.
Rachel Barkey: In His providence, God has used the tough things in my life to draw me closer to Him, to show me His great love, and to teach me many things. I have learned that I am not perfect, and I have the scars to prove it, thirteen of them. They serve as a physical reminder of a spiritual reality that I can never be perfect on my own. I need a Savior.
Nancy DeMoss Wolgemuth: Proverbs 31 tells us that a wise woman is clothed with strength and dignity and that she smiles at the future. I've thought of that verse when I first listened …
Dannah Gresh: This is Revive Our Hearts with Nancy DeMoss Wolgemuth, co-author of You Can Trust God to Write Your Story, for Tuesday, May 5, 2020. I'm Dannah Gresh.
When Rachel Barkey was diagnosed with terminal cancer, it gave her important perspective.
Rachel Barkey: In His providence, God has used the tough things in my life to draw me closer to Him, to show me His great love, and to teach me many things. I have learned that I am not perfect, and I have the scars to prove it, thirteen of them. They serve as a physical reminder of a spiritual reality that I can never be perfect on my own. I need a Savior.
Nancy DeMoss Wolgemuth: Proverbs 31 tells us that a wise woman is clothed with strength and dignity and that she smiles at the future. I've thought of that verse when I first listened to a moving message from Rachel Barkey, a godly woman who smiled at a future that would have caused many other women to give in to despair.
If you missed part one of Rachel's message yesterday, please be sure and visit ReviveOurHearts.com where you can listen to yesterday's program. Rachel delivered this message in March 2009. She had just been told that she had only weeks to live. She was on fourteen medications and was only strong enough to be out of bed for a few hours each day.
In the part of the message we heard yesterday, Rachel talked about the importance of knowing God and knowing yourself if you're going to be able to face the future with confidence. In the second half of her message, Rachel talked about two other things we've got to know if we're going to be able to smile at the future. 
I think that's so key in the weeks like what we're living through—days full of uncertainty. How can we smile at the future? Well, let's listen to that message from Rachel Barkey.
Rachel: Know the gospel. The gospel, for those who are unfamiliar with the term, means "good news," the good news that, in light of God's perfection and our imperfection, God has made a way for us to know Him, and that way is Jesus.
Paul, speaking in his letter to the church in Corinth says,
For I delivered to you as of first importance what I also received: that Christ died for our sins in accordance with the Scriptures, that he was buried, that he was raised on the third day in accordance with the Scriptures (1 Cor. 15:3–4).
When I was a kid, I must have prayed a bunch of times for Jesus to come into my heart. I thought that I had asked Him to come in, but I was afraid He might have left.
Then when I got older and was sure that He hadn't left, I didn't really understand the difference that it made for me now. I had my ticket to heaven, so to speak, but what difference did this good news make to me now, today? All the difference in the world, and let me tell you why.
What happened on the cross at Calvary was that every sin of every person was placed on Jesus, and God the Father poured out His wrath on His Son. God looked at Jesus, His Son, as if He had committed the sins of horrible men and women and was punished for it, not just the murderers and the child molesters, yes, them too. But my sins and your sins, all the pride, all the selfishness, all the lies, all the unkind thoughts and actions.
The second part of Isaiah 53:6 talks to this. The first part we read earlier is about our sin, and then we find out what God has done with it.
All we like sheep have gone astray; we have turned every one to his [or her] own way; and the LORD has laid on him [Jesus] the iniquity of us all.
When you know the gospel, when you know what has been done for you and you remind yourself of it every day, you don't get offended when someone criticizes you because you realize that you actually deserve much harsher criticism, but you've avoided it because of Jesus.
You forgive your husband or your friend when they slight you or treat you unkindly because you realize how much you have already been forgiven because of Jesus.
The gospel is not just a ticket to heaven. It is a whole way of living. Some of you who know Jesus still struggle to understand how this applies to your daily life, and even if you do understand, my challenge to you is this: talk to yourself.
Martyn Lloyd-Jones says, "Have you realized that most of your unhappiness in life is due to the fact that you are listening to yourself rather than talking to yourself?" We do it to ourselves every day. Every morning, we wake up, and it begins.
"What day is it? Wednesday, oh great, another day of laundry and errands. It is never ending." I realized that I was spending more time listening to myself rather than talking to myself. But because I knew God, I knew myself, and I knew the gospel, I began to remind myself of these truths daily. If you haven't already:
Make and stick to a plan to read the Bible.
Join a small group Bible study.
Read good books, and I mean books that might even make you uncomfortable.
Choose friends who want to know Jesus like you do. I have great friends. I don't do many things well, but the one thing I have done well is to pick good friends.
Choose a good church that talks a lot about Jesus.
Because I have done these things, in the midst of conflict, I am able to remind myself of the gospel.
The final thing I have learned: know your purpose. The Westminster Catechism (a lot of you probably haven't heard that one before) states, "The chief end of man is to glorify God and enjoy Him." This seems at first blush a rather odd thing to have as our purpose. It goes against everything our culture tells us that we should want or live for.
First of all, to glorify God, what kind of purpose is that? Is God arrogant, selfish, or meglomaniacal to want things for His glory? I wish I could answer that for you in depth. Time does not permit, but ask it. Ask it and seek the answer.
Don't just dismiss God or assume that you know who He is because you don't understand Him. He is knowable. If you seek the truth, it will stand under the hard questions.
As a brief answer, we start where we began. Know God. We know God is perfect, and so His desire for us to glorify Him is rooted in this perfection. One author explains this when he says,
When a human glorifies himself, he robs others of joy, but when God displays and exhibits His glory, He shares joy with His creatures and wholeness with all creation. Put most directly, without the knowledge of God's glory, we would be robbed of true joy.
How do we glorify God? The answer is in the second part of the equation—by enjoying Him, by knowing God, by being like Jesus. What did Jesus do? He served. Mark 10:45 says, "For even the Son of Man came not to be served but to serve, and to give his life as a ransom for many." He came to serve us, and He did it joyfully.
A few years ago, I was struggling with the daily grind of constantly cleaning and tidying, laundry (which I detest), trying to meet project deadlines, cooking meals and washing dishes, replying to work emails, refereeing disagreements with the kids, homeschooling, only to turn around the next day or even the next moment to have to do it all over again. I thought, "Is this it? Is this all that I'm supposed to be doing?"
Right about that time, I came across a blog of someone who put it so succinctly, it has stuck with me ever since. They said, "I am here to serve with joy." Up until that point I had been serving. Believe you me, I was serving and serving and serving—meals, sippy cups, snacks, housekeeping, diaper changing, toothbrushing, organizing.
I was serving—just like Jesus, but I wasn't doing it with joy. Big difference. Being here tonight is part of fulfilling my purpose to serve with joy because I know that one of my roles is to encourage and challenge other women in the church. Titus 2 says,
Older women likewise are to be reverent in behavior, not slanderers or slaves to much wine. They are to teach what is good and so train the young women to love their husbands and children, to be self-controlled, pure, working at home, kind, and submissive to their own husbands, that the word of God may not be reviled (vv. 3–6).
Now, there is a lot in there to talk about, but the point is that I am an older woman, despite the efforts of Oil of Olay and some serious concealer. One of my God-given roles is to help other women serve with joy.
Another role in which I serve with joy is to share my faith with those who are not Christians. First Peter 3:15 says,
Always being prepared to make a defense to anyone who asks you for a reason for the hope that is in you; yet do it with gentleness and respect.
I hope that I have done that tonight for those of you who do not yet know Jesus. And it is for my children.
Deuteronomy 6:7 says,
You shall teach them [talking about the things of God] diligently to your children, and shall talk of them when you sit in your house, and when you walk by the way, and when you lie down, and when you rise. 
I asked that tonight be videoed so that some day Quinn and Kate would be able to watch this and to hear my heart. I have been blessed to be their mother for these years.
I have many roles, including others not mentioned here, most noteably being a wife, but in all of these I have one purpose—to be like Jesus, to serve with joy.
Many have asked why. Why is this happening to you, to Neil, to Quinn and Kate, to your family and friends? I don't ask why because I know the answer, and here it is. We live in a sinful world. Bad things happen, but it was not supposed to be this way, and it will not always be this way.
God has a plan. He has made a way for sinful people, you and me, to be with Him in a perfect world. The way is Jesus.
Acknowledge that you have sinned and that you have a serious problem before you in light of a God who is perfect and just.
Recognize that there is nothing you can do to save yourself.
Trust that Jesus, who died to pay the penalty for your sin, has risen from the dead and given you His righteousness.
This is the way to know God and someday be free from this world of disease and pain.
Second Peter 3:9 says this,
The Lord is not slow to fulfill his promise as some count slowness, but is patient toward you, not wishing that any should perish, but that all should reach repentance.
So God is being patient, patient so that everyone has the opportunity to repent and to make things right with Him. That is why there is evil and suffering in the world, because when He does return to bring judgment, there will be no second chances.
I am dying, but so are you. Neither of us knows if he will even see tomorrow, and perhaps the reason that I am suffering now, the reason that God is waiting to bring judgment against all the evil in this world, is because He's waiting for you, for you to acknowledge your sin and to turn to Him for forgiveness. Maybe you are the one we are waiting for.
Jesus suffered. God did not spare Him. Why would He spare me if my suffering would result in good for you? If my suffering is the means that God would use to bring even one person to Himself, it is an honor for me to suffer.
Does that seem strange? I suppose it does, but really, it is the only way that all of this makes any sense at all. A God who sees my suffering but is unable, or worse, unwilling to spare me? A God who sees my suffering but allows it with no greater purpose or hope? My God is able to save me, and He will; but save me from what? From a life without Him.
There is a place where there is nothing good, not even a gentle rain or a child's laugh. It is a place where everything that we despise about this world, the evil, the injustice, is the rule with no exceptions. Hell is a physical place where God is not.
Instead, He will bring me to a perfect world where He is, heaven, where life is full of wonder, adventure, and joy, everything good, for all eternity. My God is able to save me, and He will. This suffering is temporary, and the life I will live in eternity will make all this seem light and momentary.
As one speaker explained, "God allows in His wisdom that which He could easily prevent by His power."
I chose the title of this talk, Death Is not Dying: A Faith That Saves. The first part came from one of my favorite preachers and authors, Charles Spurgeon, and the second came from another of my favorite teachers, our Pastor at Westside, Norm Funk, when he recently posed the question from James 2:14, "Can that faith save?" He pointed out the most important word in that verse is the word, that.
Can that faith save? We all have faith in something, but not all faiths save. The faith I have saves, so when I say that death is not dying, the part of me that will die is only a shell.
The next few weeks or months will not be pretty. Bone cancer is intensely, intensely painful, and I am already bedridden for almost the entire day, taking three, sometimes four different medications to control the pain.
Liver cancer causes intense nausea. Last Saturday I woke up, and I instantly had to run to the washroom to throw up. I did not stop throwing up all day, and just last week when we learned that the cancer has spread to my skull, it made sense because it has started affecting the nerves in my face.
I have not felt hungry in more than two months. Any food I do eat is forced down, but it will not always be this way. Soon I will become too weak or in too much pain to get out of bed at all. It will become harder and harder to eat and drink. My body and the cancer will fight over the few calories that I do consume. Eventually, the cancer will win, and I will starve to death.
That is the most likely scenario. I have lived a seemingly picture-perfect life from the outside looking in. In truth, I have been very blessed, but in my life there have been many difficult things that the Lord has allowed.
I have known the shame of being sexually abused. I have made poor decisions in relationships and have hurt others and have been hurt as a result of them. I have known the searing pain of loss with the death of a loved one. I have been diagnosed with cancer twice now, and this second time, barring a miracle, will end my life before I reach my 38th birthday.
In His providence, God has used the tough things in my life to draw me closer to Him, to show me His great love, and to teach me many things. I have learned that I am not perfect, and I have the scars to prove it, thirteen of them. They serve as a physical reminder of a spiritual reality that I can never be perfect on my own. I need a Savior.
I have learned that the greatest evidence of God's love is seen when I stand at the foot of the cross. He took my shame upon Himself and rescued me. I have learned that being a Christian is not just hope for the future, although it is most definitely that, but that it is the joy of knowing and trusting in a God who is loving and faithful no matter what the circumstances.
So, when I say that death is not dying, death will not kill my soul. It is eternal just like yours. It is just this physical body that will die, but even it will be raised again just like Jesus. It will be better than the one I have now.
Like everything, it will be better because God is going to make everything new, and I know this, why? Because I know God. I know myself. I know the gospel, and I know my purpose. I know I have a faith that saves because my faith is in Jesus alone.
Nancy: I can't help but ask you today, do you have the kind of hope that Rachel Barkey described in that message? She knew her time was limited, and she went home to be with the Lord just a few months later, in the summer of 2009.
Whether or not you've been diagnosed with a life-threatening disease like cancer or COVID-19, the fact is, your time is still limited. None of us knows how many years or months or weeks or even just days that the Lord will allow us to have here on this earth. Like Rachel, however long or short your life may be, you can have true hope through faith in Jesus Christ. I want to encourage you, don't put off finding that hope.
Dannah: We want to recommend a resource to you that will explain what it means to find that kind of hope. It's a small book by Dr. Erwin Lutzer. The book is called How You Can Be Sure That You Will Spend Eternity with God. If you're not sure but you'd like to be, or perhaps as you've listened to Rachel's message, you have taken that step to turn your life over to Christ. I want to invite you to contact us, and we'll be glad to send you this book at no charge. The number to call is 1–800–569–5959. And when you call, just ask for that book, How You Can Be Sure.
Many listeners wrote to us to say how moved they were by Rachel's message. Here's what one woman said:
Woman: "Rachel, your story has literally turned my life around. Life is temporary for all of us, and we have a mission and a purpose. I've been wallowing in me, me, me, like you spoke about. My heart has been coated with cold steel for years. This morning, I begged God to melt it, and mold me into His sculpture. I thank you for your talk. May God bless you."
Nancy: Praise God for how He's at work through messages like the one we heard from Rachel Barkey. We are so grateful for the opportunity to present the truth of God's Word each weekday here on Revive Our Hearts. What an incredible joy it is to be used by Him to build up and encourage His people. You know, we're able to provide resources to new and older believers alike, thanks to friends just like you.
Revive Our Hearts is a listener-supported ministry. That means we count on your prayers and your financial support. That's what allows us to continue broadcasting in your area and by means of podcast and in reaching women around the world. I know these are difficult times for many people. Some have lost their jobs. Some are in dire financial straits right now. That may be you. We know not everyone can give in a way that they normally would or they way they would really want to. We also would not want you to do anything to take away from your regular giving to your church. That's really needed at this time. But if the Lord has met your need and you're able to help, I want you to know that our daily needs are ongoing at Revive Our Hearts.
In fact, we're trusting the Lord here at this fiscal year-end month to provide a significant amount above and beyond our what our normal monthly income would be. The Lord is our major Donor, with a capital "D." We're looking to Him. I just ask, "Would you pray with us that the Lord would meet the needs of this ministry?"  And would you ask Him how He wants you to get involved in meeting that need—through your prayers and if possible, through your financial support as well.
Dannah: If the Lord prompts you make a donation of any size this month, we'd like to send you a new book by our friend, Erin Davis. It's  called Uncommon Compassion. It will help you understand how much compassion God has shown us. And when you get that, compassion is going to spill out from your life to others, and we certainly need that right now. Let us know you'd like the book, Uncommon Compassion when you donate at ReviveOurHearts.com, or ask for it when you call 1–800–569–5959.
Tomorrow Rhonwyn Kendrick will join us. Her sons, Stephen and Alex, have brought us movies like War Room. As they've gained national recognition, this mom has been behind the scenes, devoted to prayer. You'll be reminded of the power of a mother's prayer tomorrow.
And to close, Nancy will you lead us in prayer?
Nancy: O Lord, how I thank You for the power of this life message which we've heard today, for the power of the gospel, for the power of this testimony through the life of one who is now with You in Your presence forever. O Father, I pray that You would use Rachel's testimony to do a fresh work of grace in many hearts, that we would truly know You, that we would know ourselves, that we would know the gospel, and that we would know our purpose, to please and honor and glorify You in this life and for all of eternity. I pray it in Jesus' name, amen.
Pointing you to the power of the gospel, Revive Our Hearts with Nancy DeMoss Wolgemuth is an outreach of Life Action Ministries.
All Scriptures are from the English Standard Version unless otherwise noted.
*Offers available only during the broadcast of the podcast season.
For a donation of any amount