Mary Kassian: What? Oh!
Nancy: Mary, it looks like you have a call.
Mary: Oh, you guys!
Nancy: Somebody really special.
Brent Kassian: Happy Anniversary, Sweetie!
Nancy: Hold on, hold on so everybody can hear this. Today is Mary's thirty-second anniversary. And I asked you a little bit ago if you had talked to Brent yet, and you said, "No, we had an early call time." And so look who's here live and in person on Skype.
So, thirty-two years ago what was happening right about now?
Mary: I was probably just getting dressed because the ceremony was at five because I wanted everything to be dark because it was Christmasy, and all the lights and all the candles and poinsettias were all over the church.
Nancy: So Brent, thirty-two years later, what do you love and appreciate about Mary that you didn't so much realize back then?
Brent: Well, I think some of the things that you realize and appreciate, they just get better. For me, anyway, it's been a little bit like a fairy tale. I know it hasn't been perfect, but I still have to poke myself. It still seems like a fairy tale. Maybe I'm a romantic at heart, but it's true.
And it's also true that a couple, a family, that prays together, they stay together, and they play together. It's true. It's really, really true. So the Lord has such a wonderful plan there. I've got to poke myself today. I can't believe I'm married to this amazing woman.
Nancy: Well, we wanted to bring you a little closer together on your anniversary. Thanks for sharing her with us.
Mary: Love you!
Brent: Love you lots. And both of you just have a great time with the rest of your sessions. I'll be thinking of you and praying for you. Love you, and I miss you lots.
Mary: Okay. Miss you, too, sweetheart.
Nancy: Happy Anniversary!
Mary: Thank you! I can't believe you were recording that.
Nancy: Well, it seemed appropriate as we're talking about loving husbands and children. And we've got to reset to how we got to this loving husbands and children thing. We're in Titus 2. We're talking about the elements of biblical womanhood. We started with discernment—that a true woman has right thinking; it's rooted in God's Word. And then in the last session, we talked about how she has honor and reverence for God.
And then as we get to that Titus 2 passage, this is perfect on your anniversary. It says that "older women are to teach the younger women to train them to love their husbands and children" (see v. 4). Now, you think that would not have to be trained.
Mary: Well, you would think you go in to marriage and you are so much in-love that it's just going to be really easy for the next thirty, forty, fifty years and that nothing will ever rock the boat and make it difficult. But it does need training. And I know that I've benefitted from older women in my life who have been examples to me.
I think of one woman, and her name is Ann Gill. She won't mind me telling this. But I watched her. I was over at her home one day, and her husband was leaving for work. And as he left, she ran to the window and waved goodbye. And this was an older woman. They had already been married thirty years or more. And I thought, That's just really incredible that she would do that.
And so I thought, "Okay, well, I guess maybe I'll start doing that." And so when Brent leaves in the morning and before I go to work in my office, I started doing that. I went to the window and took the dog with me. …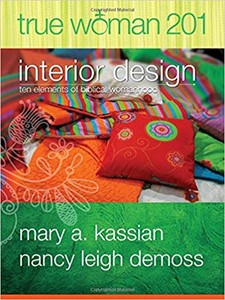 Get Your Copy
True Woman 201: Interior Design
(ten elements of biblical womanhood)