Erin Davis: Well, pop in your ear buds or turn up the volume in your car or wherever you're listening, and pull up a chair. I invite you back into the conversation we're having here on the Women of the Bible Podcast about Rahab.
We're walking through a study together—Rahab: Tracing the Thread of Redemption. I hope you're not hearing us for the first time. I hope you're walking through this study with us. But just in case, I want to introduce you to some favorite friends of mine. We're studying the life of Rahab together in Joshua 2. I'll let you introduce yourselves, actually, and I want to know your favorite color. Go ahead.
Paulina Torres: Well, my name is Paulina. It depends if it's for clothes or jewelry, but I like black.
Erin: You do?
Paulina: I do.
Erin: That's okay. It's good for clothes.
Paulina: It is!
Erin: And everybody looks good in it.
Paulina: And it makes you look thinner!
Erin: Yes, it does! (laughter)
All right. Paulina, where are you from?
Paulina: I'm from Mexico.
Erin: And so English is not your first language.
Paulina: Yes. So please be patient.
Erin: You're doing so well—amazing. I don't know that I would even know that from listening to you.
Paulina: Well, thank you.
Erin: But you had to track down an English Bible.
Paulina: Yes. I had two in my house, and I needed to know which one to use.
Erin: How many Spanish Bibles do you think you have in your house?
Paulina: A lot—different colors, different translations.
Erin: So, you're listening to me; you're translating what I say, then you're thinking your thought, and then you're translating what you're going to say.
Paulina: A little bit. Not as much.
Erin: You're doing great!
Paulina: Thank you.
Erin: And your favorite color is black.
All right, I'm going to throw it to you.
Lisa Whittle: My name is Lisa. I'm from North Carolina. My favorite color . . . I'm going to go completely opposite. Mine is white. I love white. I think everyone looks good in white.
Erin: Um . . . no, I don't.
Lisa: You don't?
Erin: I have a very specific family photo where we were all on the beach and all in white, and it was terrible.
Lisa: I love the color white. All of my walls in my house are white. I just think it's a really nice canvas to do other things to. That's my story, and I'm sticking with it.
Erin: Well, okay. We have black, and we have white. I like yellow. That's my favorite color. So, I'm Erin, and my favorite color is yellow. Although, if you were in my home, you wouldn't see one stitch of yellow, and I never wear yellow.
Paulina: Maybe it's not really your favorite color.
Lisa: You like the idea of yellow.
Erin: I like the idea of yellow. I want to be seen as a happy person. I took some assessment somewhere that told me yellow was my color.
Paulina: Okay, there's some psychology to it.
Erin: Well, I really do love yellow.
Well, we're not here to talk about us. We're not here to talk about our favorite color. We're here to talk about Rahab, but we're going to talk about color a lot in this session because there's a very specific color in this story that means a lot to what we're trying to talk about. In fact, we all decided to wear that color and to showcase it. I have the red scarlet thread we're getting ready to talk about.
So we all wore red. Lisa wore a red shirt.
Lisa: Yes. I normally wear red.
Erin: I just wear a little pop. I had to go to Kohl's. I had to buy …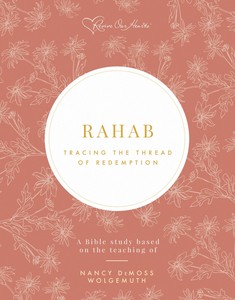 Get Your Copy
Rahab: Tracing the Thread of Redemption