Robyn McKelvy: One of my daughters just asked me what do I get to talk about. I get to talk about the truth about children. I wonder why? (laughter) But anyway, I'm going to tell you about the truth about children, but I can't start there. In order to start telling you about the truth about children, I have to talk about the Father of all children first.
God has always been, and He will always be. Amen? He is God. Amen? He is the creator of heaven and earth. Do you believe that? He is all knowing, all wise, and all powerful. He is all everything. Amen?
So in the beginning, God created all that was to be created, including man that He created in His image, after His likeness. God left mankind with eleven words, if you read the ESV, He left them eleven words. That was: "be fruitful, multiply, and fill the earth and subdue it." This was God's Plan A.
Now, if God's all knowing, there was never a Plan B. Amen? He knew that the serpent would try to get mankind to believe God was holding out on them. God knew that. He is all knowing. He knew Cain would kill Abel and be exiled. He knew that. He knows the enemy continues to steal, kill, and destroy everything God has created. But God had a Plan A.
How do I know this? Well, over seventeen times in Genesis alone, God says "be fruitful and multiply," or promises to make someone fruitful and multiply. A lot of occasions in the Scripture it says, "And God blessed them and said be fruitful and multiply."
So why of all things that God could bless us with, why did He tell us to be fruitful and multiply? Because this was God's Plan A. Okay?
When I first became a Christian, I wanted to do everything the Word of God said to do. I read that children were a blessing from the Lord, so I was like, "Lord, bless me." So I was blessed with fifteen pregnancies. Yeah, yeah, yeah, yeah. (laughter) And you know, there are some of those churches that you go to, and they say, "Who has the most kids?" And so I was over there, and the lady would be, like, "four," or whatever, and I'm like, "If you need me to take off my shoes to count the rest, I will." (laughter)
It's easy to think that childbearing is about us. Childbearing is not about us. Being fruitful and multiplying is not about just multiplying. God said be fruitful first. And so, how do you do this thing called being fruitful?
John 15 says this:
I am the vine, my father is the gardener. He cuts off every branch in me that bears no fruit while every branch that does bear fruit he prunes so that it will be even more fruitful. You are already clean because of the word I have spoken to you. Remain in me, as I remain in you. No branch can bear fruit by itself; it must remain in the vine. Neither can you bear fruit unless you remain in me. I am the vine; you are the branches. If you remain in me and I in you, you will bear much fruit; apart from me you can do nothing. . . .

If you abide in me and my words abide in you, ask whatever you wish, and it will be done for you. By this my father is glorified that you bear much fruit and so prove to be my disciples. As the father has loved me, so have I loved you. Abide in love just as I have kept my father's commandment and abide in …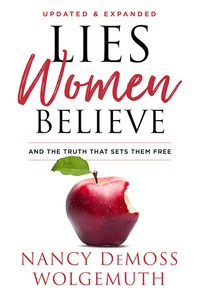 Get Your Copy
Lies Women Believe and the Truth That Sets Them Free