"Deceived"—drama that goes with sessions 1–3.
Mary Kassian: How many of you were ever in Girl Guides, or any kind of club where you had to win or earn merit badges? I was in Pioneer Girls, and there were all sorts of merit badges to earn. You could earn everything from sewing and baking to art, sports, citizenship, and I remember going out to a camp to earn my orienteering badge. We went out to the wilderness with a group of girls.
Now, orienteering is about using a map and a compass to find your way, especially through unfamiliar territory. Now, the needle of a compass always points north. You may not know that if you weren't in orienteering. (laughter) Orienteering teaches you to orient yourself to this reliable indicator. It enables you to stay on course and make it to your destination.
There were a few things that I learned while orienteering. First was how easy it was to get thrown off course when you're in a forest and having to go around trees and through culverts and scrambling over rocks.
And the second thing I learned was how important it was to check my compass often to make sure I was going in the right direction. The slightest deviation, even by just a few degrees, would take me off course, and I would miss going where I needed to go.
Truth is like the needle of a compass. God has given us the Word of God. The night before Jesus was crucified, He prayed, "Father, sanctify them. Make them holy by the truth. Your Word is truth." (see John 17:17)
Now, the reason humanity fell was that Eve entertained the suggestion that God wasn't truth, that His Word wasn't truth. Satan suggested that God wasn't being entirely truthful in what He told Eve and that He wasn't as great or as loving or as good as He made Himself out to be.
Satan's conniving, smooth talk caused just the slightest of shifts in what Eve believed about God. It nudged her heart and her mind just a few degrees away from truth, but that shift had enormous consequences.
Ever since that fateful day in Eden, people have had a really hard time believing truth, and our sin nature gives us a bent toward believing lies. And underlying all the lies are lies about the nature and the character of God. Wrong thinking about God causes us to have wrong thinking about everything else.
It's so easy to get thrown off course when we're moving through life around the trees and over the rocks that we encounter in life. That's why we always need to check and orient-correct our bearing, reorient our hearts to truth.
Spiritual orienteering . . . that's why you're here. Hope you'll earn your badge this weekend. You need your heart realigned to the truth about God, and so do I, and so did the disciples in the boat that stormy night who, in fear and panic, screamed at Jesus, "Don't You care that we're drowning?"
The disciples had known Jesus for a while, but their response during that storm revealed that they did not really grasp who Jesus was. Their thinking was off. They needed it brought back into line with truth.
I'm going to read the story of that stormy night from the gospel of Mark, chapter 4, beginning at verse 35:
That day when evening came, he said to his disciples, "Let us go over to the other side." Leaving the crowd behind, they took him along, just as he was, in the boat . . . A furious squall came up, and the waves broke over the boat, so that it was nearly swamped. Jesus was in the stern, sleeping on a cushion.

The disciples woke him and said …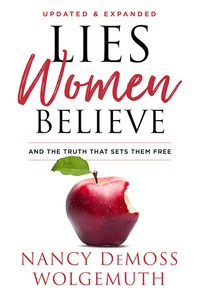 Get Your Copy
Lies Women Believe and the Truth That Sets Them Free