Nancy DeMoss Wolgemuth: Let's bow our hearts before the Lord.
Oh Jesus, would You come in these next moments and set captives free by the power of the cross and the power of Your love and the power of Your grace? I pray in Jesus' name, amen.
Well, we come today to a part of the passage we're looking at in Titus 2 to a phrase that you may feel when you hear this that maybe you can check out for this session. Let me assure you that this is not a time to check out. I need this session, and you need this session.
Titus chapter 2, verse 1: "Teach what accords with sound doctrine." And then he goes on to say sound doctrine has implications for everyday life—for men, for women, for younger, for older—and here's what that looks like when sound doctrine meets life.
Verse 2: "Older men . . ." Then this is what it should look like in older men.
Verse 3: "Older women, likewise, are to be reverent in behavior."
Reverent in behavior—this is what flows out of the gospel. Then he gives two specific, practical applications.
Number one: "Older women should not be slanderers." We've looked at that phrase. The tongue is impacted by the gospel. Women who are reverent in behavior don't tear other people down with their words—either verbally, in print, online. We don't slander. Well, sometimes we do, but when we do, we realize that's not becoming of us as redeemed women of God. That's not the way a reverent woman uses her tongue.
And then, not slanderers, and also, not slaves to much wine. Women who are reverent in behavior use their tongues in a way that honors God and builds up others. And women who are reverent in behavior are temperate in their lifestyle. This is what reverent in behavior looks like. It affects the way we talk and the way we walk. This is the outflow of sound doctrine in a woman's life. It's a certain kind of speech and a certain kind of behavior.
So I want us to spend these moments just exploring, meditating on, pondering, and letting it soak deep into our hearts this phrase: "Not slaves to much wine." Some of your translations may say, "Not addicted to much wine." Or one translation says, "Not enslaved to much wine."
Now, on first reading it, it makes you wonder what in the world was going on with these women in the church in Crete. (laughter) Like, were they all just binging and having drinking parties? What were they doing? And why this emphasis to women and to older women in particular?
Well, let me just say every word of God is inspired, and that means we need to take heed of what it says and to assume that it says something that is important for each of us.
"Not slaves to much wine." I think that speaks of:
first of excess, a spirit, a mindset of indulgence
the temptation to eat, drink, be merry
to live a life of ease
to pamper the flesh, to do whatever your flesh feels like doing
And as we get older, it's easy to feel, "I've paid my dues. I'm going to do something that makes me feel good."
So it speaks of excess. But I think this phrase also speaks of enslavement, of addiction. The word slave here means to bring into bondage, to be wholly given up to something or someone, to be enslaved, the condition of being held and controlled, in this case by wine, which becomes a master. So the person Paul is talking about here who is a slave to much wine is under the control of alcohol. And that means, …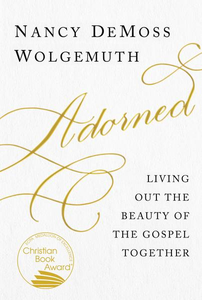 Get Your Copy
Woman to woman.
Older and younger.
Side by side.
Life on life.
This is God's good and beautiful plan.