Dannah Gresh: I have to tell you that when Nancy asked me to talk to you about the subject of purity, I got really overwhelmed. I love this topic. I have studied it for about twenty years, and I have this much content [huge], and she gave me this much time [tiny]! (laughter)
So we are not going to be doing "Purity 101 for Dummies" today. We are going to go to the barrier, the boundaries that God gave me were to find the topics and the truths that He wants us to embrace about purity right from the chapter we're in, in Titus 2. When I dug in, there are some really neat things.
But since I have just such a little bit of time, I kind of need to get right to the point on one thing, and that's this: I am not the poster child for purity. Can you identify? Maybe some of you in this room, like me, have spent some of your life not adorned in the gospel, but "adorned" in a cloak of shame and pain and secrets.
So many times, the bondages that women experience in their lives are related to the topic of purity, which isn't only about sexuality. But so much of our pain is about sexual impurity. It's not just the world that's broken . . . it's us! Let me share with you some statistics.
One thing that just breaks my heart is that, in recent years, erotica—a form of pornography that uses story lines and narrative rather than photos and videos to arouse—has nearly cannibalized the publishing industry. Here's what's sad:
There is virtually no statistical difference in the percentage of churched versus unchurched women who read the best-selling title Shades of Grey.
Sixty-four percent of men attending our churches say that they use pornography once a month, causing widespread pain to women in the church.
About forty percent of the women who have abortions each year have it while they're attending our churches.

We are broken! We are wounded! Adultery, divorce—sadly—not as uncommon as they should be in our church.
Ladies, here's the problem: We cannot display and adorn ourselves with the gospel when we look as addicted, as broken, as impure and as ashamed as the rest of the world! They're not going to want what we have if they don't see it working.
Today, I want us to dig into Titus. We're going to read verses 11–14 in chapter 2. I found three things in here that challenge us for this day and age—the condition and the state that we are in with impurity.
It reads: "For the grace of God has appeared, bringing salvation for all people, training us to renounce ungodliness and worldly passions, and to live self-controlled, upright, and godly lives in the present age . . . waiting for our blessed hope, the appearing of the glory of our great God and Savior Jesus Christ, who gave himself for us to redeem us from all lawlessness and to purify for himself a people for his own possession who are zealous for good works" (Titus 2:11–14).
There are three things that God put on my heart as I looked at these few verses—that don't seem to be that packed with truth about purity—but, oh, they truly are! And the first one is this: Purity is a process, not a condition.
When I wrote my first book, in the year 2000, on the topic of purity, you were a hero in the Christian community if you were talking about purity. Not so much anymore. I get letters all the time, people asking me, "Could you just not use the word 'purity?'"
Sometimes it's their moms, who deeply want their daughters to sit under my teaching …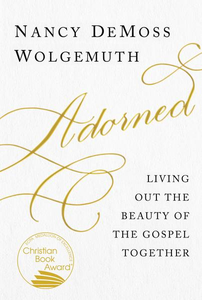 Get Your Copy
Woman to woman.
Older and younger.
Side by side.
Life on life.
This is God's good and beautiful plan.