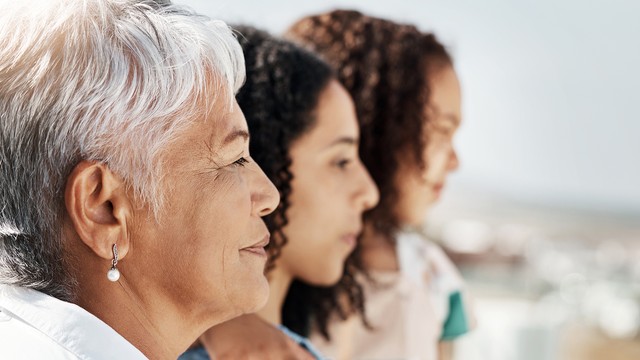 What Will You Pass On?
This program contains portions from the following episodes:

"Heaven Rules in the Midst of Loss"
-------------------
Dannah Gresh: We all know that our time here on the earth is limited. When you're gone, what do you hope your loved ones will remember you for? Here's how Colleen Chao answered that.
Colleen Chao: What do I want Jeremy and Eddie to remember me for? They could remember me for some grumpiness or selfishness, all kinds of things that I've failed them in. But I hope they know and remember how much I loved Jesus and how good Jesus has been to me.
Dannah: Welcome to Revive Our Hearts Weekend. I'm Dannah Gresh. 
Have you ever been given advice that really stuck with you? Say, a piece of wisdom that impacted your life? Or maybe it's someone's …
This program contains portions from the following episodes:

"Heaven Rules in the Midst of Loss"
-------------------
Dannah Gresh: We all know that our time here on the earth is limited. When you're gone, what do you hope your loved ones will remember you for? Here's how Colleen Chao answered that.
Colleen Chao: What do I want Jeremy and Eddie to remember me for? They could remember me for some grumpiness or selfishness, all kinds of things that I've failed them in. But I hope they know and remember how much I loved Jesus and how good Jesus has been to me.
Dannah: Welcome to Revive Our Hearts Weekend. I'm Dannah Gresh. 
Have you ever been given advice that really stuck with you? Say, a piece of wisdom that impacted your life? Or maybe it's someone's example of the way they lived? 
I remember growing up, my dad always said, "Never burn bridges. Even when you are having conflict with someone, that person is valuable. They are image bearers of Jesus Christ. You never know when they are going to need you, or you are going to need them." That just stuck with me. It changes the way I interact with people.
Just as we've received wisdom for navigating life, I want us to spend some time today thinking about what it is we're leaving for the next generation. For your children, nieces and nephews, grandchildren, your loved ones. When you think about what matters most, what do you hope to leave behind? 
Well, I'll tell you. My husband and I decided a long time ago that we wanted our grandchildren to be so close to us that they see us loving Jesus; they see us reading our Bible; they hear us praying; they witness us opening our home and talking to people on the phone when they are in crisis. We want them to have a front row seat to see us be first responders for Jesus Christ. It's a decision we made a long time ago. We want to be legacy-leaving grandparents.
Nancy's dad, Arthur DeMoss, he was a father like that. He passed away unexpectedly when Nancy was only twenty-one years old, but he shared some principles with Nancy that have had a big effect on her life. Here's Nancy, talking about just how important that insight has been for her.
Nancy DeMoss Wolgemuth: I was thinking about some of the things that my dad had taught me in the first 21 years of my life. I realized how many of those insights and principles—the legacy he left to me—has stayed with me in an incredible way.
I haven't heard him speak. I haven't been able to have him give me counsel, but he left a body of wisdom and counsel and instruction with me and with my siblings that has been incredible in its influence on my life. It's been foundational.
I've tried to apply in my life the things that my dad and my mom taught me during those early years of my life. I have to say that I am reaping incredible blessings today in my life because of things that my dad and my mom taught me in those earliest years of my life.
I'm starting to think about what legacy I want to leave to the next generation.
So the things I want to share that I learned out of my dad's life in those first twenty-one years of my life are things that I am so thankful to have been taught as a young woman, as a little girl, as a teenager.
Now, I want to start today with what for my dad was the bottom line of everything. I can say it in three words: Take God seriously.
My dad was a man who did take God seriously. He was not from a believing family by and large. He came to know the Lord in a personal way in his mid-twenties. He had been a rebel. He had not had an interest in spiritual matters. He had been very far from God, as we all are until God comes and seeks us and finds us and opens our hearts to know Christ and gives us faith and repentance.
From that point, Friday, October the 13, 1950, until the day he went home to be with the Lord twenty-eight years later, my dad never got over the wonder of what God had done for him. It never ceased to amaze him that God would have saved him, that God could have saved him, and that God would have given him a whole new life, made him a new creation.
So his way of thinking was that—and it needs to be our way of thinking—if you are a Christian, you are a new creation. Everything is supposed to be different. Our relationship with Christ is supposed to affect everything about our lives. It affects our goal for living—why we get up in the morning, why we exist.
My dad loved that verse in Acts chapter 20, verse 24, where the apostle said,
I consider my life worth nothing to me, if only I may finish the race and complete the task the Lord Jesus has given me—the task of testifying to the gospel of God's grace (NIV).
To my dad that meant it's not my business that matters. It's not my friendships. It's not my hobbies. It's not what I do with my time. What matters is that I do what God has called me to do, what God saved me to do—to make Christ known.
Life lived apart from God, life without God at the center is absurd. It's meaningless. It's empty. It's frustrating. Eating, working, relationships, any part of life, none of it makes sense and none of it provides any true satisfaction apart from God.
In Ecclesiastes 6:2, the writer says you can get wealth, you can get possessions, you can get honor, but if you don't have God at the center of your life, you don't have the capacity to really enjoy all those things you worked so hard to accumulate.
So as we come to the end of the book of Ecclesiastes, we see a counter-theme and that is, yes, life apart from God is meaningless, but life with God at the center is full. It's satisfying. It's purposeful. It makes all difference. Ecclesiastes chapter 8, verse 12 says, "It will be well with those who fear God." Fear God. That's the bottom line. Take God seriously. Fear Him. Honor Him. Make Him the center of your life. He is the center of the universe. 
So as I think back on the legacy my dad left me, that was the first point, the first thing that's been so foundational is to take God seriously.
Now let me add a second one here. If you've listened to Revive Our Hearts for any length of time, you've heard me say this multiple times before, and you will hear me say it multiple times again. That is start your day with God. 
It's no secret that the place I learned that is as a little child growing up in the DeMoss home where that was a way of life, where my dad emphasized, mostly by his example, the importance, the necessity of a daily quiet time, a daily devotional life. Call it what you want, but make sure you get it.
Now, this isn't a substitute for the fact that we walk with God throughout the day but that we need time each day set apart to be in the Word listening to God and then responding to Him in prayer and praise. This is what gives wisdom, perspective, direction for all the rest of life.
So many passages in the Scripture talk about the importance of seeking God early. "My voice You shall hear in the morning, O LORD; in the morning I will direct it to You" (Psalm 5:3 NKJV). Psalm 143:8: "Cause me to hear Your lovingkindness in the morning" (NKJV). Isaiah 50:4: "The Sovereign LORD . . . wakens me morning by morning, wakens my ear to listen like one being taught" (NIV).
Then in Proverbs 8:32–33 wisdom is actually speaking, and she says, "Now, O sons, listen to me: blessed are those who keep my ways. Hear instruction and be wise, and do not neglect it." Then wisdom says, "Blessed is the one who listens to me, watching daily at my gates" (v. 34). How often? Daily. Every day waiting beside my doors.
Joshua 1, Psalm 1—verses that tell us if we meditate on the law of the Lord day and night, we will be successful in everything that we do. Then James tell us that we need to receive with meekness the implanted Word. Not just reading the Word, but having a humble heart as we read it. Receiving it because it's able to save our souls. It's able to sanctify us.
James goes on to say, so don't just be hearers of the Word. Don't just listen. Do what it says (James 1:22, paraphrased). Receive with meekness. Submit yourself to the authority of the Word of God. I want to challenge you to listen to the Word, when you do whether it's in public reading of the Scripture from the pulpit or you're reading it privately, listen carefully.
As you start your day with God and then continue your day meditating on the Word of God—making it part of the warp and woof of your life—you will have blessing. You will have success. You will find wisdom. You will gain intimacy with God. You will discover and experience through all of your life the purpose for which God created you, and you will be able to fulfill that purpose because you've been filled with the Word of God.
I want to share another principle with you that my dad emphasized in our growing up years. I want to say he emphasized them mostly by his example. That's particularly true in the case of this third principle, which is simply stated: trust and obey.
You see, my dad taught us that God is sovereign, which is a sophisticated way for saying He is the boss. He is in control. He is the supreme ruler of heaven and earth for all of eternity. He is Lord. We don't make Him Lord. He is Lord.
And joy comes when we acknowledge that He is Lord; we rest in His Lordship. We trust His sovereignty, and we surrender to it. That means that God has the right to give, and God has the right to take away.
I saw my dad at seasons of gain and seasons of loss, seasons of joy and seasons of pain. I saw him in both kinds of seasons. And Ecclesiastes says, "There is a time for everything" (Eccl. 3:1, paraphrased). Those times will come into your life.
I watched my dad in times of loss and pain and grief resting in God's sovereignty, trusting that God knows what He's doing. He is all wise. He doesn't make mistakes. He can be trusted. Trusting that every event in my life is being orchestrated by a wise and a loving and a good God. Then nothing takes Him by surprise, and He can be trusted no matter what.
Dannah: Those are just a few tidbits of wisdom Nancy's father passed on to her. None of us know when we're going to die. Nancy's dad certainly didn't know he would pass away suddenly from a heart attack. The principles he shared with his children were simply ones that mattered to him—and they mattered enough that he made sure to talk about them and live them out. 
But sometimes, thinking about death gives us a new perspective of life. We've been talking about that quite a bit this month at Revive Our Hearts—about living and dying and keeping eternity at the front of our minds. 
I have a friend who does this so well. Colleen Chao lives with her eyes fixed on eternity. She received a diagnosis of stage four cancer (you may have heard some of her story earlier this week on our weekday program, Revive Our Hearts. 
Colleen and her husband are raising their son, Jeremy. She has had to grieve the thought of him continuing to grow up after she's gone. She's also been intentional about using her time well to prepare her son for what is to come. Here's Colleen.
Colleen: Early on, I knew Scripture would be paramount to preparing Jeremy for the good works God had prepared beforehand for him, not knowing even that he would follow Jesus, but obviously knowing that that was my mama's heart for him.
When he was a toddler, we did silly little actions and hand motions to memorize Scriptures, and they were short Scriptures. Then I started putting Scriptures to tunes; that helps me. He responded really well to that. We were able to get bigger and bigger chunks, because it was to music.
Colleen and Jeremy singing:
His kingdom shall never be destroyed; His dominion shall be to the end. (Dan. 6:26)
Colleen: I just thought if those could stick for long term, those tunes could come back someday whether it's persecution or suffering of a kind that I won't be around for—the Word is so living and active, sharper than any double-edged sword, piercing through to the joints and marrows of our soul. So, I knew that that would hold fast, despite the flaws in my motherhood and the great failures and weaknesses and ways that I've already messed my poor son up. But knowing the Word doesn't return void, and it would be fruitful and it would take effect for years to come, and it would send down roots and grow up a tree that would bear fruit.
Colleen and Jeremy singing:
I lift up my eyes to the hills; from where does my help come? My help comes from the Lord, who made heaven and earth. . . .
The Lord will keep your going out and your coming in, both from this time forth and forevermore. (Psalm 121:1, 8)
Colleen: Part of the heaviest grieving has come over my husband and son and what lies ahead for them, because I know my suffering will come to an end, but theirs will continue. My heart hurts, and I have to trust God in a new way with the dearest people in my life. To know that I won't be able to speak tenderly into their lives. I won't be able to love on them like I get to now when they grieve. That's where they're going to find more of God. That's where He's going to step in.
You know, I'm dispensable. I have to come to grips with the fact that God doesn't need me to do His work. He graciously, joyfully chooses to use me until He calls me home. 
But that one has been excruciatingly painful for me—and I can be a control freak—so just to say, "I don't have any control. I can't do anything about that." I have to trust them to God.
Paul talks so much about carrying around the death of Jesus in our bodies so that His life could be manifest. That truth is everything, as a mom letting go. In so many Scriptures, death brings life. He who is going to hold onto his life is going to lose it, and he who loses his life is going to gain it. 
To know the reality for my son is that somehow in my death, which seems to be nearer than we would have thought, that that would manifest the life of Jesus. So that Scripture has been so good and powerful.
Then the Psalms. I mean, I just love the Psalms. I've lived in the Psalms for so many years. I've been over and over reading and listening to Psalm 34 and on, about ten chapters, and just the delight in God and the life that He gives, and the desires of our hearts that He fulfills. He's not going to squander what He's called me to give up. 
It's like Abraham with Isaac. Little did Abraham know that that obedience, to be willing to sacrifice his most treasured possession that he'd waited so long for . . . that's the part that resonates so deeply with me. I wasn't a hundred, but to wait so long for something and then for God to ask for it back? Humanly speaking, that seems crazy. But Abraham had no idea he was painting a picture of Christ, of the Father and His Son. 
It is very clear to me in my spirit, and God's been so gracious to make things clear in my spirit, that this will be a picture for Jeremy that he needs of Jesus's life manifest out of death, that out of what seems to be a waste or cut short or premature or a loss that is just anguishing, would come so much life. So we talk often about that.
I've thought a lot about this: what do I want Jeremy and Eddie to remember me for? They could remember me for some grumpiness or selfishness, all kinds of things that I've failed them in. But I hope they know and remember how much I loved Jesus, and how good Jesus has been to me. I hope that is etched in their hearts, that God didn't cheat me. He didn't cheat them, but that they would know that I love Him and I trust Him, and that I know that He is about good in the worst parts of this story—worst humanly speaking. 
I hope they remember my love for the Word and my desperation for it, and my love for people and compassion. That's one thing that I hope Jeremy remembers, is how much I love people and want to have compassion in the same way God's had compassion on me. It's a harsh world, but I hope he remembers that.
I hope they remember how much I love them and adore them. I hope they feel that for years to come, and that they're why I'm doing chemo and sticking around longer. That's how much I love them. 
I hope they remember my joy, that I laughed. I've thought a lot about that. The reality of wasting away in front of my son is . . . that's hard. So I've often wondered if his strongest memories will be his mom as a chemo patient. So I've prayed that far outweighing those images and memories would be the joy that God has put into my life. I've asked God, "Would You let me be living out of the heart You've given me to the very end?" That I'd be able to laugh and be a little sassy and crack a joke and be joyful to the very end, and that that's even something that would mark Jeremy's last memories of me, and Eddie's, too. I've that I wouldn't be a heavyhearted patient in the final days, but that I'd still be able to be Colleen, as God's created me to be. I hope they remember my cackling laughter.
I find that what helps me stay grounded in the storms is multifaceted. It's not one thing, it's a bunch of things. I think over the years God's kind of put different handles together for me. One of them is staying connected with my people. I can fly off the handle pretty quickly. I can go dark pretty quickly. I can withdraw and become private. I'm naturally a private person. But my people help me. My best friends and family help me to remember who I am and God's faithfulness and what's true. So, staying in joyful relationships with people who just take the pressure off. It's low expectations. They're not high maintenance; they're just forgiving and gracious. They're amazing people. I don't deserve them, but they're the people who walk with me through this.
Another thing is gratitude, and staying in the Word whether I feel like it or not. It's not staying in the Word to have more head knowledge about the Bible, but to engage with God in season and out of season, if I can say it that way. No matter how I feel, that I'd be in the Word every day, that's soul food. In Deuteronomy it says, "These are not idle words; this is your life." It's the very life in me, so I can't do without that, the Word.
There are times through this grieving process where I don't want to pick up my Bible. I'd rather check out and do something that doesn't require any effort, but to stay engaged with Jesus in His Word is everything. That keeps me grounded.
Dannah: I love how purposeful Colleen has been in thinking about what she wants to leave her son and husband with, and what she hopes to be remembered by. 
Colleen shares more of what she's been learning on this journey of suffering and cancer in her book, In the Hands of a Fiercely Tender God. It's a 31-day devotional that anyone will find inspiring, but especially if you have faced darkness or suffering of any kind. With truth from Scripture and insight from her own pain, this devotional is rich with wisdom, full of encouragement, and brimming with hope. 
You can get Colleen's book right now with your gift of any amount to Revive Our Hearts. Your donation helps us reach women around the world with the hope of Jesus. And we'd love to send you In the Hands of a Fiercely Tender God, both as a thank you for your support, and as a piece of encouragement. 
I'll give you the details on how to get your copy of Colleen's book at the end of today's episode. But right now, I want you to hear a sweet story about a man who made an impact in a surprising way, after he passed away. 
Robyn Bush lost her husband, Tod, unexpectedly. After his death, the Lord prompted her to keep her routine of getting up in the morning and being with Him, even though she used to do that alongside her husband. 
Here's Robyn talking about how God met her in her grief, and how He used Tod to point her back to the truth.
Robyn Bush: Tod and I would typically sit in our two chairs. Sometimes he would be outside reading his Bible, but we would be reading our Bibles, with journals and coffee. I had never picked up one of his journals, because they're his private journals . . . just like he wouldn't have picked up one of mine. 
But as I saw the journal on the table, I realized, "Oh my goodness, that's his journal."
I just wanted to hear his voice. The opening of that journal where he had started was in Colossians where Scripture talks about, "Hey, keep your gaze fixed on heaven. That's where you're headed!"
It was like the Lord was saying, "I'm right here. I've been with him. I've been working in his life." And so the Lord just kind of drew me in to reading Tod's journals and hearing the movement of God upon his heart, upon his life through the Scriptures.
So I sat down and basically started reading through his journals, reading the Scripture that he was reading, and letting it just kind of bring healing to my heart. It was like there were things that the Lord was having him write down, that he was learning at the time, that I was now needing to hear . . . but it was coming through him.
I was just astonished that the Lord would be so kind to me, to basically have authored through him to my heart, that I was needing to hear some of those same things—in a different way than Tod was needing them. So my mornings were kind of like, "God and Tod," and I just fell in love with both of them even more!
His final journal entry was from 1 John. He had written down, bulleted, his notetaking. His take-aways from it were: 
Do good
Love others
Love God
None of this just happens
Requires intentionality
. . . and that was his final journal entry.
I think, again, it was the Lord pressing forward, saying, "Keep going, keep going, keep seeking Me, because none of that is just going to happen. It's going to take effort. It's going to take you stepping in here with Me, but I'm here!" So that is what is on Tod's tombstone.
I knew that Tod belonged to the Lord. Tod's life was His to do with what He was going to choose to do. I also knew that God is good. He's trustworthy. He's faithful . . . even if I can't understand it or see it in the moment. And so, the Lord knows our days. He tells us in Scripture that He knows our days.
I think I was able to really cling to that and feel like, "Tod wasn't robbed. And so that means I wasn't robbed either." It doesn't always feel good. The majority of the time I don't like how it feels, but yet I can stand in the truth of, "Lord, You're in control. You're sovereign. He's with you."
And so to some degree, there's also this sense that Tod is up ahead, and he's at peace. He's in the presence of Jesus—and I'm headed there, too. There's just some waiting on my end. And yet, the Lord has things for me to be doing here until He calls me home.
Dannah: Who knew just how impactful a journal could be? The Lord used a journal to share what He had been teaching Tod, to then minister to Robyn. 
It's possible that what God is teaching you today or in this season isn't meant for only you. I hope today you've been inspired to think about how you're living and how it's affecting the next generation. How can you be intentional with this day and purposefully leave behind the things that matter the most? It's a good question to think about this weekend. 
We've heard some powerful stories today. And I want to ask you: Do you want to be a part of the story of Revive Our Hearts and how God is working in the lives of women around the world? If you'd like to join us, will you consider becoming a Revive Partner? All that means is that you partner with us and donate at least $30 every month. If you believe in how the Lord is using this ministry to help women find freedom, fullness, and fruitfulness in Him, we'd love for you to sign up to be a Revive Partner. 
When you join today, you'll receive a special gift bundle as a welcome gift, plus you'll receive resources every month. To find out more details or join today, visit ReviveOurHearts.com, or call us at 1-800-569-5959. We are excited to hear from you! 
Before you go, I want to remind you to grab a copy of Collen Chao's book, In the Hands of a Fiercely Tender God: 31 Days of Hope, Honesty, and Encouragement for the Sufferer. Request your copy when you give a gift by calling 1-800-569-5959, or go to ReviveOurHearts.com/weekend, and click on today's episode. 
Thinking about the seriousness of life and death is a heavy topic, but an important one. I hope you'll join us next week as we continue the discussion by looking at the lives of a few people who left a lasting legacy. You won't want to miss it. 
Thanks for listening today. I'm Dannah Gresh. We'll see you next time, for Revive Our Hearts Weekend.
Revive Our Hearts Weekend is calling you to freedom, fullness and fruitfulness in Christ.
*Offers available only during the broadcast of the podcast season.
Support the Revive Our Hearts Weekend Podcast
Darkness. Fear. Uncertainty. Women around the world wake up hopeless every day. What if you could play a part in bringing them freedom, fullness, and fruitfulness instead? Your gift ensures that we can continue to spread the message that Christ is King and that the way to know Him is through His Word. Spread gospel hope! Donate now.
Donate Now