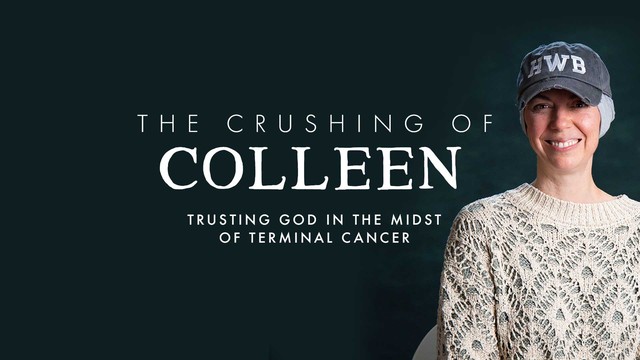 Grieving Coming Losses
Dannah Gresh: For Colleen, stage four cancer is stretching her to experience new kinds of loss.
Colleen Chao: Part of the heaviest grieving has come over my husband and son and what lies ahead for them, because I know my suffering will come to an end, but theirs will continue. I have to trust them to God.
Dannah: This is the Revive Our Hearts podcast with Nancy DeMoss Wolgemuth, coauthor of You Can Trust God to Write Your Story, for December 13, 2021. I'm Dannah Gresh.
Nancy DeMoss Wolgemuth: Revive Our Hearts is all about bringing the timeless truth of God's Word to bear on your life and my life, in every season. That means times of ease and comfort, as well as times of difficulty and trials. 
Dannah: That's right. We don't know the details of your life right now. You may be going through a time when …
Dannah Gresh: For Colleen, stage four cancer is stretching her to experience new kinds of loss.
Colleen Chao: Part of the heaviest grieving has come over my husband and son and what lies ahead for them, because I know my suffering will come to an end, but theirs will continue. I have to trust them to God.
Dannah: This is the Revive Our Hearts podcast with Nancy DeMoss Wolgemuth, coauthor of You Can Trust God to Write Your Story, for December 13, 2021. I'm Dannah Gresh.
Nancy DeMoss Wolgemuth: Revive Our Hearts is all about bringing the timeless truth of God's Word to bear on your life and my life, in every season. That means times of ease and comfort, as well as times of difficulty and trials. 
Dannah: That's right. We don't know the details of your life right now. You may be going through a time when things are going pretty well, or you may feel very battered by the storms of this life.
You know, Nancy, I've heard you say before, either you've just come out of a storm . . . 
Nancy: . . or you're in the middle of a storm right now . . . 
Dannah: . . . or you're about to enter a storm.
Nancy: Yes, it seems to be true. But no matter where you find yourself today, you can stay grounded in the solid assurance that God knows what He's doing. Lamentations chapter 3 reminds us that, "The steadfast love of the Lord never ceases; His mercies never come to an end. They are new every morning. His faithfulness is great." The fact is, you really can trust Him to write your story. 
Dannah: Yes. That's the title of a book you wrote with your husband, Robert. In it, you and Robert explore the stories of people in a variety of life seasons. Each person has unique circumstances, but all of them have had to learn to trust the divine Story Writer.
Nancy: Yes, Dannah. One of those people we wrote about in that book is my dear friend Colleen Chao. Some years ago, Colleen had written and shared her story with me, which had a lot of pieces and parts and chapters. Then I had the chance, when Robert and I were out speaking on the West Coast a few years ago, to meet Colleen personally.
At the time, she had just weathered a long, difficult season with cancer, but she showed up at the hotel where we were staying. I will never forget just how full and joyful this woman was, how radiant her spirit was, as she just shared the goodness of God and the faithfulness of God and how He had met her through these very painful storms.
I remember saying to Robert, "This is a really special woman." I was struck by how she had learned to trust God through numerous difficult seasons in her life. We ended up writing about her in a chapter in that book, You Can Trust God to Write Your Story.
-------------- 
Nancy: As a young woman, Colleen was eager to be a wife and mother. Years later, she was still single. She had to learn to trust God's plan for her life. Then, finally, it seemed like her dreams were going to be fulfilled when she met her husband, Eddie.
Colleen: I was thirty-four when I married, and then almost immediately got pregnant. We were so excited. We didn't want to wait, because we were in our thirties. Then when I was thirty-five I had my son, Jeremy.
Jeremy means "the Lord lifts up and the Lord sets free." He came a month early, so I think we were six weeks away from our first-year anniversary. That was one of those gifts. I had prayed so much over my future children—I wanted three or four kids; God gave me one. But it was the richest experience. I have often told Jeremy, "You are worth four or five kids!" because he's so much joy and such a gift.
It was the most amazing experience to finally experience pregnancy and giving birth. And having this newborn in my arms . . . I mean, what a miracle! Formed inside me; God knew him in the womb.
Early on, when Jeremy was a newborn, God was pressing into my spirit that his story would not be easy. I had no idea what that meant, but it was very clear when I read back through my prayer journals, it's very clear that early onGod said, "This is going to be a hard journey for Jeremy."
I was wondering if that meant rebellion in the future, that he would have a messy, long story—I had no idea. Then it became even more clear, as I was praying into that over the years, that Jeremy would suffer a lot, that that would be part of his story—still having no idea what was coming.
Early on, Jeremy had many health complications. We had a very sick little boy. He had periodic fever syndrome. He would be in my arms, just languishing with high fevers, once a month for a week, and have sores in his mouth and rashes. When you touched his joints they would hurt. He couldn't breathe at night—I mean, we just went through crazy things. We went to all these doctors and specialists.
Through that, I think when God allows that kind of—a perfect storm, we might say—He's forging in us convictions, right? He's refining our desires and our longings. Through that I started to pray into the idea that God would raise up Jeremy to be a Joseph and a Daniel in his day; that he would have qualities that those men had in their lives. Not that they were perfect, they had great imperfections and failures, but they were the kind of men that went through a lot of suffering and a lot of opposition in the culture they were asked to honor God in. 
So I started praying over Jeremy those truths and realities, that he would have the integrity of Joseph, and the courage and prayer life of Daniel, and the visions that Daniel had, that he could see things and have wisdom in a day that would be much like Babylon. So that became a theme of my prayers, for ten years now, that God would carve out those qualities in my son, knowing that God was making it clear there would be suffering ahead, and not knowing what that suffering would look like.
Nancy: When Jeremy was six, Colleen went through breast cancer. After a year of surgeries and chemotherapy, she seemed to be recovering well. Then she got news that rocked her world: she had cancer again, and this time there was nothing doctors could do to cure it.
Colleen: The timeline was a pretty striking moment, to sit there and listen to a doctor say, "This is the time that the statistics say you have left," but God has my days already numbered, so it's not like the doctor holds something over me.
I'm in the middle of a twelve-week course of chemo that's supposed to just slow or hold back the cancer. It's called palliative, so it's not curative, but it's basically buying me more time. This is such an aggressive cancer that we wrestled over whether or not to do chemo, because of the quality of life. We knew from my past experience with cancer and chemo that quality of life would be a struggle. My body doesn't tolerate chemo very well. So we made a very distinct choice to choose this for a little more time.
So with the second diagnosis I came home, my parents had been watching Jeremy, had Jeremy over. They brought him to the house. I met up with Eddie first; I wanted to see Eddie. Then we came home, and I walked in. We just had a sweet little exchange. I heard what he had done that day.
Then I said, "Bud, do you want to hear what I just found out?" 
He said, "Yes."
So I told him what the doctors had said, that it's stage four, and I gave him the timeline. I said, "What a gift that God's given me the gift of some more time with you."
We chatted a little, and then he walked out of the room, and I heard him weeping.
Jeremy: It was very hard. Stage four cancer is very tough, and I was really sad.
Colleen: Waiting so long for marriage, and then to have a child later, has been part of this grieving process, part of what I've had to wrestle through. When most of my friends have kids who've moved out of the house, or they've raised their child fully, and to deal with this stark reality that probably, at this point it looks like I will not be able to see the task of motherhood through as we commonly think it's going to look—to get our kids off to college or married and independent. I've had to deeply grieve that reality. I wrestled with the Lord for a couple of weeks over that in the beginning. "God, why would You postpone this?"
I've reconciled a lot of that, the gift of singleness and what He did through that and continues to do through the ministry He's carved out of that story. So there's a deep contentment and acceptance with that, but then, to be faced with this terminal diagnosis and go, "But I don't get to finish my motherhood task!" I'm going to be interrupted midstream, and there's nothing in a mother that's created to do that. We're not wired to give up halfway through the project. We're wired to see it through to the very end and to suffer and to pray for our kids through the tough season and the bad choices and the ups and downs. To just think I'm going to stop at some point, and he's going to continue without that mom's influence, it's wrecked me like almost nothing else. I've never felt pain quite like this.
There's an ancient martyr who had her newborn, and then she was going to be martyred. She gave birth, and she wrote a letter saying (I'm going to botch it, but to the tune of), "God has seen fit that I will not be the one to raise you, and He has good purposes in that." I've clung to that. Jeremy's story requires that I go before the task is finished, and there's going to be glory in that.
Nancy: Knowing that, barring a miracle, her time is short here on this earth, Colleen has been intentional about being purposeful with the time she does have in preparing her son for what lies ahead.
Colleen: Early on, I knew Scripture would be paramount to preparing Jeremy for the good works God had prepared beforehand for him, not knowing even that he would follow Jesus, but obviously knowing that that was my mama's heart for him.
When he was a toddler, we did silly little actions and hand motions to memorize Scriptures, and they were short Scriptures. Then I started putting Scriptures to tunes; that helps me. He responded really well to that. We were able to get bigger and bigger chunks, because it was to music.
Colleen and Jeremy singing:
His kingdom shall never be destroyed; His dominion shall be to the end. (Dan. 6:26)
Colleen: I just thought if those could stick for long term, those tunes could come back someday whether it's persecution or suffering of a kind that I won't be around for—the Word is so living and active, sharper than any double-edged sword, piercing through to the joints and marrows of our soul. So, I knew that that would hold fast, despite the flaws in my motherhood and the great failures and weaknesses and ways that I've already messed my poor son up. But knowing the Word doesn't return void, and it would be fruitful and it would take effect for years to come, and it would send down roots and grow up a tree that would bear fruit.
Colleen and Jeremy singing:
I lift up my eyes to the hills; from where does my help come? My help comes from the Lord, who made heaven and earth. . . .
The Lord will keep your going out and your coming in, both from this time forth and forevermore. (Ps. 121:1, 8)
Colleen: Part of the heaviest grieving has come over my husband and son and what lies ahead for them, because I know my suffering will come to an end, but theirs will continue. My heart hurts, and I have to trust God in a new way with the dearest people in my life. To know that I won't be able to speak tenderly into their lives. I won't be able to love on them like I get to now when they grieve. That's where they're going to find more of God. That's where He's going to step in.
You know, I'm dispensable. I have to come to grips with the fact that God doesn't need me to do His work. He graciously, joyfully chooses to use me until He calls me home. 
But my heart is heavy for what lies ahead for Jeremy and Eddie. There are some things I cannot think on. I just don't let myself. I'll start to go there, and I'm like, I don't have grace to think about that particular aspect that could wreck me if I let it. There are some things I've almost treated as sin, almost like a temptation. I have to turn away from that temptation to go there with certain things that are to come.
At the same time, I am very convicted that God is going to step in in extraordinary ways. If you think about this, thousands of people are praying for our family right now. My prayers alone—that's part of my privilege as a wife and a mom, to pray. That's the calling as a wife and mom. You pray for your husband, you pray for your children. When my prayers end, what in the world? We have this huge army of people praying for our family! So God's already showing that He's going to provide; He's going to be there for my boys. 
But that one has been excruciatingly painful for me—and I can be a control freak—so just to say, "I don't have any control. I can't do anything about that." I have to trust them to God.
Nancy: Here's Colleen's husband, Eddie.
Eddie: Nothing really prepares you for this. It's not like a class you can take. I thank her every day for fighting.
Nancy: In the midst of that fighting, Colleen clings to the timeless truths of Scripture. 
Colleen: Paul talks so much about carrying around the death of Jesus in our bodies so that His life could be manifest. That truth is everything, as a mom letting go. In so many Scriptures, death brings life. He who is going to hold onto his life is going to lose it, and he who loses his life is going to gain it. 
To know the reality for my son is that somehow in my death, which seems to be nearer than we would have thought, that that would manifest the life of Jesus. So that Scripture has been so good and powerful.
Then the Psalms. I mean, I just love the Psalms. I've lived in the Psalms for so many years. I've been over and over reading and listening to Psalm 34 and on, about ten chapters, and just the delight in God and the life that He gives, and the desires of our hearts that He fulfills. He's not going to squander what He's called me to give up. 
It's like Abraham with Isaac. Little did Abraham know that that obedience, to be willing to sacrifice his most treasured possession that he'd waited so long for . . . that's the part that resonates so deeply with me. I wasn't a hundred, but to wait so long for something and then for God to ask for it back? Humanly speaking, that seems crazy. But Abraham had no idea he was painting a picture of Christ, of the Father and His Son. 
It is very clear to me in my spirit, and God's been so gracious to make things clear in my spirit, that this will be a picture for Jeremy that he needs of Jesus's life manifest out of death, that out of what seems to be a waste or cut short or premature or a loss that is just anguishing, would come so much life. So we talk often about that.
I've thought a lot about this: what do I want Jeremy and Eddie to remember me for? They could remember me for some grumpiness or selfishness, all kinds of things that I've failed them in. But I hope they know and remember how much I loved Jesus, and how good Jesus has been to me. I hope that is etched in their hearts, that God didn't cheat me. He didn't cheat them, but that they would know that I love Him and I trust Him, and that I know that He is about good in the worst parts of this story—worst humanly speaking. 
I hope they remember my love for the Word and my desperation for it, and my love for people and compassion. That's one thing that I hope Jeremy remembers, is how much I love people and want to have compassion in the same way God's had compassion on me. It's a harsh world, but I hope he remembers that.
I hope they remember how much I love them and adore them. I hope they feel that for years to come, and that they're why I'm doing chemo and sticking around longer. That's how much I love them. 
I hope they remember my joy, that I laughed. I've thought a lot about that. The reality of wasting away in front of my son is . . . that's hard. So I've often wondered if his strongest memories will be his mom as a chemo patient. So I've prayed that far outweighing those images and memories would be the joy that God has put into my life. I've asked God, "Would You let me be living out of the heart You've given me to the very end?" That I'd be able to laugh and be a little sassy and crack a joke and be joyful to the very end, and that that's even something that would mark Jeremy's last memories of me, and Eddie's, too. I've that I wouldn't be a heavyhearted patient in the final days, but that I'd still be able to be Colleen, as God's created me to be. I hope they remember my cackling laughter.
Dannah: Wow. You know, Colleen Chao is one of the most precious women of God I think I've ever met in my entire life.
Nancy: Yes, it's just amazing how being around her, you find yourself thinking you're the one who needs encouragement and prayer, because she is so life-giving, even as life is being sapped from her. She is so very weak physically; but, as Paul says in 2 Corinthians 4, her inner person is being renewed and strengthened day by day, because she's focused on what's eternal, not the things that temporal.
I think it's important to point out that the doctors call her cancer "terminal." That said, we know that God can certainly heal Colleen in a moment if He chooses to. But without any evidence that that's God's plan, I love this woman's joyful attitude, even in the middle of this extremely difficult trial. To me, she exemplifies the spirit of the apostle Paul when he said in Philippians chapter 1, "To me, to live is Christ and to die is gain" (v. 21).
Dannah: Amen.
You know, I want our listeners to know Revive Our Hearts has produced a short film featuring some of what you heard today. It's the story of Colleen and Eddie and their son, Jeremy. You can watch it when you visit ReviveOurHearts.com, and I encourage you to. I have probably seen this video nine times at this point. Every single time, not only am I deeply touched, but my spirit is transformed to hunger for heaven and to be more Christ-like.
To find that video, just look for the transcript of today's program at ReviveOurHearts.com, and you'll find the link to the video there.
Nancy: I think it's a video that you'll want to share with others who may be going through difficult times. Just to see the strength and the grace that God can give in the midst of trials is something beautiful to behold.
You know, we're only able to bring you touching stories like Colleen's because of the faithful prayers and support of listeners like you. We're a listener-supported ministry, so I want to ask today if you would consider going to our website and making a donation to Revive Our Hearts, to enable us to continue spreading the gospel of grace, the gospel of encouragement, through the stories of friends like Colleen.
Dannah: And Nancy, right now every donation to Revive Our Hearts is going to be doubled. That's because some friends of this ministry got together and said, in essence, "We want to make sure Revive Our Hearts can continue bringing you timeless truth for every season, and the stories of lives that have been touched by Jesus Christ."
So, those friends said, "We want to challenge listeners by offering to match their donation dollar for dollar, up to a total of $1.4 million."
Nancy: Yes, that's the biggest amount that we've had to trust the Lord for in any year-end in our twenty-year history. But I love to see the way that at this time of year God touches the hearts of thousands of people to give what they're able to give, and then how that is doubled. That means if you give a hundred dollars it automatically becomes two hundred. A donation of fifty dollars turns into a hundred dollars, and so on. But that matching challenge expires at the end of this year, so we need to hear from you now here in the month of December.
Let me just say in advance to every person who is prompted by the Lord to give toward this need, "Thank you, thank you! Your donation at this time means more than you could possibly know!"
Dannah: Again, our website is ReviveOurHearts.com, or you can call us at 1-800-569-5959. That number is 1-800-569-5959.
Nancy: Tomorrow, Colleen will be back to share more reflections on the things that she has learned in her journey through terminal cancer. You may just want to reach out to a friend who's going through a hard season right now and encourage them to listen as well. Please be back for Revive Our Hearts.
Revive Our Hearts with Nancy DeMoss Wolgemuth brings you hope as we call you to freedom, fullness, and fruitfulness in Christ.
*Offers available only during the broadcast of the podcast season.
For a donation of any amount