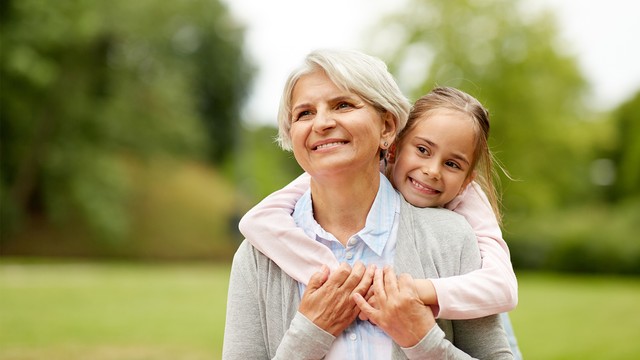 Time Is Precious
This program contains portions from the following episodes:
"The Enemy Under God's Control"
--------------------
Dannah Gresh: Who wants to talk about death? It's not the most popular subject, but it's actually important to think about. I mean, consider these questions from Nancy DeMoss Wolgemuth.
Nancy DeMoss Wolgemuth: How do you want to live the rest of the days you have left on this earth? 
What practical difference would it make for you to live your life (those remaining days) in light of eternity?
Dannah: Welcome to Revive Our Hearts Weekend! I'm Dannah Gresh.
I'm glad you stopped by. It's the last few days of winter where I live, so . . . let's cozy up to my fireplace and slooooowww down. Yes, I know time is precious. Actually, that's exactly what I want to talk to you …
This program contains portions from the following episodes:
"The Enemy Under God's Control"
--------------------
Dannah Gresh: Who wants to talk about death? It's not the most popular subject, but it's actually important to think about. I mean, consider these questions from Nancy DeMoss Wolgemuth.
Nancy DeMoss Wolgemuth: How do you want to live the rest of the days you have left on this earth? 
What practical difference would it make for you to live your life (those remaining days) in light of eternity?
Dannah: Welcome to Revive Our Hearts Weekend! I'm Dannah Gresh.
I'm glad you stopped by. It's the last few days of winter where I live, so . . . let's cozy up to my fireplace and slooooowww down. Yes, I know time is precious. Actually, that's exactly what I want to talk to you about today.
The phrase "time is precious" is pretty common, right? You might use it when you have a long to-do list that never seems to get shorter—you don't have time to just sit and talk!
But it's easy to forget that time is precious not because of what you have to get done, but because someday—and it could be any day—you won't have any more of it. It's not a comfortable to think about, but one day your time on earth will be over.
Of course, if you're a child of God, you will be with Him in heaven, and that's a joyful thing. But it's also sobering, because you never know when you will be called home. 
I had a friend—Wynter Evans Pitts. She was a budding Christian author and founder of a great ministry for tween girls—because she had FOUR precious daughters and wanted them to walk in truth. We were all shocked one when when her heart simply stopped beating. 
She was thirty-eight.
What if that were you tomorrow? Or me? Would we be ashamed of how we had spent our last days?
Now, because of Jesus' work on the cross, we don't have to worry about earning anything by how we live. Rather, His sacrifice means we can live in joyful gratitude for what He has done! And that applies to how we prepare for death.
Here's a term you may not have heard before: "theology of death." John Avant is part of the leadership team at Life Action Ministries. He and his wife, Donna, sat down with Erin Davis to talk about why we need a theology of death and what that means. Let's listen. 
John Avant: Death we face all around us every day, and a theology of death and dying that's biblically grounded has never mattered more, because it can empower our lives in an era like this and empower our mission. It is actually important not just for me personally to be ready to die, but there's meat to this in the way I actually live. And I think we'll cover some of that today.
Erin Davis: Yes, as you're talking, it's occurring to me that death should be among the topics we talk about most often. There are so few things all of us will experience. We won't all get married, we won't all have children, we won't all have a certain kind of job . . . but we will all die.
And yet, we are averse to the topic. We tend to operate from fear or denial. Why is that? Why is it something that we all face, but can't seem to face?
John: Yes. My first experience with death makes me look back and realize, I never really thought about it until I was seventeen years old. I was a new believer. I was singing in a Christian band. We were having great opportunities. 
One day someone came to my door and said, "Cowboy is dead!" 
And I said, "What!?"
Keith Robinson—we called him "Cowboy"—was the only person I knew in the mountains of Carolina who wore a cowboy hat. He had drowned that day. I sang beside him in the band we were in, and now, he's gone.
We were asked to sing at his funeral, and we did. At the end of the funeral we all walked by the casket. I was terrified! I mean, I didn't even know how to think about it. His mother and father were at the end of his casket. I had to walk by the casket and say something to them. I was completely terrified!
I kind of glanced at Cowboy. I got to them, and I'm trembling. They grabbed me, and they embraced me. They said, "It's going to be alright. He's with the Lord! What we believe is real. We're brokenhearted, but this will be healed."
Erin: That theology isn't formed on the day your boy drowns.
John: No. I think that's the point of that, too. As we walk through the adversity of living in the midst of death, which is all around us all the time, there's opportunity for God to shape that and form that.
If on the other hand we try our best to avoid it and deny it, it's actually going to limit our discipleship and our ability to grow in our depth and relationship with the Lord.
Erin: Let's do it. What is a theology of death? Of course, we can't cover it all, but let's hit some high points. We'll dig down into some verses in a moment. But without the verses, without the references, what are some of the core principles the Bible teaches about death?
John: Well, death is an enemy, but it's the last enemy. Death is scary, but it is not to be feared in an overwhelming sense. Also, death is a part of God's sovereignty and so it is not chaos. We sometimes view death as chaos, and that's not a biblical principle. 
Death is not out of God's control. This is all under His control. The death of Jesus is the greatest example of that in the history of the world. What looks like complete, utter horror, and chaotic meaninglessness rescues the world! 
And if we live in the midst of that sense of the sovereign care of God—even in the midst of death—then we'll be able to deal much better with the theology of life.
Erin: Yes, that's the word that I need to wrestle with—"sovereign." Do I believe God is sovereign over life? Do I believe He's sovereign over death? Do I believe He's sovereign over dying? All of those things. 
Well, I want us to jump into 1 Corinthians 15. This whole chapter is about the resurrection—and I don't want to talk about death without talking about the resurrection. I think the Corinthians must have had some questions about death, because Paul writes a lot about it.
So, Donna, would you read us 1 Corinthians 15:54–55?
Donna:
When the perishable has been clothed with the imperishable, and the mortal with the immortality, then the saying that is written will come true: "Death has been swallowed up in victory. Where, O death, where is your victory? Where, O death, where is your sting?" The sting of death is sin, and the power of sin is the Law; but thanks be to God, who has given us the victory through our Lord Jesus Christ. Therefore, [I'm going to go on to 58.]
Erin: Good! We need the "therefore."
Donna: Therefore—that connection word! 
Therefore, my dear brothers, stand firm. Let nothing move you. Always give yourselves fully to the work of the Lord, because you know that your labor in the Lord is not in vain. (vv. 54–58 NASB)
Erin: I love that you kept reading. You know this trick: What is the therefore there for?
What do you think the connecting points are between death and victory—which, frankly, seems like strange bedfellows—and standing firm?
Donna: I think it's such a connection. I love that we saw this, because death is and can be scary, but it's not the final word. The most important thing about not fearing death is living our life.
I love that Paul tells the Corinthian Church: stand firm. Don't let anything move you. Politics, the pandemic, the violence going on—don't let anything move you. Remember why I [God] have placed you on this planet, and always give yourself fully to what I've called you to.
And to me, that's practical. We can talk theology, we can talk thoughts, but practically, Paul is saying: Stop! Jesus has conquered death. I want you to live your life, and I want you to know that what you're doing in Jesus' name is not in vain. Don't be moved. Keep on going. Get out of bed every day. Look to Me, and take one step in serving Me.
Erin: I need that reminder every day. I think we all do.
Donna: We do.
Dannah: Amen! That's John and Donna Avant, in conversation with Erin Davis, reminding us that because Jesus conquered death, we His children have nothing to fear from it. And that should affect our perspective on life.
See, it's not that you should be preoccupied with thinking about death. That's not what I'm going for here. As Donna reminded us, Jesus conquered death, which means it has no ultimate power over you. You need to be aware that your physical death could come at any time, but the whole point is this: how do you glorify God in the short time you have on earth?
Nancy DeMoss Wolgemuth talked about that in a series coming up soon on our flagship podcast, Revive Our Hearts. The series is called "Living In Light of Eternity." I'm about to give you a a sneak preview. Psalm 90, verse 12 says, "So teach us to number our days that we may get a heart of wisdom." Here's Nancy, talking about that verse.
Nancy: As you think about how you're using your life, ask yourself what will be the sum of all of those days, when you stand before God in eternity?
Moses says, "Teach us to number our days, so we can gain a heart of wisdom." I'll tell you one thing that helps a lot with this is going to funerals or visiting a cemetery. Those are powerful reminders of the shortness of this life, giving us a perspective on this life and the next.
I remember a number of years ago attending the funeral of my mother's only sister, who died at the age of thirty-eight from a rare lung disease. I was in my late twenties at the time. My Aunt Lynn was not a well-known woman. She was a faithful wife and mom.
But I remember hearing testimony after testimony in that funeral service of how her simple, loving, faithful life had touched other lives. She'd never done anything that would be written about in any history books, but her life had written something on the books and pages of the lives of the people who were her friends.
I remember sitting in that service as a twenty-eight-year-old young woman thinking, When my life is said and done, at my funeral, are there people who would be able to say that I really cared, that I loved them, that I was a real friend? What will have been the impact of my life?
Sitting at a funeral, looking at a grave marker, will help us to think this way. What is a wasted day, what is a wasted life? Well, really, there are two ways we can waste our lives. One way is living our lives without thought for God, just neglecting the spiritual dimension of our lives, neglecting spiritual matters—that's a wasted life. That's a life that has nothing to show for itself in eternity. Some of us who are not neglecting spiritual matters live our lives in another wasteful way, and that's in resistance against God: murmuring, complaining, resenting, resisting, disobeying what we know to be the will of God.
Some of us in this room are still in the first half of our anticipated life-span here on earth. A few perhaps, not many, may have actually gone into "overtime" in the light of eternity. Regardless of where we are in that span, I ask you these questions:
How do you want to live the rest of the days you have left on this earth? 
What practical difference would it make for you to live your life (those remaining days) in light of eternity?
The Psalmist said it this way in Psalm 39:
Lord, make me to know my end, and what is the measure of my days, that I may know how frail I am. Indeed, You have made my days as handbreadths [a hand-breadth is four fingers, the smallest unit of common measurement in the Old Testament times].

And my age is as nothing before You; certainly every man at his best state is but vapor. Surely every man walks about like a shadow; surely they busy themselves in vain; he heaps up riches, and does not know who will gather them.
What practical difference would it make for you to live your life in the light of eternity?
Author John Grissom tells a story about one of his best college buddies who died when both the young men were about twenty-five years old. He tells about how his friend called him and asked if they could have lunch together, and he told John that he had cancer. John was stunned. He couldn't believe this; they were both young men in the prime of life.
John asked his friend, "What do you do when you realize you're about to die?"
His friend said to him, "It's real simple. You get things right with God, and you spend as much time with those you love as you can, and then you settle up with everybody else."
Then his friend said, "You know, really, you ought to live every day like you only had a few more days to live."
When my dad went to be with the Lord, over twenty years ago, my mother found in his desk drawer a little slip of paper that had this verse written on it, Psalm 90:12, and it was written out in this paraphrase: "Teach us to number our days and recognize how few they are; help us to spend them as we should." My dad was a man who lived in the light of eternity, always reminding himself and us that we had so few days.
We knew not how few days he would have, as at the age of fifty-three he had a heart attack and instantly was in the presence of the Lord. But he was a man who, I believe, had a triumphant, fruitful entrance into eternity. From the time he met the Lord in his mid-twenties, until the day he went to heaven twenty-eight years later, he set about seeking how he could live the days that he had on this earth in the light of eternity.
If you knew you had only a few days or months or years left (and if it's thirty or forty or fifty years, it's still just a few days, really), what would you do differently? Are there any phone calls you would make that you have been putting off? Is there a family member that you would get in touch with and say, "Can we get reconciled?"
Is there somebody that you've been waiting for to come and ask your forgiveness that you would take the initiative to see if you could be restored in the relationship? Is there some wrong from your past that you would be motivated to make right?
Would you hold onto that grudge? Would you whine and complain about the circumstances that you have at this moment of your life, if you knew that shortly you were going to be in eternity, and none of that would matter anyway?
Dannah: Hmm. I know I could stand to think about those questions more often! That's Nancy DeMoss Wolgemuth, teaching from Psalm 90. You'll hear the entire series on our daily program and podcast, Revive Our Hearts, starting March 13. 
How about you? How would you answer Nancy's questions? Think about what a difference it would make if you and I asked the same questions next time we're tempted to complain about something! Time is precious—don't waste it.
One man who lived out this principle was Charles Wesco. 
In 2018, Charles and his wife, Stephanie, were new missionaries to Cameroon.
Stephanie Wesco: We left October 17, arrived October 18 in the country.
DG: Less than two weeks later, what started as a normal day very quickly turned into a nightmare.
Stephanie: It was a Tuesday morning, October 30. I remember Charles came into the kitchen and said, "Get your grocery list together; we're going to go to town today instead of tomorrow."
There were two shots fired into our vehicle. And I just remember looking up and seeing what no human should ever have to see. From where I could see, he had been hit multiple places. After the fact, we would learn that he had gone to be with the Lord instantly.
Dannah: It might seem like Charles Wesco's life was a failure. I mean, he and his family hardly had a chance to accomplish anything in Cameroon before Charles was in heaven and his wife and eight kids were headed back to the States.
But Charles lived with an awareness that life is short, and he ministered to anyone he came across. For over two years before they went to Cameroon, the Wescos traveled from church to church, sharing their vision to join God's work as missionaries to Africa. Here's Stephanie, reflecting on that time in a conversation with Nancy DeMoss Wolgemuth.
So we started deputation to raise support in fall of 2015.
Nancy: Now, a lot of people listening to this may not have had any of that kind of experience, but I watched as your family did this. This wasn't just you and your husband, this was you and your husband and eight kids!
Stephanie: Yes, it was seven when we started. We traveled in a motor home that the Lord provided. 
Nancy: And it wasn't a big motor home!
Stephanie: No, it wasn't! We were sardines.
Nancy: Going from church to church, town to town . . .
Stephanie: Yes, we traveled the whole Midwest over to the East Coast. 
My husband had our sons learn to do chalk talks. So my husband would preach, and the four oldest boys would draw a picture that went along with my husband's message. 
There would always be like an invisible picture of heaven, or one of the pictures had a stalk of corn and that message was about the corn falling into the ground and dying.
Nancy: That if it doesn't do that . . .
Stephanie: . . . it will abide alone, but if it dies it will bring forth more fruit.
Nancy: You had no idea, of course, at that time, that this would be a picture of your lives.
Stephanie: How prophetic it would be. 
Nancy: Were your kids on board with this?
Stephanie: They were, and Charles was very good about this. He tried to make it fun for the kids.
Nancy: Charles really loved his kids, didn't he?
Stephanie: He did! We'd be driving down the road and he'd be talking to whichever one was sitting by him. He'd talk about something he had read in the Bible or doing Bible memory verses with them or something. He was always investing in anybody! He was one of those men who, whatever he was doing, he was always investing in someone.
Nancy: That came out a lot in his memorial service.
Stephanie: Yes, he had a message he preached at pretty much every church we were in, and the title of it was "Living for Eternity." The first point that he always said was that living for eternity is always worth it! And I've had to remind myself of that many times since then, just to keep that focus. Even though he's gone, living for eternity is always worth it!
My husband would say all the time on deputation, "We're soldiers in the King's army, and our job is to march to His drum, and if He moves us to say, 'Yes, sir,' and follow."
Dannah: Here's the late Charles Wesco, from a message he gave while still in the States.
Recording of Charles Wesco: Serving Christ always comes with a cost, and yet, in America, we're like the rich young ruler sometimes. "I've been here/done this." We want to figure out some way to make a side hobby out of Christianity. We want to figure out a way without the cost, without losing any of earth's treasures, to still have a comfortable life and still lay up treasure in heaven. How foolish! How utterly foolish that is!
We can have so many things . . . It can be family, it can be business, it can be ministry, it can be church that our young people aren't willing to stretch out their necks and go out into the world and preach the gospel to every creature across the world.
We need to realize that serving Christ always comes with a cost.
Dannah: What neither Charles nor Stephanie realized at the time was that Charles's ministry was in the U.S., serving and encouraging the churches they visited.
Stephanie: Charles just loved meeting new pastors, seeing new ministries, being involved in prison ministries or radio ministries sponsored by the churches, just whatever the pastor was involved in. God gives different pastors different burdens. He just loved coming alongside wherever we were, if he could help, getting involved. That's just how he was.
He tuned pianos—tons of pianos—on deputation. Pretty much every church we went into, their pianos got tuned. He just did it to be a blessing. It was a ministry. I loved it because I always knew I had a good, nice, newly tuned piano to play on. So that always made me happy, too.
So, yes, deputation was fun. We never would have dreamed that deputation would be our family's ministry. That would have never been our thought or in our thought process.
Nancy: What I love is that you weren't just out there asking people to support your ministry, but you were out there ministering the Word.
Stephanie: We were seeking to, yes.
Nancy: I watched, because your families are both known in this area and have a reputation. There's a lot of ministering that's gone on through different ones of your family members, but Charles was the one I knew the best and knew that his heart was to preach the Word, to see people come to know Jesus, to see people reached.
Stephanie: Yes. Charles's whole purpose was he had a life calling. That's what he called it. He said it was to "motivate godliness in the life of every person with whom he came into contact." That was his life calling. He fulfilled it. That is how he lived.
Dannah: That's Stephanie Wesco, talking with Nancy about her husband, who was killed in 2018. He planned to serve the Lord in Cameroon, but he didn't wait until he got there to do it. He and Stephanie had no way of knowing that his life would be so unexpectedly cut short, but he lived with purpose in everything he did. What an example for us!
What could this look like in your life? How can you live in light of eternity? You don't have to lead a ministry, be a powerful speaker, or have lots of social media followers. You can live in service to God as you do laundry, teach your child to read, or serve customers in the drive-through!
Some of you have already been thinking about this subject more often than you used to. Maybe you're caring for aging parents, maybe you are the aging parent, or maybe you received a scary health diagnosis. You're faced more clearly with the reality that your days are numbered. It can be scary, I know.
We heard Nancy talk about how to "number our days." Well, did you know that her husband, Robert, just wrote a new book that addresses the topic of death? It's called Finish Line. In it, Robert gives practical and biblical insight on preparing for your "finish line," when God calls you home. That book releases next week, but you can go ahead and order your copy. You're going to want to read it and then give it to others to read!
And today we want to give you a copy of that book when you donate to the ministry of Revive Our Hearts. You can do that at ReviveOurHearts.com, or call us at 1-800-569-5959. When you get in touch with your donation, be sure to ask for your copy of Finish Line.
Well, next week we're going to keep talking about time. Be sure to come back for that, on Revive Our Hearts Weekend!
Now, I want to finish by playing for you a prayer that Charles Wesco prayed in 2017, the year before he was killed. Here's Charles.
(Recording) Charles: Heavenly Father, as we gather together here today with You in our presence, Lord, I fear that we see You very darkly through a glass, and we need to see You more. Lord, we need like Moses did, a new revelation of Your glory. We'll never see it all, Lord. I think every one of us here as believers needs to see a new uncovering of Your glory, the next level.
Lord, we need You to help us not to see so darkly. Through Your Holy Spirit help us catch a little bit of a glimpse of the heavenly city where the streets are gold and the gates are made of pearls and Jesus sits on the throne with hands that have been pierced. Lord, He who humbled Himself and became obedient unto death, even the death of the cross, that at the name of Jesus, one day every knee shall bow.
Lord, I want to bow the knee, having done through Your grace what I could. Lord, I want to lay up treasures in heaven where moth and rust cannot destroy, where thieves cannot break through and steal. I understand, Lord, that where my treasure is, my heart is. We came into this world naked, and we shall go out naked. The love of money and shiny things is the root of all evil.
Lord, I pray You'd touch my life, my children's lives. Lord, I don't want them to see a hypocrite in a father. I want them to see a man who wants them to excel and surpass the servant opportunities You've given me to serve You even more.
So, Lord, I pray that we would start living that way more now. Help me. Help my family. Help each father. Help each family here today to be able to grow in You. We pray in Jesus' name, amen.
Revive Our Hearts Weekend is calling you to freedom, fullness and fruitfulness in Christ.
*Offers available only during the broadcast of the podcast season.
Support the Revive Our Hearts Weekend Podcast
Darkness. Fear. Uncertainty. Women around the world wake up hopeless every day. What if you could play a part in bringing them freedom, fullness, and fruitfulness instead? Your gift ensures that we can continue to spread the message that Christ is King and that the way to know Him is through His Word. Spread gospel hope! Donate now.
Donate Now