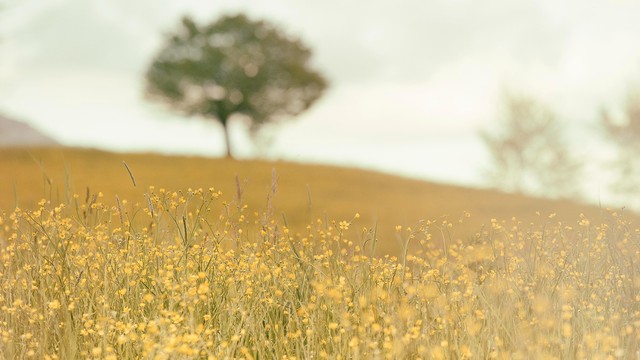 Episode 5: The Whispers of Pilate's Wife: Who Is Jesus to You?
Judy Dunagan: Once you get to know Jesus, you'll want to share what He's done with the whole world. Here's Erin Davis.
Erin Davis: Because of who Jesus is and because of what Jesus did, we have been changed from whisperers to proclaimers.
Staci Rudolph: This is The Deep Well with Erin Davis. I'm Staci Rudolph, and I'm cohosting this season with Judy Dunagan. Erin's been following the theme of whispers. We've looked at women in the Bible who whispered. In this episode, we'll learn from a woman whose whisper made her consider who Jesus is.
Here's Erin.
Erin: My sweet friend Kathy recently gave me a book by A.W. Tozer. The title is The Knowledge of the Holy, and it starts with this powerful sentence: "What comes into our minds when we think about God is the most important thing about us."
Now, that's not Scripture. Tozer is …
Judy Dunagan: Once you get to know Jesus, you'll want to share what He's done with the whole world. Here's Erin Davis.
Erin Davis: Because of who Jesus is and because of what Jesus did, we have been changed from whisperers to proclaimers.
Staci Rudolph: This is The Deep Well with Erin Davis. I'm Staci Rudolph, and I'm cohosting this season with Judy Dunagan. Erin's been following the theme of whispers. We've looked at women in the Bible who whispered. In this episode, we'll learn from a woman whose whisper made her consider who Jesus is.
Here's Erin.
Erin: My sweet friend Kathy recently gave me a book by A.W. Tozer. The title is The Knowledge of the Holy, and it starts with this powerful sentence: "What comes into our minds when we think about God is the most important thing about us."
Now, that's not Scripture. Tozer is a mere mortal. But I think Scripture backs Tozer up, because what is the Bible but a road map to God's character? I mean, every single book—and I mean all sixty-six of them—are meant to reveal to us who God is. The purpose of revealing to us who God is is so that we might surrender our lives to Him and then devote our lives to being more like Him and then being with Him forever in eternity. 
So, what does come to your mind when you think about God? More specifically, what are your first and strongest thoughts when I say this name: Jesus?
I'm so grateful that you're listening to this season of The Deep Well, and I hope you caught the first four episodes. If not, let me encourage you to go back and listen, because the premise of this series, which I'm calling "Whispers," is the power of a word softly spoken. 
We spent four whole episodes studying women who whispered in the Old Testament, but today we get to turn the page to the first book of the New Testament, which is Matthew. The whisperer that I want to talk about together today is Claudia. Now, you probably don't know her by that name, and if you used your Bible app just now to try to find her, then you came up short. But don't worry, I promise you she's there. What Claudia whispered about Jesus is the most important thing about Him.
I've said His name here and there earlier in this series, but I've been waiting this whole time to talk about Jesus in depth. As much as I would love for you and I to study Jesus' miracles or the greatest sermon (other people call it the Sermon on the Mount) or the return of Jesus together, today we're going to have to look at a really difficult part of Jesus' life. It's when Jesus was put on trial, and in the pages of our Bibles, together we are going to see Jesus given the death penalty.
I want you to open your Bible to Matthew 27, and here is what we find in this chapter of the Bible. We find history at a collision point. What is really on the line here, what's really happening if you peel back all of the layers, is the answer to that great question that Tozer posed for us. It's the question that all of us need to ask. It really is the question that all of us need to settle in our hearts. We have to have an answer for this question: Who is Jesus, really?
Now, I love to set the stage for us so we know where we've been. Here, Judas had already betrayed Jesus, the Last Supper had already occurred in the Upper Room, Jesus had already prayed His gut-wrenching prayer in the Garden of Gethsemane, and He'd been arrested.
By this point in Matthew 27, He had already endured one late-night trial in a kangaroo court, in front of the religious leaders. There they sentenced Him to death. There, in that religious court, where the judge and jury were supposed to be the religious elite, they had already slapped Jesus and spit in His face.
That chapter, Matthew 26, ends with Peter, one of Jesus' closest friends, denying Him—not just once, but over and over and over.
If you've been a Christian very long at all, if you've read your Bible much on your own, then you already know this story, because this is our story. It was Jesus' suffering that woos us away from sin and death. For those of us who love Jesus so deeply, as I do and as I'm sure that you do, it can be hard to read the details of what He endured. But we must. By the power of the Holy Spirit, God preserved the image of religious men spitting into the face of God. Why? Why did He do that? Because what comes to our minds when we think about God is the most important thing about us. He was a suffering servant. He was a spit-upon Savior.
That takes us to Matthew 27. I want to read you verses 1–2.
When morning came, all the chief priests and elders of the people took counsel against Jesus, to put Him to death. And they bound Him and led Him away and delivered Him over to Pilate, the governor.
So often, the things that make us fearful or worked up in the night tend to lose their bite in the light of day, but that's not what happened with these men who wanted to kill Jesus. As the sun rose on this fateful day, that angry mob stayed angry. But Caiaphas, who was the high priest (and if you study about him you'll see he had been the high priest for a long time), was deeply entrenched in that position. He ran that religious court, but he didn't have the authority to execute.
Don't politics make strange bedfellows? Most scholars think that Caiaphas and the Roman leaders (whom we're about to see in the passage) had a mutually beneficial political alliance.
I need you to again picture Jesus, even though it may be uncomfortable. I want you to imagine that Savior that we love so much bound and delivered over to Pilate, the governor. You need to remember those three words from the end of verse 2: "Pilate the governor," because Pilate was just one degree removed from our whisperer. Remember, her name was Claudia.
Matthew 27:3–10 contains a tragedy within a tragedy. Scripture tells us that Judas, the one who betrayed Jesus for some silver, actually changed his mind. He tried to return the blood money that he had earned by giving over his friend, but verse 5 tells us that after he did that he went and hanged himself. Again, what comes to our minds when we think about God is the most important thing about us. It seems Judas got it wrong at some point, and the regret of that mistake overwhelmed him. But Judas is not our whisperer.
I want to read you Matthew 27:11–14. 
Now Jesus stood before the governor, and the governor asked him, "Are you the King of the Jews?" Jesus said, "You have said so." But when he was accused by the chief priests and the elders, he gave no answer. Then Pilate said to him, "Do you not hear how many things they testify against you?" But he gave him no answer, not even to a single charge, so that the governor [Pilate] was greatly amazed.
There are a million sermons preached by Jesus in the words He didn't say in this trial! C.S. Lewis said you don't have to defend a lion; all you have to do is let the lion loose and the lion will defend itself. And the Lion of Judah, Jesus, didn't need to defend Himself. He had already decided He was going to trade His life for ours. He was in charge the whole time, even though it seemed like He was awaiting His fate.
But Pilate heard Jesus' silence loud and clear. Let me read you verse 14 again. "But he [Jesus] gave him [Pilate] no answer, not even to a single charge [get this], so that the governor was greatly amazed."
So, what came into Pilate's mind when he thought about Jesus? Was it just amazement? Because it's possible to be amazed by someone and not worship him. I'm kind of amazed by people who say they like the edge of the brownie pan. I think they're wrong; the good stuff is in the middle! So simply being amazed by Jesus is not the same thing as believing that He is your King.
Let's keep reading. I want to read you verses 15–18 of this chapter.
Now at the feast the governor was accustomed to release for the crowd any one prisoner whom they wanted. [It's kind of a strange tradition.] And they had then a notorious prisoner called Barabbas.
You're going to have to use your imagination about what Barabbas did, but the Bible calls him notorious, so this was a bad, bad guy.
So when they had gathered, Pilate said to them, "Whom do you want me to release to you: Barabbas, or Jesus, who is called Christ?"
I have to think that Pilate was stacking the deck. I mean, he could have chosen any prisoner, and he chooses this prisoner, Barabbas, who is notorious—he's known—against Jesus.
For he knew that it was out of envy that they had delivered him up.
We learn a little more about Pilate here. He saw the crowd for who they really were, and this is who they were: they were jealous. They were petty. This was mob rule at its very worst, and Pilate knew it. And the whisper of his wife confirmed all that Pilate saw. Verse 19 tells us, 
Besides, while he was sitting on the judgment seat, his wife sent word to him.
This is the only verse in the whole canon of Scripture where Pilate's wife is mentioned. So yet again, when we open our Bibles, it's so helpful to ask, "Why did God preserve this for us?" This intimate and seemingly innocuous moment between a husband and wife—why has it been left here for more than 2,000 years for us to find? 
Let me set the stage again. Pilate was the governor of the Roman province of Judea. We can read in the chapters preceding Matthew 27 that the city was all stirred up, and battle lines were being drawn. You were either with Jesus (and in the minority) or you were against Him. If you were against Him, you were angry. There wasn't a lot of middle ground at this point in history.
A crowd came to Pilate. They had Jesus bound—they didn't have handcuffs then, but somehow He was all tied up. They had a very strong desire, one mission: they wanted Jesus to be executed. Now, there had already been a suicide of one of Jesus' disciples, and Pilate had already put in front of this foaming-at-the-mouth crowd a notorious prisoner and asked them who they wanted to see set free back into their society. Now, Pilate was sitting on the judgment seat. The trial is happening. And someone ran in with a message from his wife.
Now, this better be important for his wife to interrupt this trial. I'm just picturing a messenger running in and whispering this into Pilate's ear. Jesus would have been the only one not straining to listen, because, of course, He already knew what was being said.
Now, history records what Pilate's wife's name was. You guessed it—Claudia. This is what Claudia wanted her husband to hear. 
Have nothing to do with that righteous man, for I have suffered much because of Him today in a dream. (v. 19)
It's an interesting way to say it, right? What is it about Jesus that would have made Claudia suffer? What is it about Jesus that makes us suffer?
I want you to take a jump in your Bible—you can put a ribbon or a bookmark there where we are in Matthew 27—but we're going to head over to 2 Corinthians 2:15–16. 
For we are the aroma of Christ to God among those who are being saved and among those who are perishing, to one a fragrance from death to death, to the other a fragrance from life to life. Who is sufficient for these things?
Paul wrote these words, and he was writing about the aroma or the impact of Christians. What is a Christian but a little Christ? Jesus brings such a sweet aroma to those of us who see our true condition as hell-bound sinners and accept Him and receive the gift and hope of heaven. For us, the stench of death is replaced with the sweet smell of life, but to the perishing, those who do not believe that Jesus is their Savior, those who refuse to crown Him as King of their lives, who don't recognize their sin problem, He stinks! They don't want anything to do with Him.
So it was possible that Claudia was tormented by the idea that maybe Jesus really was the King of the Jews, which would put her husband's power in question and the life they'd built together in jeopardy. Perhaps she had heard the things He'd been preaching about living for a different kind of kingdom, and she wanted to protect her "little k" kingdom. We all tend to want to protect the little, tiny kingdoms we've built. 
Or maybe she knew who He was. Maybe she knew He was the long-awaited Savior of the world, and she saw the terrible position her husband was in and the spiritual consequences he would face if he condemned the innocent.
The verse says that what she called Jesus was "a righteous man." Now, on the one hand, she saw that Jesus was righteous, and she didn't want her husband to condemn a righteous man; but on the other hand, Jesus was so much more than a man.
We don't know what it was about Jesus that was so tormenting to Claudia, but whatever it was, she felt dread, and she sent word, just a few words whispered at one of the most important moments of human history.
Perhaps you already know how the rest of the story goes. The crowd chose Barabbas, because they would have rather lived with a known criminal than to continue to be in the presence of one who would expose their sin-filled hearts. And the crowd started chanting, "Let Him be crucified! Let Him be crucified!" We pick it up in verse 24.
So when Pilate saw that he was gaining nothing, but rather that a riot was beginning, he took water and washed his hands before the crowd, saying, "I am innocent of this man's blood; see to it yourselves." 
Verse 25 is a powerful verse. 
And the people answered, "His blood be on us and on our children!' Then he released for him Barabbas, and having scourged Jesus, delivered him to be crucified."
Here's the thing. We cannot wash our hands of Jesus. He's the King of kings. He's the Lord of lords. He's the Alpha and Omega, the beginning and end. He is Wonderful Counselor, He is Mighty God, He is Prince of Peace. Isaiah 9:6–7 promises this: 
Of the increase of his government [Jesus' government, not Pilate's] and of peace
  there will be no end,
on the throne of David and over his kingdom,
  to establish it and to uphold it
with justice and righteousness
  from this time forth and forevermore.
The zeal of the Lord of hosts will do this. 
He's our coming King.
Philippians 2 tells us that someday every knee will bow, every tongue will confess. That includes this crowd that was yelling, "Crucify Him!" Because of who He is. That Philippians 2 verse tells us who He is. He is Jesus Christ the Lord.
So actually, the crowd got it right. As Pilate washed his hands, trying to scrub himself clean of Jesus' blood, "His blood be on us and on our children!" It's not on us, it's for us. Within hours of Claudia's message to her husband, Jesus' blood would be poured out for you, for me, for that crowd that wanted Him killed. He did that, and because He did that, in a way, His blood was on that riotous crowd and on their children. His blood is on our hands, because it was our sin that made it necessary for Jesus to go to the cross in the first place.
Now, so much has changed since this day that we're reading about in Matthew 27, but so much has stayed the same. Jesus isn't on trial anymore, not in the same way, but His identity often is. People still get very angry at the suggestion that Jesus is the Savior of the world. There are many, many, many more than were in that courtroom that day who still want to kill the idea of Jesus, but they cannot. They will not.
Jesus didn't stay dead. Of course, He rose from the grave, and the power of the Holy Spirit was unleashed, and the Church was born! And we, the Church, what we believe about who Jesus is—well, that's the most important thing about us.
Jesus said something pretty remarkable to His disciples, and the context of these words is that He was warning them opposition was coming. Christian, we are wise to heed Jesus' warning today, because there will always be people who answer the question, "Who is Jesus?" differently than we do. There are those in our society, in every society since Jesus walked the earth, who will foam at the mouth at our belief that He is King. But He is. Jesus is our King, Jesus is our Savior. Jesus is our hope, Jesus is our future. Jesus is worthy of our very lives.
I want you to listen to what He told His disciples as He was warning them that opposition was coming. We find it in Matthew 1:27, and we see His words repeated in Luke 12:3. This is Jesus talking. 
What I tell you in the dark, say in the light, and what you hear whispered proclaim on the housetops. 
Because of who Jesus is and because of what Jesus did, we've been changed from whisperers to proclaimers.
What happened to Claudia? Well, her story's lost to history. But my hope is, though she had the words "righteous man" whispered into her husband's ear about Jesus, that after resurrection morning (and she would have definitely heard about Jesus rising from the dead), I hope she changed her mind about Him. I hope she stopped being a whisperer and that she spent her life proclaiming that Jesus is a risen Savior. 
That's really my hope for you. May you proclaim who Jesus really is from the housetops today. And when you do, I hope you fill your world with the sweetest fragrance, the fragrance of Jesus Christ.
Judy: If you begin whispering questions about Jesus and keep getting to know Him, it could change your entire life. Erin's teaching is part of a series called "Whispers" here on The Deep Well. This podcast is part of the Revive Our Hearts podcast family.
Erin: And this would be a good opportunity to let you know about another member of that family. The True Girl podcast is hosted by our cohost for this season, Staci Rudolph. Staci, what is True Girl all about?
Staci: Well, Erin, True Girl is all about teaching girls who they are in Christ. And at the same time, we're trying to connect them more to their moms and to Jesus at the same time. These True Girl podcasts really just provide a quick space for Mom to be able to connect with her girls.So we hope that they listen in the car as they're going to school, they're going to the grocery store, and that they're just getting those quick Scripture snacks each day.
Erin: I love it. I always say that my van is my Sunday school classroom. A lot of important conversations about Jesus happen there while we are on the go. So, listen to the True Girl podcast if you have girls! You can find out more about it by visiting ReviveOurHearts.com, or just subscribe to True Girl on your podcast app.
Erin Unscripted
Judy: It's time for Erin Unscripted. So, Erin, I have a question for you.
Erin: Can't wait!
Judy: First of all, this episode was profound. You turned our hearts and our eyes toward Jesus. One thing you said was, "Because of who Jesus is and what He's done for us, we've been changed from whisperers to proclaimers." Can you share what changed you from a whisperer about Jesus to a proclaimer of Him?
Erin: I would love to. Anytime I get to talk about Jesus I'm happy to do it.
Well, my story is that I was a brokenhearted girl from a broken home in my teenage years. Then I found Jesus. I've always kind of had this big personality, I've always talked a lot, so that didn't change, but what I talked about changed. I immediately wanted to tell everybody about Jesus. You know, you can keep your relationship with Jesus quiet, but none of us ever do. It's possible, I guess, to just give your life to Jesus and serve Him and never tell anybody, but it bubbles out of us. We want to tell people!
I came home from that camp where I gave my life to Jesus, and I called all of my friends and said, "I don't know what happened, but something did!" I told my mom as soon as we got on the parking lot. As soon as she came to pick me up, I was like, "Mom! Jesus did something in my life!" That's been a trajectory that I've been on ever since.
I mean, I suppose I do whisper about Jesus. I'll have quiet conversations with Jesus and quiet conversations about Jesus, but for the most part there's just this energy behind wanting to talk about Him. I want to tell the world who Jesus is, what He has done, what He has promised! It's become the mission of my life. So I would definitely say He's moved me from a whisperer, somebody who didn't talk much about Him at all, to a proclaimer, who loves to talk about Him to anybody who will listen.
Staci: Erin, I love what you said after you brought up 2 Corinthians 2:15–16, which talks about the aroma of Christ, and for those who are seeking Him that's an aroma from life to life. They love that smell. But for those who don't want Him, it's death to death. I just think about the people in that crowd and how the aroma of Jesus that day was death to them.
Erin: Yes, they would rather have the stench of Barabbas, a notorious criminal, the Bible says, in their midst than the stench of Christ. The smell of Him, the aroma of Jesus, was so offensive to those who were perishing—it still is.
Staci: Speaking about that aroma, how to those who are perishing it's death to death, it just made me think about what you said about Jesus threatening Claudia's "little k" kingdoms, as far as what she had built with her husband and the power that they had. When she saw Jesus and the love His disciples had and the influence He had, she felt threatened by that.
That just led me to a question, personally. I'm like, what "little k" kingdoms, even me being saved, am I still kind of holding onto that maybe I'm choosing sometimes instead of choosing Christ fully?
Erin: Yes! What did you come up with? What are some of those "little k" kingdoms, do you think?
Staci: Oddly enough, the other day I was talking about how God has really revealed my calling to me, but that's still a "little k" kingdom that I try to grab hold of again sometimes. I'm like, "Maybe I should be doing this. Am I really supposed to be doing this?" I'm like, "Your future is the Lord's. He's made that quite clear. So just submit and go with it. He has the best things planned for you."
What about you? Do you have any "little k" kingdoms that you see trying to rear their heads every once in a while?
Erin: I have lots of "little k" kingdoms. It reminds me of when my first two were little. We lived in a little tiny house in a little tiny neighborhood with a little tiny backyard. When those babies would be crying and I couldn't get them soothed, my husband would say, "Okay, it's time to go survey the kingdom!" He'd pick those boys up and he'd walk them. He'd say, "This is our tree." (We only had one tree.) "This is our fence. This is our back porch. This is our front door." And they would stop crying because their daddy was holding them, and they were surveying the kingdom.
There's a spiritual parallel, because I will be like, "This is my home! This is my job! This is my parenting! This is my friendship!" To me, I want to sit on the throne. But they're all "little k" kingdoms that I don't really have sovereignty over, but I want to pretend that I do, and I want to protect them.
Judy, how about you? What do you think your "little k" kingdoms are?
Judy: Oh, I have way too many to share. I'd say one is fear of failure. It's something I'd dealt with since I was a little girl, and trying to be a perfectionist. 
But one thing I think of in my journey with the Lord (this goes back to being the aroma of Christ, or being a proclaimer and not a whisperer), when I was a little girl I was a pastor's daughter. Thankfully, my parents lived what they taught. They really lived out this beautiful, grace-filled faith in front of us. I was like a little evangelist. 
I was a PK (pastor's kid), and we had a little house near the church, so I could go play at the church on a weekday. I went with my neighborhood friend, and we were playing Sunday school on the blackboard. Of course, I was the Sunday school teacher, and I led her to Christ! I think we were third graders. I was pretending to be a Sunday school teacher and showed her John 3:16, and I remember to this day that we were both crying when she chose to accept Jesus into her life.
But then I got quiet. After college I worked in a Fortune 500 company. I still loved Jesus, but I was very quiet about my faith. It wasn't until we started moving overseas with my husband's job, I had a dear friend who was probably one of the most Christlike people I've ever met, but who didn't know Jesus. I don't know if you've had seeking friends like that. She just was precious.
But the Spirit whispered over me one day, "When are you going to give the reason for the hope that's in you to her?" So I did, and it changed my life to become more of an aroma for Christ, hopefully, and to proclaim Him. Because we lived overseas, I had a lot of seeking friends. I was determined, "I am going to give the reason for the hope that is in me before we move back to the States." I'm so grateful for that.
Erin: Yes. We went out with some friends just this week—we call it grown-up dinner. We do it once a month. It's three couples, and we're all followers of Jesus. We got to talking, as people do, about what's the latest banter on Facebook, and what's the latest scandal or whatever. One of the men in the group said, "We must be bold!" He was like, "As Christians we have to stand up and say what we believe," because everybody else is being very, very loud, and we're shrinking.
I've thought about that conversation so many times. He was talking about it in the context of pushing back against a dark culture. We're never going to win the culture war. We just aren't. But I do think he's right. We do need to be bold. That doesn't mean necessarily being aggressive and fist-pounding. It certainly doesn't mean spewing vitriol on social media. But Judy, like you're saying, a friend that you know needs the hope of Jesus, to just be bold in saying, "It's Jesus. Jesus is the reason why I have hope." Actually say His name. I think that's really a bold move.
Judy: Yes.
Erin, in looking at Claudia's story, I found it fascinating. I love the verse where we're told that his wife sent word to him and said, "Have nothing to do with this righteous man, for I have suffered much because of Him today in a dream."
I so wish Scripture told us more about that, in terms of what was the dream and how did she suffer, and how did she know He was a righteous man? You wonder if she was a quiet Christ-follower.
I'd also love to know what happened when she heard He rose again just a few days later—both she and Pilate, but especially her. Who knows, maybe she's a hero in this story and one day we'll find out in eternity that she's there, or maybe it was all head knowledge and she never chose to follow Him as her Savior. But I've really been thinking about this quite a bit since listening to your teaching.
Erin: Yes, she's fascinating. If I were to pick (it's not up to me), to me she seems like a seeker who's seeking to understand who Jesus is. When we seek Him, we find Him.
If you follow the whole story and really trace the thread, it does seem to me that Pilate has a change of heart after the crucifixion. He grants the body to Joseph of Arimathea and kind of breaks rank with what would have been acceptable. So I would like to think that this was a marriage, a family, a couple of high-ranking officials who were transformed by Jesus and that we'll be with them forever. Then we'd get to ask Claudia about that dream, because I'm like you, I want to know more.
Judy: Yes.
Staci: I think it was really interesting, too, how we talked about proclaiming Jesus, and the courage she had to go and have that message delivered. We see Jesus act in our lives all the time. When He's put on trial sometimes in our lives, we don't speak up with that kind of courage, you know? That was really interesting to me.
Erin: So true. What do you mean by when we see Jesus put on trial?
Staci: I've noticed—and I've gotten better—but even if I'm in conversations, not that it's a time to debate; we don't just seek to win arguments and things like that. But we do seek to speak the truth of Christ and to stand up for who He is and what the Word says. Because that shows others that we actually love them, when we love them enough to give them the truth.
So, even when I'm in conversations or something and a sticky subject comes up, and I know the truth of the Word of God, the fact that the person is bringing the topic up kind of means they want more. Do I shy away, or am I saying, "No, this is the truth of it," in love. Am I making sure I'm not scared to speak up when Jesus or the Word of God is put on trial in that way?
Erin: Yes, that's so good. I mean, I don't know where we are on the timeline of history, but I do think here, where we live in America, I keep saying we're not the home team anymore. There's some pushback against who we are and what we believe. I don't want us to shrink from it. I don't want us to be argumentative, like you said, but I do want us to be willing to, as Claudia did, interrupt court proceedings to send word, "This Jesus is a righteous man!" She said, "Have nothing to do with Him." We would say the opposite, right? We would say, "Have everything to do with Him! Give Him your life!"
I have a growing passion to see Christians be equipped for boldness, because I think it's time.
Staci: I agree.
Judy: I do, too. 
I loved how you said, "Many still want to kill the idea of Jesus," and we see that in our country. I love, too, how Jesus warned His disciples that opposition is coming, but it is about proclaiming the name of Jesus. I have found with my seeking friends, if you just naturally share over a cup of coffee or walking around the neighborhood with them to get exercise, just talk about Jesus as if they also know Him. They will be drawn to Him. So proclaim His name that way through relationship as well.
Erin: Yes. Judy, you and I have talked several times about persecution, and that can be a strange word to use in an American context, because right now what we experience probably isn't true persecution. When we look at our brothers and sisters in other parts of the world who are losing their businesses, losing their homes, losing their lives, we have more of an irritant. But persecution was what Jesus experienced, it's what His disciples experienced. He warned us we would experience it. So we need to have this readiness.
Judy, I feel like you have a special passion for seeing the church be ready for persecution. Where do you think that comes from in you?
Judy: Well, actually, when I was only twenty-two years old, right after I graduated from Moody Bible Institute, I had the opportunity to live in Vienna, Austria for a year and work as a short-term missionary with a ministry called Biblical Education by Extension. At that time (this would have been 1982) they were going into Eastern Europe, which was under Communism then. I had the opportunity to go into Romania to do some of the work there that we were doing. I met a pastor and his family, and it was even dangerous for them to meet with us as part of the work. 
What BEE did was they were writing seminary-level curriculum for pastors and seminary professors, that then would be translated into the languages of the Eastern European countries. I took floppy disks into Romania in my luggage.
Erin: I remember floppy disks!
Judy: Yes. It wasn't safe to do it, but we made it. Then I trained some people on how to use the computer that had also been smuggled into the country before I got there.
Meeting that pastor and his young family, they had us over for dinner. Many in the country were starving. They had this lavish meal for us, and we had to talk in hushed tones because they could get arrested for just having us in their home and the work they were doing for Jesus. I'd grown up knowing Jesus and His Word and Bible college—pastor's kid. But that changed my life, because I didn't know if I'd be willing to be beaten and thrown in prison, if not killed. They were under Ceaucescu, who was likened to Stalin back then. He was a tyrant, and the persecution was severe.
Years later, our family—married with little ones at the time—moved to Beijing, China. We went to an international church, but all of us had to show our passports to even walk into the church, because those who were nationals in Beijing couldn't be there. They would be told they couldn't be there by the Communist government. So I've had those markers in my life.
If those Christians in those countries are willing to die for Jesus, am I willing to proclaim Him to my neighbors in my free country and to talk about Him and His Word, and not to take for granted the privilege of gathering in worship and studying His Word openly? We don't know if that is going to be our freedom forever in our own country, and I don't want to take it for granted. So that's really where the heart probably comes for the persecuted church, from seeing it up-close at such a young age.
Erin: That's so beautiful; I had no idea. I knew you had a passion for the persecuted church, but I had no idea where it came from.
You need not look any further than the passage that we studied in this episode to see that yes, there is persecution of varying degrees that comes with following Jesus. I often hear Stephen called the first Christian martyr; well, he wasn't. Jesus was the first Christisan martyr, murdered for proclaiming that He was King. Then there were many others to follow. There will be many, many more. But, like Claudia (again, we don't know if she was a Jesus-follower or not; I just hope she was), boldness is required. But the Spirit gives us that boldness when we need it.
It would be conjecture, but I do think that dream was from the Lord. That's biblical. There are many, many times in Scripture where the Lord appears to somebody in a dream, and every nanosecond of the events of Holy Week were orchestrated by a sovereign God, so I don't think it's a fluke that Claudia had that dream and interrupted this court proceeding.
Judy: I don't either. Honestly, I think her saying, "Have nothing to do with this righteous man," was more about, "Don't be a part of His murder," rather than, "Don't have anything to do with Him." She was just like, "Don't touch this," you know? "This is a righteous man!" I don't think she knew yet, maybe, that He was her Savior, but I think she got it in terms of who He was.
Erin: Yes, and trying to protect her husband from that guilt.
Judy: Right.
Erin: I didn't drill down really far into it in this episode, but another person in this story that I'm always so fascinated by is Judas, who tried to return the blood money and hung himself because of the shame of what he'd done. Jesus' blood was on his hands, and I think Claudia was saying, "Pilate, if you murder this innocent man—" she called him a righteous man— "If you murder this righteous man, the shame and the guilt of that will never escape you." I think she was trying to prevent him from, like you said, participating in the murder. He took a passive approach, but he could only take a passive approach. Jesus was going to go to the cross; Pilate wasn't going to stop that. But I think Claudia was trying to protect her husband from participating in the murder of the Savior of the whole world.
Staci: You just did a really good job, for me, of taking her out of the story. Let me explain. I feel like whenever we tell stories, people are just baked in. You don't ever think about them as individuals with a heart that God is speaking to as well or working in. 
So I was like, Oh, I really don't know, kind of like you mentioned before, what happened to her. Did she turn to the Lord? Did she not? You just did such a good job of giving her a life, for lack of better words. You took her out of the story and let me see her as an individual, and showed what God was doing through her to keep His plans going—as far as Jesus going to the cross. You also showed what may have come out of what He did through her, for her personal life. So I really liked that.
Erin: Yes, the Gospels are so exacting. I mean, the writer in me is so fascinated by what the people who wrote the Gospels (under the inspiration of the Holy Spirit), what they put in and what they left out. Almost all the human stories in the Gospels end with a question mark. 
We know from Christian history that the disciples were martyred, but we don't know that from the Gospels. We know what happens to a lot of the human elements to a point, but then we're left to wonder. I have to think that's on purpose, because the people in the stories are not the point of the stories; Jesus is the point. 
His story we see from beginning to end. We see birth, ministry, death, resurrection, ascension, return. It's the only story that really is complete, and that's because it is the story that matters. So I do love to wonder about them. I love to wonder about Claudia, but I am convinced that it's on purpose that we can't figure it all out, because we're not supposed to be thinking about them, ultimately.
Judy: Erin, what can we expect to hear on the next episode?
Erin: We're going to look at a snapshot of a woman who I am so fascinated by. I tend to gravitate towards her story no matter what I'm teaching on, because she's mysterious, She reached out and grabbed the hem of Jesus' robe, and there is some powerful application, I think, for our own lives.
Staci: The Deep Well with Erin Davis is a production of Revive Our Hearts, calling women to freedom, fullness, and fruitfulness in Christ.
All Scripture is taken from the ESV.
*Offers available only during the broadcast of the podcast season.