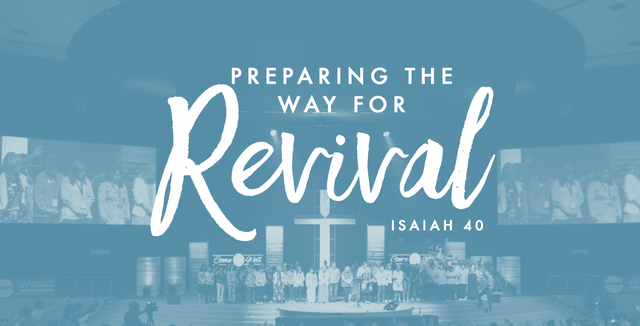 — Audio Player —
Your First Priority
Leslie Basham: What is most important today? Here's Nancy DeMoss Wolgemuth.
Nancy DeMoss Wolgemuth: There are many voices crying out in our day, and they're telling us what they think is the need of the hour. There are politicians. There are activists. There are businessmen. There are educators. There are economists. And they're saying, "This is what we need. This is what we need. And this is what we need." Some of them have good messages, important messages. But the prophet cried out, and he said, "The number one priority we must give our attention to is to prepare the way of the Lord."
Leslie: This is Revive Our Hearts with Nancy DeMoss Wolgemuth, author of Choosing Gratitude, for May 16, 2019.
Nancy: Well, my heart is still overflowing, amazed by all God did recently in South Africa. He's raised up a Revive Our Hearts team there who have faithfully been calling women to greater freedom, fullness, and fruitfulness in Christ.
Now, I've got to tell you that we never set out to open a Revive Our Hearts outreach in South Africa, but when we saw the way that God was at work there, we said, "We've got to join Him." And that led to our first Revive Our Hearts conference in South Africa several weeks ago.
There are so many special memories that stand out in my mind from that time, but let me just tell you about one woman. Her name is Dinah. She came from Kenya. And a month before the conference, she didn't know anything about it. But just as we were getting ready to leave for South Africa, we got an email here at Revive Our Hearts from Dinah telling us how she had been impacted through the podcast and the blogs, the ministry of Revive Our Hearts over the years.
She's a Kenyan woman. She's a professional woman in the biotechnology industry. And she was so eager to see how we could get these resources translated into Swahili so that she could share them with women in her country who speak that language.
Well, we received that email, and I was so excited. I said, "Let's see if she can come to South Africa." And on very little notice, she did come, along with several others from Kenya. I had the privilege of meeting Dinah, hearing her heart, seeing her longing, her eager desire to see God reach Swahili-speaking women with the message of revival and biblical womanhood.
Now, that wasn't on our radar just a few months ago, and I don't know all that God is going to do through that, but we're trusting Him. We're praying with her. We're trying to walk with her, do what we can to encourage her to help her get the resources and the tools she needs to minister to women in the Swahili language there in Kenya.
So I want to thank you. As I think about what God is doing in South Africa and in other countries on the continent of Africa, I want to thank you for sending me and a number of members from our team to take advantage of this ministry opportunity.
Now, you may be thinking, How did I send Nancy to South Africa?
Well, if you've supported Revive Our Hearts in the past, you've helped to make it possible for us to take advantage of this opportunity. And your gift is having a far reach as women around the world discover freedom, fullness, and fruitfulness in Christ.
We're about to hear the message that I gave in the final session of that conference in South Africa. But first let me mention that we can only move forward in places like South Africa, Brazil, Iran, Mexico, and many other countries because listeners like you give and support this ministry. You play a crucial role in helping us move forward where we see the Lord at work.
So as we've been sharing during the month of May, we're facing a need of $775,000 so that we can continue to pursue these kinds of opportunities and initiatives as well as continuing to bring this program to you day after day. Would you pray with us over these next couple of weeks that this entire need would be met? And would you ask the Lord how He'd have you get involved to help meet that need?
As we've been sharing with you, when you give a gift of any amount, we want to say "thank you" by sending you a brand-new resource called the Refresh Kit. It's a 30-day journal and devotional set that will take you on a 30-day journey of personal revival.
You can make your gift at ReviveOurHearts.com, or call us at 1–800–569–5959.
Now, let's hear the message that I shared in Pretoria, South Africa, just several weeks ago.
Nancy: Charles Haddon Spurgeon was the great British preacher of the 1800s, and he said,
In every land, Jehovah's goodness is seen. Therefore, in every land, He should be praised. Never will the world be in its proper condition till with one unanimous shout, it adores the only God.
Can you imagine that day? What a day that will be!
Now, when I got here to South Africa, and what a beautiful country you have and what a beautiful people are here. We've had people from other nations joining us as well. But I looked online to see what some of the headlines are in South Africa these days, and I found that there are many that are very similar to the headlines in the United States.
There are economic problems. There is poverty. There is high unemployment. There are racial tensions. There is corruption in business, in government. There is violent crime—murder, rapes, gangs. These are some of the things I read about in the South African headlines, and you would read the same things in the headlines in the United States and in many, if not most, nations of the world.
And many people today in our world have a sense of helplessness and frustration and anger and fear. People are looking for answers. They're looking for hope. And this is a time for the people of God to look up and to cry out to the Lord for His grace.
I was so thankful to read on your church website about the "Tipping Point Prayer Initiative" that you launched last year as you're believing God for a country-wide prayer movement. I think that's heading in the right direction. It's looking in the right direction.
Now, I want to encourage us this morning to open our Bibles to the book of Isaiah, Isaiah chapter 40. As you're turning there or scrolling there on your phone, I want to just remind us that the book of Isaiah has 66 chapters. It's divided into two sections—chapters 1–39 are the first section, chapters 40–66 are the second section.
This mirrors the two sections of the Bible. The whole Bible has sixty-six books. The Old Testament has thirty-nine books, and the New Testament has twenty-seven books. So the book of Isaiah gives us a picture of the overview of the Bible.
Now the first thirty-nine chapters of Isaiah have a theme of judgment and warning. You read verses like this in chapter 2. We won't turn there, but it says, "The lofty looks of man shall be brought low and the lofty pride of man shall be humbled." Throughout those first thirty-nine chapters, God confronts His people with their sin—idolatry, immorality, injustice.
And it's not just the people of God that are confronted. There are prophecies throughout those early chapters of the coming judgment of God on the nations that have forsaken God. To name a few: Babylon, Assyria, Moab, and others.
For example, in chapter 24—and I'm just introducing us, setting up the context to chapter 40—there's a prophecy of judgment on the whole earth. It says,
Behold, the Lord will empty the earth and make it desolate. The earth lies defiled underneath its inhabitants for they have transgressed the laws, violated the statutes, broken the everlasting covenant. Therefore a curse devours the earth and its inhabitants suffer for their guilt. All joy has grown dark. The gladness of the earth is banished.
Does that sound like our world today?
So in the first 39 chapters of Isaiah, you have this theme of condemnation. But in chapter 40, verse 1, and for the rest of the book, the tone changes dramatically. There's a new theme now, not of condemnation, but now of consolation and comfort. That word comfort is used thirteen times in chapters 40 through the end of the book. And the rest of the book of Isaiah talks about blessing and grace and hope and the glory of God.
The turning point in Isaiah, and in all of the Scripture, the turning point between the old covenant and the new covenant is brought about through the coming of the promised Messiah, His name is Jesus.
Now, we're going to look at just the first five verses of Isaiah chapter 40, and this is a Word of God to people who are looking for answers and hope in a bleak, barren time. The context immediately there, if you were to look at the end of chapter 39, just before chapter 40, there's a prophecy about the coming Babylonian conquest of Jerusalem. The people of God are going to be sent into exile in Babylon. So they are facing dire, desperate circumstances.
Then we come to chapter 40, verse 1, and God says, "Comfort." There's been no sense of comfort at all in the first 39 chapters. And now God says, "Comfort, comfort my people, says your God."
Listen, there's a time for instruction. There's a time for warning. But there's also a time to speak words of comfort and consolation and encouragement. And the prophet Isaiah is given a message of comfort, or reassurance, for God's people: "Comfort my people."
People in our world today, people in the church today, are looking for comfort. Aren't they? Maybe you need a word of comfort today.
I listened all weekend long to women from many countries of the world, including South Africa, tell me their stories about hard things they are going through in their lives. They were longing for comfort.
The Scripture says Jehovah is the God of all comfort. If you want comfort, you must turn to Him. And God has a word of comfort for your heart, for this church, for His people, and for our world today. Comfort, comfort my people.
Verse 2: "Speak tenderly to Jerusalem, and cry to her."
That phrase, "speak tenderly," it literally means speak to the heart—speak to the heart. It's the kind of term that would be used for a young man who is wooing the girl that he wants to marry. Speak tenderly to her.
God's people in this situation have spurned Him. They have rejected His law. They have turned to idols. But God still loves them. He still has a plan for them. He still calls them His people. He still reaches out to them. And He says, "Here's what you are to say tenderly to My people."
"Tell My people," verse 2, "that her warfare is ended."
That word "warfare" could be translated "hardship or severe trials." Remember, they'd just had that prophecy that the Babylonians were going to come and take over their nation, and God says, "Tell My people that their hardship, their hard trials are over, that her iniquity is pardoned." That word means "atoned for." Her sins have been atoned for.
"Tell My people that they have received from the Lord's hand double for all their sins" (see v. 2).
What does that mean? That full, sufficient payment has been made for all the sins of My people. And so we see here a compassionate God who chastens His covenant people—yes, He does—but He never, ever forsakes them. He speaks tenderly to them. He brings them a message of the hope. And He tells them that their time of trial is coming to an end.
Now, note: He does not offer this comfort to people who intend to stay in their sins, but to those who are willing to repent and who want to be restored to a right relationship with Him.
Judah is to be sent into captivity in Babylon because of her sin. That is yet to come. The prophecy was the previous chapter. "Babylon will come. You will be sent into exile." But God looks ahead, past those seventy years of captivity. Before they even start, He says to His people, "The day will come when your captivity will end."
God has already made provision before the judgment comes. He has made provision for the sin of His people to be forgiven, for the hardships that have been caused by her sin to end.
Our warfare, our labor, our hard, heavy service is ended. Our iniquity is pardoned. Not because God lets us off the hook and just winks at sin and says, "Oh, that's okay." It would not be righteous of God to do that. But our sin is atoned for. Our hard labor is ended through the atoning work of Christ because He has borne the wrath of God that we deserved for our sins.
And that brings peace and comfort to our hearts today. Right? And hope, as we anticipate the final consummation of that redeeming work when all trials will be ended, and we will be freed from the very presence of sin.
But there's something that we have to do between now and then. Look at verse 3: "A voice cries: 'In the wilderness prepare the way of the Lord; make straight in the desert a highway for our God.'"
The eastern monarchs and the nations they ruled over had a custom. When the monarch, the king, was coming to visit his people, he would send a forerunner in advance to announce, "The king is coming. He's coming to visit his people." And this messenger would prepare the way for the king's entourage. We might say they would roll out the red carpet for the king.
But the problem was that in those days public roads were unknown, nonexistent in many areas, or those roads might be overgrown with brush and trees and boulders. There was no way the king's entourage could get to those villages, those far-off places.
So he would send this group out, not only to announce that he was coming, but to say, "Send a group out to clear away the obstacles. Make a road for the king to ride on."
And where was this highway to be built? In the wilderness, in the desert. This speaks of a dry and barren place, an unlikely place for the king to visit but a desperately needy place.
Maybe your family is in a desert place. Some of you told me stories of that this weekend. Maybe you are in a desert place. Maybe your church is in a desert place. For sure our cities and our nations are in a desert place.
And God's people are urged to prepare the way for the coming of Messiah by building a highway in the wilderness of their hearts.
Now, in the New Testament, all four of the gospels apply this passage to the ministry of John the Baptist. Right? The forerunner of Jesus, the Messiah King.
For example, in Matthew chapter 3, we read,
In those days John the Baptist came preaching in the wilderness of Judea, [the wilderness, and what did he preach?] "Repent, for the kingdom of heaven is at hand." [The King is coming.] For this is he who was spoken of by the prophet Isaiah when he said, [chapter 40] "The voice of one crying in the wilderness: 'Prepare the way of the Lord; make his paths straight.'"
John the Baptist came with a message of repentance. In preparation for King Jesus coming to this earth, God's people were to remove every obstacle and to prepare a road, a highway for His arrival.
There are many voices crying out in our day, and they're telling us what they think is the need of the hour. There are politicians. There are activists. There are businessmen. There are educators. There are economists. And they're saying, "This is what we need. This is what we need. And this is what we need." And some of them have good messages, important messages. But the prophet cried out, and he said, "The number one priority we must give our attention to is to prepare the way of the Lord, to build a highway for our God."
Isaiah said it. John the Baptist says it. And it says it to our heart today. We need the Lord, and we must prepare the way for Him to come to us in revival.
So how is the way for the Lord to be prepared? Well, verse 4 tells us what's required to build this highway. It says, "Every valley shall be lifted up,and every mountain and hill will be made low;
the uneven ground shall become level, and the rough places a plain."
This is a picture of the preparation that must be made in the hearts of us as God's people for King Jesus to be able to come and visit us. There are obstacles that need to be removed if we want to experience His presence in our churches, in our homes, in our land, and in our world. We must build what Isaiah 35 calls "a highway of holiness." There are changes that have to take place. There are issues that must be dealt with.
For example, it says first, "Every valley must be lifted up." There are low places, shallow areas that need to be built up and filled in so the king's army doesn't trip in those low places.
This could refer, for example, to spiritual complacency, spiritual laziness, drifting spiritually, frittering our lives away with trivial matters rather than being intentional about seeking the Lord. Perhaps the lack of spiritual disciplines, these are low places that need to be filled in—Bible reading, meditation, prayer. Maybe there are valleys of discouragement and doubt because our eyes are on ourselves rather than on our God.
"Every mountain and hill must be made low." There are barriers. There are roadblocks. There are hindrances to revival, and some of these may seem like mountains. They may seem large and immovable. They have been there for as long as we can remember. They need to come down.
What are the hindrances to revival? The things that can stand between us and the presence of God, the things that can stand between us and other believers so together we can experience His presence. It may be:
broken relationships
mountains of bitterness
mountains of unforgiveness
mountains of idolatry
money
power
sex
mountains of addictive habits and sinful bondages

These things that seem so big, so powerful, so overwhelming. These mountains must come down.
It may be mountains of racial prejudice. They must come down so that King Jesus can come and visit us.
And isn't the biggest mountain of all an exalted view of ourselves, the mountain of pride? "Every mountain and hill must be brought low."
Any mountains or hills in your life that need to be brought low?
Paul says in 2 Corinthians 10 we cast down "every high thing that exalts itself against the knowledge of God" (v. 5 NKJV).
And then he says, thirdly, "The uneven ground must become level." You can't walk easily on uneven ground. It has things jutting up out of it.
This may speak of ways that are deceitful or fraudulent or crooked, ways of thinking that don't line up with God's Word, ways of thinking in our culture about sexuality about marriage.
That uneven ground may be injustice, unjust systems, oppressions of the poor and the needy. Maybe it's hypocrisy. Maybe it's dishonesty about our true spiritual condition. We're crooked. We're pretending like we're one thing, but the reality is that we're living a very different life.
It may be mixed-up priorities. We claim to belong to God's kingdom, but we love this world and our stuff and our work and our pleasure and our sports more than we love God.
Is it any wonder that the world is not motivated to love and follow Jesus when they see so few Christians who really delight in Christ? These are uneven ways, uneven ground that must become level.
And then he says, number four, "that the rough (or the rugged) places will become a plain."
These could be rocks or boulders or shrubs, things that can trip you up. They're not high mountains, but they're nevertheless dangerous. They may be little things that we've allowed into our lives that will keep the presence of Christ from being manifest in our lives and in our churches.
Maybe there are rough relationships that need to be smoothed out. We saw God doing that in women's hearts throughout this weekend.
There may be a lack of love, disregarding the needs of those who are different than us, treating others from maybe a different socio-economic background, treating others with contempt.
Those rugged places may be distractions, things that we give attention to in our lives that just distract us from time to hear the Lord and to respond to Him.
What happens when all these things are taken care of, when the highway has been prepared in the wilderness, making a way for our God?
Leslie: That's Nancy DeMoss Wolgemuth speaking from Isaiah 40. She gave that message a few weeks ago when she was in Pretoria for our very first Revive Our Hearts conference in South Africa. We'll hear the conclusion of that message tomorrow on Revive Our Hearts.
Nancy, what went through your mind as you stood there in South Africa teaching God's Word?
Nancy: Wow, Leslie. There's so many to choose from, but I'll never forget the final afternoon of the close of the conference as I was asked to pray a blessing over the women who would come to that event. I asked the Lord to strengthen them and to continue to spread the gospel truth even after the conference was over.
Then the church leadership had the whole Revive Our Hearts team and all the people who had participated in making this conference possible, they had us all come to the platform. They asked the women in the congregation to stretch out their hands toward us and to pray a blessing on us, on our team, and all those who had a part in that conference.
Then there was this unforgettable moment at the end of this pastor's prayer when one of the church members, who was standing up there on the platform with us, began to sing. This was not in the program, but she began to sing loudly in a language I didn't recognize.
Now, we'd already had some singing during the conference where the congregation joined in singing in Afrikaans, and that was a beautiful sound. But, as I understood, this woman was singing in the Zulu language, one of the national tribal languages. She was a Zulu woman. She was actually part of the cleaning crew at the church. They were getting ready to clean up the church after the conference was over. And all that cleaning crew were Zulus. They began to sing in beautiful harmony together this blessing on our team. And what a joy it was to hear.
We were told later what the blessing meant, and we knew that God was calling people to Himself. What a joy it was to hear these church members singing in this beautiful Zulu language and beautiful harmonies and to think how God was calling people to Himself from every tribe and tongue and nation and language—Zulu, Afrikaans, English, Swahili—so many different people who will be gathered together around the throne, worshiping the Lord forever.
Oh, I'm so grateful for the listeners who prayed for this conference and who supported Revive Our Hearts to make this ministry in South Africa possible. Tomorrow we'll heart part two of my message from that conference, and I sure hope you're back with us for Revive Our Hearts.
Revive Our Hearts with Nancy DeMoss Wolgemuth is helping you prepare a highway for our God. It's an outreach of Life Action Ministries.
All Scripture is taken from the ESV unless otherwise noted.
*Offers available only during the broadcast of the podcast season.
Support the Revive Our Hearts Podcast
Darkness. Fear. Uncertainty. Women around the world wake up hopeless every day. You can play a part in bringing them freedom, fullness, and fruitfulness instead. Your gift ensures that we can continue to spread gospel hope! Donate now.
Donate Now