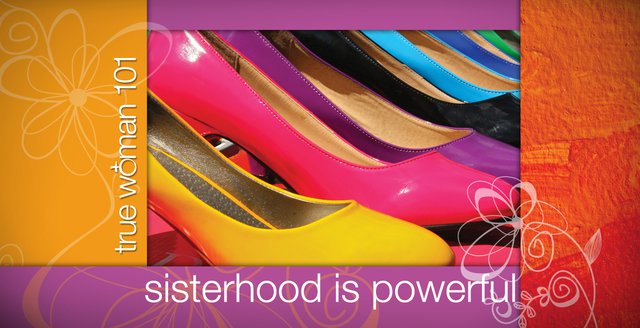 — Audio Player —
Women Encouraging Women
Leslie Basham: Here's Nancy Leigh DeMoss.
Nancy Leigh DeMoss: Saying, "I want to be a part of what God is doing through this movement," is costly, but it is for Him, and that's the conclusion I keep coming back to: He is worthy and worth it.
Leslie: This is Revive Our Hearts for Wednesday, July 30, 2014.
Women in the body of Christ need each other. Yesterday we heard part of a conversation that helped us realize why this matters so much. This week Nancy Leigh DeMoss and Mary Kassian have been discussing chapter 8 of the workbook they wrote called True Woman 101: Divine Design.
We'll pick that conversation back up in a minute, but yesterday Nancy, Mary and their friends talked about the True Woman Manifesto. They talked about the value of this document and why they Manifesto came about. Before we get back to that conversation, let's listen to part of the True Woman Manifesto read at the first True Woman Conference in 2008 in Chicago.
Woman 1: We believe that God is the sovereign Lord of the universe and the Creator of life, and that all created things exist for His pleasure and to bring Him glory.
Woman 2: We believe that the creation of humanity as male and female was a purposeful and magnificent part of God's wise plan, and that men and women were designed to reflect the image of God in complementary and distinct ways.
Woman 3: We believe that sin has separated every human being from God and made us incapable of reflecting His image as we were created to do. Our only hope for restoration and salvation is found in repenting of our sin and trusting in Christ who lived a sinless life, died in our place, and was raised from the dead.
Woman 4: We realize that we live in a culture that does not recognize God's right to rule, does not accept Scripture as the pattern for life, and is experiencing the consequences of abandoning God's design for men and women.
Woman 5: We believe that Christ is redeeming this sinful world and making all things new, and that His followers are called to share in His redemptive purposes as they seek, by God's empowerment, to transform every aspect of human life that has been marred and ruined by sin.
Woman 6: As Christian women, we desire to honor God by living counter-cultural lives that reflect the beauty of Christ and His gospel to our world.
Woman 7: To that end, we affirm that Scripture is God's authoritative means of instructing us in His ways and it reveals His holy pattern for our womanhood, our character, our priorities, and our various roles, responsibilities, and relationships.
Woman 8: We glorify God and experience His blessing when we accept and joyfully embrace His created design, function, and order for our lives.
Woman 9: As redeemed sinners, we cannot live out the beauty of biblical womanhood apart from the sanctifying work of the gospel and the power of the indwelling Holy Spirit.
Woman 10: Men and women are both created in the image of God and are equal in value and dignity, but they have distinct roles and functions in the home and in the church.
Woman 11: We are called as women to affirm and encourage men as they seek to express godly masculinity, and to honor and support God-ordained male leadership in the home and in the church.
Leslie: We've been listening to part of the True Woman Manifesto from the very first True Woman Conference in 2008. After that conference, guests needed a follow-up, something to help them grow in the principles they learned at the conference. So Mary Kassian and Nancy Leigh DeMoss wrote the workbook True Woman 101: Divine Design.
This week we've been hearing a discussion based on that book. Let's pick that conversation back up between Mary and Nancy along with their friends Dannah Gresh, Holly Elliff ,and Kim Wagner.
Nancy: Early on in the feminist movement there were some key moments where there was a document that a small handful of women would sign. 
Mary Kassian: Declaration of Sentiment.
Nancy: Yes, that was one of the early ones, but there had been other moments where, "We affirm this, we agree to this . .  " We just wanted something for the True Woman Movement to explain what we're talking about and what are the key non-negotiables. We don't get into specifics or details here of application of truths that can look different for different lives, but these are the core, fundamental truths.
Mary: What does the Bible say
Nancy: What does the Bible say. We start with the authority of Scripture, "That we declare our allegiance to Christ as Lord and to the authority of His Word." We've got a whole series on Revive Our Hearts and at the True Woman website about the Manifesto, but it was such an amazing thing at that first conference to have those 6,800 women read aloud together the core tennents and to affirm, "I agree, amen, yes, Lord." That's what we said.
Mary: This contains the Word of God, and, I think, important things about womanhood, but it's probably not a perfect document. But it's like sticking a flag in the sand and saying, "You know what? We're going to affirm what God says as being true and to aim for that ideal in a broken world." It's just a tool also to have. 
Nancy: It's a tool to help spread the message of what true womanhood is all about. We're not worshiping or creating an organization. We're just trying to resource women who want to be godly women in our day and to pass the baton of faith on to the next organization.
So what was exciting to see was how women are taking resources like True Woman 101, the True Woman Manifesto, the TrueWomanblog@TrueWoman.com . . . did I say True Woman enough there?
Mary: And we're now having TrueWoman101.com, which goes along with the new Bible study resource.
Dannah Gresh: I think it's really important, this is so key to my heart, in just really understanding. I remember when you described it that night in Schaumburg in 2008. You described it as nailing the colors to the mast.
Nancy: That's right. It means we're not backing down.
Dannah: Yes. We're not backing down. There's no other option. We can't go back.
Nancy (from 2008 True Woman Conference): You may have heard the phrase: "Nail the colors to the mast." Are you familiar with that phrase? The origin of that phrase was in the context of naval battles. A sign of surrender was to lower the flags, or the colors, that identified your ship, and nailing the colors to the mast meant that those flags could not be lowered. It indicated that you had no intention of surrendering. You intended to win the battle or die in the attempt.
So "nail the colors to the mast" is a phrase that has come to mean "to make a firm declaration of what you believe." The implication is that the declaration may not be popular—and if you doubt that, go on the blogosphere and look up True Woman. There's some ugly stuff out there.
The calling is not to be popular. You may be criticized when you nail your colors to the mast, but you're saying, "That doesn't matter. I believe in my cause. I've committed myself. I've taken a stand, and there is no turning back."
C.T. Studd was a British missionary in the late 1800s and the early 1900s. He said,
Nail the colors to the mast. That is the right thing to do, and, therefore, that is what we must do, and do it now.
What colors? The colors of Christ, the work He has given us to do. Christ wants not nibblers of the possible, but grabbers of the impossible by faith in the omnipotence, fidelity and wisdom of the almighty Savior.
Is there a wall in our path? By our God, we will leap over it.
Are there lions and scorpions in our way? We will trample them under our feet.
Does a mountain bar our progress? Saying, "Be thou cast into the sea, we will march on."
Soldiers of Jesus, never surrender. Nail the colors to the mast.
Nancy: Saying, "I want to be a part of what God is doing through this movement," is costly, and it involves sacrifice. I have learned that in spades since that first conference. There was such joy and exhilaration and exuberance there about what God was doing.
And it has been thrilling. That launched the most fruitful season of my life and of our ministry, and I think some of you would say the same thing. But it also launched me into a three-year period of great battle, too—a lot of opposition, a lot of my own flesh, on various fronts. I found myself over the next two or three years really struggling, "Do I want to stay in this battle?"
So I want to say that anything worth subscribing to, promoting—we're talking about promoting Christ. But when you do, the apostle Paul said if you're going to be a Christian, there's going to be opposition. And it was true in the New Testament. Whenever the Word of God flourished, there was also opposition.
So we're not saying this is going to be easy. It's not easy. If we're women who are, in different ways, laying down our lives in the private sphere and in our ministry's spheres for Christ, but it is for Him, the conclusion I keep coming back to: He is worthy and worth it.
Mary: We hope that this message is really resonating with the women. I believe it is. I believe that we've seen this message resonating with the young women of this generation—the teens, the early teens. There's a sense that this is something important, and they can be a part of it.
I'm so glad that we're able to just sit here and, really, offer resources, offer some ideas of how individual women, in their homes and in their lives . . . We're all busy women. We all have families. We all have things we need to do. Some of us are career women. Some women are single, and some married. We're all in different ages and phases of life, and we all have our different priorities.
But I think that there's ways for every women to get involved in this and to really spur her sisters on and to keep the sisterhood in mind, and to do it for the sisters.
Holly Elliff: I want to encourage the women who have been through this study to take up that mantel as well. You mentioned, Nancy, there were moments where it was frightening to pursue. It was frightening to move ahead.
And there are women who are in the midst of battles in their everyday life, but I just want to so encourage them to nail the colors to the mast and pursue Christ because it is worth it. It's worth it not just for us, for our generation, but it is worth it for every woman they will impact during the course of their life.
Nancy: Long after we're with the Lord.
Kim Wagner: Long after those coming behind us.
Nancy: Mary, you said something when we were at dinner last night, our table-talk group, and it just resonated with all of us around that table. I just want to ask you to repeat it. You said, "This is not about exalting womanhood." As we're looking at this whole study in review, can you just take us there for a minute?
Mary: Yes. We will go wrong if we think this is about womanhood, or if we think it's about us, because it isn't. When we're talking about womanhood, we're just wresting with how to honor Christ. This is about telling a story of the gospel. This is about telling God's story. This is about bringing God glory.
This is about being daughters who display the "Wow!" of Jesus, daughters who display the "Wow!" of Jesus in the way we do our lives as women in becoming who God created us to be, in becoming the beautiful women God has created us to be and having that inner beauty just radiate the presence of Christ in the way that God created us to radiate it.
So we can never ever lose sight of that. We can never ever think that this about a list of prescribed behaviors or this is how you're going to do life or how you're going to do marriage or what you're going to do with kids or how you're going to do singleness or any of that.
Ultimately, it's for the glory of God.
Nancy: Yes. We live for that day when the glory of the Lord will cover the earth as the waters cover the sea. It's a touching and humbling thing to think that being women, being designed by the Divine Designer as women, and living out that divine call is part of what makes that day possible.
Mary: It's what that day points to.
Nancy: It's the power of God that does it. We don't do it, but we're seeing where God is at work, and we're joining Him as women in believing Him and living in the hope that that day will come.
I think it would be appropriate if we would close this series by just joining our hearts in prayer. I want us to pray for the women who've taken this study. Just a couple of you pray, and we'll join our hearts, and those participating in this video series or are listening to audio, to just ask God to work in these women's hearts. I'd just appeal to them: Don't leave it to us to be the True Woman Movement. You be a part of what God is doing in our day for His glory.
But we want to pray for you. So join us, if you would, and, Mary, I'll ask you to close in just a moment, if you would. Let's join our hands and our hearts and cry out to the Lord.
Kim: Oh Father, I thank You so much that You've given us this calling as women. You've created us as women to live out the purpose of glorifying You, to show others Your goodness, to show others the transformation power that You are able to do within us. Please be glorified.
I lift up these women that are watching right now. Would You plant in their heart the vision for what You can do within them and through them; that Your great name, Oh God, would fill this earth, and people would be able to say, "The Lord alone is God"?
Dannah: Lord, I just want to lift up the woman that feels so inadequate and just has that lie in her heart that she'll be found out, that she'll be exposed, that she can't possibly be the true woman that You've called her to be.
Lord, those are lies from the enemy, and I just lift up her heart to You, and my prayer is that she would find one friend, one sister to just confess her fears to, to confess her past to, and to commit to a glorious future together. Lord, be with her today.
Holly: And, Father, I just thank You that, as You call us forward, as You call us into change, we don't have to produce it. We don't have to have the energy or the drive for it in ourselves, but, Lord, we can turn and depend on Your grace, the grace in which we stand. And, Lord, You give us then the power and the desire to walk in obedience to You.
Lord, I pray that every woman listening to this would recognize that it is not about her. It is about who Christ is in her.
Mary: Father, I just pray for the women who are watching, our sisters. We don't know them by name, but we know they are our sisters because they love You. And for those who have not yet entered into a relationship with You, I pray that their hearts will be drawn to Christ, Lord, and that they will see this as being so attractive, and that they will see Christ as being so attractive that they will be drawn into a relationship there.
And, Father, I pray that You will give us a vision to be the type of women You want us to be, that we will be the women that You created us to be so that we may experience, really, and become who we are, but more than that, that we may see the lives of our families changed, that we may see our homes changed, that we may see our communities changed, that we may see our churches changed, and, Lord, that we may impact a generation, that we may leave a legacy that our lives may be something that counts for eternity.
So, Father, I just pray for every woman that You will stir in her heart what You would have her do to obey You, the areas of sin that she needs to confess and get right in her life, and just the next step to take along the path toward Your idea.
Father, we just love You, and we want to exalt the gospel. We want to exalt the story of Jesus Christ by becoming God's true woman. Amen.
Leslie: That's Mary Kassian praying that the Lord will raise up women to display godly femininity in our day. We've also heard from Nancy Leigh DeMoss, Holly Elliff, Dannah Gresh, and Kim Wagner. Nancy will be right back.
That discussion was based on chapter 8 of a helpful workbook called True Woman 101: Divine Design. Do you know why God designed male and female? Do you have a sense of your unique calling? Well this workbook will help women explore the Scripture and discover God's unique call on their lives.
Today, we'd like to send you a copy when you support Revive Our Hearts with a donation of any amount. You can donate online and get your workbook. The address is ReviveOurHearts.com, or ask for True Woman 101 when you call 1–800–569–5959. We'd be happy to send out one workbook per household.
You can also order additional copies for your small group. Again, just visit ReviveOurHearts.com.
Well, what would you think if your husband wanted to invest $4,000 into an industrial sewing machine? Well, our guest tomorrow knows what that's like. Please be back for Revive Our Hearts.
Now, to close our time, here's Nancy.
Nancy: As I was preparing for this morning, I was reading a passage of Scripture that has been on my heart today, and I just want to share it with you as we close this session.
First Peter chapter 2, verse 9 says: "But you are a chosen race, a royal priesthood, a holy nation, a people for his own possession, that you may proclaim the excellencies of him who called you out of darkness into his marvelous light."
And doesn't that describe what we've been talking about over these weeks, what God has done for us, how He has redeemed us, made us His own possession? I mean, how can you be overwhelmed with inadequacy and fear and insecurity when you know you are His precious possession because of what Christ has done for you? And that's not the end!
The end is that we can proclaim the excellencies of Christ who called us out of darkness and into his marvelous light.
And we hope that you have caught the vision for becoming God's true woman and then being a part of proclaiming the excellencies of Christ, exhalting Him to our generation.
So I just want to ask you: Will you be a part of this quiet counter-cultural revolution that I believe God is orchestrating in our day? Will you join us and other sisters around the world as we seek to recapture the legacy of biblical womanhood and carefully and intentionally pass it on to the next generation?
As our friend Susan Hunt has said,
This battle for biblical womanhood is nothing new. It is simply the reclaiming of what always has been and always will be, but reclaim we must for the glory of our sovereign King and the advancement of His kingdom.
Well, I say, "Amen to that!" and we just hope that this study has inspired you to marvel, to embrace, and to delight in God's spectacular plan, and that you have begun to discover the beauty, the joy, and the fulfillment of being exactly who He created you to be—not who we think you should be, but who He created you to be.
He wants you to be so much more than what the world upholds as the ideal. He wants you to be His true woman, a woman who says, "Yes, Lord," a woman who patterns her life according to His divine design, by His grace, and the power of His Holy Spirit.
Thanks so much for joining us for this study. We pray that you will be intentional in the days ahead about seeking the Lord, about discovering what it means to be God's true woman, and about reproducing that heart in others until Jesus comes or until He takes us home.
We're a sisterhood, and we're so glad to be a part of that sisterhood with you, and we pray thatyou will want to be a part of that sisterhood with us for the glory of Christ.
Revive Our Hearts with Nancy Leigh DeMoss is an outreach of Life Action Ministries.
*Offers available only during the broadcast of the podcast season.
Support the Revive Our Hearts Podcast
Darkness. Fear. Uncertainty. Women around the world wake up hopeless every day. You can play a part in bringing them freedom, fullness, and fruitfulness instead. Your gift ensures that we can continue to spread gospel hope! Donate now.
Donate Now