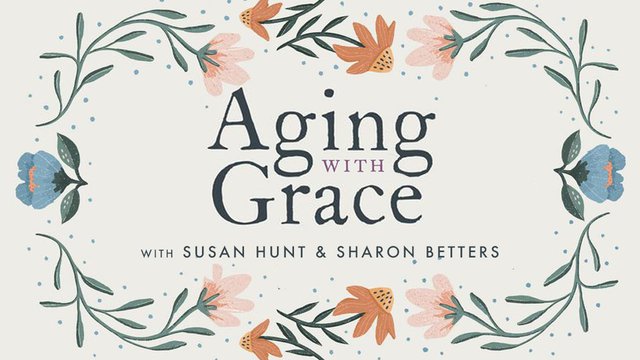 — Audio Player —
A Vision for Coming Generations (Jer. 29, Ps. 71)
Nancy DeMoss Wolgemouth: My long-time friend, Susan Hunt, is passionate about older women teaching younger women.
Susan Hunt: It's not about just women teaching Bible studies. It's wonderful when we do that. But when we show and tell them by our very lives, we're telling them the glories of God.
Nancy: This is Revive Our Hearts for March 26, 2021. I'm Nancy DeMoss Wolgemuth. Thanks for joining us today.
Over the last couple of days, we've gained some wisdom about aging. Although that topic doesn't necessarily seem really fun to talk about, we've been learning why we can and why we should change our perspective on getting older.
Susan Hunt and Sharon Betters have joined Dannah Gresh for a conversation about learning to flourish in whatever season we're in. Susan and Sharon are the authors of an important book called, Aging with Grace. And I love that subtitle. It says, Flourishing in an Anti-Aging Culture.
If you're just now joining us for this series, I want to encourage you to go back and listen to the conversations over the past couple of days. You can find those episodes at ReviveOurHearts.com, or you can listen to them on the Revive Our Hearts' app.
Now, here's Dannah to begin the last part of their discussion.
Dannah Gresh: Okay, so I have an honest question. I feel like we've spent three days together, and we're true friends at this point. Since we're talking about age, how old are you, Susan Hunt?
Susan: I just had my eighty-first birthday. Isn't that just amazing?! I love it! I love it so much! So I'm eighty-one.
Dannah: Eighty-one! And I love how excited you are about it!
Susan: I really am because I'm learning that this is the sweetest time of life. It is such a sweet time. The Lord's presence is so dear, and He's so good to me.
Dannah: Oh, beautiful.
Sharon Betters, how old are you?
Sharon: I am seventy-three, and I can't believe it! It's shocking to me when I think about it. But I do have to add to . . . No wonder Susan thinks it's a great time of life—they partied all week! She was constantly out with friends and family. I mean, they really celebrated her—as they should. I was very happy to hear about that.
Dannah: That's great. I'm going to remember that! On my eighty-first birthday, I'm going to tell my husband, "Susan partied all week! I want a week-long party on my eighty-first !"
Well, I, Dannah Gresh, am fifty-three, and my back is telling me that I am headed down the other side of the hill. I'm "over the hill now," I think is what they say.
So, girls, we know we love the Word of God. Will you take us to the Word of God and tell us: What are some Scriptures that we need to know if we are going to be women who age with grace?
Sharon, what Scripture would you select?
Sharon: Well, I think that it's sort of a passage that we write about in the book. We call it "The Matriarchs of Jeremiah." But Jeremiah 29, many people know that verse, verse 11, where God says, "I know the plans I have for you, plans to prosper you and not to harm you."
But what they don't know maybe is the context. Sometimes we take that out of context, and we're disappointed because our definition of prosperity is a lot different than what our life is. And so we may be tempted to say, "God, You sure didn't keep that promise."
Dannah: So what is the context?
Sharon: The context of Jeremiah 29 is: The Israelites were in exile, and they wanted to go home. So they were seeking out wisdom from, I would call them soothsayers, but I think they were church leaders who were saying, "You're going to go back in two years, so you can tolerate this for two years."
But Jeremiah says, "I have a message from the Lord, and the Lord says, 'I have taken you into exile. (God took responsibility for them being in exile.) And you're going to be here for seventy years. You're not going back for seventy years.'"
Dannah: That's a long time.
Sharon: Now, we started looking at the people who were there, and we zeroed in on the women. We zeroed in on the older women, but, frankly, this could have been any woman because most of them were not going to go back to their homeland.
Dannah: They would age to the point where they weren't able to.
Sharon: Right.
Dannah: So let me make sure everybody's with us. They are in Babylon. Right?
Sharon: Yes.
Dannah: So the exile would have been that the people of Judah, God's people, were in Babylon. (We read about that in the book of Daniel.) And God steps in and says, "I did that. I took you there. And you're going to be there seventy-plus years." That's what Jeremiah is stepping in and saying in this.
Sharon: Yes.
Dannah: So what about the women in Babylon?
Sharon: Well, they wanted to go back to what was. And I think we all can feel their pain. We want to go back to what was. And God was saying, "You're not going back."
And we can apply that to every part of our lives, I think, where we're disappointed, where what we want so desperately, what we have lost, we're not going to get back. And, as we age—aging is often a season of loss where we can't go backwards, as much as we'd like to.
So, how do we go forward? How do we stay in this place, knowing that the old is gone, the new has come, and we're not thrilled with it?
Dannah: Even as you say that, I'm thinking of the wonder years. That's what I call the years when I had all my little ducks in the nest. I loved those years! I loved when my Robbie and my Lexie and my Autumn were home, and I knew where they were. And sometimes I miss those years.
I think the Lord wants me to treasure them, but move forward, not paint pictures . . . I probably was really stressed out about the laundry if I went back there. (laughter) But we do that. And you're suggesting that's what they were doing.
Sharon: Absolutely. They wanted to go back. And when you look at the whole passage, God doesn't just say, "Okay, you're stuck there. Figure it out." He gives some very specific instruction, and each one of those instructions is a symbol of hope.
He tells them to build houses. They were likely in a desolate place that had been ruined by war, so they were going to have to start from the ground up to build houses.
To plant gardens, and to eat the fruit of their gardens.
To marry, to give their daughters in marriage.
To have children.
And to pray for those who were over them, because if those who were over them did well, then they would do well also.
This is a theme all through Scripture. Back in Genesis where God said to Adam and Eve, "Be fruitful and multiply." He tells us this repeatedly through Scripture. I know that Susan and Karen Hodge wrote a book about life giving, and they said, "Bloom where you're planted—the plot of dirt you're planted in."
That's what God was saying to them. "They're planted in this plot of dirt, and this is how you're going to get through it." They weren't going to go back to home. They were moving toward a different destination.
And that, for me, really hit home. I could be one of those women. I could make the decision that, "I'm not going to look to the Lord for my satisfaction." And there were women in Jeremiah's day that didn't. He rebuked them. They looked to Asherah and said that all their blessings were from Asherah, a goddess that they worshipped, and they didn't give God any credit for it.
So in a similar situation today where we can't go back, we could look to alcohol or opioids or relationships or children, and say, "That's the cause of my blessing and my joy."
That was one choice.
The second choice was: They could submit, but with great anger and disappointment, and everybody that came around them would know it. They might have helped build houses, but they did it with a chip on their shoulder, and they were miserable.
Or, they could surrender to God's purposes for the sake of the next generation and to die to self over and over and over again to point the next generation to the Lord and to the goodness of the Lord and to recognize that, in the middle of this, God was saying, "I am not doing this to hurt you. I'm doing this because I have a bigger plan for you."
Dannah: Oh, wow! That's rich and a lot to unpack. And right away I'm thinking of the woman who's saying, "I don't like the size of my retirement home or my retirement room."
"Plant a flower," the Lord says. "Plant a vegetable garden in the backyard."
"I don't like the stage of life that I'm in because I miss my husband, and I wish that he was here to enjoy the grandchildren with me."
"Well, take your grandchildren in the backyard and plant a garden."
Is that what you're saying that the modern application might be?
Sharon: I'm thinking of a woman who was in a small-group Bible study—older, widowed, by herself in the middle of this pandemic, very isolated, newly widowed and in a pandemic. So, having the family of God around her, it was challenging. She was very lonely. She was very unhappy, and the other women knew it. She said, "Nobody calls me. Nobody sends me a card. Nobody does anything for me. I'm just all alone here."
And her friends, the family of God, encouraged her. "Maybe what you need to do is send the cards. Maybe you need to make a phone call—die to self. Put your disappointment and your hurt—die to self—and see what God will do with it." She took the challenge. So every day she calls someone and checks in with them to see how they're doing. And some friendships have started because of this.
Dying to self-brought great fruit. She could have stayed where she was and been bitter and angry. She could even when people would come over be bitter toward them because they didn't come and stay with her the way that she wanted them to. But, instead, it was dying to self.
It's a thousand little deaths every day where we are able to surrender to God's purposes. I'm not saying it's easy. I don't think Susan or I either one are saying that's easy. I think it's excruciating for some. But always is the promise that we will flourish when we're planted in the house of the Lord.
Susan: We had a letter just last week from a woman who had read the book. She went on to tell us about her life. Her husband had retired. He'd been a pastor. He retired because of his health. He's probably facing a Parkinson's diagnosis.
They had moved to another part of the country to live with their son. So they left everything familiar. There's not a church there of the same denomination that her husband had been a pastor in, so the church is not the same. Everything is different. But she concluded the letter this way: "We have a strong faith in God's sovereignty, so we are not afraid."
That woman is flourishing. I can't wait to see what's going to come of that, how God is going to use that where she is, which seems like a very desolate place to her right now. But she's trusting in God's sovereign love, and they're not afraid. That's beautiful fruit.
Dannah: That is beautiful fruit. I love that.
One thing I keep hearing—I hear it in your hearts, in your lives, and it's a call you're issuing to my heart today. We've got to have a vision for the generation coming behind us. That's the key, I think, to aging with grace.
We can't think about, "Me. Me. Me. My comfort. My needs. My wants." We have to die to self and think about who's coming behind us.
Sharon: Yes. Susan, you handle this really well when you talk about Psalm 71 where you're unpacking that long view. It's getting our eyes off of ourselves and getting it onto that next generation.
Susan: Psalm 71 is so remarkable. We're told that it's the prayer of an old man. Many commentators think that it's David at the time of insurrection of his son Absalom when he was trying to overthrow the throne. So imagine your own son betraying you. This is very public. It's a public scandal.
And yet, here we see David's prayer. He does the right thing. He goes to God in prayer. And throughout this prayer, he's remembering the various seasons of his life. He remembers his youth. He remembers middle age. And then he says in verse 17: 
O God, from my youth you have taught me,
   and I still proclaim your wondrous deeds.
So even to old age and gray hairs, O God, do not forsake me,
   until I proclaim your might to another generation,
   your power to all those to come" (vv. 17–18).
I am just so encouraged by that, that at this point he would be praying that God would use him to tell the next generation. That's the Great Commission of the Old Testament. It's the Great Commission today. One generation is to tell the next generation.
But I find it so interesting that he has gone through all of these verses about the things he remembers. And he's remembering God's faithfulness to him in each season of life.
It reminds me of what David wrote in Psalm 103:
Bless the Lord, O my soul,
   and all that is within me,
   bless his holy name!
Bless the Lord, O my soul,
   and forget not all his benefits,
 who forgives all your iniquity,
   who heals all your diseases,
who redeems your life from the pit,
   who crowns you with steadfast love and mercy,
who satisfies you with good
   so that your youth is renewed like the eagle's (vv. 1–5).
My mother lived to be ninety-nine. At the age of ninety, as her life was beginning to become very small, I began praying this for her, that she would not forget God's benefits. I prayed that even as life became small, she would remember all that God had done for her—His faithfulness to her children. And she did. And she flourished.
I think this is what we see. David was not forgetting. He was remembering. So even in this awful situation of the betrayal of his own son, he says, "But God, let me proclaim Your might to the next generation."
Now, that is quite a vision. It's the vision every one of us should have.
"Even if I'm confined to a hospital bed, let me show and tell the next generation the wonders of who You are. May my spirit, may everything about me shout to those around me that You are great, and You're loving, and You're kind, and You're forgiving."
And it just points us right to Titus 2, that older women are to teach and train younger women that we might live lives that bring honor to the Lord God.
My prayer is that as older women and as younger women read this book, they will see the value of their relationships with one another, that older women will have a great vision. It's going to look different the way we serve the Lord's Church in old age than it did when we were younger.
We can't do as much. We can't do many of the tasks of ministry. But we can encourage and cheer on those who are doing it.
We can tell them how wonderful they're doing, how proud we are of them. We can pray for them. We can be missional our entire lives. And I think that's what the Lord calls us to.
Dannah: In fact, one of the things that David remembers in Psalm 71 is his mission in verses 15 and 18. This really excites me when I read Psalm 71. Do you mind if I read it to you ladies?
Susan: Please do.
Dannah: It says, 
My mouth will tell of your righteous acts,
   of your deeds of salvation all the day,
   for their number is past my knowledge.
With the mighty deeds of the Lord God I will come;
    I will remind them of your righteousness, yours alone.
See, when I read Psalm 71 and realize he's old, but he's still on mission, something stirs in me. What thoughts do you have about that?
Susan: Well, the same. It has stirred in me for decades, longing for women to teach women the glories of our Savior. And I don't mean just teach Bible studies. It's wonderful when we do that. But when we show and tell them when by our very lives, we're telling them the glories of God.
I think we need to bring it down for those of us who are older: What does this mean we can do?
Sharon gave a wonderful example of the woman who had started writing notes to others because she's not receiving them. So rather than become bitter about that, start writing those notes.
One of the things I did during COVID was to write a note to each family in our church that I missed them.
And one of the things I love doing now is, I'm understanding more and more the power of prayer. I can't go and do as much, but I can pray for those who are going and doing.
I can pray for our grandchildren. I text verses to our grandchildren each morning, just a verse for them to start the day.
There are ways that we can share God's Word without having to leave our house.
My door is always open for spiritual daughters to come. We haven't let them come in groups during this time, but one-on-one where we can sit a little distance apart, and we can talk, I can just share with them what I've learned about the Lord.
Dannah: I love that. I've prayed for many years, my husband with me, that we would not retire. Now, that might mean that our vocation changes because our age is prohibiting us from the kind of leadership that we've enjoyed in younger years, but I don't want to retire from serving the Lord. I don't want to retire from sharing the love of Jesus. This isn't the end.
In fact, another piece of this passage, Psalm 71:19–20 reminds us that aging isn't the end. Doesn't it?
Susan: Yes, it does.
Your righteousness, O God, reaches the high heavens.
You who have done great things, O God, who is like you?
And then he concludes in verse 24: 
And my tongue will talk of your righteous help all the day long,
   for they have been put to shame and disappointed who sought to do me hurt.
His eyes are on the future, on that future grace, the future that we have, on eternity, when everything that we've longed for, everything that we have hoped for will become a reality. And so he's seeing that. He's seeing into that even now—as we should. Our eyes should be set upon our destination.
Dannah: Which is heaven.
Susan: Yes.
Dannah: Heaven gets sweeter every day to me. The older I get, the sweeter it gets. The more I have people—friends, family—waiting for me there, the more excited I am to be there. What a good destination we have ahead of us.
It's been a joy to sit down with you, Susan and Sharon. This book has been a rich read for me. It's on my night stand. I'm finishing up now. What an intimate conversation I have with you every night before I go to bed. Thank you for being there!
But it's also really great for a small group use. Tell us about that.
Sharon: Yes. Susan and I have written a leader's guide for small-group leaders, and we are passionate about this. We wrote the book for individuals, but we really wrote it for a small-group study as well because we think that the idea of Titus 2 is critical to the health of individuals but to the health of our churches where older women are teaching younger women.
But in a small-group setting, younger women can teach older women, too, where there is a back-and-forth with what the Scripture teaches about aging. It would help older women to understand where younger women are coming from, in case we have forgotten what it was like to be young, and it would give younger women a different perspective on aging as well.
Nancy: Susan Hunt will be back in a moment to pray.
What a joy it's been to listen to these godly women share about growing in the Lord and aging with grace.
If you've enjoyed this conversation with Sharon Betters and Susan Hunt, I know you'll want to pick up a copy of their book, Aging with Grace: Flourishing in an Anti-Aging Culture.
Wow! And that's what we want to do, isn't it? Whether you're a woman who's aging with grace already or you're just looking for advice on how to do it well, even though you're still a younger woman, this book is one that should be in your library.
You can order a copy through the Revive Our Hearts Resource Center by calling us at 1–800–569–5959, or visit us at ReviveOurHearts.com and look for the book, Aging with Grace.
When you go to the website, you'll see some special resources that are available to you this month when you give a gift of any amount. Revive our Hearts is listener supported. And when you donate to this ministry, we want to send you a gift as our way to say, "Thank you for partnering with us."
To make your gift, go to ReviveOurHearts.com, or call us at 1–800–569–5959.
Now, everyone is drawn to a good love story. Right? Well, next week on this program, we'll hear from Erika VanHaitsma. She's going to help us prepare our hearts for the celebration of Jesus' death, burial, and resurrection. She'll do that by inviting us into the grand love story of the Bible.
Find out how the Passover and Easter seasons point us to the ultimate story of a damsel in distress, a loving king, and a happy ending. I hope you'll be back Monday for Revive Our Hearts.
Now, here's Susan to close us in prayer.
Susan: Our Father in heaven, how we thank You that You have ordained our days and that You have planned an eternity for us that is beyond our wildest imaginations.
Thank You that You have a plan for us, a plan to prosper us, to give us all of the treasures of heaven, and that we get a taste of that right now because You are with us, Your Spirit lives in us. You have given us Your very Word to help us to know You and to know Your ways.
And Father, I pray that every woman listening, whatever her age, whatever her situation, that she will begin to hunger and thirst even more to grow in the grace and knowledge of Jesus, to go through each season of life knowing You more and more, and knowing the wonder of experiencing You in her heart, of knowing the reality, the joy of Your presence with her.
Father, for the ones who are lonely, for the ones who are grieving, who are sad, Father how I pray that they will look to You. And, Lord, You tell us that those who look to You are never ashamed, that our faces are radiant when we look to You because we begin to reflect the glory of You. How I pray that for every woman who is listening to us right now.
And, Lord, help each one of us to have that great vision for telling others about you, even if it's the person who comes in to take care of us, or if it's a grandchild, whomever it is, Lord, may we show them the wonder of who You are. In the great and mighty name of Jesus, our Savior, amen.
Reminding you that this season of your life has purpose, Revive Our Hearts is an outreach of Life Action Ministries.
*Offers available only during the broadcast of the podcast season.
Support the Revive Our Hearts Podcast
Darkness. Fear. Uncertainty. Women around the world wake up hopeless every day. You can play a part in bringing them freedom, fullness, and fruitfulness instead. Your gift ensures that we can continue to spread gospel hope! Donate now.
Donate Now