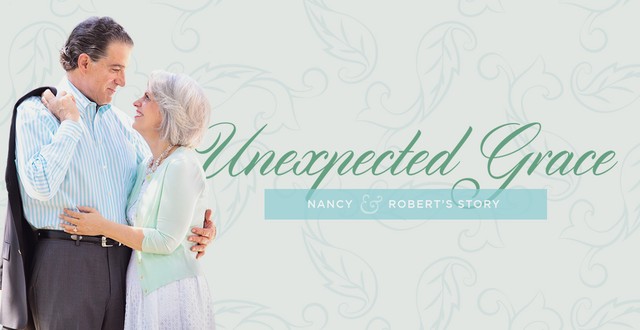 Unexpected Grace, Day 1
Leslie Basham: For over three decades of her adult life, Nancy Leigh DeMoss served the Lord with a sense that the Lord was calling her to singleness. Earlier this year, she was faced with a challenging question. 
Nancy Leigh DeMoss: Is God maybe redirecting my life to consider the possibility of receiving a new gift—the gift of marriage?
Leslie: This is Revive Our Hearts with Nancy Leigh DeMoss for Monday, November . . . oh, wait! I've been saying that line for fourteen years, but today . . . it's different. Let me try this again. This is Revive Our Hearts with Nancy DeMoss Wolgemuth for Monday, November 16, 2015. 
Movies and novels are full of so-called "love stories." Usually they involve a lot of soaring emotions and romance. Today you'll hear a very different kind of love story. We've often said on Revive Our Hearts, "Let God write your …
Leslie Basham: For over three decades of her adult life, Nancy Leigh DeMoss served the Lord with a sense that the Lord was calling her to singleness. Earlier this year, she was faced with a challenging question. 
Nancy Leigh DeMoss: Is God maybe redirecting my life to consider the possibility of receiving a new gift—the gift of marriage?
Leslie: This is Revive Our Hearts with Nancy Leigh DeMoss for Monday, November . . . oh, wait! I've been saying that line for fourteen years, but today . . . it's different. Let me try this again. This is Revive Our Hearts with Nancy DeMoss Wolgemuth for Monday, November 16, 2015. 
Movies and novels are full of so-called "love stories." Usually they involve a lot of soaring emotions and romance. Today you'll hear a very different kind of love story. We've often said on Revive Our Hearts, "Let God write your love story," and Nancy has counseled women to not pursue men.
So practically, how can people get together if God's calling them together? This week we'll hear how it happened with Nancy and with Robert Wolgemuth, who were married this past Saturday.
Here's what you'll hear: When God is calling you together, there will probably be some romantic feelings along the way; there will be a physical attraction along the way, but the number one question is, "What does God want? What will bring Him glory?"
Figuring that out has been on Nancy's heart from a young age.
Nancy DeMoss Wolgemuth: I came to know Jesus at the age of four. That's the first conscious memory I have, actually, as a little girl in my bedroom, just kneeling before the Lord, during my naptime and trusting Him. I didn't know any great big theological terms or concepts, but I knew that I needed a Savior and that He was a Savior. There was a surrender of my life to Him at that point. 
Over those next couple of years (probably by the time I was six, seven, eight years of age), I had this very strong, unmistakable sense that my life belonged to Christ and that He could do with it whatever He wanted. It was not my own. I was set aside, set apart for His kingdom purposes. Of course, I had no idea what that would look like or what it would mean, but there was this very strong sense of consecration, that He had done all for me and that all of my life belonged to Him.
I had the privilege of seeing modeled in my home what it looked like to live a life that was surrendered to Christ. That doesn't mean my parents did that perfectly—they didn't (they'd be the first to say that). But there was this sense of "Christ is worthy of all." So I knew from my earliest childhood that had to affect every area of your life. My parents modeled that the will of God is good and acceptable and perfect and that God can be trusted!
From the time I was very little, I had a burden and a mission in my heart for revival among God's people, for the Church. I discovered I loved teaching the Word. I actually discovered that when I was eight years old when I taught my first Sunday School class. Pretty much all through my teenage years I was teaching the Word of God. After I got out of college, I was able to do that vocationally. I loved, loved, loved studying and teaching the Word of God. I loved ministry.
I had a strong sense from the time I was very little that the only thing I could do with my life was serve the Lord in vocational ministry. I want to hasten to say my parents did not push that. My dad was a businessman, so he was a layman serving the Lord. Nobody said you had to be in full-time Christian ministry to be spiritual or to be godly. It was not that, but I just knew that I knew that's what I had to do with my life. I began to realize as a single woman there was a freedom to serve the Lord in a way that was different than would be the case if I were married.
I would come to passages like 1 Corinthians 7 in my reading of the Scripture, where Paul talks about how there are gifts—different gifts given to different people. He says if you have the gift of marriage, embrace it and use it for the glory of God. But then Paul says if you're able to serve the Lord without marriage and to be sexually pure and to commit yourself to this calling, or to embrace this calling, he says this is a good thing because then you can serve the Lord with "undistracted devotion."
He says the married person, rightly, has divided attention. Of course they love and serve Christ first, always, but they're also rightly devoted to their mate. Life has distractions, married life has distractions. Paul says that's not a bad thing. If God's gifted you for that, then do it for the glory of God, and it's wonderful. But he's saying if you can do that as a single person, he is saying that's a good thing, too. It's a gift. Embrace it.
And so it was, again, in my late teens, early twenties, when I first began to have this sense of, "That passage is talking about me." I remember telling my dad at one point, "I think if I'm not married by the age of twenty-five, then probably the Lord doesn't want me to be married."
I remember him saying, "Don't draw that conclusion. You don't know." I think that was a wise word that helped me to realize, "I don't have to know what the whole course of my life is going to be." You take it a day at a time, a step at a time. You trust, you obey, and then whatever the Lord unfolds, that will be good. And I don't want to sound like some saint about this, because I do have my own sin issues for sure and my own struggles with surrender at points, but this was not a hard choice.
I loved this I love the Lord. I love that passage in Exodus, in the founding of the Jewish nation, where God talks about this thing of the bond servant. This is the servant who is able to go free, but he says at the point of his emancipation, "I don't want to be set free. I want to serve my master all my life. I want to become a bond servant." That would be symbolized by this hole in the ear. That person would always be recognized as one who has chosen to be a bond slave of his master. I love that picture, because it was a picture, to me, of my relationship with Christ.
I said, "He's chosen me, but with joy I have chosen Him, too, because He chose me. I'm saying 'yes' to Him. I want to be His servant all my life, with all of my heart, with everything I have." And again, that wasn't a vow of celibacy or a vow of singleness. It's not, "I'm going to become a Protestant nun." It was not that.
It was more, "I love Christ, and I want to serve Him. I want to be a woman with a 'hole in my ear,'" is the way I used to say that. And if you know the passage, that takes on a significance. Again, there was just a sense of, "This is what God has for me for now, and I embrace this."
Increasingly, this became a part of my way of thinking and dating from that point on. It was just like, "Why would I?" I didn't say, "I won't date," but the Lord just had me focused on what He had me doing, where He was calling me. He had me also begin early (but certainly into my adult life) cultivating relationships and friendships with families, with married couples, with single people, with children, with older people. I think that's one of the things I'd say to single women. That helped me to have a healthy sense of family and belonging and community and relationship.
So it's not like I'm an incomplete woman over here, as a single woman, or just waiting for my status in life to change. There really was none of that. Again, it's not because I'm some odd or amazing specimen of womanhood. It was a sense of, "It's a privilege to belong to Christ."
I don't know how long ago it was that I concluded, "I think this is what the Lord has for me for the rest of my life." This was not a decision, this was not a revelation from the Lord. It was just what I thought. And I did feel that, by God's grace, I could happily do that, serving Him for the rest of my life.
Leslie: In her teen years and early twenties, Nancy served in various ministry capacities—from serving in the local church to children's ministry, to writing, editing, and speaking. These tasks filled her life. The Lord opened doors for Nancy to have a more formal writing and speaking ministry in her thirties. Then years later, and quite unexpectedly, several Christian leaders approached Nancy about beginning a radio broadcast for women.
At that time, Elisabeth Elliot had just stopped producing her radio broadcast, Gateway to Joy. Elisabeth's parent ministry, Back to the Bible, contacted Nancy to see if she would be willing to begin a broadcast that would fill the time when Elisabeth was on air. This was a huge decision for Nancy!
Nancy: I remember the day I received that letter from the Director of Back to the Bible. I opened it and read it and, actually, had been talking for months leading up to that time with FamilyLife Ministries about starting a radio program for women. So, we were in that dialogue and that process at that point, but the people at Back to the Bible didn't know that.
When they said Elisabeth Elliot was considering retiring from radio and they were looking for a successor to that program and, "Would you want to talk with us?". . . I remember taking that letter and going up to my quiet-time chair in my study and laying the letter on the chair and then kneeling there. I was just placing that letter before the Lord and saying, "Lord, I don't have any idea what You're up to, what You may be saying or doing. This is all new to me. But whatever You want, just show it to me, and that's what I want."
Leslie: After months of prayer and seeking the Lord, the ministry of Revive Our Hearts was launched. The commitment of producing daily radio programs and the responsibility of running a national ministry was yet another step of faith and surrender for Nancy. But just as she had experienced in the past, God was faithful, and He could be trusted in this new season of life.
Nancy: The sweet thing for me about embracing and receiving God's calling in my life, as it related to serving Him as a single woman . . . This is not some great noble thing I've done. This is a fruit of trusting God. I've found Him to be utterly, absolutely trustworthy in every area of my life. That has led me to say, "I can embrace this calling, including the hard parts of it. I trust that God is wise, He's good, He knows what He's doing, and He would never ask anything of me that would not be for my good and for His glory. 
I've found God to be utterly, absolutely trustworthy in every area of my life.
Leslie: God blessed Nancy and the ministry in the years that followed as she invested her life in God's Word, teaching it to women through daily radio, speaking, and publishing. God faithfully brought people into her life that gave her wisdom, encouragement, and advice as she grew in this new role. One of those people was author and speaker Dr. Henry Blackaby.
Nancy: It was in the early 2000s when, I think it was Henry Blackaby who recommended it to me, that for my writing it would be helpful to have an agent. The agent that Henry Blackaby recommended was Robert Wolgemuth. I remember just hearing people say, "He is so highly respected in this industry."
So our ministry contracted him and I met with him and Bobbie. I can remember us having either breakfast or lunch together, the three of us, and getting to know them. And after a while, getting to know their daughters and their oldest grandchild. I knew this was a special family. I'd seen the relationship that Robert and Bobbie had with each other and with their girls—now grown. There came a point when I said, "Let's do some interviewing for Revive Our Hearts," and we did with the four of them and Abby, who's the oldest grandchild. I learned quickly that they were a hymn-singing family.
Robert Wolgemuth: Music was a big part of our lives. 
Leslie: Here is Robert Wolgemuth.
Robert: Bobbie had a beautiful voice, and as Missy and Julie grew up, they had beautiful voices. So we actually could sing four-part harmony, and we sang hymns.
One of the things we loved to do with our daughters was to encourage them to understand what it might be like to be in the presence of a Holy God. So my daughters would tell you today that those early days of getting a glimpse of what God is like, by way of their mom and dad showing them, changed everything about their lives. The Lord was very good to me and gave me the joy of being the daddy and being the husband in this home. I loved it!
My life changed on Valentine's Day 2012. We went to the clinic, M. D. Anderson in Orlando. We walked into this waiting room, and here are all these women with no hair. And Dr. Shep said, "Bobbie has Stage IV ovarian cancer."
When she was diagnosed, Missy and Julie and I sat down together and we said, "Okay, here's what we know for sure: We were surprised, but God wasn't surprised. He knows exactly what He's doing. We're going to treat this as a gift. We're not angry, and we're not afraid. What we want more than anything else is that the Lord would be glorified in this cancer."
Leslie: Robert and Bobbie did not walk through this trial alone. They shared their burden with family and friends and enlisted the Body of Christ for Bobbie's health.
Nancy: I, along with many others who knew and respected and loved this couple, began to pray for the Lord to intervene on her behalf, to give them grace for this journey, whatever that was going to look like.
Throughout the course of those two-and-a-half years, Robert was very faithful about updating his friends with what was happening—not only physically and with the sickness, but even more significantly (I think), with what was happening in their lives and their hearts. I watched them looking death in the face and saying, "This is not an enemy because of what Christ has done, walking into the jaws of death, Himself, His gift to us. Because of that sacrifice there is eternal life." I watched them facing this with peace.
Leslie: Here's mutual friend, Joni Eareckson Tada, speaking at the National Religious Broadcasters Convention in 2013.
Joni Eareckson Tada: My friend Bobbie Wolgemuth, who's here tonight with her husband Robert, after six rounds of chemotherapy. All of us who prayed for Bobbie hung on her husband Robert's every word in every email. She wrote,
Joni, just as chemo medicine is designed to kill the bad cancer cells, so God designs a toxic, painful trial to destroy and starve and kill anything in my soul that is selfish, unholy, or offensive to Him. I willingly surrender to His infusion, knowing that He has chosen what will ultimately bring me more abundant life—more abundant life that I can ever imagine. So I choose to open my hands and my heart and offer my veins to be infused with His choice of trial so that I might receive His beauty and His perfect health.
Leslie: Throughout the ordeal, Bobbie and Robert's faith never wavered. Robert reflects on the ways He saw the hand of God at work.
Robert: The Lord answered that prayer. Bobbie was healed—she went to Heaven, and she's all well. But during that time she was sick, the Lord honored that prayer. Many people—neighbors, acquaintances, people at church—came to know Jesus for the first time as the result of Bobbie's cancer. That prayer was answered. 
Nancy: When the Lord did take Bobbie home, the family was kind, gracious. I would have loved to have been at that memorial service. But they were able to  LIVE stream it. I watched that memorial service. It was a long service. It was spellbinding!
I've been to a few funerals like this, where the things you hear make you realize, "This was a woman who knew God in an exceptional way, and who had, by God's grace, made an exceptional, extraordinary impact on the lives of people around her." This was a memorial service that really marked me. I came away thinking, I want to know and love the Lord and make an impact on lives in that very personal way that I saw Bobbie had.
After watching that service, I was so touched by it. I emailed Robert, as I had done a number of times to Robert and Bobbie over the years that Bobbie was sick. I said to him, "I feel like Bobbie epitomizes the message we're trying to share with women about what it means to be a true woman of God. Would you let us take portions of that service, and would you let us air that on Revive Our Hearts? I think it would really minister to our listeners [and, in fact, it did]."
And Robert said, "Of course."
Well, fast-forward some time. There came a point when I got an email from Robert. It was newsy; it was kind of updating what was happening in his family. I'd been getting these updates through the time Bobbie was sick. This email wasn't to the whole list. It was to me, but it wasn't intensely personal. I remember thinking, This is interesting!
Robert: I'm in the literary representation business, so I have a lot of meetings around the country meeting with our clients. I was in a meeting in Atlanta and one of the people around the table in this meeting was an old friend named Mark DeMoss.
Leslie: As you might have guessed, Mark DeMoss is Nancy's brother. Mark and his wife, April, live in Atlanta, Georgia, where Robert was on a business trip.
Robert: So after the meeting, we went to lunch. And the thought entered my mind, I should ask him about Nancy. And I'm thinking, Well . . . I don't know . . . should I ask him or not? So at the end of lunch, I took a deep breath and said, "Tell me about Nancy."
And Mark knew exactly what I meant by asking that question. He sat there for a moment—he's a very thoughtful, very smart man. He said, "Well, you know, my wife and I have talked about this many times. We think Nancy is called to be a single, in ministry."
I said, "Would you do me a favor?"
He said, "Sure."
I said, "Would you, tonight, talk to April about this? Ask her what she would think about me reaching out and contacting Nancy."
So, the next day Mark texted me. He said, "We talked about it. We prayed about it, and we think it would a good idea for you to reach out to her."
I actually went home and I prayed about it, saying, "Lord, you know, the last thing I want to do is interrupt somebody's life, and certainly somebody who might be called to something other than starting a relationship with a man." But in a few days I wrote her an email, and within minutes she responded! I thought, This is great!"But of course it was, "Thank you very much for your email. Somebody on my staff will be happy to review this email." So I was thinking, Of course! She has folks on her team, on her staff, who sort through incoming emails and so forth. But, in two days I did get a response from her.
Nancy: There were a few of these emails, and I would respond, not too quickly. I was doing some ministry at the time. We were hosting a conference that was different than one we'd done before. I had some ministry going on over some holidays, and I would just kind of update on that. So we were having some exchange on what was happening in our lives, but not real personal. But at one point I remember thinking, Does he have something else in mind . . . maybe?
Robert: My suspicion was that Nancy knew that my reaching out to her was out of the ordinary.
Nancy: So I'm just trying to be prayerful and careful and wise. I'm a woman who, throughout my adult life for sure, has understood the importance of having (what I call) "hedges" in my relationships with married men, for sure. And the only way I had known Robert prior to this point was as a married man. So I had applied to him what I apply to any married man I know, and that's that you're really careful.
Now, here's this man who had been married. He's not married anymore. What does that say about the hedges? How responsive is it appropriate to be? I don't want to lead him on, because I have no idea what God is saying or, actually, what he is saying! So I'm trying to be careful and trying to be accountable to people who care for my soul. I remember saying to a pastor's wife friend, while this emailing was going on (I knew she knew him), "Do you think he might have some interest?"
She was speechless and said, "Let me pray about that. Let me think about that." In everything, I try to put it before the Lord and also to be a responder to whatever providences God brings into my life.
Robert: I'm thinking to myself, I've got to do better than email. I wonder if she texts. So I thought, Okay, I wonder how to get her cell phone number. I'll call Mark. Then I thought, Nope! I don't like to ask for directions; I like to make it up. So I looked at my contacts in my phone, and I had her cell number already, from having represented her. So I sent her a text message.
Nancy: Several weeks into emailing, texting, Robert began to talk about my schedule, and was there any time we could meet. And again, I love living under Providence, and I knew him to be a man of God. I'd seen his character, his integrity, his reputation, and I just felt that I would not be right to say, "No," to having a conversation.
Leslie: Nancy and Robert were finally able to meet on a cold snowy day in Chicago.
Robert: Nancy and I sat down at this little round conference table, and I took a deep breath, and I said, "Well, here we are."
Leslie: Tomorrow we'll hear more about that meeting. Nancy entered it not at all sure she could even consider getting into any kind of relationship. Was God still giving her the gift of singleness?
She'll tell you about some of the ways she searched Scripture and prayed during this time. This isn't just a story of a relationship. We want to be a real-world example of how to live out the biblical truths you hear on Revive Our Hearts.
We're able to come to you each week day because listeners like you appreciate what they hear and want the program to continue. When you support the ministry with a gift of any amount, we'll send you the DVD "Unexpected Grace." It's this story, with Robert and Nancy on video.
It includes a short film, a fifteen-minute beautifully-shot documentary, including footage from Robert and Nancy's wedding. And you'll also get bonus interview footage. This would be a great story to share with anyone contemplating God's will about marriage. It will encourage them to keep God's will the number one thing, and to conform everything else to that. Ask for the DVD "Unexpected Grace" when you call with your gift of any size. The number is 1–800–569–5959, or visit ReviveOurHearts.com. We'll send one DVD per household for your donation.
Tomorrow, you can see the short film online. It debuts on Tuesday at ReviveOurHearts.com, and I hope you'll see it for yourself.
Also tomorrow, you'll hear about the advice Pastor John Piper gave Nancy as she thought about whether she was free to consider marriage. Please be back for Revive Our Hearts. 
Revive Our Hearts with Nancy DeMoss Wolgemuth is an outreach of Life Action Ministries.
*Offers available only during the broadcast of the podcast season.
For a donation of any amount