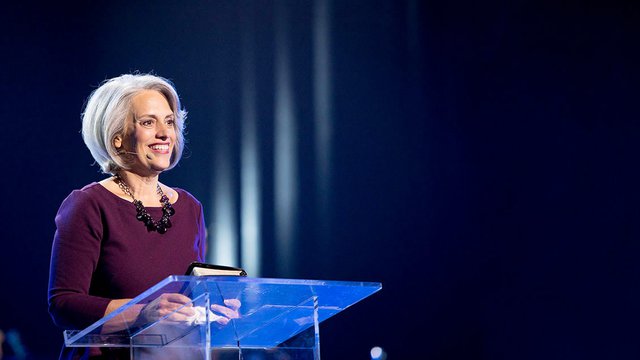 — Audio Player —
The Truth and Consequences of Lies Women Believe, Part 1
Leslie Basham: Are there certain habits and attitudes you just can't seem to shake no matter how hard you try?
It's Monday October 22, and we are glad you joined us for Revive Our Hearts with Nancy Leigh DeMoss.
Despite the many personal freedoms we enjoy in our country, many women still find themselves living in bondage to sin as we will hear today. God's truth is powerful and can set us free. Let's join Nancy Leigh DeMoss as she talks with a small group of women about finding freedom in Christ.
Nancy Leigh DeMoss:
And as we look into each other's faces and eyes, we realize that there is a lot more, sometimes, inside of us than what meets the eyes--that's true of us here in this room today. We're all smiling and nicely dressed and all look put together; but the sad thing is that in many of our hearts (in all hearts in some way) there are needs, some of them very pressing.
As I read through pages of those prayer requests last night, I was just reminded that so many of us Christians are not really walking in freedom. There are issues of bondages, issues where we are so troubled. Let me just read to you a selection of some of the ones I read last night. Many of them relate (as you might imagine) to issues of marriages and family relationships--like these:
"I am so lonely and empty inside. My marriage is almost empty and I am afraid."
Another one says "My husband and I are under satanic attack--anger and criticism is tearing us apart."
And this one, "I would like to feel totally healed of the guilt and the failed commitment of a marriage ending up in divorce. I need to feel healed of this pain.
"My son is in rebellion," another woman said, "and my husband is in a depression, and I am barely hanging on."
Some of them don't relate directly to marriage and family but just to personal matters of the heart--issues of guilt, of past failures and other personal heart struggles.
One woman said, "My heart is so heavy, I have past failures I want to let go of so I can move on with Jesus."
And this one, "I am in an addictive dating relationship. It is so painful, it leaves me feeling abandoned and worthless."
I relate to this next one, this lady says, "I hate the ugly in me--selfishness, anger, bitterness, jealously, a critical spirit--I want God to change me.
Do I see some nods.
Another woman said "My life is a mess--single mom working much more than 40 hours a week, not enough money, college coming up for two children, worry, fear, inadequacy, self-hatred, low self-worth and not letting God be in charge.
Then this one, a woman said, "Though I have been a believer for many years, I feel empty, frozen and far away."
And one that summarizes where I think God finds so many women today. She said, "My heart is so hard. I don't care about anything anymore."
Have you ever faced a time in your life where you felt as though you were just immune to the pain--that you had just become so hurt that you had gotten to the place where you just got detached and didn't care anymore?
Let me just remind you that these are real women. Some of us could have written some of these kinds of prayer requests. These are women that go to church with us, these are women we sit next to on Sunday morning--women who sing next to us in the choir. And one of these women may be your child's Sunday school teacher.
Many of these women are active, involved, committed Christians. You look at them and don't have any idea what is going on on the inside. In fact, you ask them how they're doing when they get to church on Sunday morning. And they nod, smile; and they shake your hand and say (what do they say), "FINE."
WE'RE ALL FINE! Now let me say, "It is okay to say, 'fine' if you are fine." But the fact is that a lot of us say, "I'm fine" when inside we're dying.
If I talk to women across the country, today--Christian women, women that are in Evangelical churches--there are number of words--adjectives that I would use to describe many of the Christian women I meet today. See if any of these words describe you: frazzled, exhausted, burned out, overwhelmed, confused, angry, frustrated, discouraged, defeated, depressed, unstable, uptight, insecure, lonely and fearful.
You say, "Wow, women are basket cases. You know, apart from Jesus, male or female, we're all basket cases. But the fact also is that even with Christ, there are many areas of our lives that we may not have been surrendering to His Lordship. And we are experiencing some of these kinds of emotions and experiences in our lives. In fact, I hear from women (believe it or not) in our churches who are suicidal. Women who are so desperate, so frustrated, so much in bondage--that they think life is not worth living.
You know, there is another word that comes to mind as I think about where so many of us (as women) are today, and it's the area of bondage. Women share with me so many bondages--bondages of shame, guilt, bondage in relation to their past--it may be their own failures, or perhaps the failures of others that have a bearing on their lives. So many women walk around with these things of the past, like a huge weight around their neck just dragging it with them through life. There are bondages of fear--fear of rejection, a longing for approval--so many of us as women are emotional prisoners.
We live with things like worry, anger, depression, and self-pity. And there are bondages of addictive behaviors. So many women share that they are in bondage in the area of food. This is one we hear constantly. Now as we read these notes from women, and we think of the words that describe them--we have to acknowledge that this is not the way God intended it to be.
Jesus said, "I am come that they might have life, and that they might have it more abundantly" (John 10:10). Jesus said in John chapter 8 "And ye shall know the truth, and the truth shall make you free" (John 8:32). He went on to say, "If the son therefore shall make you free, ye shall be free indeed" (John 8:36). I have to ask you this morning as you think about your own walk. Are you free? I mean, really? Or do you find yourself at this season of life just existing, coping, struggling, barely keeping your head above water--just surviving.
What if I told you that instead of being miserable, and frustrated, and living in constant bondage--that you could live a life described with these words joyous, contended, loving, radiant, confidant, gracious, peaceful, stable. What if you really knew you could walk in freedom?
The fact is life is hard. There are problems, there are difficulties, and there are pressures; but according the Word of God, you and I can walk through the realties of every day life. I am talking about disappointments, loneliness, loss, rejections, and woes--even death. We can walk through those realties in freedom.
I remember some years ago (at the end of a weekend conference) a lady walked up to me; I was just getting ready to leave and head out to the airport. And she caught me in the hallway and she said, "I'M FREE! I'M FREE!" And she started to tell me what God had done in her life through the course of that weekend. She had been to see counselors and therapists, she had been to conferences and seminars, she had heard speakers much more gifted than I. She had paid money to try and deal with some of the issues of her past. But that weekend God said something to her from His Word that set her free.
Over these next days, we are going to be talking about this matter of how to get set free, and how we end up in bondage, and then, how God's truths can deliver us from that bondage. You see, the life that Jesus promises and the freedom that He offers us are not found through a change in circumstances, they are found in the truth. Jesus said, "And ye shall know the truth, and the truth shall make you free." (John 8:32).
Leslie Basham: When Christ sets you free, you really are free indeed--you never again have to be a prisoner of your past mistakes. Nancy will be back in just a minute; but first if you would like to know more about finding the freedom that she was just talking about, we recommend Nancy's book Lies Women Believe and the Truth That Sets Them Free. In this book, Nancy lists eight areas where women are often deceived and then uncovers the lies associated with each. This book is available in our resource center for a suggested donation of $17.
When you call, please ask for the Quiet Rest Wall Calendar as well. We're making it available for free. We also have a copy of today's broadcast available. It's part of a series titled "Lies Women Believe" and can be yours for a suggested donation of $5. The number to call is 1-800-569-5959.  We'd love to hear your questions and comments. These resources are also conveniently located on our Web site at www.ReviveOurHearts.com.
It seems like everyday we are bombarded by messages from TV, books and billboards--some of them are true but many of them are false. Join us tomorrow on Revive Our Hearts when Nancy tells us what happens when we choose to believe what isn't true.
Hope you will be back next time. Now to close our time together here is Nancy Leigh DeMoss.
Nancy Leigh DeMoss: I love that passage in Isaiah chapter 61, the prophetic passage speaking of the coming of Christ the Messiah. The scriptures says, "The Lord has anointed me to preach good news to the poor. He has sent me to bind up the brokenhearted, to proclaim freedom for the captives and release from darkness for the prisoners, to proclaim the year of the Lord's favor and the day of vengeance of our God, to comfort all who mourn, and provide for those who grieve in Zion--to bestow on them a crown of beauty instead of ashes, the oil of gladness instead of mourning, and a garment of praise instead of a spirit of despair. They will be called oaks of righteousness, a planting of the Lord for the display of his splendor."
I wonder if there is someone here this morning who finds yourself living in ashes, so-to-speak, in mourning and clothed in a spirit of despair. I just want to say that Jesus offers you an incredible exchange. He says, "Come to me, give me your ashes, give me your mourning, give me your heartache, give me your despair; and in exchange, I will give you a crown of beauty, I will give you the oil of gladness and I will give you the garment of grace.
Revive Our Hearts with Nancy DeMoss is a ministry partnership of Life Action Ministries.
One of the things I've done over the years as I spoken to women in conferences is to ask them to fill out a little 3x5 card to tell us how we can pray for them. And we asked them, "What is a burden on your heart for your own life and what is a burden that we can pray about for your family?" Well, I have collected thousands of those cards over the recent years. And last night, I pulled out off my computer, a list of some of those prayer request I had written down and kept--just to remind me of who it is I am talking to when I go to a conference.
*Offers available only during the broadcast of the podcast season.
Support the Revive Our Hearts Podcast
Darkness. Fear. Uncertainty. Women around the world wake up hopeless every day. You can play a part in bringing them freedom, fullness, and fruitfulness instead. Your gift ensures that we can continue to spread gospel hope! Donate now.
Donate Now