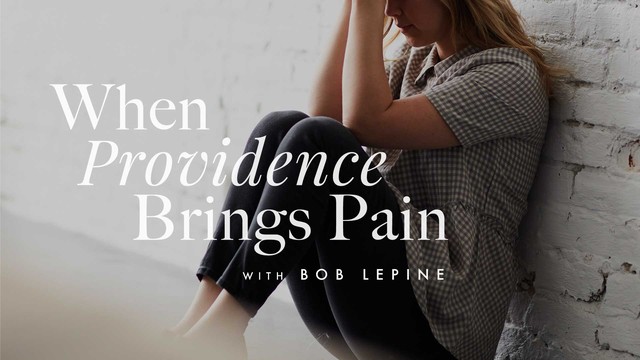 The Reality of Suffering and Hardship
Dannah Gresh: Bob Lepine explains how he and his wife, Mary Ann, counsel their own souls when they wonder, Why, God?
Bob Lepine: I know that what God does is good, that all things come from His hand, and whatever His purpose was, whether I understand it in this life or not, it's a good purpose.
Dannah: This is the Revive Our Hearts podcast with Nancy DeMoss Wolgemuth, coauthor of You Can Trust God to Write Your Story, for April 18, 2022. I'm Dannah Gresh.
Life is full of ups and downs—mountains and valleys. Sometimes the valleys are deep, dark, difficult. Today and tomorrow we want to address this question: How can we reconcile the sovereignty and goodness of God with the agonizing pain we experience?
In the fall of 2021, Bob Lepine spoke on precisely that topic in Phoenix, Arizona, to a gathering of some of the ministry …
Dannah Gresh: Bob Lepine explains how he and his wife, Mary Ann, counsel their own souls when they wonder, Why, God?
Bob Lepine: I know that what God does is good, that all things come from His hand, and whatever His purpose was, whether I understand it in this life or not, it's a good purpose.
Dannah: This is the Revive Our Hearts podcast with Nancy DeMoss Wolgemuth, coauthor of You Can Trust God to Write Your Story, for April 18, 2022. I'm Dannah Gresh.
Life is full of ups and downs—mountains and valleys. Sometimes the valleys are deep, dark, difficult. Today and tomorrow we want to address this question: How can we reconcile the sovereignty and goodness of God with the agonizing pain we experience?
In the fall of 2021, Bob Lepine spoke on precisely that topic in Phoenix, Arizona, to a gathering of some of the ministry partners of Revive Our Hearts. Bob is probably best known for his years as cohost of the radio program and podcast FamilyLife Today. But he's also a pastor, an author, and a longtime advisory board member of Revive Our Hearts. And . . . he and his wife, Mary Ann, are dear friends of Nancy.
Here's Nancy with a further introduction.
Nancy DeMoss Wolgemuth: As we talked about the Heaven rules theme this weekend and thought about the season of life that so many are in and things that people are walking through, we realize that sometimes God's providences are hard. Sometimes they're painful. You may be experiencing some of that in this season of your life. If you're not, you will be, so take good notes. 
Let the Lord implant His Word in your heart, because what we're going to hear over these next moments is something that every one of us needs to know how to grapple with for ourselves and for others that we love—the sometimes inscrutable, incomprehensible, and sometimes painful providences of God. We're trusting that at the end of the day, we will look back, and we will say, "Lord, You have done all things well." Bob's going to lead us in that direction.
Lord, thank You for these precious friends, fellow servants, partners in the gospel. Thank You for the beauty and the power and the wonder of Your Word. We humble our hearts before You. We come to sit at Your feet, to listen to You, to say, "Yes, Lord," to whatever You say to us through Your Word. Thank You for Your servant who comes to bring it to us. Would You give him fresh oil and us fresh ears to hear? I pray in Jesus' name, amen.
Bob: Thank you, Nancy. It is a privilege to come this morning and to spend some time with you in God's Word. I want to walk us through Psalm 103. We were talking in the men's session yesterday about Martyn Lloyd-Jones' advice to all of us that we need to spend more time speaking to our souls than listening. We need to direct our souls; our souls need counsel. Rather than saying, How do I feel? We need to be telling our souls what we should be feeling.
Think of Psalm 103. Psalm 103 starts with that direction. The psalmist is telling his own soul what he should be doing, what our souls should be doing. So we're going to read through this slowly; we'll read through the first 19 verses of Psalm 103. We'll have it up on the screen. You just follow along as I read it, and I don't want to read this in vain. I want us to be engaging and saying, Is this what my heart needs to be engaged with here?
The psalmist says,
Bless the Lord, O my soul,
  and all that is within me,
  bless his holy name!
Bless the Lord, O my soul,
  and forget not all his benefits,
  who forgives all your iniquity,
who redeems your life from the pit,
  who crowns you with steadfast love and mercy,
  who satisfies you with good
so that your youth is renewed like the eagle's.

The Lord works righteousness
  and justice for all who are oppressed.
He made known his ways to Moses,
  his acts to the people of Israel.
The Lord is merciful and gracious,
  slow to anger and abounding in steadfast love.
He will not always chide,
  nor will he keep his anger forever.
He does not deal with us according to our sins,
  nor repay us according to our iniquities.
For as high as the heavens are above the earth,
  so great is his steadfast love toward those who fear him;
as far as the east is from the west,
  so far does he remove our transgressions from us.
As a father shows compassion to his children,
  so the Lord shows compassion to those who fear him.
For he knows our frame;
  he remembers that we are dust.

As for man, his days are like grass;
he flourishes like a flower of the field;
for the wind passes over it, and it is gone,
and its place knows it no more.
But the steadfast love of the Lord is from everlasting to everlasting on those who fear him,
and his righteousness to children's children,
to those who keep his covenant
and remember to do his commandments.
The Lord has established his throne in the heavens,and his kingdom rules over all.
I'm going to stop right there, because I want those words ringing in our head as we think about the fact that yes, heaven rules. How do we make sense of the reality of pain and suffering and hardship in our lives, knowing that there is a God who is abounding in steadfast love for us, who is providentially taking us down a path of pain? How do we make sense of that? How do we believe in God's goodness when the path is hard, when providence brings pain?
Two-and-a-half weeks ago, Mary Ann and I were walking. I don't know if she looked at me or I looked at her, but we said, "It was seven years ago today, wasn't it?"
This was October 22, seven years ago, October 22, 2014. We were together in San Francisco at the UCSF Hospital, where Mary Ann was being wheeled off into an operating room for an awake-brain surgery to have a mass removed from the left side of her brain.
Now, we didn't know what the mass was. When we'd first heard there was a mass there, we went where all of us go: we went to Dr. Google. We said, "Dr. Google, what could this be?" What Dr. Google was telling us was, "It's probably not good." Location, everything we could see, it looked like glioblastoma, astrocytoma, grade three or four. That probably meant chemo, probably meant radiation. It could be fatal. That's what Dr. Google was saying.
Let me take you back to where all this started, because it actually started two years earlier. In the summer of 2012, I came home one day from work and Mary Ann casually said to me, "I had something weird happen to me today."
I said, "What?"
She said, "I was waking up from a nap, and my tongue started twitching, and it just twitched for a couple minutes, and it quit."
I thought, Huh, that's odd.
That was as far as the conversation went. I thought she had some kind of a muscle spasm in her tongue, and those happen. I get it in my knee or somewhere. I thought that's what had happened.
A year later, summer of 2013, she said, "Do you remember me telling you last year about when I was waking up from the nap and my tongue was twitching?"
I said, "Yes."
She said, "It happened again."
I said, "Huh," right? I wasn't thinking anything about it.
Jump ahead a year. It's now the summer of 2014. She's waking up from a nap, and this time it's about a five-minute long twitch. She said, "I tried to grab my phone and videotape my tongue twitching just to get a picture of it, but I couldn't get it before it had all quit."
Again, I said, "Huh." I'm a helpful husband that way, right? "Huh."
But I was wondering, I wonder what that could be? I wonder if that's anything significant?
Well, she was preparing with the doctor for another procedure, to have a parathyroid removal, and in the middle of that conversation with the doctor preparing for that surgery, I just casually said, "You know, Mary Ann's had this thing a couple of times where her tongue has twitched. Could the parathyroid be affecting that at all?"
The doctor shut his book and said, "No, that's not that. We're going to have to postpone your parathyroid procedure; you need to go see a neurologist."
I thought, Oh, you're seriously overreacting to this. Mary Ann was mad that I brought it up, because she wanted the procedure done.
But I called a friend of mine, because getting in to see a neurologist is not like, "Oh yes, we have an appointment tomorrow afternoon." I called a friend who was a doctor. I said, "Who's a good neurologist to see?" He gave me the name, and I said, "It may be a couple months."
He said, "Let me see what I can do."
We were in to see the neurologist the next week. I'm thinking we'll check this box and get back to the parathyroid procedure. We go see the neurologist. He orders the CAT scan, the MRI. Mary Ann has all that stuff done. They say, "We'll have a follow-up visit next week."
Well, the day after the CAT scan they call and say, "The doctor would like to see you tomorrow morning." You know what that means, right?
So at eight o' clock the next morning we're in the doctor's office, and he said, "There is a mass on the left side of Mary Ann's brain." He put up the image so that we could see it. You could see the hard, round image there.
He said, "First of all, you're going to have to go see a neurosurgeon. I'm putting you on anti-seizure medication, and Mary Ann can't drive until this is resolved."
Mary Ann was fine with everything until he said, "You can't drive." 
She was like, "I can't what?! My life is shut down?"
Now, we're scheduled to go see a neurosurgeon in Little Rock. We sit down with probably the best-known, longest-practicing, in his early seventies neurosurgeon. He looks at this mass and he says, "It needs to be removed. We can do the procedure here, but I would not recommend it."
I said, "Why?"
He said, "Because the location of that mass is in the part of the brain that affects speech and motor skills. To remove it needs to be done carefully, and we don't do the kind of surgery that ought to be done. I'm going to see if we can get you an appointment in San Francisco to have this done."
I didn't know that the guy he was talking about—this is Dr. Mitchell Burger, who forty years ago helped pioneer awake-brain surgery. He's been doing it for forty years. He is the past president of the American Association of Neurosurgeons. I mean, he not only looks like he belongs on TV, but he's smart, and went to Harvard. He knows all of this stuff.
We get approved by Dr. Burger to come out for the surgery. They called and said, "We'd like to have you come out in early October."
I looked at my schedule and I said, "I can't. I'm supposed to be MC-ing the True Woman '14 event at that time." I said, "Can we push it back a couple of weeks?" So we're pushing back neurosurgery so that we can do True Woman '14!
We wind up on October 22 (actually, on October 21 we're in San Francisco and there's a whole day's worth of testing). It's pretty interesting how they do this. They had Mary Ann come in. There was one part where they show her flashcards. They show her a picture and she says, "That's a fish; that's a bicycle; that's a ball." I'm like, "What is this all about?"
They said, "Well, tomorrow in the surgery, when they wake her back up, they're going to show her these cards and make sure that the words she's using now are the same words. If she said 'fish' now and she said 'trout' tomorrow, we might think there was something wrong. So we're just trying to prep her for this."
I had no idea what this is, but awake-brain surgery, this is how it works: They take you in, they put you out. Then they cut the incision. They open the part of the bone in the skull, and then they wake you up with your head in the vise—you're now awake. You're not feeling any pain, but they want you to be conscious, because they're using probes on your brain.
They would say to her, "Count to ten slowly."
She would go, "One," and they'd move the probe. "Two." Then she'd go, "Feh." When they got there they'd go, "Okay, don't cut there, because that's speech."
Isn't that fascinating how this works? They're mapping out how they're going to get that tumor so that we don't have her waking up with blurred speech. So we don't have her waking up with motor skills that are impaired. This is what we were dealing with on October 22 as she's wheeled off. Our two daughters were in San Francisco with me. We were down in the waiting room for the five hours that she's in surgery, just praying and trusting the Lord that everything was going to be okay.
When Dr. Burger called and he was out of surgery, I had about a two-minute conversation with him as he was moving on to whatever was next. He said, "We were able to successfully remove the mass. I think we got everything, got good margins."
I said, "You were going to do a frozen section there on the table to see what it was, weren't you?"
He said, "Yes, we did, and it's promising." That's as much as he would say.
I didn't know what that meant, but I went back, "That's the report." The next day Mary Ann recovers. The day after that she's released from the hospital. The day after that, we're walking together through Golden Gate Park in San Francisco. The day after that we're in church at a church in San Francisco. Then Monday we went to Alcatraz and Tuesday we flew home. 
Her recovery was good, it was quick, but we're still waiting to hear the path report. What's that mass? Glioblastoma? Astrocytoma? What is it?
Well, we go in to our doctor in Little Rock ten days after the surgery so that the staples can be removed. We're in getting the staples removed, and the doctor comes in while the staples are being removed and he said, "What have you heard about the pathology?"
We said, "We've heard nothing."
He said, "That's odd." He said to his nurse, "Go fax them and see . . ."
I'm thinking, Why are you faxing? It's 2014!
But, "Go fax them and see if we can get the path report."
It took about ten minutes, and the nurse came in and handed the doctor the pathology report. He looked at it, and I said to him, "You would not be a very good poker player. That is either really good news or that's really bad news. Which is it?"
He said, "The mass that was removed was a hemangioblastoma, grade one; it's benign. You're done. Over." 
"That's it? No followup?"
He said, "We'll check back in a year and see how you're doing."
That was the end of the story. We went out and had Mexican food, some guacamole, celebrated. It was great.
I remember, looking back, we asked ourselves, "What was the purpose of all of that? What was God's plan in putting a benign mass in the middle of your brain and putting us on this detour in our lives?" Did He want us to go through the exercise that we had gone through of preparing for the possibility of Mary Ann's death, talking about what that might look like? What about chemo and radiation? How would that work? Was this a fire drill for when that's real for us? 
Did He want our church to be engaged (and they were) in supporting and praying for us? Did He want to rally them for some reason so that we would be better prepared for when the news is not good? Was there some random encounter that we don't even know about where we talked to some nurse and said something in that conversation that she carried home that somehow was spiritually—we don't know! We still don't know. I'm here today, seven years later, and I can't tell you what God's purpose or plan was for taking us on that journey. But I know it was not just a random happenstance. I know that what God does is good, that all things come from His hand, and whatever His purpose was, whether I understand it in this life or not, it's a good purpose.
Now, our story—we went on a bumpy road that was a dark road for a season, and then we came out into the sunlight and everything was good. That's not everybody's story. More people sit in that room and get the pathology report and it's bad news. More people head off on a dark path like that and they face medical diagnoses that lead to death or illness. 
Some of you have experienced the death of loved ones during COVID. Some of you have walked the path with others who have gone down a very dark road where, at the end of the road, it was still dark. You've had children who've made poor choices; you've had children who have left the faith. You've found yourself alienated from friends or from family members over the last year-and-a-half over political issues or over whether masks should be worn here or there or whether you should get a vaccine or not. 
I mean, these are hard trials and hard times. We can ask, "God, what are You doing in the midst of this?" It's not unusual when you're on a dark road to be crying out and saying, "Lord, I don't understand. Lord, this doesn't make sense to me. Why do You allow this? Why don't You prevent these things from happening? How can this possibly be for Your glory and for my good? I don't see that, Lord."
You're not alone. King David had the same experience. When I was in high school I learned Psalm 13; I've never forgotten this. Psalm 13 is where David in the midst of trial cries out to the Lord and says, "How long, O Lord? Will You forget me forever?"
That's a pretty serious accusation. "Are You going to forget me forever? How long will You hide your face from me? How long must I take counsel in my soul and have sorrow in my heart all the day? How long shall my enemy be exalted over me? Consider and answer me, O Lord my God; light up my eyes, lest I sleep the sleep of death" (see vv 1–3).
Some of you are in that season right now, on that road right now, where you wonder, Lord, how long? What's going on here? Why this pain? How can this be good?
This, by the way, is one of the hardest, if not the hardest, philosophical, theological issues that Christians have had to deal with forever. Some have referred to this as the Achilles' heel of Christianity: the problem of pain.
How do we make sense of the goodness of God? If God is all-loving, all-powerful, all-wise, and the loving, powerful God brings pain into your life, is He a sadist? No, He's all-good. Is He reckless? No, He's all wise. Is it something He can't deal with? No, He's all-powerful.
How do we make sense of our pain? This pain is for our good? It doesn't feel like it. Pandemics, wars, abuse, death? You look at the horrible things in our world and say, "This is the goodness of God in our world?"
I don't know if you remember this, but right after the pandemic broke there was a viral video that came out. In fact, I remember two viral videos. The first one I saw was a church choir from Nashville. You remember these choirs were online, there were all these virtual choirs. The first one I saw was a choir in Nashville, in one of these separated videos, where they were all singing "It Is Well with My Soul," which I needed to hear in March of 2020, because it was not well with our souls in March of 2020 when that was going on. Just to hear these voices joining in these different places and singing, that was a balm to my soul.
But there was a video that came out. The actress who plays Wonder Woman in the movies, Gal Giddo, got together a whole bunch of her Hollywood friends and said, "We're going to record a viral video where all of us sing a line from John Lennon's song 'Imagine.'"
I don't know if you have thought about that song. John Lennon's song "Imagine" is a secular "hymn" to imagining life with no God. So, here's her impulse, in the middle of a pandemic; her impulse is, "We need comfort. Let's imagine a world without God. That will bring comfort to us." I mean, honestly! Here are these people sincerely, passionately singing, 
Imagine there's no heaven; 
It's easy if you try.
No hell below,
No God . . .
I mean, I thought to myself, Yes, imagine that. Imagine that, and let the horror of that bring you to sobriety, to recognize if that's true, we're in worse shape than any pandemic can lead us to. If this is all there is and it's survival of the fittest and pandemics can break out right and left and we're just on our own, good luck! That's terrifying. 
Does that bring you any comfort or hope, to imagine there's no heaven, no religion, nothing above us, only sky, nothing governs our world, the universe is running on its own? In the face of evil and pain, if all we have to rely on is our own resources, our own intelligence, our own abilities, and our own power, we're in worse trouble than we can imagine.
But that's where a lot of people default in the face of pain. They think, There can't be a God who would allow this, so I imagine there's no God. Their option in the face of pain is what I call the "imagine option." Imagine there's no God, because they can't make sense of the fact that there could be a God who would allow this.
There's a second option that some default to; it's the deist option. If you know your American history you know that back 250 years ago, many of our founding fathers were deists in their worldview. They believed there was a God who had put the universe in motion and who would occasionally intervene in the affairs of men. But for the most part, He just wound it up and let it run, and He was off doing other things. 
The universe was a machine; it was operating mechanically, and God was not there involved in the smaller things. When you had a personal tragedy, God was not going to be bothered with that. That's just the effects of living in a broken world. God sweats the big stuff, but He's disengaged from the smaller stuff.
A lot of people live their lives today as functional deists. A lot of your friends, whether they would articulate it that way or not, that's their worldview. They imagine there's a God, and yes, the big things He's going to be involved with, but the smaller things of life, He's tuned out on that.
But the Bible points us to a third way. Not the imagine option, not the deist option, but to the Psalm 103 option: The Lord is in heaven, and His kingdom rules over all. 
Dannah: That's Bob Lepine speaking at a recent Revive Our Hearts event. We'll hear more about option 3 tomorrow. You won't want to miss that—that's where the hope kicks in.
Bob's with us today here in our "virtual studio." Hello, Bob.
Bob: Hello, Dannah. Hello, Nancy. It's great to be with you.
Nancy: Thank you Bob, and thank you for that message. I remember listening to it when you gave it the first time. I was just going, "Yes, yes." I needed it. People in that room were going through tough things, and we just needed you to take us to the Word and ground our hearts in the Truth.
Trusting that God's in charge when we go through something excruciating–as well all do—and it can be really hard. 
I remember when you and Mary Ann walked through that season that you talked about today with her brain tumor. I know there had to be moments during that season when you or Mary Ann experienced fear or doubt. How did you deal with that? 
Bob: I think we did what we knew to do, which was to take how we were feeling, which was real and valid, and take God's Word, and put the two side by side. We said, "Is what we are feeling in line with God's Word? How does it compare with God's Word? And at the end of the day, where will our hope be found? In what we are feeling or in what God says is true?"
We had to adjust the emotions of the moment and recalibrate and say, "This is what God says is true and we are going to believe that and move forward with that." And when those emotions flair up, do what Martyn Lloyd-Jones told us, and that is, "Preach the gospel to ourselves; remind ourselves of what is true."
Nancy: Again and again we have to do that with the little, everyday issues, but also the big issues that come crashing in on us. In our world today, we have to do that continually, and keep counseling our hearts according to truth. Remember that: there really is a God, He really is in charge, He really does know what He is doing.
As I've been thinking a lot about, in recent months, Heaven rules. That's ultimately what it comes back to. We feel like that's such a timely message. That'd why we determined that the theme for the upcoming True Woman '22 conference is September is going to be just those two words: Heaven rules.
Bob: I know this has been on your heart. You've been working on a book that will be released this fall by that title. The conference centers on that theme.
In our world today we have to regularly come back to—whether it is international events that are taking place, whether it is pandemics or politics—we have to remind ourselves that indeed heaven does rule.
So the True Woman conference, which I've been excited to be a part of this year—helping to plan this and work with the team of speakers who will be at this event. To gather together and remind ourselves that God is on the throne; that there is nothing happening that He goes, "I didn't see that coming." To just find rest in that.
You're there along with Mary Kassian, and Dannah you'll be there as well. We've got Joni Eareckson Tada joining us via video. Kay Arthur is going to be at this event.
Then there is a whole array of breakout sessions taking place throughout the True Woman event as well. These breakout sessions deal with dozens of very practical issues that all of us are facing. I'm excited about what women are going to be learning the breakouts.
There will also be a preconference that is scheduled on Thursday before the actual True Woman event takes off. We're going to be looking at gender and sexuality and how we find clarity in a confused culture. We've got Juli Slattery and Rosaria Butterfield and others who will be part of that preconference.
I think this will be a powerful three days in Indianapolis, September 22–24. I hope so many of the Revive Our Hearts listeners will come to Indianapolis and be with us those three days.
Nancy: What an opportunity this is going to be for us to declare that we believe that Heaven rules and to find comfort for our own hearts as we face things that make us fearful or doubtful. We can say, "Yes, Lord, we believe that You do rule." Then to also go from that conference—whether live there in Indianapolis or watching the livestream in different languages around the world—to be women who infuse hope. To be women who say, "Yes, there is trouble. This are hard days, but heaven really does rule. Take courage. Take comfort. Our God really is in control.
Dannah: He truly is, Nancy. My heart needs that reminder. If yours does to, will you register to join us in Indianapolis. Right now is a good time to do that because the prices goes up on May 1. Get that early deal right now. Get all the details at our website ReviveOurHearts.com, or call us at 1-800-569-5959. 
You don't have to wait until the True Woman conference to really embrace the truth that Heaven rules because tomorrow on Revive Our Hearts, Bob Lepine concludes his message "When Providence Brings Pain." I hope you'll be back for Revive Our Hearts.
Revive Our Hearts with Nancy DeMoss Wolgemuth, inviting you to trust in God's providence, even when you don't understand. It's how you'll find freedom, fullness, and fruitfulness in Christ.
All Scripture is taken from the ESV.
*Offers available only during the broadcast of the podcast season.