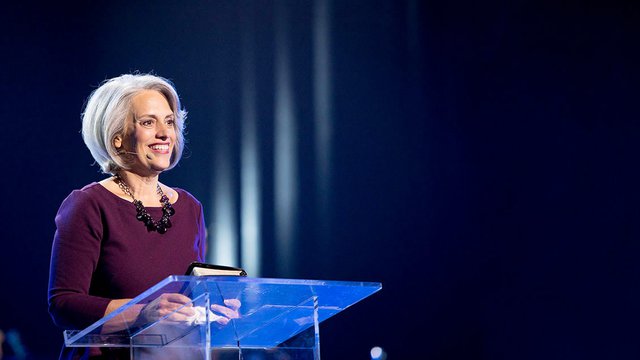 The Power of a Consecrated Life, Part 2
Leslie Basham: As parents, we need to realize something difficult: our children don't belong 21585to us. They belong to God. It's Thursday November 29 and this is Revive Our Hearts with Nancy Leigh DeMoss.
You probably have many hopes and plans for your child. You want them to get a good education, find a rewarding career and marry a person who will love them. It's natural to want what is best for them. But as parents, we need to realize that God's will always is best; and we need to give our children the freedom to pursue the things God has called them to do.
Today we're listening to part 2 of a conversation between Nancy Leigh DeMoss and Shannon, a young woman preparing to become a foreign missionary. We'll hear how Shannon's parents have learned to trust their daughter to God's will. Here's Nancy.
Nancy Leigh DeMoss: Shannon, welcome back to Revive Our Hearts.
Shannon: Thank you, Nancy.
Nancy Leigh DeMoss: As I've been thinking about what you're getting ready to do, to leave this country and go as a full-time missionary to a third-world country, my mind goes to a lot of Christian parents I know who might think that being a missionary is a great idea--until their son or daughter says, "I'm the one God's calling. I believe God is leading me in this direction." In fact, I think of some parents who would struggle with their children leaving their own hometown much less going off to some far part of the world. Has this been an issue for your parents? How did you work through this with them?
Shannon: I am so thankful for godly parents who have abandoned me, in the truest sense of the word, to the will of God. And what I mean by that is they have released me to be the woman that God is calling me to be. That's not to say that there haven't been struggles in their hearts. In the midst of all the struggles, I think of two wonderful gifts that my parents have given me. And I think that those gifts are what has enabled them, what is strengthening them, in this time, to release me to the Lord.
And the first gift would be a firm foundation--a grounding in God's Word. And I can remember my mom (even just recently) in conversations we have had, I've asked her "Mom, how can you release me to all of this?"
And she said, "Long ago I saw that God's Word had firmly taken root in your heart. (I saw) That you were His child, that He had His hand on you and that you were following Him." So she sees me as totally covered by the security of the Lord, totally living within His will, and as long as I'm living in that will then I am secure. And she finds security in that.
And then through that, knowing that that firm foundation is there--the second gift: the ability to give me wings to literally fly off in freedom into the hands of God and to do what He's called me to do, which for me is going into full-time mission service. For other parents it may not be that. It may be different issues with their children, but because that firm foundation is there and my mom and dad realize--this is God's child--they're free to release me to His will. And I just think of Hannah with Samuel. My mom is a beautiful picture of this. "Lord, you gave me this child, you lent her to me for a time. I give her right back to you. Ultimately, she does not belong to me. She is yours and who am I to say that she cannot go and do whatever you are calling her to do."
Nancy Leigh DeMoss: That's precious to hear, Shannon, and as you're sharing I'm thinking about how my parents have given me those two very same gifts: that strong foundation in the Word and the ways of God that then leads their children to say, "What does God want from my life?"--and to embrace the will of God. And then that, as you call it, giving them wings--releasing them into the will of God. And how I thank the Lord for the freedom and the motivation that I have today in serving the Lord because of parents who've given those gifts.
It makes me think that there may be women listening who need to make sure that they're giving their children those very same gifts. They're laying in their children's lives a foundation of considering and seeking earnestly the will of God and then allowing the children to have the freedom to follow the will of God, to follow Christ whatever that means. And I know for my parents, as I'm sure for yours, that has meant no small sacrifice. My mother would love to have all her children right around her with all the grandchildren right around her. But God's will in our lives has taken some of us to greater distances; and yet she has, I think, with joy even in the midst of sometimes sadness but also with joy she has embraced that as part of God's calling for her life.
Shannon: I really encourage moms in this, the ability to present their child as an offering right back to the Lord, knowing that that child was given to them as a gift in the first place. And that ultimately that child really belongs to the Lord. I have many friends who are interested in missions; but when they go and have this same conversation (that I had with my parents) about, I think that the Lord is calling me into full-time mission service--some of these parents literally kick, scream, beg, plead, bribe, whatever they can do to keep their child safe within their grasp here within this country or close to them. It makes it difficult for a young person to say yes to the call of God on their life. I really encourage moms to have a proper perspective that this child is the Lord's. Who am I to say that he or she cannot go and do exactly what the Lord is calling them to do?
Nancy Leigh DeMoss: And it's as Jesus said, "Whatever we hold onto, we're going to lose." But if we let loose of our lives and the things we hold the dearest--if we let them go, then--He gives back to us more than we could have ever tried to hold for ourselves. But, Shannon, I've got to ask, I'm still thinking of you going to this other part of the world and I can hear a parent saying, "I'm not sure if my child is safe being away at a university and now you're talking about going to a primitive, third-world nation." Who knows what you'll face there? It's so far away. Are those things you've struggled with at all? You've told me that you've never even been to the country where you're going. Are there things you may find there that you hadn't expected and what if you don't like it? What if it's not something you can handle?
Shannon: You know, that's an excellent question and sure some of those questions have come up in my own mind. But when I think about going to this particular country and thinking about the dangers that are there--and there are very real dangers there. There have been missionaries in recent years that have been murdered in this particular country. And so, am I physically in danger? Perhaps. Will there be times when I do not like this country, that I do not like the people particularly, that I'm not excited about being there? Definitely, there will be those difficult times that come, but I think of two things.
One, we are safest when we are in the hands of God, directly living in His will. And the Lord has me, and He has you here for a specific time for a specific purpose. And He will protect us until we are done with the purposes that He has created us for. And then He will take us home. I think of Psalm 91 when I think of being afraid or think of dangers. Psalm 91 says, "He who dwells in the shelter of the Most High will rest in the shadow of the Almighty. I will say of the Lord, 'He is my refuge and my fortress, my God, in whom I trust'" (Psalm 91:1-2).
A little later on in that same chapter He gives His angels charge concerning you. The Lord is my protector so I'm not concerned about that. The Lord holds me in His hands. In terms of having difficulty with emotional struggles and having days when I think, Oh, I don't want to be here. I wish I was back in the States. I know that those days will come. But in those days my staying power will be that--I am there serving, not for myself, not even because I particularly have a love for these people, although the Lord is giving me a heart for these people--but my staying power in that time will be I am here for the glory of God. I am here in this country because I am jealous for the Lord to be glorified here. And so that will be my staying power in that time.
The reason that I exist in the first place is for the glory of God. The Westminster Confession says it very well: "What is the chief end of man? To glorify God and enjoy him forever." So in that time, when it is difficult, I think that will be the thought that comes to my mind. You are not here because it is comfortable or because it's fun; you are here because God desires to be worshipped and honored among these people. And you are here to bring the light of the Gospel to them.
Nancy Leigh DeMoss: And, Shannon, that really goes to the heart of what every one of us needs to face--wherever God has put us, wherever He has called us. I'm thinking of a mom with three pre-schoolers who's thinking, (on certain days) this is hard. This is tough. I don't know that I really love these children. I mean, deep in her heart she does; but there have to be days when she thinks, What can keep me faithful to do this?
I think of a woman living in a difficult marriage--a woman I've been talking with on the phone recently and what can give that kind of woman staying power? It's the very same thing that is going to give you staying power as you go around the world into this foreign country. The purpose of my life is to glorify God. My purpose is not to be happy, it's not for life to be easy. In fact I have found, as I'm sure you have, that the struggles and pressures and difficulties of life are what God uses to fulfill His purpose in my life to make me like Jesus--to conform me to His image and then to use my life to bring Him glory and worship. So if we want staying power, if I want it in what God has called me to do, if you want to know what God has called you to do and if our listeners want staying power in what God has called them to do, it has to go back to this non-negotiable commitment that--my life is not for me. My life is for Him. It's for His purposes and for His glory.
Shannon, what we've been talking about today really runs totally counter to our natural way of thinking, but it goes to the very heart of why God has created us and why He has redeemed us.
Shannon: And, you know, that's really what I've come to realize, Nancy. Way back in Genesis 12, Abraham was given a promise by God and God said two things. Number one: "Abraham, I'm going to bless you. I'm going to make you a great nation. But (you are) not just blessed for yourself. You are going to use that blessing to then be a blessing to all of the nations." If God's greatest passion is for His own glory then, I as His child who claim to love Him, must be jealous for His glory in the way that He is jealous for His glory. And I must live my life intentionally and with purpose so that He receives glory from my life.
Leslie Basham: That's Shannon speaking with Nancy Leigh DeMoss about one of the key issues we all have to deal with. What is the purpose of my life?
I hope you take some time today in prayer, making sure that all the choices you make are for the glory of God. If you'd like to hear the entire interview that Nancy Leigh DeMoss is conducting with Shannon, call us and ask for a copy. It's part of a series called "The Power of a Consecrated Life." You can order the cassette on our Web site at www.ReviveOurHearts.com for a suggested donation of $8, or call 1-800-569-5959. You'll also want to give us a call to get our free 2002 wall calendar. You can find all kinds of calendars on display at your local mall or bookstore, but you won't find one like Nancy's, Place of Quiet Rest Calendar. Its beautiful design will add a lovely touch to your home. And the quotes it features from Nancy's book A Place of Quiet Rest will remind you to spend time growing closer to God day by day. And it's free when you call 1-800-569-5959. Or visit www.ReviveOurHearts.com.
Well, what happens when God's will interrupts our pursuit of the American Dream? We'll hear how Shannon responded as Nancy continues their conversation tomorrow on Revive Our Hearts. 
Revive Our Hearts with Nancy DeMoss is a ministry partnership of Life Action Ministries.
*Offers available only during the broadcast of the podcast season.
Support the Revive Our Hearts Podcast
Darkness. Fear. Uncertainty. Women around the world wake up hopeless every day. You can play a part in bringing them freedom, fullness, and fruitfulness instead. Your gift ensures that we can continue to spread gospel hope! Donate now.
Donate Now