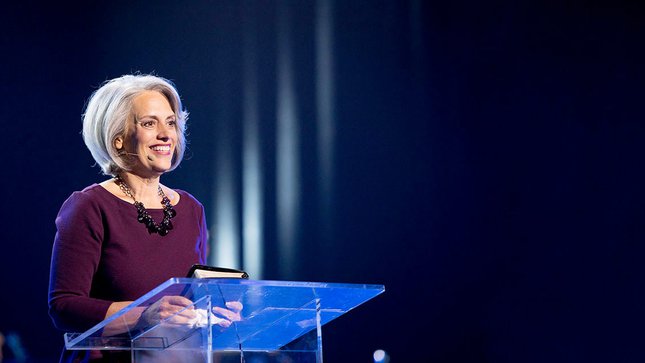 — Audio Player —
The Father's Arms
Leslie Basham: Think back to your childhood. Remember what it was like when your daddy rocked you to sleep? You snuggled up against him, and his arms wrapped around you securely, loving you, protecting you. In his embrace, all your fears vanished. Well, you've grown up now, but did you know you could feel that way again? It's Friday, April 22nd, and you're listening to Revive Our Hearts with Nancy Leigh DeMoss.
Nancy Leigh DeMoss: We've been talking about the wings of God, and how the wings of God are a place of refreshment and satisfaction even in a desert place. The wings of God are also a place of shelter and refuge when we find ourselves in the midst of storms.
We're looking in the psalms at references to the wings of God. There's a third aspect of what we find under the wings of God that has been especially encouraging to me in recent days. The wings of God provide for us a place of safety and protection from our enemies.
In Psalm 17, verse 8, David says to the Lord, "Keep me as the apple [the pupil] of your eye." The Scripture tells us that God does care for us as the apple of His eye. You know, our eyes are something that we guard pretty carefully. Especially if you go somewhere and there is debris blowing and there is danger of dust getting into your eyes, you find yourself really guarding them. The Scripture says that God guards us, He cares for us, as a man would the pupil of his eye. So David says, "[Lord,] keep me as the apple of Your eye; hide me under the shadow of Your wings, from the wicked who oppress me, from my deadly enemies who surround me" (verses 8 and 9).
Now as I think about this matter of enemies who come up against us, times when we need protection from the Lord, I think there are two kinds of enemies. First are those external enemies. These might be people, they may be circumstances that threaten to attack us and undo us. Our culture is filled with enemies against God. You turn on your television or you pick up a lot of books and magazines, you listen to the music of our culture--this is something that comes from outside of us and threatens us to think in ways that are not godly.
Those enemies may be people in our own families who are not walking with God. They come up against us and they rub against us, and it's like sandpaper. We feel sometimes that we're living in a war zone, with people coming up against us.
Enemies can be circumstances over which we have no control. We say, Lord, I can't handle this! These arrows and darts are flying fast and furiously. They're just coming at me one after another.
Now external enemies are hard enough; but then I find that I've got a lot of internal enemies. I think those are sometimes even harder to deal with! The enemy of my own flesh--I'll tell you, everything can be going right around me, but I've still got this flesh inside of me that wants to have its way. I find myself wrestling against these temptations that come against us from within. (I see some heads nodding--I think I'm not the only one.)
The internal enemy can have to do with wrong ways of thinking, with our minds. "Where did that thought come from?!" Those thoughts can be enemies. "Why am I thinking such thoughts?" and "Why do I have such emotions within me, of self pity, of anger, of despair?" "Where do these suicidal thoughts come from?" I hear women talk about these from time to time, these thoughts that say, It's not worth going on. These are enemies within.
David said, Lord, there are enemies in my life. They come from without, they come from within. What do I do to help me be protected against the enemy? I can't fight these enemies myself. I can't fight those thoughts, those emotions, those temptations, those external circumstances; I can't deal with those people or those situations. What do I do? I need a place of safety and protection in the midst of the battle. David found that place. That place is under the wings of God.
There's another wonderful passage that makes this same point. Many of you are familiar with Psalm 91. Perhaps some of you have memorized that psalm. David here uses several word pictures to talk about God being for us a place of safety and protection from our enemies.
He says in verse 1, "He who dwells in the secret place of the Most High shall abide under the shadow of the Almighty." The secret place of the Most High. That's a word that means "a hiding place, a shelter." When I think of that word, I think of the story of Corrie ten Boom and the Hiding Place; how her family had this special room in their house where they hid the Jews from the Nazis. It was a hiding place. The Jews whose lives were in danger were safe as long as they went into that hiding place.
David says that the Most High God is a hiding place for our hearts; He's a hiding place for our lives; He's a shelter. In Him we are safe. So David goes on to say, "I will say of the Lord, 'He is my refuge and my fortress; [He is] my God, in Him I will trust'" [ verse 2].
And then he goes on to give assurance based on his own experience of God being a safe place. He says, "Surely He shall deliver you from the snare of the fowler, and from the perilous pestilence. He shall cover you with his feathers, and under his wings you shall take refuge; His truth shall be your shield and your buckler" (verses 3 and 4). That brings to mind for me a picture of my mind being protected by the truth of God; the shield of God's Word is a protection for my mind. It keeps my thoughts stable when they threaten to run away and go crazy.
He goes on to say, verse 5, "You shall not be afraid of the terror by night, nor of the arrow that flies by day." In this hiding place there is freedom from fear, because no one and nothing can get to me in the hiding place, under His wings, unless they first go through God Himself.
So he says you won't be afraid of terror or of arrows, "nor of the pestilence that walks in darkness, nor of the destruction that lays waste at noonday" (verse 6). This is a kind of "fill in the blank" sort of verse. Just fill in the blank with what are the "perilous pestilences" in your life. What are the terrors, the arrows, the things that fly at you? He says you don't have to be afraid of those things. They hold no terror for the one who finds refuge under God's wings.
He says, "A thousand may fall at your side, and ten thousand at your right hand; but it shall not come near you" (verse 7). Why? Because you are under the wings of God. "He shall cover you with his feathers, and under His wings you shall take refuge."
When we're fearful, when we're feeling overwhelmed, as some even this morning have expressed that you are feeling at this season of life, when we're feeling attacked or threatened, perhaps going through a season of grief, when we're feeling desperately needy, when we're facing deserts or storms or enemies . . . what are we to do? Run for the wings. Take refuge under His wings.
What does that mean? It means I draw near to Him, as the Scripture commands me to. It means I look up to Him, and I trust myself to Him. I trust that He is capable to handle these circumstances, and then I stop wrestling. I stop striving, and I just do what the Scripture says: be still. Be safe; be protected; trust, in that place of dependence, that He is going to provide all that I need.
There's a wonderful phrase in the book of Ruth, where Boaz says to Ruth, "You have come to take refuge under the wings of the Lord God of Israel" (Ruth 2:12, paraphrased). God has wings that are there and available for us. And really, we do one of two things in relation to those wings. We either take refuge under those wings, or we refuse to take refuge under them.
When I come under His wings, He takes all of my troubles, all of my cares, all of my responsibilities as His own, as a mother bird or hen does for her little ones. But if I'm unwilling to come under His wings, if I insist on handling things myself, then I find that I have to take all those burdens on myself. I have to fend for myself; I have to make it on my own.
But the fact is, we can't make it on our own. So if we want to experience the protection of the wings of God, we have to humble ourselves, admit our neediness, and stop pretending that we're so strong, that we have to impress anybody with how strong we are or how "put together" we are. You and I never will outgrow our need for the wings of God. They will always be there.
I love this old hymn that speaks of the wings of God:
Under His wings I am safely abiding;
Though the night deepens and tempests are wild.
Still I can trust Him; I know He will keep me.
He has redeemed me, and I am His child.
Under His wings, what a refuge in sorrow!
How the heart yearningly turns to His rest.
Often, when earth has no balm for my healing,
There I find comfort, and there I am blessed.
Under His wings, oh what precious enjoyment!
There will I hide till life's trials are o'er.
Sheltered, protected, no evil can harm me;
Resting in Jesus, I'm safe evermore.
Under His wings; under His wings;
Who from His love can sever?
Under His wings my soul shall abide,
Safely abide forever.*
Leslie Basham: Just as an umbrella shields us from the wind and rain, the wings of God provide comfort and protection as we walk through the storms of life. As Nancy Leigh DeMoss has explained, God is more than willing to shelter us in His arms if we'll only run to Him. Nancy will be back in just a minute to lead us in prayer, thanking God for the safety He provides.
One way God comforts us is through His Word. We encourage you to spend time daily reading your Bible. To help you also meditate on the Scriptures, we're making a CD available called Breath of God. It's filled with line after line of God's precious promises, set against a backdrop of soft music. Listening to this CD is a great way to renew your mind with the Word of God.
To order this CD or any other of our available resources, just call us at 1-800-569-5959, and someone in our resource center will be glad to help you. We'd also like to make you aware of our website, ReviveOurHearts.com. There you'll find a calendar of upcoming broadcasts, as well as a list of resources you might find helpful.
If you have a story about God's protection, why don't you tell us about it? Now to lead us in prayer, here's Nancy.
Nancy Leigh DeMoss: Thank You, Father, for those wings that are a place of refuge, safety, security, stability, and protection. In the midst of the storms and the dry places, and when faced with overwhelming enemies without and within, would You grant us faith to run to Your wings and there to find all that we need; to be still, to wait, to trust, and to look to You to meet all our needs. I pray in Jesus' name, amen.
Leslie Basham: Next week we'll look at a hero of the Bible. The time she lived in was a lot like our own, and her name is Hannah.
Revive Our Hearts with Nancy Leigh DeMoss is a ministry outreach of Life Action Ministries.
*Under His Wings, William O. Cushing
All Scripture taken from the English Standard Version unless otherwise noted.
*Offers available only during the broadcast of the podcast season.
Support the Revive Our Hearts Podcast
Darkness. Fear. Uncertainty. Women around the world wake up hopeless every day. You can play a part in bringing them freedom, fullness, and fruitfulness instead. Your gift ensures that we can continue to spread gospel hope! Donate now.
Donate Now