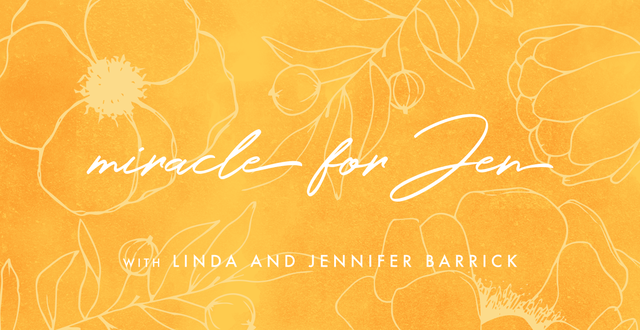 — Audio Player —
A Teenager's Radical Forgiveness
Leslie Basham: A young woman once wrote an extraordinary letter.
Jen Barrick: Dear Carl, my name is Jennifer Barrick. I don't know if you know who I am, but I am a twenty-six-year old girl who prays for you every day. I am praying that you will be able to talk and walk again. I have a brain injury because you were drinking and driving, and I have suffered a lot, too.
Leslie: This is Revive Our Hearts with Nancy DeMoss Wolgemuth, author of Choosing Forgiveness, for Wednesday, May 23, 2018.
All week we've been hearing the story of Jen Barrick. At fifteen she was hit by a drunk driver, spent time in a coma, and faced an entirely different future because of this man's choices. Nancy's back talking with Jen and her mom, Linda Barrick.
Nancy DeMoss Wolgemuth: Well, if you haven't been with us for the last couple of days on Revive Our Hearts, you've got to go to the website, ReviveOurHearts.com, and ideally, listen to it, otherwise, at least read the transcript of the conversation I've been having with Jen Barrick and her mom, Linda Barrick. It's been a sweet story—a hard story, but a good story.
As a pastor friend of mine says, "Hard is hard, but hard is not bad," because the hard things can lead us into the presence of God. And, Jen and Linda, you have experienced that in an amazing way over these past ten years.
Jen: Yes.
Linda Barrick: Yes, we have.
Nancy: And thank you so much for being here with us on Revive Our Hearts this week to tell this story. I know our listeners are really being touched by it. You tell the complete story, in a way that's more than what we can do on the broadcast this week, in your book called Miracle for Jen. In fact, Jen, you wear a green bracelet, and isn't that what it says—"Miracle for Jen"?
Jen: It does.
Nancy: How did that come about?
Jen: A friend of ours had the idea. It says, "Miracle for Jen," and it has one of my favorite Scripture verses on it, 1 Corinthians 2:9. The verse says, "No eye has seen, no ear has heard, no mind can conceive what God has prepared for those who love Him" (paraphrased).
I love this Scripture verse. It's talking about heaven and what is to come someday. But I like to believe that when we put our trust and hope in the Lord, that He can do more with our lives, more than we ever thought or dreamed possible.
Nancy: So when did those bracelets first get started?
Jen: They got started pretty soon after the accident. They sold them at my school and at my church, and all the proceeds went to medical bills and helping us while we were in the hospital.
Nancy: So after this horrific accident, where your whole family was hospitalized, and you had a long, long recovery from this traumatic brain injury. 
Jen: Yes.
Nancy: People were praying—so this was a reminder to pray?
Jen: Yes, and to fill them with hope, too, just knowing that God is faithful, and that they can trust Him.
Nancy: Yes. And the Lord really used this whole ten-year experience for you to fix your eyes more on eternity than on things on the earth it seems to me, as I've read the book. Would you agree with that?
Jen: Definitely, oh, yes.
Nancy: And in a way that might not have been true otherwise.
Jen: Yes.
Nancy: We talk about heaven. We talk about eternity. But don't we all find that we've really got our stakes down pretty deep into the things of this earth, the cares, the trials, the benefits, the pleasures, the things we love, the things that annoy us? We're so earthbound.
Linda: That's true. Absolutely. When we're in pain, it makes you long for heaven.
Jen: Yes.
Nancy: And you guys have been there.
Linda/Jen: Yes.
Nancy: I see the longing for heaven and the love for Jesus in your eyes, and I read it in your story. So that bracelet is just a symbol of something that should be wrapped around all of our arms and our hearts and our lives, and that is the longing for the things we can't see now, but by faith, with eyes of faith, we know God has in store for us.
Jen: Yes.
Nancy: Well, we're not going to go back and retell the whole story here, but one of the important issues—I suppose this is something you probably get asked about a lot: There was a drunk driver involved in this accident where you, Jen, your mom, your dad, and your brother Josh were all seriously injured. You were, for a long, long time, recovering from this brain injury.
Jen: Yes.
Nancy: People have to ask, and I know people listening to this series are wondering: How do you deal with the whole issue of forgiveness? So we're going to talk about that today because you talk about it in your book, Miracle for Jen, and in the more recent book, Beauty Marks, which is also available through our resource center here at Revive Our Hearts.
Linda: Yes.
Nancy: You've always had a process in your life on this whole thing of your burden for the guy who was the driver—you call him Carl in the book. There was a time after Miracle for Jen first came out that you had a surprise encounter with Carl's sister. Do you remember that, Jen?
Jen: Yes, I do. When Miracle for Jen came out, we had a book signing at LifeWay, our Christian bookstore back at home. A lot of people came out to that. It was such a great day. I remember my eye doctor was there from UBA, and so many. Everyone there was so special.
I remember a woman walking up just shaking, and she could hardly get out the words, "I'm Carl's sister." We just held her and wept with her and just tried to be an encouragement to her, because the next words she said was, "We feel like we're the bad family." We just wanted to encourage her that God sees her, and that He knows the details, and He has an amazing plan in store for her and for Carl and for her whole family.
Linda: Definitely.
Nancy: That whole family, their life had been turned topsy-turvey, too, because he had had issues with drinking and driving incidents before.
Linda: Yes.
Nancy: And this accident, this wreck . . .
Linda: . . . changed their lives forever.
Nancy: In fact, at this time, he is still . . .
Linda: He's much like a vegetable after the wreck, and he's still being cared for even now ten years later. But the day that we saw his sister, Jennifer started praying for him every day that God would heal him a little more.
Jen: Yes.
Linda: And we have heard that in the last five years when Jen's been praying, they did remove his feeding tube. They removed his ventilator. He's eating. And he's starting just recently to talk and communicate a little bit.
Nancy: Wow.
Linda: So only God knows what the end of the story is.
Carl grew up in a Christian home. His family loves Jesus. He went to church. He knew who God was, and yet he was filling his life with drugs and alcohol and the things that don't satisfy. Any of us listening could self-medicate in those same ways. We have a choice.
I think when hardship happens, we can run to Jesus, or we can run away from God and try to self-medicate with the things of the world that don't satisfy.
The day that we met his sister, God really did something in my heart, too. Because, actually, the night of the car wreck, the police had Carl out of the car and did not handcuff him and did not take his keys. They put him back in the car and said, "Wait here," because he had hit another vehicle. Even that mistake from the policeman would have changed Carl's life forever, too. He wouldn't be a vegetable.
Nancy: Because once he got back in the car, he took off.
Linda: Right. He took off and came at us going eighty miles an hour. He hit us with such force that the engine fell out of his truck, and he ran over the top of our Sienna van.
So, again, God allowed it. He could have stopped it over and over again. Yet, God allowed this wreck to happen, and He's been with us. He's carried us one day at a time.
But life hurts. Life is hard. And for me, I grew up with a dad that was a preacher, and I knew God's Word. And yet, all of a sudden everything I ever believed was put to the test. Either God is good, or He's not good. Either His Word is true, or it's a lie. Either you're going to run to God, or you're going to run away from God.
In those darkest moments, I realized: What other hope do I have? There is no other hope except God. His Word is the only thing that stays the same and never changes. You can stand on it. You can cling to it. Even when your heart is breaking, God's Word is true, and He's with you, and He holds your hand.
I love Isaiah 41:13 that says, "For I am the Lord your God who takes hold of your right hand and says, 'Do not fear; I will help you'" (NIV).
Nancy: So you had these promises of God that were sustaining you.
Linda: Yes.
Nancy: Prayers of God's people, and a theology, a view of God that was bigger than your earthly circumstances.
Jen: Yes.
Nancy: But did either of you ever face the temptation to just become resentful or bitter toward God or toward Carl or toward that police officer whose mistake allowed this accident to happen?
Linda: Yes.
Nancy: Tell us a little bit about that journey for you.
Linda: As a mom, it was really hard. For some reason it was harder for me to forgive the policeman. I think it was an innocent mistake, and yet, you think of a policeman as protecting you, and yet he didn't do it on purpose.
Nancy: But it was a costly mistake.
Linda: It was a costly mistake that could have been so easily prevented. I think that's where . . . My mind would play that scene over and over again and just want to take the keys out of the ignition and hide them.
And then there were just so many days where I would wrestle with God. I didn't want anyone to know it because I was that good, Christian girl, and I thought, If I'm doubting God, then I'm not a strong Christian.
And that's not true. God is not scared of your hard questions. He's not scared of our doubts. And Jen says to me all the time, "Mom, God knows your thoughts. He already knows you're mad at Him. You might as well tell God what you're thinking. He already knows."
And just wrestling with God that God did not cause the accident. We live in this evil world with sin. And yet, He allowed it. He could have stopped it. Just one minute in any direction would have changed the course of our lives. And yet, God's walked with us. In His sovereignty, He knew it was part of His plan.
And if anyone's listening today and you've gone through something painful, it does not mean that God does not love you. It just means He's going to walk with you through the fire.
Jen: Carry you.
Linda: He's going to carry you. And He has a far greater plan on the other side.
Forgiveness was hard, and I think there's part of us that almost has to forgive God. There's no Scripture that says we have to forgive God, but in our human nature, we often blame God when life doesn't go our way or when we're begging Him to answer a prayer, and He doesn't answer it the way we're asking Him to.
For years I was begging God to fix Jen and make her who she was before. And God is not of our dimension. It's like I was putting God in this box, and Jen didn't want to be who she was before. She was begging for boldness. She was begging for God to use her to make a difference in the world.
And what God has shown me is that I was begging God to make Jen normal. And one day, God just said to my heart, "Linda, why do you want her to be normal when I've set her apart to be extraordinary. I'm going to do the miraculous through her in her brokenness, in her brain injury. I'm going to shout to the world that I'm real, and I'm going to save lost souls through Jen's testimony and her uninhibited love for Me that people can see when they meet her. They can see this love relationship just glowing from her face."
So, bitterness, for me, was a journey. And when Jennifer had thyroid cancer three years ago . . .
Nancy: And the thyroid cancer could have been another thing to be bitter about.
Linda: Yes. It was from all those CT scans on her head. So, again, I went to a very dark place, and I felt like my daughter is still suffering because of the sin of someone else.
And maybe, if you're listening today, and you feel like you're suffering because of the sin of someone else, I really struggled with that. God showed me through Jen having cancer—it was thyroid cancer, and it had already spread into her lymph nodes. And probably, again, from all those CT scans on her head and the brain injury.
But just like that cancer was a toxin, we had to get it out or it was going to kill Jen, the same with bitterness. Bitterness is a toxin, a cancer of the soul. And we have got to dig it up and get it out so that we're free.
Nancy: Yes. We think it's going to hurt the other people.
Linda: Right. But it tortures us. It doesn't hurt the other person. They may not know. They may not even care. But it tortures us.
When Jen had cancer, she said to me, "Well, Mom, God's telling me to write Carl a letter and tell him that I forgive him."
It's such a powerful letter. And, Jen, I think you can read that.
Jen: I wrote:
Dear Carl,

My name is Jennifer Barrick. I don't know if you know who I am, but I am a twenty-six-year old girl who prays for you every day. I am praying that you will be able to talk and walk again.

I have a brain injury because you were drinking and driving, and I have suffered a lot, too, but I like to think that God has remodeled me and has made me better. Even though I have disabilities and struggle every day, God is using me in ways I never dreamed possible for His glory.

I want you to know that I have forgiven you—not in my own strength, but in God's strength. I can't explain it, but God has given me a special love for you. I will continue to pray for you daily.

Today, Lord, I choose to forgive Carl, just like You forgave me. Thank You for second chances.
Nancy: Wow. As you listen to that letter, which you can't tell unless you're here with us in the studio, is that she wasn't reading it. She was reciting it because it's something, not that you sat down and memorized, but it's something that's in your heart.
Jen: Yes.
Nancy: As you have prayed for this man every day for years now. 
Jen: Yes.
Nancy: And then felt prompted by the Lord to write that letter, what did that do in you?
Jen: Well, it was so rewarding just in the sense that I felt this new freedom, this new peace. I just didn't want to limit or hinder all that God wanted to do in my life. And through the process of writing this forgiveness letter, I felt like I was able to live again in the sense that I just felt like I was able to have both hands and be at full and complete service to God. I just experienced freedom like never before. It was really cool.
Linda: And, Jen, you often say, "I took the drunk driver off my hook."
Jen: Yes. I do. I say, "I took the drunk driver off my hook, and I put him on the Lord's." And just that visual, I was able to give this situation completely over to God and hand it to Him and put it in His hands completely.
Nancy: You say in your book that these kind of hurtful circumstances in life—and you've told yours—but many people listening to us have in mind their own circumstance or situation. It may be very different than yours, but it's still very painful. And you say these circumstances can make us bitter, or they can make us . . .
Linda & Jen: Better.
Linda: We have a choice.
Nancy: And what's the choice? We don't have choice about what happens to us. You didn't have any choice about whether to be in that accident.
Linda: Right.
Nancy: So what's the choice?
Linda: I think we can't ever forgive in our own strength. We'll never feel like forgiving. We want that person that hurt us to pay. That's our human instinct. And yet, if we can start praying for the person that hurt us and asking God to help us forgive . . . I love how Jen says, "Take that person off my hook, and put them on God's hook."
The other thing that I've seen as I've done focus groups for the Beauty Marks book. So often, even when we forgive, there's still pain attached to the wound and the hurt, and especially if it's a friend or family member that we trusted. But if there's some way, with God's help, that we can have empathy or almost pity for the person that hurt us, to realize they're more wounded than we are.
And not at all to say that what they did was right or okay, but to be able, with God's help, to have pity that maybe they don't know Jesus. Maybe they're going to die and go to hell. Maybe that is something you could pray for—their salvation—because they're way more wounded. At least you know where you're going when you die if you know Christ as your Savior.
It is a process. It's almost like you have to choose forgiveness with God's help every day. Really, it's like you're getting out of your own prison cell because you're free, like Jen said.
I want to be careful here because forgiveness is not the same thing as reconciliation. I want to make that so clear. If you're in an abusive relationship or . . . We're talking about forgiving where you get rid of the bitterness in your own heart and life and where you can pray for the person.
But in order to have a relationship and trust someone, of course, it's a whole other process where they would need to say they're sorry, and they would need to change their behavior and probably counseling involved.
But what we're talking about right here is the bitterness and the toxin where we're thinking about that person all the time, and maybe we're consumed with thoughts about that person. Actually, the person who hurt us can almost become an idol, because we're just consumed with thoughts about them and conversations we want to have with them . . . and God wants us to be consumed with Him.
So when we can truly surrender it to God and give it to God and trust the Lord, that He's our advocate, He's our defender, He's the one that will make all things new and all things right.
Jen: Yes.
Nancy: And forgiveness doesn't mean that the problem goes away or that person is changed or that you don't feel any more pain. I mean, you still have literal, physical pain to deal with and emotional challenges.
Linda/Jen: Yes.
Nancy: Your family's life has been altered forever.
Linda: Yes.
Nancy: It doesn't change that except that your hope is in the God who is redeeming and making all things new, and you look forward to that.
Linda/Jen: Yes.
Nancy: So you can forgive now in light of, as you said, Jen, how God has forgiven you.
Jen: Yes.
Linda: I think when God forgives us, I mean, when we think of what Jesus did for us on the cross, He paid the penalty for our sins—past, present, and future. He paid our unpayable debt. And then, who are we to hold something against someone else when Jesus paid it all?
God actually commands us to forgive in His Word. He says if we don't forgive others, He won't forgive us. And His commands are for our good. They're not to harm us. They're for our good.
I think it's also important to say that when we forgive someone, we have to put all our expectations in God because that person may not receive it. They may not think they harmed us or hurt us in any way. They may not even respond to our letter if we send them a forgiveness letter. But when we write it, or when we say it, we are putting all our expectations in God for our own freedom.
Nancy: Yes.
Linda: We have no control how they're going to respond or not respond.
Nancy: And it's a story that's still being written in your lives.
Linda/Jen: Yes.
Nancy: You were sharing with me a little bit ago that you actually have tried to reach out to Carl's family.
Jen: Yes.
Nancy: And as of this moment, you haven't been able to connect directly.
Linda: Right.
Nancy: And you don't know what his response has been, if any, to that letter.
Linda: Right.
Nancy: But you're leaving that to the Lord.
Jen: Yes.
Nancy: And you told me a few minutes before this program started that your hope and prayer still is that there will be more to this story.
Linda: Absolutely.
Jen: Definitely.
Nancy: And that the day will come when in some way you can have a greater ministry to his family.
Jen: Yes. I'd love that.
Linda: Absolutely.
Nancy: Jen, I know there are lots and lots of people listening to this program today who have a deep wound. They were wronged in some way, that was unexpected, that they didn't feel they deserved, that they had no control over, and they're wrestling with making that choice to forgive now.
You have become such a prayer warrior, an intercessor, with what God has done in your heart over these last years. I'd be so grateful if you would just pray right now for any listener who's struggling with this forgiveness issue, and that God would give her or him grace to release, to set their prisoners free, and to become free themselves as they choose to forgive. Would you do that?
Jen: Oh, I'd love to. Let's pray.
Holy, holy, holy are You, Lord God Almighty. We just uplift our hands in praise and honor and worship in abundance and thanksgiving to You, the King of kings, the Lord of lords, the giver of life and hope.
Father, God, I just want to pray that You would just fill my friend today up with Your courage. Help them to know that You see them, and that You call them by name, that You've chosen them to walk this road.
And just as Isaiah said, "Here am I, Lord, send me," I know that's what You're wanting to do for my friend who is listening today. You're wanting to raise them up and to send them up just to be a light for You, just to be an encouragement to others for You.
So, Father God, I know life is hard, and it can be a roller coaster ride. But thank You, Lord, that You hold the keys to it all, Lord, that You are our guide. You are our director. So, Father God, please speak peace today to my friend, peace be still. And help them to know that they can face anything in life because they have You on their side fighting for them.
So I just want to pray that You would equip them today with Your strength and courage beyond measure, and that would be what leads them today in perfect abundance, just as well as in fellowship with You.
So Father God, we do, we cry, "Holy," and we are just so expectant of You in just the mighty work of Your hand this day. Thank You for being so good and so mighty, and we crown You with praise. It's in Your name, Father God, amen.
Leslie: That's Jen Barrick. Ever since being hit by a drunk driver and coming out of a coma, her prayers have taken on a new intensity. I want to learn to pray like Jen and learn from her whole story.
You can read it in the book Linda Barrick wrote. She's Jen's mom, and her book is called, Miracle for Jen. We'd like to send you a copy this week when you make a donation of any amount to Revive Our Hearts.
Nancy, I hope a lot of listeners take us up on this offer.
Nancy: And keep in mind, you're not just buying a book. In fact, a lot of the resources that we offer here on Revive Our Hearts you could order through some online retailer and perhaps get for a discounted price.
But when you invest in Revive Our Hearts, it's not just a transaction. It's a partnership, and you can know that you're helping to keep this program on the air so that these kinds of encouraging stories can be heard by women in this country and around the world. These programs really are making an eternal difference in women's lives. And those who support this ministry financially help to make that possible.
Now, the month of May is the end of our fiscal year, which means we need strong listener response to keep our current annual budget on track and to prepare to launch some new initiatives in the year ahead. So we've been asking the Lord to provide at least $680,000 this month, and so many listeners have already sent a gift to help meet this need.
Now, you may have been hearing me share this need over the last few weeks, and you've been thinking, I'd like to be a part of that. I want to give toward that need, but you just haven't gotten around to it yet. Well, you've got just about another week or so until May 31. Thank you for praying and considering what the Lord might want you to do to help us at this time.
When you contact us this week, be sure to ask for the book, Miracle for Jen, as our way of saying "thank you" for your gift.
The number to call is 1–800–569–5959, or you can always make a donation online at ReviveOurHearts.com, and you'll have a chance there as well to ask for the book, Miracle for Jen.
Leslie: When Jen Barrick was diagnosed with cancer, on top of being in a serious car accident, she wasn't bitter. Instead, she treated her medical appointments as opportunities to share Jesus. Hear why when she's back tomorrow on Revive Our Hearts.
Revive Our Hearts with Nancy DeMoss Wolgemuth wants to help you be joyful in any situation. It's an outreach of Life Action Ministries.
*Offers available only during the broadcast of the podcast season.
Support the Revive Our Hearts Podcast
Darkness. Fear. Uncertainty. Women around the world wake up hopeless every day. You can play a part in bringing them freedom, fullness, and fruitfulness instead. Your gift ensures that we can continue to spread gospel hope! Donate now.
Donate Now