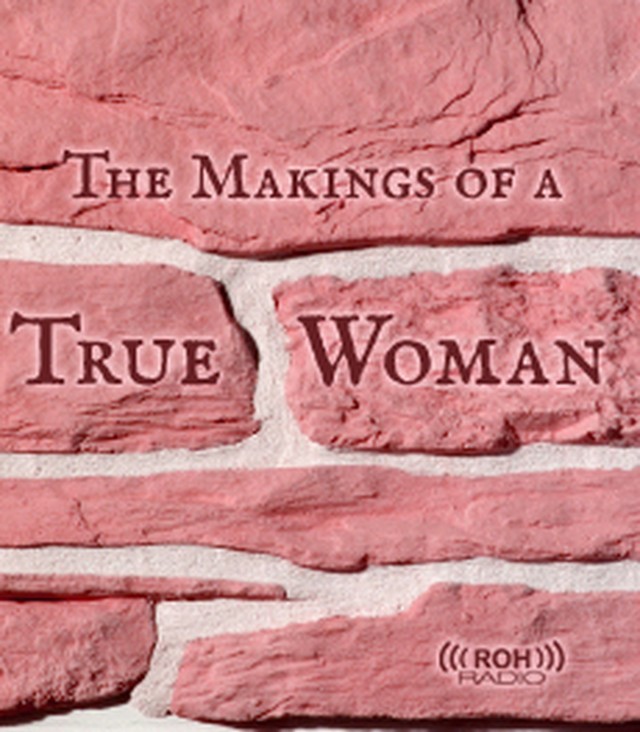 Such a Time as This
Leslie Basham: Recently we asked some Revive Our Hearts listeners to tell us why they were planning on attending the True Woman '08 National Women's Conference.
I am very excited about True Woman. Just the thought of having thousands of ladies together in one place to learn about God's design for us as women it's just very exciting to me (Sandy Bixel).

I'm excited as a single to go to a conference that is teaching me not only how to be a godly woman but also how to relate to and build up the men in my life (Paula Hendricks).

I am excited seeing six thousand women coming together to hear these great speakers talk about what it is to be a biblical woman (Stacey Battenburg).

I am just thrilled that True Woman '08 is coming. I'm looking forward to all of what God has as we learn what it …
Leslie Basham: Recently we asked some Revive Our Hearts listeners to tell us why they were planning on attending the True Woman '08 National Women's Conference.
I am very excited about True Woman. Just the thought of having thousands of ladies together in one place to learn about God's design for us as women it's just very exciting to me (Sandy Bixel).

I'm excited as a single to go to a conference that is teaching me not only how to be a godly woman but also how to relate to and build up the men in my life (Paula Hendricks).

I am excited seeing six thousand women coming together to hear these great speakers talk about what it is to be a biblical woman (Stacey Battenburg).

I am just thrilled that True Woman '08 is coming. I'm looking forward to all of what God has as we learn what it is to be a biblical woman. And I'm looking forward to the impact that can have individually, in my marriage, in the lives of our grown children and our grandchildren to come (Carrie Gaul).
Leslie Basham: This is Revive Our Hearts with Nancy Leigh DeMoss. It's Wednesday, May 28. Here's Nancy.
Nancy Leigh DeMoss: "Oh what a sinner am I." That's the way a woman began an email to us earlier this year. She'd been listening to a series where I was teaching on the subject of biblical womanhood.
And she wrote:
Through your teaching, God has shown me just how wrong I've been all these years. I'm married to the best man in the world, yet I've been treating him like the scum of the earth. Instead of lifting him up, I tear him down with my attitude. I've stabbed him in the heart with the sword of my tongue. Instead of encouraging him, I discourage him while I point out his faults without seeing my own.

I've really hurt my husband. But from this moment on and with God's help, I am determined to be the wife that I was called to be and to make our home a refuge for my husband. Maybe once again my husband will look at me like he did on our wedding day with absolute love and adoration.

Thank you so much for your teaching. And I'm sure my husband will thank you too when he sees my transformation.
Well as you can imagine, that email brought great joy to my heart. And what a blessing to see women responding to the teaching of God's Word and letting God transform their lives.
We've called 2008 "The Year of the True Woman" on Revive Our Hearts. And as you know, throughout these months we've been focusing on biblical womanhood—what it is, what it looks like, what it means, and how we can be true women of God.
This emphasis is going to culminate in October, October 9-11, in Chicago at True Woman '08, which as you know is the first national women's conference hosted by Revive Our Hearts along with our partner ministries FamilyLife, Moms In Touch International, and the Moody Bible Institute.
It's been exciting to receive reports about women from all across the country and even other parts of the world who've made plans to come. In fact, a woman came up to me recently and she said, "I'm from Bermuda and my daughter and I are planning to be at the conference."
And I know we've got a woman registered from London, England and others from Costa Rica who are planning to fly in for the conference. They're excited because we're planning to offer Spanish interpretation at the conference along with interpretation for the hearing impaired.
So I want to encourage you to spread the word, get your registration in, and make plans to be there along with others from your community or your church.
Today we want to give you just a taste of what you can expect at True Woman '08. We're going to have a chance to hear from some of the different speakers; for example, my long time friend Joni Eareckson Tada.
And any time I mention to people that she'll be speaking at this conference, people's eyes light up because Joni . . . well, what can I say about Joni? We all feel like she is our friend. And God has given her such an extraordinary ministry of pointing us to the sovereignty and the goodness of God even when life hurts and is hard.
One of the big issues for women who want to follow and respect their husbands as true women do, one of the big issues is what do you do when you're not happy about something your husband is doing? Well, Joni, like every married woman, has had to deal with this. And she has discovered the power of prayer.
Let's listen in to a portion of a conversation that I had with Joni a few years ago on Revive Our Hearts.
Joni Eareckson Tada: Halfway through football season I read a verse in Philippians chapter 2 the fourth verse where it says, "Each of you should look not only to your own interests but the interests of others. Esteem others better than yourself."
I was so convicted. So I purposed that every Monday night during football—what is that about 3 hours usually?
Nancy: Oh, I think it's 12 or 15 hours. It goes on and on.
Joni: Well, I went into the bedroom during Monday Night Football, and I decided I was going to pray for my husband. So every Monday night for the entire course of the football season I prayed for God to encourage him, strengthen him, make him a man of God's Word, strengthen our marriage, all sorts of things.
Nancy: Did you tell him what you were doing?
Joni: He knew what was going on. But he just thought that was a lot better than him having to help me with Kay Arthur's Bible study stuff. So he was very happy for me to lock myself away in the bedroom and pray for him.
And I'll tell you what, a miracle happened. Come January, around Super Bowl, this incredible miracle—I became a football fan! God changed me through all those prayers I offered the Lord.
But Nancy, I will tell you something. My husband has far surpassed me in memorizing Scripture. He has left me in the dust. And it is incredible how he is the leader in our marriage now as it concerns the handling of God's Word.
And it's remarkable that God has answered that prayer not only by changing my heart toward my husband but also deepening his love for the Savior as well all because I put away the cajoling, the nagging, the coaxing, the manipulating, and just started interceding for my guy.
I think the most powerful thing a woman can do for her husband is pray for him. Pray committedly. Pray specifically. Pray faithfully. Pray perseveringly. And watch God change not just your husband, but first He'll probably change you. And that's a good place to start.
Nancy: And that's Joni Eareckson Tada who has been to me and to millions of women a mentor, a role model, of what it means to be a true woman of God. And I'm so thankful that she'll be able to join us at the True Woman Conference in Chicago October 9-11.
Now, we're also very excited that Pastor John Piper will be joining us for the conference to speak in the opening session. We wanted to have a pastor open the conference and to share his heart about a biblical perspective on womanhood.
Dr. Piper is a scholar. He has studied the issue of men's and women's roles. And more importantly, he's passionate about the way that men and women can glorify God by fulfilling those roles.
Earlier this year on Revive Our Hearts we heard a message by Pastor Piper called "The Beautiful Faith of Fearless Submission." The response to that message was overwhelming. So many women wrote to share with us how much they appreciated this pastor's heart on the subject of submission.
Let's listen to just a portion from that message.
Pastor John Piper: Marriage is not mainly about staying in love. Marriage is mainly about covenant keeping. And the reason it is mainly about covenant keeping is because it's mainly about the relationship between Christ and His covenant people the church. And defining that relationship of Christ and the Church is leadership and following.
Therefore if in a marriage we say it doesn't matter whether we deal with a wife's submission and a husband's headship, we are preparing our marriages to lie to the world.
Marriage is created in this world to display Christ and the Church and how in this loving relationship a magnificent bond is formed that when it is lived out is beautiful to watch.
And perhaps I should end on this note. Christ came for His Church and died for her in order to bring about her everlasting holy joy.
Nancy: Well, I love listening to the passion and the Christ-centeredness of Pastor John Piper. In fact, just a few moments ago as we were in the studio recording this session our producer said, "You know it just takes about 30 seconds of Pastor John Piper to make you want to go to your knees." And I have found that to be the case so often as I've listened to this man of God.
What a privilege it will be to hear him on the opening night of the True Woman Conference in Chicago.
Now another speaker who will be joining us that weekend is my friend Janet Parshall. Janet is a successful, nationally-syndicated talk show host out of the Washington D.C area.
But being on the radio in a town full of influential people is not Janet Parshall's highest priority, not even close. In fact, not long ago we had a conversation with Janet on Revive Our Hearts in which she talked about the eternal value of the investment that a mother makes in her children.
Janet Parshall: The time is going to come and it will catch you—I promise you—by surprise when all of a sudden back in a manner that you've not yet anticipated or fully expected, you're going to be reminded that all those moments of investment—the times when you prayed together, the times when you had Scripture memory together—are going to reap a harvest that is invaluable.
My mother would tell me that, and I would sort of cluck my tongue and think, "Sure. Right." I had four cases of chicken pox at the same time. She used to say to me, "Honey, this too shall pass."
And I would say, "Yes, well it's passing a lot faster for you than it is for me."
Nancy: As a mother with four chicken pox.
Janet: Exactly. So the point is you are in a period of investment. To women in that season right now, I say to you as a Titus woman, "Been there. Done it; had four babies under the age of six at one time."
And there were many a day when I thought, "What am I investing in?" Particularly, Nancy, because when I was doing it when the feminist movement was being birthed in our country. And there was no affirmation for the choice to stay home.
Nancy: To the contrary, there was a siren call to get out of the home and into careers.
Janet: Exactly.
Nancy: And how did you buck that?
Janet: Well, I have to tell you. That's why I'm so excited about True Woman '08, because this is my pilgrimage. This is my story. I was college educated. I've shared with you that I married my high school sweetheart. I had a degree. I was pursuing an advanced degree. I thought I was going to go on in my area of academic pursuit.
We made the decision to start having children. And honestly, Craig and I had to sit and have these long prayerful conversations where we went—Now if we do this there's a whole world out there, a roaring culture that says, "You have these babies. You drop them in daycare, and you take off."
Now, I don't mean that to cast aspersion on anyone who has to make that choice. But I'm telling you my journey, my personal pilgrim's progress.
So with his encouragement and many, many hours in prayer, we decided that I would be an at-home mom. Now my husband was in law school; he was in grad school at the time.
I'm here to tell you that you can do a lot of creative things with baked potatoes and eggs! But we knew that we were investing in these little ones. I didn't want to miss the first word, the first step. I didn't want to miss the opportunity to help mold and shape their hearts and their minds.
It really was a matter of not listening to the world but listening to the Word, that still, small voice as we love to refer to Him as, our precious Father who wooed me to a place when He said, "These are treasures. These are irreplaceable treasures."
Nancy: I'm so thankful for women like Janet Parshall who keep reminding us of what are the true treasures, the irreplaceable treasures on which we need to focus our energies, our time, our efforts and our hearts as women.
Throughout the True Woman Conference, we'll be spending time praying, seeking the Lord, calling out to Him. I think it's no accident that this conference falls, though we didn't plan it that way, just a month before our national election.
And what an opportunity for thousands of women to come together on our knees crying out to the Lord to have mercy not only in our own lives, but in our marriages, in our families, in our churches, and in this nation as a whole that so desperately needs God's intervention.
One of the women that we've asked to come and help lead this thrust in prayer throughout the weekend is my friend Fern Nichols. Fern is the president and the founder of Moms In Touch International, a ministry that God has used in a significant way to help many of our listeners learn how to pray, how to pray for your children, how to invest in the next generation through prayer.
I'm so glad Fern will be with us at the True Woman Conference to help us understand the role and the power of fervent intercessory prayer. Coming up on Revive Our Hearts during the month of August, we'll be airing a recent conversation that I had with Fern on the subject of praying for our children.
I want to share with you a brief advance clip from that conversation. And as you can see, the importance of praying for our families is not just a matter of theory with Fern Nichols. It's something she has experienced in a very powerful way in her own family.
Fern Nichols: The verse that God gave me for Ty—now this is the Scripture that Jesus prayed for Simon Peter. Sometimes the Lord will prompt your heart. Even though this was for Simon Peter, it's like the Holy Spirit said, "And Fern I want you to pray this and believe this because this is for Ty as well."
And so I just obeyed. And the verse is this: "Simon, Simon Satan has asked to sift you as wheat. But I have prayed for you" (Luke 22:31-32).
Now think of this. All the things that Jesus who is God omnipotent could do; He could have just cleared the way for Peter. I mean, He could have just made it all smooth, and He could have sent ministering angels or whatever.
But the best thing is—isn't that the coolest thought? He says, "The best thing, Simon, that I did for you is I prayed for you, Simon, that your faith may not fail. "And when [not if] you return, strengthen your brothers."
So I just brought this before the Lord. "Oh God, Satan is wanting to sift my son. You have his heart. You have his life. He gave it to You at a young age. And I pray that his faith will not fail. And Lord I am believing that when he comes back to You, he will strengthen the brothers."
And he came back and he strengthened the brothers here, the body of Christ. I like to say it this way: He strengthened the mothers.
At our 20th Moms In Touch anniversary, Ty gave his testimony. And I don't know if there was a dry eye in the place because I don't know how many moms out there were experiencing what many of you are experiencing here.
And he gave them courage. He said to them, "Don't give up. I am so grateful I had a mom and Moms In Touch that prayed for me through those years." He said, "Oh moms, don't give up."
Nancy: And I think it's possible that the Lord had us air that brief clip from Fern Nichols today for some mom who was listening, and you've been tempted to give up. Let those words from a restored, returned prodigal son encourage and strengthen your heart today to keep praying, keep praying, keep praying, and believe that God in His time and in His way will glorify Himself in that situation.
Today we're trying to give you just a taste of what you can expect to hear at the True Woman '08 Conference coming up October 9-11 in Chicago. In addition to these and other speakers who will be addressing us in plenary sessions, we're also going to have some powerful breakout sessions addressing women in every stage and season of life.
For example, my friend Carolyn McCulley, who you've heard before on Revive Our Hearts, will be doing a special session for single women. Some of you are familiar with Devi Titus. She'll be doing a wonderful session on the ministry of hospitality.
And then Barbara Rainey will be leading a special session on how women can glorify God in the empty nest season of life. Barbara Rainey is the wife of Dennis Rainey, the host of FamilyLife Today, heard on many of these stations. She and Susan Yates have recently co-authored a book for women facing this season of life.
I had the privilege recently of talking with Barbara about her perspective on this empty nest season. This is an interview we haven't yet had the opportunity to air on Revive Our Hearts, though we anticipate doing that shortly. But I think you'll be encouraged by this brief excerpt of what she shared that day along the lines of what she'll be sharing with us at the True Woman '08 Conference.
Barbara Rainey: The whole meaning of the word retreat is to pull back for a time to refocus. It's a military term. It doesn't mean you're running away and hiding. It means you're pulling back to regroup so that you can go back to the front lines.
I really see that as applicable to us women as empty nesters because we often hit the empty nest about the time we turn 50. I think it's a part of God's design that we would have a time to retreat and pull back and regroup and ask God, "What do You have for me to do? Where do You want me to go back to the front lines and work for the kingdom?"
One of the things we're most excited about is challenging women because there are between 40 and 60 million baby boomer women who are in this season. And we are either already empty nesters, approaching or soon to be empty nesters. And we will have the health, the resources, and the time to make an enormous difference for the kingdom of God.
So we're not like previous generations who when they hit the empty nest were not able—physically or financially or because they couldn't travel. They weren't able to have a second life or a second career or a second ministry.
But this generation is very different in that regard. Many of us will live another 30 years or another 20 years. And God can do a lot with us in the years that we have left. And it's important for us to pull back and ask Him, "What is it that You want me to do with the rest of my life?"
And sitting at home in a rocking chair is not one of them. I think God has a plan for each of us. And whether it's helping with your elderly parents or with your grandchildren or whether it's going overseas and being involved in a ministry to orphans or Aids patients, find out what that is and then go for it.
Nancy: That's Barbara Rainey sharing her heart about how we can glorify God in every season of life including the empty nest season.
Now thinking about a very different season of life, another breakout session at the True Woman Conference will be lead by Dannah Gresh. And this session will be for high school girls.
Dannah and I recently co-authored Lies Young Women Believe. Dannah has such a heart for young women and the ability to speak their language and to connect with their hearts. So that's why I asked her if she would come to True Woman '08 and lead a special track for teenage girls.
The teenagers will be in the main sessions on Thursday evening, Friday and Saturday morning, but throughout the day on Friday these girls will be meeting with Dannah to learn how they can be true women of God who impact their generation.
I know these young women's lives are going to be greatly touched as Dannah shares out of her own life some of the mistakes that she made as a young woman and yet how God by His incredible grace has redeemed those mistakes.
Dannah Gresh: I know the point was when I was about 15 because until that point I loved the Lord so much that I was going to be a missionary. I was going to be a Christian school teacher. I had all these great ambitions for Christ.
And yet I started to believe a lie, one of the ones that we address in the book, that I had to have a boyfriend. When that relationship started to get out of control, I started to believe, "I can control him. Nothing bad will happen because I am going to be pure on my wedding day, and I am a godly young woman, and I am a missionary for Child Evangelism Fellowship. I can control this."
When I couldn't control it and I bit into that fruit like Eve did, I found myself in the aftermath hiding with the fig leaves. I remember distinctly waking up every morning as a teenager and as a college student thinking, "Wow. What a beautiful day. The birds are singing. Wait a minute. Something's not . . . oh yeah. That. I bit of the fruit. I'm ruined."
I remember waking up like that not for five months, not for a year, but for almost 11 years. I was 26 when God rescued me with the truth that His forgiveness was big enough for my sin.
Do you know how many lives, Nancy, I missed ministering to? Now, I believe there was probably a season where I needed to be restored. But I don't think it was 11 years. And for these women that are listening right now that it's been 20 years or 30 years and they still haven't started to believe the truth of God's forgiveness.
Nancy: And you took that into your marriage.
Dannah: I took it into my marriage.
Nancy: So it wasn't just the original lie, but it's lies built on lies.
Dannah: Oh, he just gets you in this whole—it's like rubber bands that are twisted all around your heart. And you have to untangle those lies one by one by one to get back to a good place where God can use you again.
Nancy: And I'm so thankful for the Gospel. What a message of hope we have that says to each of us, "No matter where we've been, what we've done, how we may have blown it, God is able by His incredible grace to get us back to the place where He can use us again."
Well, I hope that you've been encouraged by the taste we've tried to give you today of True Woman '08, the conference coming up October 9-11 in the Chicago area. The byline for that conference is "Now is the time."
And I believe that now is the time for women of God to come together, to seek the Lord, and to ask Him how He can use our lives as true women of God to reflect and represent His heart to this generation.
Maybe this is something you had not even considered until today. But I want to encourage you to take advantage of this wonderful opportunity to meet with like-hearted women in the presence of God as we seek Him together.
To find out more about True Woman '08 visit ReviveOurHearts.com.
Now one of the speakers at True Woman '08 that you didn't get to hear today is Mary Kassian. Mary's writings have had a significant influence on my own thinking dating back to a dozen years ago or more. We'll hear from Mary the rest of this week and tomorrow she'll explain how feminist thinking infiltrated our culture and how we can change that.
So join us again tomorrow for Revive Our Hearts.
Child: Revive Our Hearts with Nancy Leigh DeMoss is an outreach of Life Action Ministries, and my mom is a true woman.
*Offers available only during the broadcast of the podcast season.
For a donation of any amount