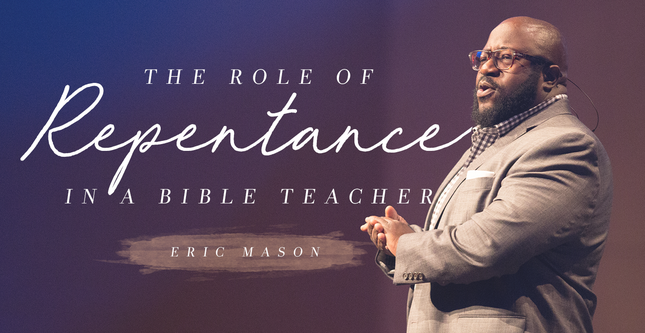 — Audio Player —
The Role of Repentance in the Life of a Bible Teacher, with Eric Mason, Day 1
Leslie Basham: Eric Mason reminds each of us to be quick to listen and repent.
Dr. Eric Mason: The health of your ministry depends on you dealing with you. Your ministry is only as healthy as your repentance.
Leslie: This is Revive Our Hearts with Nancy DeMoss Wolgemuth, author of Lies Women Believe, for Thursday, January 19, 2017.
Nancy DeMoss Wolgemuth: Those of us who are involved in speaking and leading others regularly need some times where we can pull back, be refreshed ourselves, and make sure that their own lives match the things we are teaching. That's why every other year Revive Our Hearts hosts a conference for women's ministry leaders or those that would like to be involved in women's ministry in some way. These Revive conferences are an opportunity to get away, connect with the Lord, and be refreshed for a new season of ministry.
The next Revive conference is coming to Indianapolis, September 29–30. The focus of this conference will be women mentoring women. I'll be speaking along with Dannah Gresh, Susan Hunt, Mary Kassian, Blair Linne, and others. If you're involved in women's ministry in any way, or if you have a heart to be involved in Titus 2-type mentoring relationships, I hope you'll make plans to be there, too. To give you a taste of what a Revive conference is like, today we'll hear a message Dr. Eric Mason delivered at Revive '15. I know as I listened to this message on the front row, I could hardly breathe—there was such an anointing, such a power as Dr. Mason called us as Bible teachers and leaders to be repenters ourselves. He challenged us to be sure we are responding to the messages we're sharing with others. Here's Dr. Eric Mason on the role of repentance in the life of a Bible teacher.
Dr. Eric Mason:
All right, Psalm 51. I'm honored to be here! Psalm 51, let's go. It says:
Have mercy on me, O God, according to your steadfast love, according to your abundant mercy, blot out my transgressions. Wash me thoroughly from my iniquity, and cleanse me from my sin! For I know my transgressions, and my sin is ever before me. Against you, you only, have I sinned and done what is evil in your sight, so that you may be justified in your words and blameless in your judgment.

Behold, I was brought forth in iniquity, and in sin did my mother conceive me. Behold, you delight in truth in the inward being, and you teach me wisdom in the secret heart.

Purge me with hyssop, and I shall be clean; wash me, and I shall be whiter than snow. Let me hear joy and gladness; let the bones that you have broken rejoice. Hide your face from my sins, and blot out all my iniquities. Create in me a clean heart, O God, and renew a right spirit within me.

Cast me not away from your presence, and take not your Holy Spirit from me. Restore to me the joy of your salvation, and uphold me with a willing spirit. Then [then—there it is!] I will teach transgressors your ways, and sinners will return to you.

Deliver me from bloodguiltiness, O God, O God of my salvation, and my tongue will sing aloud of your righteousness. . . . For you will not delight in sacrifice, or I would give it; you will not be pleased with a burnt offering. The sacrifices of God are a broken spirit; a broken and contrite heart, O God, you will not despise (vv. 1–14, 16–17).
Ladies, if I could tag this text for our brief time together, I'd like to talk about the role of repentance in the life of a Bible teacher. Let's go before Him.
Mighty One, we need that oil that makes this easy. Even though it's difficult for man, it's easy for You. So God, will You continue what You've already been doing? Show off Your glory tonight! Break hearts, transform mindsets, change dispositions, break through the uneasiness of discomfort.
Throw Your weight around! Show the enemy who's boss. And I will be careful to give You all the honor and the glory and the praise, O Mighty One, in Jesus' mighty name! And everyone who agrees with that said, "Amen!" You may be seated.
In doing premarital counseling and counseling couples over the years—particularly couples—it's interesting sitting in my office and talking to a couple. I always like the ones where the wife calls, and she begins to lay out to me the three billion ways in which her husband is stupid. (laughter)
She begins to let me know that if he would just get his stuff together, the marriage would be way better than it is, because, "Look, God made me, I'm glorious, beautiful, great—I do what I'm supposed to do. I'm submissive most of the time . . . why is he trippin'?" Right?
So I say, "Well, I would like for your husband to call me, because I don't want you to drag him into the office. Just have your husband call me, then we'll make an appointment with my assistant, and we'll sit down in my office and . . . boom! We're in my office, I'm sitting before them, and the husband has his hand on his face, looking like the weight of the world is just crushing him. The wife, she's being handed tissues and is pouring out her brokenness about the state of the marriage and how much of a mess her husband is.
However, when we begin to probe and work into the time together, it begins to come clear (which was already clear to me) that there was a need for the wife to own some stuff, too. And in her owning some stuff, usually it begins to open up and even turns the tide of mutual ownership and mutual repentance, because both in the marriage need to turn back to God—making them able to turn back to one another.
Listen, listen! It's easy in our lives to talk about what's wrong with someone else—how messed up someone else is, how much their need is for God, and how good we are. But every now and then (I'm just letting you know), if you would just search your own spirit—if you would just search your own heart—and allow the Holy Ghost to do what He does, maybe (just maybe) we will find something wrong within ourselves that is in need of gospel transformation.
So we come to a passage that may not be a passage that you're unfamiliar with in the Bible. It's the Psalms, and they were written by several people—sons of Asaph, sons of Korah, and here, David. We see that we come to a psalm that is familiar to us (some of you may not be familiar with it). But it's a psalm on repentance. Somebody say "repentance"!
"Repentance" is a powerful word and a powerful idea. What is interesting is that as you read this passage on repentance, you don't even see the word one time, but it's impossible to read this passage and not feel and sense the idea of what's happening in this passage, which is authentic and true repentance.
Therefore, if we're going to look at this idea of the repenting of a teacher, I've got a few points for you, then I'll be out of your way.
Number one, teachers hunger for the character of God. Teachers hunger for the character of God. Look at David here in this passage. He starts off, "Have mercy on me, O God." Mercy is one of the attributes of God. It's when God doesn't give us what we deserve, and in order for David to know that God didn't give us what we deserve, he knew and knows that he deserves something other than what God has been dispensing to him.
In order to be repentant, you've got to long for God's character, and he didn't throw himself on just any old part of God's character—he threw himself on God's mercy. The reason why he's writing this . . . he's writing this not from the cave of Adullam, running from Saul, but now he's the king in place and he's the one who is now God's anointed one (in the small "a" sense), and now he's in the office of a king.
One day he was supposed to go out with other kings to go to war, and he decided to chill at his crib. He decided that that day he was going to get out of his bed, put on his robe, cock his hat to the side, sort of walk out and just look over his kingdom.
I don't know what my man was saying. He walked out and looked over his kingdom. He said, "Man, it's great to be over Jerusalem! Why they all fightin'?" And then he sees a situation that causes him to do what he shouldn't do. He began to lust. Some of you know the story.
He brought the young lady in, Bathsheba, (he had seen her bathing), he slept with her, then murdered her husband, and then lied about it. So on his record he has three counts under the law. First he has adultery, number two he has murder, and number three, he has lying.
Here you have a man who is in a position to shepherd God's people, to lead God's people, but he's using his authority manipulatively to do what he wants to do. Now, God had somebody—I like this—that was man enough (and you need somebody in your life that's woman enough) to get in his face!
My man Nathan walks up to him and says, "What's up David, what's up man?" gives him a pound and says, "Have a seat back on your throne." (laughter) He tells him a story, starts talkin' up the story to him, and David heard this story about a dude that had all these sheep but stole this dude's one little sheep, which was the sheep that he nurtured and he loved the sheep a whole bunch. And then, boom!
David took his crown off, he's sweatin', he's angry, his temperature has gone from 98.6 to 107; he is angry on his throne. And David says, "Bring him here! I got him!" And David gets looked in the face by a good friend, "You're the man!" And David, knowing that he thought that he could run from the Lord's presence, but not realizing that he knew that he couldn't run—but he tried to run and it didn't work.
And God sent a good person to get in his grill and tell him about his nasty, triflin', funky self! (laughter) See, teachers, you need somebody in your life to tell you off. Some of us like people around, "Aww, you just bless the ministry! You just did a great job! God be blessin' through you! The oil of the anointin' just fills this place, and I can just feel the Holy Ghost."
And you just like, "Amen, Praise God, Hallelujah. I know, I know, I know." Right? (laughter) But teachers need someone in their life to jam them up. So David, in reflecting on his pridefulness, throws himself on the mercy of God. He says, "God, have mercy on me! Please don't give me what I deserve!"
You know that you're in a place where God is dealing with you when you know you deserve something, but the goodness of God is filling you to the point where you say, "God, You've been so good to me! I know I deserve what I've got coming. I know I deserve to lose everything. I know that everything should be destroyed. But will You be merciful unto me?"
And he goes further. He says, "According to your hesed." Somebody say "hesed." [Oh, you've got to get back here, like you've got a cold and say, "chhhesed." There it is, there it is! Hesed is the Hebrew word that means "loyalty." It's almost really untranslatable.
As a matter of fact, the King James Version compound words it and then calls it "lovingkindness." It's that word that points to God's covenant loyalty. In other words, in repenting of his sin, he doesn't call on his good deeds. He doesn't call on how he went to war and sought the Lord.
David didn't call on, "See I depended on You with Goliath. I did this in Your name; I played music and demons left kings." No, he said, "I need covenantal loyalty. In other words I need what only You can provide, because I have nothing to provide." You know you're repentant when you throw yourself on the mercy of God and you say, "God, it's nothing that I can give, it's nothing that I have, it's nothing that I can do, but I am trusting in the name of the Lord—that Your character, based on You keeping covenant, will save me!"
And I'm so glad that the new covenant is a covenant that God keeps for Himself, for us. It's not a covenant that we keep. Because of what Christ has done, God keeps covenant. A repentant person throws their self on the unconditional disposition of the God of heaven.
It's powerful what David does here, as he talks through and works through the idea of God's covenantal loyalty. You see, the teacher hasn't just been in the class. These are the attributes of God—His omniscience, His omnipresence. Sometimes you have to go through something that brands on you God's omnipotence, God's omnipresence, God's grace, God's mercy, and God's justice.
Some people say, "God's not fair," but I tell them all the time, "You don't want Him to be fair!" (laughter) So David asks for mercy, and he asks for God to apply His covenant loyalty—as a covenant-keeper, of One who keeps His word.
Then he asks for very, very specific things. He asks for God's abundant mercy. He says, "I need a lot of mercy, because I know how messed-up I am." Then he says, "Blot out my transgressions, Lord. Wash me thoroughly from my iniquity." Then he says, "Cleanse me from my sin, for I know my transgressions." He's asking for God to do a deep cleansing in him, because he recognizes and knows that it's not just this sin from which he needs forgiveness and cleansing, but he needs wholesale cleansing.
In other words, the sin that you did ain't the sin that just needs dealing with; it's the root of what caused the sin to take place. We're going to come back to that in a second.
This brings me to my second point. If you're going to be a repentant teacher, you need this in your life—desire to come fully clean of your sin. This idea of repentance here, it's a powerful word. In the Old Testament repentance, it's interesting, it means to turn back—turn back to someone, something, or some place.
In the New Testament, repentance is the Greek word metanoia, which means not just change direction but change your mind. In other words, to change your thinking about . . . See, at the end of the day, our need for repentance starts with a worldview transition.
When Jesus comes on the scene and says, "Metanoia, for the kingdom of heaven is at hand," He's saying, "I want you to change your mind about what you think I'm like and what you think the kingdom is like, and embrace what I'm going to give to you." Coming clean in repentance means the disposition by which you say, "God, help me to now have a change of mindset, not just my feeling about the consequences of my sin."
Real change is not just allowing the pressing of the consequences of your sin to merely make you feel bad (in order that you would want change), but change really comes from a mind change—which we'll see in a second. I like the way Augustine said it. He says, "God has promised forgiveness to your repentance, but He has not promised tomorrow for your procrastination."
Spurgeon on repentance. Spurgeon said, "I have learned from the Scriptures that repentance is just as necessary to salvation as faith is, and the faith that has not repentance going with it has to be repented of." I like that, because repentance is almost a marriage of the idea of faith together with repentance.
Look what David says in Psalm 51:3—something, to be honest, I'm still grappling with how to come to terms with this: "I know my transgressions." The word there for know is yada, which means, "to become intimately knowledgeable of."
In order to repent, you've gotta own the full extent of your sin. In other words, what you have to begin to do . . . because, in the role of a teacher, sometimes you can manipulate the people you're teaching and kind of confess but not really repent. In other words, you confess—so you acknowledge you did something—but you don't let your need to feel the impact of what you've done to somebody, or what you've done in your household, or what you've done in your life settle on you.
So what's David saying? He saying, "I've become intimate with the knowledge of the mess that I've made." In other words, a repentant person doesn't hurry people through the impact and the shrapnel that their sin has caused. A repentant person repents and allows the ground to be laid bare, so that they can feel the impact and know it, so that their repentance can become deeper. Christ paid for your sin, so you're not bearing the weight of your sin that leads to death.
You are listening to what Christ has died for. By listening and dealing with the impact and brokenness that your sin could have cost someone . . . letting it sit there and you begin to take it to the cross. However, you need to feel that you've sinned; you need to feel that it impacted people. Because what it does, it trains you to not want to do that thing ever again. It trains you to say, "God, I never want to be down that road again! God, I never want to hurt them like that anymore. God I never want to cause that type of pain!"
"God, I want to know You! I want this to be off me." And guess what that weight does? It makes you run to Him! It makes you run; knowing your sin makes you run. It's not this false depravity idea, when you're focusing on how depraved you are, because that's pride. That's not what we're talking about.
We're talking about knowing it and having clarity that you've made a mess. Then he says, "My sin is ever before me." David is saying this because this sin has sat on him for months. As a matter of fact, Nathan didn't confront him until the child was almost born. So he didn't get confronted, and everybody knew David did it.
Can you imagine sitting on something for eight months, like public sin? Bathsheba walking around, Uriah dead, people just serving David wine, serving him bread, cooking him lamb—coming in there and bringing people in. And David's sitting there, and a baby's growing in the stomach of a woman.
And then, finally! God gives the gall to somebody to jam David up. Look at what it says next. He says, "It's ever before me." So, you know you're a believer if you can't just sin! You can't just sin and be like, "La-da-de-la-da-dah," and you're just chillin'. I'm scared!
He said, "My sin haunts me." Really, it's not his sin that haunts him, it's the Ghost that haunts him. There's nothing like a Holy Ghost beating. You try to bob and weave the Holy Ghost, and you say, "I've got some training in this." (laughter) And the Holy Ghost says, "I've been knocking cats out for millennia," and boom!—hitting you in the ribs. Boom!—hitting you in the guts.
You've got to come to the point, David came to the point, where he said, "I give up! I'm tired of getting knocked out by the Holy Ghost." And he said, "My sin is ever before me."
And then, the centrality of his sin—he gets clarity. It's not some maximizing or minimizing, but to help him to see. He says something powerful here; he says, "Against You, You alone, have I sinned." He said, "I've done what is evil in Your sight." He's talking to God, telling God.
God already knows, but God likes to know that you know.
Nancy: That's Dr. Eric Mason speaking at Revive '15, the conference Revive Our Hearts hosted for women's ministry leaders. He's been speaking on the need for us as teachers and leaders to be among the first to repent when we open God's Word and are challenged by it. I know this message resonated deeply with the thousands who were in the audience that day.
The next Revive conference is coming to Indianapolis September 29–30. You can get details on joining us at ReviveOurHearts.com.
Revive Our Hearts able to bring this program to you and invest in women's ministry leaders thanks to those who support the ministry financially. When you provide a gift of any amount this week, we'd like to send you an special gift you can't get anywhere else. It's a Revive Our Hearts version of the latest CD by Keith and Kristyn Getty. You'll get the entire album, Facing a Task Unfinished. Plus you'll get a bonus DVD with an interview of the Gettys. That DVD also includes Kristyn Getty singing with Joni Eareckson Tada at a True Woman conference and some other bonus videos as well.
To get your copy of this special version of the Getty's CD, call us at 1–800–569–5959. When you make a donation of any amount, ask for the Getty's CD. It's called Facing a Task Unfinished. You can also donate online at ReviveOurHearts.com. We'll be glad to send one album per household for your donation of any amount this week.
Dr. Eric Mason will be back with us tomorrow to tell us more about the role of repentance in the life of a Bible teacher. Please join us again for Revive Our Hearts.
Revive Our Hearts with Nancy DeMoss Wolgemuth is an outreach of Life Actions Ministries.
All Scripture is taken from the ESV. 
*Offers available only during the broadcast of the podcast season.
Support the Revive Our Hearts Podcast
Darkness. Fear. Uncertainty. Women around the world wake up hopeless every day. You can play a part in bringing them freedom, fullness, and fruitfulness instead. Your gift ensures that we can continue to spread gospel hope! Donate now.
Leave a $5 gift