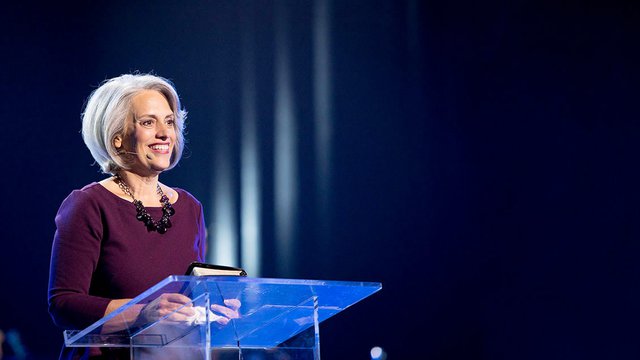 — Audio Player —
Responses from Listeners
Leslie Basham: Here's Nancy Leigh DeMoss reading a letter from a listener.
Nancy Leigh DeMoss: "I know I've worn clothing that is provocative and inappropriate for a Christian woman. I never really gave it any thought. I just felt I was being fashionable. I thought I looked pretty cute in my tight, low-rise jeans and short, low-cut tops. In my heart, I really didn't think there was a thing wrong with my clothing."
Leslie Basham: It's Friday, June 23, and Nancy Leigh DeMoss responds to your emails today on Revive Our Hearts.
By the way, if you're interested in watching some of Nancy's teaching, you can do that online at ReviveOurHearts.com/videos. Check it out sometime. Now, let's join Nancy as she reviews some of the emails she's received from listeners like you.
Nancy Leigh DeMoss: Well, the world has a lot to say about what makes an attractive woman. For the last few weeks, we've been looking into God's Word and finding out what God thinks makes an attractive Christian woman.
If you were able to hear the beginning of the series, you know we spent several days in a very important passage in 1Timothy chapter 2, where we're told by the apostle Paul that "women should adorn themselves in respectable apparel, with modesty and self-control, not with braided hair and gold or pearls or costly attire, but with what is proper for women who profess godliness—with good works."
We unpacked that passage just one word at a time, one phrase at a time. We saw that God cares about a woman's appearance, about our attire, what we wear, about our heart attitudes, and about our actions. Then we've taken some time the last several days to practically apply that to real life—especially to the area of training our daughters and the next generation to think biblically about what it means to aspire to be an attractive Christian woman.
I've been so grateful for the response that we've received to this series and this content. It's really hit a sensitive cord, and I appreciate so much the emils that we've received from many different people telling how God has used this message, not only over the past few weeks, but as we've talked about this repeatedly on Revive Our Hearts, how this message has been changing lives.
I want to take some time today at the close of this series to share some of those responses to you, and I think they'll be an encouragement and perhaps a continuing challenge to your own heart.
Now, it may surprise you to realize that we have received quite a few responses from men. We let men eavesdrop if they want to, and many of them have written to say essentially, "Thank you, thank you so much for being direct and forthright and honest in dealing with this subject."
One man wrote and said,
I'm so thankful to hear someone preaching about this subject. Please play it again. We're assaulted heavily each day by media, billboards, advertising, and a hundred other ways each day. We're fighting to maintain our purity for Christ. If our sisters can help in a small way by dressing modestly, that would assist half the church (that is the men in the church), and God would honor it.
Another man said,
Thank you for your ministry to women. This series on modesty is a blessing to men like me who desire to guard our eyes and hearts. It's almost impossible to go into a church these days without seeing women dressed in ways that are tempting.
And so again, just a word of loving caution to those of us who are women and saying, "What can we do to be helpers to the men around us, to encourage them to think godly thoughts, to encourage them in their desires to be pure?"
It's been so encouraging to receive many emails from women who are responding to the series we've aired the past few weeks and this kind of message. Let me share several of those with you.
For example, here's a woman from the East Coast who says,
Thank you so much for stepping out on faith and talking about the very sensitive area of modesty. I must confess I was convicted because as a Christian single woman I was not presenting myself modestly. However, due to this program, I now pay more attention to what I wear because I don't want to attract the wrong kind of attention. In addition, 've begun to share the information I've received from your broadcast with many Christian women.
By the way, at the end of today's program we'll share with you how you can get some other resources to help you share this material with others in your sphere of influence.
Here's a letter that I thought was so moving from a woman, single woman, 22 years of age who's involved in a campus ministry in the Midwest. She says,
I just wanted to write today and tell you this ministry has changed my life and my outlook, especially in the area of modesty. Up until last summer, I believed modesty was only in the way that I dressed. I realize now thanks to your teaching that it was my attitude as well that was immodest—the way I carried myself right down to the glances I throw at even the men I am friends with.

Last summer after hearing the teaching about modesty and all its facets, I not only completely overhauled my summer wardrobe (so much so that I had to buy new clothes this spring, even throwing out my two-piece bathing suits), but I also began to ask God to keep my attitude modest as well. I was appalled at the lies I had learned from the culture telling me what I had to be and do in order to be an attractive woman. The transition has been amazing. Thank you for your continuing efforts to teach women God's design for how we dress our bodies and our minds.
How I praise the Lord for this young woman and others like her who are learning God's way of thinking and are thinking ahead to how they will be training their daughters in God's ways.
Here's another email from a woman in the Midwest that I found very touching. She said, "A friend gave me a copy of your booklet The Look." As you know, during this series we've been offering "The Attractive Christian Woman Package" which includes this booklet called The Look as well as another booklet called Becoming a Woman of Discretion and this entire series on CD.
Well this woman had just been given by a friend the booklet called, The Look: Does God Really Care How I Dress? And she said,
I wanted to share with you the impact this booklet has made in my life. I've been saved for twelve years, but I've not been living in obedience to Christ in many areas of my life. One area that I've been challenged in recently is in my dress.

I know I've worn clothing that is provocative and inappropriate for a Christian woman. I never really gave it any thought. I just felt I was being fashionable. I thought I looked pretty cute in my tight, low-rise jeans and short, low-cut tops. In my heart, I really didn't think there was a thing wrong with my clothing.
And let me say, by the way, I think there are a lot of women perhaps in that position today, maybe not having been trained, having been taught in the ways of God.
She says,
This whole topic came up as I was trying to find a bathing suit for the parent-tot swim classes I was going to at our local Y. I was suddenly feeling very self-conscious (convicted) while I was in the pool in my bikini. I suddenly realized that I was a terrible witness to the other kids and parents just by my appearance.

After discussing this topic with other Christian girlfriends from my church, I realized that God really needed to change my heart in this area. One of my friends is teaching the young girls of our church youth group about modesty. I figured I might have something to learn too.
And I'm so thankful for women like this who have a teachable spirit and are willing to let God examine their lives in light of His Word. She said,
When I mentioned this to my friend she gave me this booklet. I read The Look in about ½ hour. I wept as I confessed to God that I had sinned in this area of my life out of ignorance.

That's not an excuse. I just didn't know any better. I took about half my clothes from my wardrobe and tossed them out. My husband thought I was crazy at first, especially since we have no money to replace them. But when I explained why I was doing this and how I wanted to save my body only for him, he was in total agreement.
And then she talks about how she was so blessed when this same friend who had given her the booklet called The Look on modesty, that same friend brought by for her a full bag full of lovely, modest clothing to replace the ones that she had thrown out.
Well, as women are responding to God's ways of thinking, one of their concerns is how to teach their children. Many are expressing the importance of this and their efforts and sometimes their failure along these lines.
One woman wrote and said,
Thank you for this series on modesty. I was not successful in teaching my children modesty, although we've been faithful in church attendance all our lives. Now my children are grown; they're out on their own. And we are reaping the results of immodest seeds that were sown.

I've been a Christian since the age of six, but this series on modesty is teaching me truth that I have either not heard or have ignored for so long. I've prayed along with you during this series sincerely confessing and repenting of my sins of being immodest. I long to be a woman of God who quietly and faithfully serves the Lord with gentleness and shamefacedness [a term we discussed earlier in the series], avoiding at all costs the sin of leading others astray.
And then listen to this special one from a young mother of two. She's just 21 years old and her son was born six months ago. She says,
My husband and I have been discussing my dress. I was never taught appropriate dress growing up, so by learning from culture when I met my husband, I dressed seductively and immodestly. Now that we have a daughter and a son [and her son is only six months old, but she's thinking about it at the right time], I've had to re-evaluate what my clothing has been saying to the world.

Does it say that I'm a Christian woman who is raising her children in a Christian home, or is my clothing saying that I have no respect for myself or my husband? I want to teach my children what is appropriate and to respect themselves and the opposite sex. Clothing is a basic way of expressing this important value. Thank you so much for helping me to change my attire and change the way the world looks at me.
Well, there are lots of others we could read, and I wish you could have the have the privilege of seeing the many emails and responses we've received from Revive Our Hearts. Here's one where a woman says that she's ordered the two modesty booklets, and she hopes to do a study with her daughters and some of their friends.
I'm so thankful for women like many of you listening who not only want to say, "Yes, Lord," when you hear the truth, you want to obey God's Word. You want to be an attractive Christian woman for the glory of God, to reflect beautifully on the gospel of Christ; but you also want to influence the next generation. You want to train your daughters and your granddaughters.
That's what we're trying to help you do here at Revive Our Hearts. We want to lift up your hands. We want to put resources and tools into your hands that will help you share this message with others.
That's why we've put together this "Attractive Christian Woman Package." It'll be good for you to share with other women: young moms, teenagers, even your children. That pack again includes the booklet we've prepared called, The Look: Does God Really Care What I Wear? and then another booklet on the importance of discretion and how to become a woman of discretion. Some of us today don't even know what that word means. It's not very common in our vocabulary, but it is such an important concept if we want to be women who are attractive to God.
When you order that package, not only will you receive those two booklets, but you'll receive on CD the entire series, The Attractive Christian Woman.
So I want to encourage you to take advantage of this opportunity to get a hold of that packet not only to use it yourself, but to share it with others, to be a part of the counter-revolution that God is bringing about in the hearts of women all across this land.
Leslie Basham: That pack that we're talking about, Nancy, is one we're offering to our listeners for a donation of $25 or more. The easiest way to make a contribution is at our website, ReviveOurHearts.com. But if you'd rather, you can call us instead. Our toll free number is 1-800-569-5959.
And don't forget about the free downloadable article called "Mirror, Mirror On the Wall" available online and the book by Elizabeth George called A Young Woman After God's Own Heart.
Thanks for joining us. We hope you have a great weekend and can join us again on Monday for Revive Our Hearts.
Revive Our Hearts with Nancy Leigh DeMoss is an outreach of Life Action Ministries.
*Offers available only during the broadcast of the podcast season.
Support the Revive Our Hearts Podcast
Darkness. Fear. Uncertainty. Women around the world wake up hopeless every day. You can play a part in bringing them freedom, fullness, and fruitfulness instead. Your gift ensures that we can continue to spread gospel hope! Donate now.
Donate Now