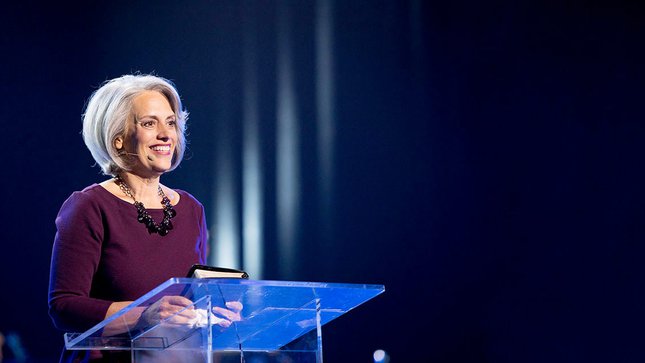 — Audio Player —
Rehearsing the Details
Happy Birthday to you.
Leslie Basham: Aaron Job, should we call this a birthday?
Aaron Job: How about this?
Fiesta music
Leslie: No, that's too raucous.
Aaron: Yes, definitely too raucous.
Leslie: Maybe it's an anniversary.
Waiter: Happy anniversary to you. May I take your order this evening?
Aaron: Miss Leslie, that's too mushy.
Leslie: Too mushy? Okay.
Aaron: Hey, I've got an idea. How about this?
Leslie: Oh, much better.
So welcome to whatever we're calling this celebration. We're so glad you joined us. It's Monday, August 28th, and you're listening to Revive Our Hearts with Nancy Leigh DeMoss.
Five years ago on September 3rd, 2001, Revive Our Hearts sailed her maiden voyage, or to mix metaphors a little, Revive Our Hearts was born. So in a sense, this is a birthday party. We're so thankful to God for His faithfulness over the last five years that we want to spend this week telling some of the things He's done through Revive Our Hearts.
To do that, Bob Lepine from FamilyLife Today joined Nancy Leigh DeMoss and friends in the studio. Let's listen as Bob, Nancy, and well, a few others reminisce.
Bob Lepine: One of the things that we do regularly at our house when one of our kids is having a birthday—we'll have the birthday meal—but part of the birthday meal is to rehearse the story of the day that child was born.
This came to me when one of our kids was 12 or 13 and they asked the question about the day they were born. I realized I'd started to forget the details of what had happened. I had to go get the baby book and look up some of the information.
Nancy Leigh DeMoss: Mary Anne probably had not forgotten though. You can always check with her.
Bob: That's true. But it became a very good exercise every year to rehearse those details. We wound up having trivia quizzes on birthday meals to say, "Okay, can you remember the name of the hospital you were born in?" Friends came over for dinner, and they got in on the story. It's just been a part of the celebration.
And it's been five years since Revive Our Hearts was born. I don't that we've rehearsed the details of the "birthing" of Revive Our Hearts, and I think it's high time, don't you?
Nancy: It's a sweet thing to go back and think of those early days and what has transpired since and just to see the hand of God even before Revive Our Hearts was on the air, the years preceding.
I was in a conference recently and had a woman come up to me who was with me about two years before we started Revive Our Hearts at a little women's retreat that we did. We had been dreaming about what if there could be a radio program for women that would challenge women in relation to revival and biblical womanhood.
I'd been picking her brains and someone else's who was there at that time, Bunny Wilson, who has been on Revive Our Hearts before. We just set about brainstorming and dreaming. I set about looking for someone to do a program like that, never dreaming that that really was in some senses the genesis, the birthplace of what became this ministry of Revive Our Hearts.
Bunny Wilson: Hi. This is Bunny Wilson. I want to wish my dear friend Nancy a Happy 5th Anniversary. Nancy, you profoundly impact my life by influencing me to be still. This prepared me to hear clearly from God and allowed the purpose for which I've been created to be revealed. I could never thank you enough.
Bob: Now the burden that you were sharing with those women was a burden for what? What was it you wanted to see happen?
Nancy: There was a burden that had been on my heart for years. I just had never thought of radio as being the means to it. But since I was a young girl, the burden for revival in the church, to see the church return to its first love for Christ, to see the outpouring of God's Spirit on His people in such a way that the lost would be impacted and drawn to Christ—that was a long-time burden.
Then the parallel burden was one for women and for a reformation and a counter-revolution that would bring about a commitment to biblical womanhood among Christian women who, like the rest of the world, had been pretty much brainwashed with the world's thinking about what it means to be a woman, the world's thinking about marriage and family.
I had just felt over recent years, just before we started this program, that God wanted us to reclaim some of that territory that we had given over to secular, worldly thinking.
Then when you and Dennis Rainey contacted me and said, "We love you and have a wonderful plan for your life, and it involves daily radio." The seeds were there in terms of the burden. The seeds were there in terms of the idea of a radio program.
What took a while for me to come to was thinking that I would be the person involved in the radio program.
Bob: Had you never thought that? Had you never thought, "Maybe I could do that?"
Nancy: I don't think so. I had a burden to see it happen, but it was beyond my wildest sense of what I was capable of doing, adequate of doing, called to do, to think that I would be doing daily radio.
Dennis Rainey: Hi. I'm Dennis Rainey of FamilyLife Today. I just want to say congratulations to my friend Nancy Leigh DeMoss and to the entire Revive Our Hearts team for five years of faithfulness in broadcasting. You guys have done a great job. You have made your mark in the hearts of literally thousands of women across our nation and around the world.
I just want to thank you for standing for the gospel of Jesus Christ, for the truth of Scripture and for unashamedly calling women to revival and spiritual reformation. I can't think of a more needed ministry today among women. Thank you, Nancy, for being faithful to Jesus Christ and for your courage and faith to make this happen day after day.
As I think about you, Nancy, I think of the last chapter of Daniel, Daniel chapter 12 verse 3: "And those who have insight will shine brightly like the brightness of the expanse of heaven. And those who lead many to righteousness like the stars forever and ever" (NASB).
I'm thinking of looking into a crystal clear Montana sky in the summer of the Milky Way, a road of stars of lives that you've touched. Nancy, God bless you, and I pray that He pours out his favor upon you and your entire team. Thanks for five years of faithfulness; now for five more.
Leslie: Those are some encouraging words from Dennis Rainey of FamilyLife Today. If you're just tuning in, Revive Our Hearts is celebrating five years of God's faithfulness and today is the first Nancy is hearing these phone calls, so she's being surprised too.
We heard from many of you thanking God for how He's used this ministry.
(phone calls)
Cheryl: Hi, my name is Cheryl. I'm from the Chicago area. I listen to WMBI. Every time I turn on Revive Our Hearts it always encourages me. It encourages me in this troubled world. It encourages me to pray. And above all I just think that Nancy helps me to recognize the sovereignty of Jesus. I thank God for you. Congratulations on your five years.
Woman: Hi. I've been listening to Revive Our Hearts off and on now for a couple of years. I just want to say that I have found encouragement. I have found Bible-based teaching that has really blessed my heart. I'm different every time I listen.
So I just want to thank you guys for giving God's truth and His Word to His body, and from a woman's perspective. I also want to say thank you. You've allowed for me to live in more truth every time I listen. Take care and God bless.
Bob: God had been using you in conferences with women all across the country for years.
Leslie: Again, this is Bob Lepine rehearsing with Nancy some of the details from the early days of Revive Our Hearts.
Bob: You had seen up close the damage that's been done in the culture in women's thinking. That's the reason for the burden for the reformation that you're describing. And you'd seen God move in these conference settings.
Nancy: I had eight or ten messages. And we were talking about 260 days of radio a year, and it just seemed like somebody else would need to pull that material together.
Bob: Dennis Rainey and I had you as a guest on FamilyLife Today on a couple of occasions talking about a variety of subjects. In that time I think that's when God began to plant the seed in our hearts that radio might be something that God would use with you.
Nancy: You know what? I had to know it was the Lord. If this was just Bob Lepine or Dennis Rainey's idea, I knew that wasn't going to sustain me over the long term. But I knew if the Lord confirmed it in my heart that there would be staying power.
I felt like there were already, to tell you the truth, too many books, too many conferences, too many radio programs, too many Christian TV programs. If we just lived a fraction of what we have, we'd be spiritual giants. We'd probably be in the throes of revival.
I did not want to add just one more voice to a lot of already great voices out there. So my burden from the outset was, "Lord, if You're in there, would You confirm it by making Your hand and Your anointing on this ministry evident in such a way that people will not be able to deny the power and the presence and the Spirit of God?"
We prayed that God would arrest people as they were listening to the program. And the stories over these last five years of people both sitting in the studio and then writing after listening to the radio to say, "I had to pull my car over to the side of the road. I was crying so hard over God speaking to me." Or, "I picked up the phone and called my husband and said, 'Please forgive me for the way that I spoke to you this morning.'"
That's the power of the Spirit of God taking these feeble words through this feeble vessel and winging it with the power of the Spirit into people's hearts. It's been life changing. Of course it's been life changing for me, but it's been life changing for so many of our listeners.
And that has been . . .God has used in part to keep me staying the course through days that you can remember in those early years. We talked often about being up against a Red Sea experience when I would come into recording sessions and having been up late the night before and weeks leading up to it. And I would say, "I'm just not ready. This hasn't come together."
And you're laughing, but there were days of a lot of tears, a lot of desperation and we would say, you would remind me, "God's got us up against a Red Sea." Then we would watch again and again and again God just part the waters and give what was needed and come and meet with us in ways that just confirmed His presence in all of this.
Leslie: Well, we've been listening to a portion of a conversation between our host Nancy Leigh DeMoss and Bob Lepine from FamilyLife Today. They reminisced about the beginnings of this program five short years ago.
Whether you're new to Revive Our Hearts or you've been with us since the beginning, you might be interested in this. This week as we celebrate five years of God's faithfulness, for a gift of $50 or more to the ministry of Revive Our Hearts, we'd like to send you the Revive Our Hearts anniversary book set. This would be great for your library or to share with a friend.
The Revive Our Hearts anniversary set includes five books by Nancy: A Place of Quiet Rest, Lies Women Believe, and what we call the trilogy—Brokenness, Surrender and Holiness. Again, the Revive Our Hearts anniversary set is yours for a gift of at least $50.
You can find out more at www.ReviveOurHearts.com, or call us at 1-800-569-5959.
Don't forget the changes coming up soon on Revive Our Hearts. Our program will move to a half hour time slot. Check out our website to find out how that will affect your station.
Tomorrow we'll pull out the Revive Our Hearts scrapbook and relive a few memories. Join us as we continue celebrating five years of revived hearts.
Revive Our Hearts with Nancy Leigh DeMoss is an outreach of Life Action Ministries.
"Happy Birthday." Los Diplomaticos. Fechas Inolvidables . . . For Special Occasions. Discos Fuentes / Miami Records. 2006.
*Offers available only during the broadcast of the podcast season.