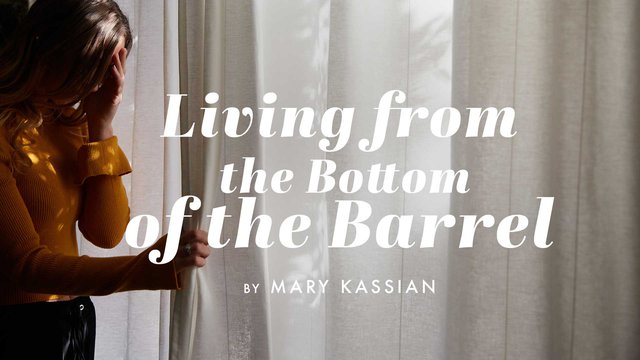 — Audio Player —
Priorities and Perseverance
Nancy DeMoss Wolgemuth: Dannah, before we get started on Revive Our Hearts today, I just want to take a moment and give God some praise for how He's using different outreaches of this ministry to connect some dots and bring revival to one woman's life. And Dannah, you had a part in this!
Dannah Gresh: Well, tell me what you are talking about, Nancy.
Nancy: I was watching an event that you hosted with the ministry that you lead, called True Girl. It's a partner ministry of ours. There was a mom who submitted a comment of that online event. She said,
Last year my daughter was diagnosed with diabetes, and I went into a horrible depression. A friend I went to school with invited me to a small group, where we studied the Esther Bible study.
That study and the podcast that goes with it were produced by Revive Our Hearts. So the Esther study introduced her to Revive Our Hearts. And that led her to our daily videocast Grounded, that you host along with Erin Davis, which led her to discover True Girl (the ministry you lead), which in turn led to her nine- and seven-year-old daughters asking Jesus into their hearts! How precious is that?
Dannah: It is just the reason we do it. It's the greatest treasure of my day when we hear news like that!
Nancy: I love seeing how God used these different outreaches to work together in this woman's life. She said,
My heart has definitely been revived. Even in the midst of the craziness, God has breathed so much life into me.
Dannah: Praise the Lord! And what a huge privilege it is to partner with you, Nancy. I love that True Girl and Revive Our Hearts have the same heart, and that we are a small part in what God has been up to in this precious woman's life over the past few of months.
Nancy: And none of it would have been possible without the faithful and generous support of listeners like you. If you've ever donated to Revive Our Hearts, or True Girl, thank you so much! We can't do this without you. And your support is especially important during the month of May during our fiscal year-end. 
If you'd like to help us help women of all ages to know Jesus and walk with Him, you can give your gift at our website, ReviveOurHearts.com, or you can call us at 1–800–569–5959. We don't want to take away anything that you might be  giving to your local church. That is so important at this time. But as God provides, and if He puts it on your heart to give, we'd greatly appreciate your support.
Dannah: And as a thank you for your donation of any amount, we'll send you a copy of a booklet called Uncommon Compassion. In it, Erin Davis takes us from Genesis to Revelation, studying five areas where we see God's compassion clearly shown. Be sure to ask for it when you contact us.
Nancy: Thank you so much for your prayers and your support during this important time.
Now, here's today's Revive Our Hearts.
Dannah: When your own resources are gone, the Lord has some important lessons for you to learn. Here's Mary Kassian.
Mary Kassian: God gives you enough for each time you are stretched beyond what you think you can bear. His little is enough, and if you have Jesus, you will always have enough.
Dannah: This is Revive Our Hearts with Nancy DeMoss Wolgemuth, author of Brokenness: The Heart God Revives, for Tuesday, May 19, 2020. I'm Dannah Gresh.
Nancy: Have you ever experienced a pang of sadness when you get to the bottom of the container of your favorite ice cream or jar of peanut butter? Why does it seem like it disappears so fast? Imagine, though, if that was the end of all the food you had available?
Yesterday Mary Kassian took us to 1 Kings chapter 17. She told us about a widow, a poor woman who was truly desperate. She found herself the unexpected host of a hungry prophet named Elijah. But God it to teach that widow some important lessons. If you missed the first part of Mary's message, you can find it by scrolling back to it on your podcast feed, or listen at ReviveOurHearts.com. Mary says, in times of difficulty, the first thing we need is a right perspective, and that comes as we remember God.
Let's listen now as we hear Mary Kassian from a True Woman conference.
Mary Kassian: Several years ago, my mum was diagnosed with ovarian cancer. I clearly remember a phone conversation I had with her. I was concerned. I was worried. I was fraught with anxiety about it. And my mum told me,
Mary, the Lord brought me through the war. He was faithful when I was in that bomb shelter.

He was faithful when, as a teenage girl, I was running across that field and that bomber was using me for target practice.

He was faithful when I was a refugee.

He was faithful when we didn't have food to eat, and I was starving.

He was faithful when we fled Communism.

He was faithful when we immigrated to Canada—didn't know the language, didn't have a penny to rub together, didn't know how we were going to meet our next meal or feed our children. He was faithful!

And I know He's going to be faithful in this. I'm not going to start doubting His faithfulness to me.
I think of a couple that we know. They had trouble conceiving children, and they finally were blessed with one child. And then, they had trouble conceiving again and struggled with infertility.
Then she got pregnant and, at her routine ultrasound, they found out that the child she was carrying had a severe chromosomal disorder. He was, what she describes as, "scrambled"—inside and out.
There were cysts in his brain; his cerebellum was sucked into his spinal cord; he had a heart defect, severe spina bifida, a misshapen head, club foot . . . the list went on and on. She was pressed to terminate the pregnancy.
Nine out of ten pregnancies are terminated with children like this—not much chance of survival. (She blogged about it on FindingJoyintheDesert.blogspot.ca, if some of you are going through a similar situation.)
They chose to walk through the pregnancy and to love the little child and to pray for healing. In an email they sent us, they said, "I do not know whether God will heal him in this lifetime or in the next, but I know that God is faithful!"
They called their little boy Samuel when he was born. He lived for ten minutes. They held him, and then they held him as his life slipped away into eternity, and they held his body for hours after that.
But you know what? They had such a life-giving perspective on who God is and His power and His love and His kindness—and that God is good!
My little son Matthew—Amanda's husband—when he was about five years old we were driving along in the car, and all of the sudden he pipes up with this zinger, and he says, "Heaven's gonna be great!"
And I said, "Oh, really? Why is heaven gonna be great? Why do you think heaven is going to be so great?" And, with all of the wisdom of a little five-year-old, he pulled himself together and he said, "Well, all the forgetting's going to come out of my head and all the remembering's going to go in." (laughter)
Now, I don't know what he was concerned about forgetting at five years old . . . maybe to put away his toys, or he couldn't remember how to spell some words or something—I don't know. But I laughed, and then the more I chewed on that, I thought, How profound is that?
Because that's the problem we have here: We forget God.
I think of that story, a great C. S. Lewis story, The Silver Chair, where Puddleglum and the kids go into the underworld, and the Queen of the Underworld is throwing incense onto the fire and she's playing her mandolin—thrum, thrum, thrum—and she's lulling them to forget Narnia and to forget Aslan, and to be so consumed with "this world is all there is."
Until Puddleglum bravely sticks his foot into the fire and breaks her spell. But that's what it's like living in this world! It's like we get lulled into this forgetting state, where we forget God—and we forget who He is, and we forget that He is, and we forget that we are His, and we forget that He is the Great I AM! 
We forget that He is the eternal and self-sustaining and self-determining and ever-faithful and all-powerful sovereign God who loves me and is in an everlasting covenant relationship with me. He's the Creator of heaven and earth, the God who throws the stars into space. He marks off the heavens with the breadth of His hands, makes the cloud His garment, commands the morning, measures the waters in His cup, holds the dust of the earth in His basket, weighs the mountains on His scale—the Creator of heavens and earth, before whose very voice the mountains tremble and melt . . . and that is my God! (applause)
He is the One whose ways are higher than mine. He's the One who can make sense of it all when I can't. He's the One who sees; He's the One who knows. He's the One who has promised, "When you pass through the waters, I will be with you. When you pass through the rivers, they shall not overwhelm you. When you walk through the fire, you shall not be burned—and the flame shall not consume you—for I AM the LORD your God!" (applause)
In verse 13, Elijah says to the woman, "Don't be afraid." In those tough times, we become afraid, don't we? Elijah knew what it was to fear. The most powerful people in the country were trying to kill him. But he chose to remember God; he chose to trust the One whose perfect love casts out all fear.
The second mindset the woman needed, to thrive at her bottom-of-the-barrel time, was the right priorities.
And Elijah said to her, "Do not fear; go and do as you have said. But first make me a little cake of it and bring it to me, and afterward make something for yourself and your son." (v. 13)
This woman could have looked at him and said, "Really? Are you crazy?" He said, "First—first—take care of my needs, and then take care of your needs, and I assure you God will provide and there will be enough."
Well, "first" is the most important stuff that you need to do. And the woman had a me-first attitude: my problems, my pain, my unfulfilled needs, my expectations. But in order to thrive at the bottom, you need to put first things first.
Jesus once reprimanded a disciple who was in a difficult situation for having the wrong priorities. He said, "Let the dead bury their dead; you don't need to go do that. You don't need to take care of that. You need to take care of your soul." (Matthew 8:21 is that story.)
This is what the LORD says—Israel's King and Redeemer, the LORD Almighty: "I am the first." (Isa. 44:6 NIV)
And in order to thrive in difficult desert times, we need to put God first. 
Jesus replied: "'Love the Lord your God with all your heart and with all your soul and with all your mind.'" This is the [say it with me!] the first and greatest commandment." (Matt. 22:37–38 NIV)
We need to spend time with the Lord first.
"But seek [let me hear it, ladies!] first his kingdom and his righteousness, and all these things will be given to you as well." (Matt. 6:33 NIV)
We need to pray first. "I urge, then, first of all, that petitions [requests], prayers, intercession and thanksgiving be made for all people [everyone]." (1 Tim. 2:1 NIV)
We need to repent first. "Blind Pharisee! First clean the inside of [your] cup and dish, and then the outside also will be clean." (Matt. 23:26 NIV) So many of us are waiting for that other person to repent first, or to apologize first, or to take care of the way they wounded us first.
Well, guess what, girls? God is asking you to be the first to the cross! Forgive first. "How can you say to your brother, 'Let me take the speck out of your eye,' when all the time there is a plank in your own eye? You hypocrite, first take the plank out of your own eye." (Matt. 7:4–5 NIV)
Seek reconciliation first. "Therefore, if you are offering your gift at the altar and there remember that your brother or sister has something against you, leave your gift there in front of the altar. First go and be reconciled to them; then come and offer your gift." (Matt. 5:23–24 NIV)
Check your attitude first. "The wisdom that comes from heaven is first of all pure; then peace-loving, considerate, submissive, full of mercy and good fruit, impartial and sincere." (James 3:17 NIV)
Do the things that you did at first: "Yet I hold this against you: You have forsaken the love you had at first. Consider how far you have fallen! Repent and do the things you did at first." (Rev. 2:4–5 NIV)
We get so distracted and get into this me-first mode instead of putting first things first. For the widow, there were a few things that she needed to take care of; she had some obedience issues. The Lord had commanded her to feed. She knew that she had to give this guy some food.
You need to check your obedience issues. There are many of you in this room who are procrastinating. You know what it is that God is asking you to do, and you're putting it off and putting it off and putting it off.
Second, she needed to open her hand and let go of what she was hanging onto, and we need to do that as well. We need to open up our hands and let go of what we are holding onto so tightly . . . our expectations or our demands or all of that old stuff—all that old baggage that's weighing us down.
Third, she needed to give—and that must have been extremely difficult for her, to give out of her deep poverty, to think of someone else, to turn her eyes outward instead of just being focused on her own needs.
To give involves letting go: letting go of self-protection, letting go of self-interest. The Bible calls it "dying to self." She had to look after Elijah first. She could not receive from the Lord until she had given the little that she had left.
So what about you ladies? What is it?
What issue of obedience is God calling you to that you need to take care of?
What is it that you need to let go of?
What demands and expectations that you are holding onto so tightly, wrapped up in yourself, that you're just spinning your wheels and can't get anywhere with the Lord?
What is it that God is asking you to give?
How is He asking you to die to self?
Maybe it's humbling yourself and asking for forgiveness. Maybe it's being the first to ask for reconciliation with someone who has hurt you, wounded you.
The Lord wants us to let go of that me-first attitude. In order to thrive in life, ladies, in desert times, we need to have the right perspective. We need to have the right priorities—putting first things first. And we also need to have perseverance.
Why should we persevere? Elijah told the woman, "Do not fear, because God is going to take care of you. God will take care of you."
"The jar of flour shall not be spent, and the jug of oil shall not be empty, until the day that the LORD sends rain upon the earth." And she went and did as Elijah said. And she and he and her household ate for many days. The jar of flour was not spent, neither did the jug of oil become empty, according to the word of the LORD that he spoke by Elijah. (1 Kings 17:14–16)
We need to persevere because, in God's economy, a little is enough. The widow's little bit of flour and little bit of oil was enough. God gave her enough for that day. The portion of manna that the children of Israel gathered every morning was enough. It was enough to feed them for that day.
They couldn't collect more and save it—the saved-up portion would go bad. God just had them have enough—not tons, just enough. There was another widow whose oil was enough to fill all the jars of oil in the whole town.
Think about that little boy's lunch. There was enough to feed all the masses. Or Gideon's little band of warriors that was enough to defeat the massive forces. And David's little teeny rock that was enough to take down that giant.
You know what? Just a little bit of light is enough to kick a hole in the darkness. God gives you enough for this day, and His "little" is enough for you! I love the imagery here. The flour reminds us of the Bread of the Presence of the Lord that sat on the table in the tabernacle. It reminds us of the bread of Christ's body that was broken for us and His abiding presence.
If you have Jesus, you will always have enough.
The oil, which in the Bible represents gladness and joy and healing and the Spirit of God . . . and God gave it to her every day, in an adequate portion for that day. God gives you enough for each day and each demand, and each trial and each circumstance, and each time you were stretched beyond what you think you can bear, His little is enough. If you have Jesus, you will always have enough. (applause) 
She needed to persevere, because gold is refined in the crucible. The name of the town is Zarephath, and the name Zarephath means "refining." There were probably some refineries there; there's a smelting shop. And you know how they refine gold? They heat it up. They get it real, real hot—and then hotter than that, even—and hot, hot, hot.
And then what happens in that process of the gold being heated is all the impurities rise to the surface—called slag. Good name for it, don't you think? And sometimes that's what God wants to do in our life, in those desert times and in those hard times and in those times of stretching and in those times of inadequacy.
It's like He puts us into the furnace and things heat up, and then they heat up a little bit more, and then you see the light at the end of the tunnel and you run toward it—and it's another big train that hits you smack in the eyes! And life heats up even more and more.
You're being squeezed! You're being burned! But guess what? All that slag and garbage is rising to the surface (and boy, does it rise to the surface!—does it not?) so that we can see it and bring it to the cross, and Jesus can take care of it . . . and we can grow and be refined.
Gold is refined in the crucible. Coal needs to be squeezed to make diamonds. That irritant in the sand of the clamshell is what makes the pearl, and the pressing of the olives is what results in the purest oil. We need to persevere, because the rains will come.
The rains will come. Why? Because I AM is faithful. He is faithful! "I will open rivers on the bare heights, and fountains in the midst of the valleys. I will make the wilderness a pool of water, and the dry land a spring of water." (Isa. 41:18)
I love the imagery that the psalmist uses when he talks about life, and he says, "Blessed are those whose strength is in you, in whose heart are the highways to Zion. As they go through the Valley of Baca." (Ps. 84:5–6) . . . which is a valley of sin, a valley of dryness, a valley—really—of walking through life. You're on the highway to Zion; your eyes are on the Lord, on seeing Him, and on seeing what's really true and good and right and eternal—but you're going through this valley, the Valley of Baca.
But as the righteous go through the Valley of Baca, it becomes, "a place of springs; the early rain also covers it with pools. They go from strength to strength; [until] each one appears before God in Zion" (Ps. 84:6–7). Do I hear an "amen"?
Have you found God to be faithful? Have you found in your life that, you might be in a desert place, but there was a pool back there—and the rains will come. And there will be another one! And the Lord will lead you into times of refreshing of your spirit and rest.
And then you're going to be on that journey again, and then He will come—and life will be tough—but then there will be another pool of strength. And God takes us on this journey down the highway of Zion, through the Valley of Baca, from strength to strength, from pool to pool, until we see Him. Because ultimately, that is when the rains will come.
There will be a time—and this is the right perspective—there will be a time when there is no more mourning, no more tears, no more sadness, no more hunger, no more thirst. And how do I know that? Because God says so! (applause)
The Spirit and the Bride say, "Come." And let the one who hears say, "Come." And let the one who is thirsty come; let the one who desires take the water of life without price. (Rev. 22:17)
You've carried all sorts of burdens. Right now, the Lord just wants you to let go. So if you can, just do that—put your hands down, let them go, and then put your hands up. And I'm going to pray.
Heavenly Father, thank You for Your provision. Thank You for the bread of Your presence. Thank You for the oil of Your Spirit—the oil of joy, the oil of gladness that You pour out without cost.
Thank You, that even as we're walking through this earth and through the Valley of Baca, You will take us from strength to strength—from pool to pool—that Your "little" is enough and that You always give us enough.
I pray for these women who do not think that they can face tomorrow. Would You give them a double portion today, that they may know that they have enough for today, and they have enough for tomorrow, too.
And Lord, may we turn to You always in our need, and may we never, ever forget that You are the I AM—who is, and who is for us, and who is our God! The Lord my God!
Ladies, say it: The Lord my God! And if you don't have that perspective, if you don't know the Lord as your God, I suggest you go back and say, "I don't know Him as my God; I don't know Him that way. I want to know Him that way."
He wants to meet with you tonight, so that before you go to sleep you can say, "The Lord is my God!"
Heavenly Father, I just pray for times of refreshing. I pray as these women open up to receive—in their emptiness and their neediness and those who will come to the end of themselves—that You will fill them, because of Your great mercy and because of Your great love, because of what Jesus did on the cross to make it all possible.
I thank You, and I praise You that You are always enough! Amen.
Nancy: Amen! Do you believe He is always enough? We've been listening to Mary Kassian, speaking at a True Woman conference.
Listen, these are crazy time. You may feel like you're running out of money or time or energy. Remember what Mary told us: in times of difficulty, we need the right perspective, we need right priorities, and we need perseverance. I want to encourage you to take a moment and respond to the Lord about how He has been speaking to you over these last moments. Ask God to show you how you can better depend on Him, even if you find yourself at the bottom of the barrel. Then believe that He'll show you!
Thank you for listening today and I hope you'll join us again tomorrow.
Not long ago, Robert and I received a text message from tomorrow's guest. At the top it said simply, "What is God doing right now through this pandemic?" What our friend shared in that text was so encouraging, we decided to have him come on Revive Our Hearts and share it with you, too. We'll hear from film producer Stephen Kendrick tomorrow. 
I'm Nancy DeMoss Wolgemuth. Please be back for Revive Our Hearts.
Helping you keep first things first. Revive Our Hearts with Nancy DeMoss Wolgemuth is an outreach of Life Action Ministries.
All Scripture is taken from the ESV unless otherwise noted.
*Offers available only during the broadcast of the podcast season.
Support the Revive Our Hearts Podcast
Darkness. Fear. Uncertainty. Women around the world wake up hopeless every day. You can play a part in bringing them freedom, fullness, and fruitfulness instead. Your gift ensures that we can continue to spread gospel hope! Donate now.
Donate Now