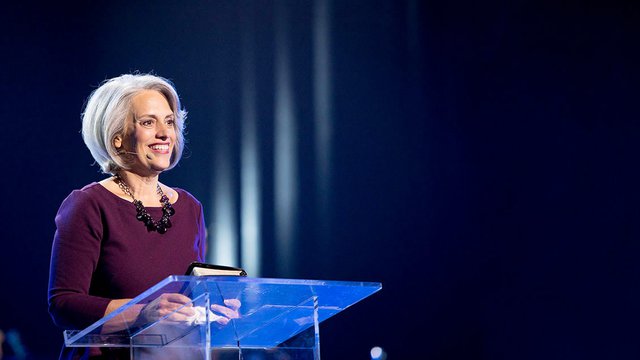 Prayer for Our Nation
Leslie Basham: This is Revive Our Hearts with Nancy Leigh DeMoss. Here's Nancy Leigh DeMoss.
Nancy Leigh DeMoss: I know that all our hearts are heavy as we consider what's going on in the world around us and we are staying tuned, watching the news, wondering what's going to happen. And particularly as believers wondering what part God wants us to have in these world events.
For sure the most important thing that you and I can do is to go to our knees, to cry out before the Lord as I know millions of believers are doing in the United States and around the world, crying out to Him for mercy, crying out to Him to show His glory in these difficult times and believing that in the days ahead we will have even greater opportunities to make His Gospel known around the world.
As I have pondered how we ought to communicate with our Revive Our Hearts listeners about what's happening in this world, I felt that really the most valuable thing that we could do was to call for a prayer meeting and just to invite our listeners to join with us in a time of lifting our hearts to the Lord.
And so I contacted a number of Christian leaders that I know to be men and women of prayer and I asked them if they would just lead us in a time of prayer.
Let's agree before the Lord as we cry out to Him on behalf of our nation, our President and what is happening over in the Persian Gulf.
And now here to start us in this time of prayer is recording artist, Steve Green.
Steve Green: Father, in heaven, how we do worship You as the only true living God, creator of heaven and earth. Our hearts are trembling now and I am thankful that we can come to You and that You hear.
First, Lord, I ask for our President, who is making momentous decisions and I pray, Lord, that You would guard Him--keep him, keep him, Lord, in humility. We know that no king is saved by the size of his army. Lord, save us from trusting in our military strength.
And then You tell us, Lord, to pray for our enemies. There are many kinds of enemies, Lord, there are enemies of the Gospel and we have national enemies, Lord.
I know there are those who oppose us as a nation because of the things that we stand for, and so I pray for Iraq and the people of Iraq. Lord, our hope is that You would extend mercy to them as You have to us; that the Gospel would take root in their hearts as well.
Lord, we pray for a swift end to the conflict and that peace would once again reign so that the Gospel could run its course in this world, all to Your glory. In Christ's name. Amen.
Nancy Leigh DeMoss: Now let's join author and speaker Evelyn Christensen as she leads us in prayer.
Evelyn Christensen: Our holy, holy, holy God, You are sovereign. Lord, You hold in Your hand the world, history, all the problems, all of the joys--they are in Your hand, holy God.
And, Lord, I would pray for both our President and of course those who work with him and also the leadership in Iraq, that they would be directed by You so that Your plan for Planet Earth will be in full swing.
Lord, there is so much beyond what we could ever imagine or think and yet You never make a mistake. I thank You and I praise You in Jesus' precious name. Amen.
Nancy Leigh DeMoss: Here's Pastor Jim Cymbala of the Brooklyn Tabernacle.
Pastor Cymbala: Father, we thank You that we can come to You in the name of Your Son, Jesus Christ, who is our Savior; who laid down His life for us. And our eyes are not so much on the Middle East, Lord, or on the U.N. or on Saddam Hussein or the White House even. Those things are going to happen.
But our eyes are upon You, Lord. You said that there would be times like this, Lord, wars and rumors of wars. But what we remember today is what You said was our main job, not to figure out the timing of world events--"But you will receive power when the Holy Spirit comes upon you and you will be my witnesses" (Acts 1:8).
Help us in this day to witness for you, first in Jerusalem, our Jerusalem and then, Lord, to the uttermost parts of the earth. Let the Gospel go out. Keep our mind on those things that are eternal and grant us Your peace.
Take away anxiety from men and women who might be listening to Nancy's program, Lord, and give us that perfect peace so that we can live for You and shine for You and be a great advertisement for our Lord and Savior, Jesus Christ. In His name we ask all of this. Amen.
Nancy Leigh DeMoss: Dr. Jerry Kirk is the cofounder of the Religious Alliance Against Pornography and he leads us in prayer next.
Dr. Kirk: Gracious Father, we do turn to You because we know that You are the source of all peace and all grace and all love and so we ask You to lay Your hand upon our President in a very special way.
Lead him by Your Spirit and, Lord God, we give You what is happening in Iraq this very moment. Give boldness to those there who know You and love You that they might share Jesus Christ with those around them and that Your peace would come into their lives. Please, Lord, do what only You can do. We ask it in Jesus' name. Amen.
Nancy Leigh DeMoss: Next, we'll be lead by Fern Nichols, who is the founder and president of the Moms in Touch International Ministry, that God is using in a significant way to call moms to pray for schools and for the children in those schools.
Fern Nichols: Our sovereign Lord, You are sitting on the throne. And, Father, how comforting to know that Your plans are perfect and Your plans are good; and we don't understand all of it but You tell us not to lean unto our own understanding but to acknowledge that You are a God of love.
And so, Father, I just pray that Your bride would be looking up during this time, saturating their minds with the truth of Your Word. And then, O Lord, I pray that we would be consistent and persistent in prayer--that divine weapon that You have given us, to pray.
And, Lord, we just pray now for our President and for the Cabinet and for those in the military that are making such incredible decisions right now. Lord, we know that You can turn the heart and mind of a king.
We are asking for the families now who are maybe feeling alone, especially, I think of the moms raising children without their dads--all of those needs that You are allowing in the lives of people to cause them to look up.
And, Lord, I pray in the name of Jesus that if they do not know you as Lord and Savior of their life, O Father, I am asking that You would turn them from darkness to light and from the power of Satan to God and save them.
We are praying most of all that revival and spiritual awakening would happen around the world. And we are crying out to You, "Come, Lord Jesus, come." In Jesus' name, amen.
Nancy Leigh DeMoss: Dick Eastman is the president of Every Home for Christ and has written numerous books on prayer and intimacy with God. He leads us next.
Dick Eastman: Father, we thank You for this wonderful promise of the power of agreement in Matthew 18[:19] and Nancy and I now are a symbol of this, where if two of you agree as touching anything they ask, it shall be done of the Father of heaven.
And, Lord, we also, in my prayer now, in agreement with the listener who might even say, "Yes, Lord, I agree" or nod their head as I pray, that Your kingdom would come in the circumstances in the Middle East, in particular in Iraq.
And, Lord, all the ramifications that we hear about, there's great controversy over this. Sometimes, Lord, even within the church there are those who have differing opinions but, Lord, we know we can pray, "Thy will be done."
And, Lord, we know that if we understand the interpretation of scriptures like Isaiah 11:9 and Habakkuk 2:14 and Matthew 24:14 that this Gospel of the Kingdom shall be proclaimed in the whole world to all peoples and then the end will come and the earth will be filled with the knowledge of the Lord as the waters cover the sea.
And, Lord, we know that Iraq is a part of the earth and it shall some day be covered with the knowledge of the glory of the Lord. We pray that You will bring swift justice in Your mercy for the redemption of the people of Iraq, not just a political liberation but a spiritual freedom. And, Lord, we ask this in Jesus' name, amen.
Nancy Leigh DeMoss: As we continue in prayer, we're led by Dr. Henry Blackaby.
Dr. Blackaby: Father, our hearts tremble because we know that we're, at best, sinners. And You have cleansed us by the blood of Christ. But when You did, You made us Your children and You gave us an access into Your throne room. And then, You watch for us to come and Your Spirit urges us to come.
So, in this time of crisis, Oh Father, would you marshal Your people to have a confident, expectant heart that they can make a difference? As we take it one day at a time, we'll watch the unfolding of Your will.
You have rarely told Your people what You're about to do. They have to walk with You, by faith, in obedience, in holiness--then they can see what You do and then they can understand.
Oh, Lord, these are probably our nation's most crucial hours and so we need You. I thank You that You're present. We wait on You to see what You will say next. Whatever You say to us, the answer is "Yes, Lord." We ask it in Jesus' name. Amen.
Nancy Leigh DeMoss: Well, I want to thank each of these men and women for taking time out of their busy schedules to pray with us in this very crucial hour of our nation's history.
I wish you could have been with me in the studio as I talked with these individuals on the phone and, actually, the part you weren't able to hear on the air today as I asked each of these men and women what they sensed God was saying and doing in these critical times for our nation.
One after the other, they shared such deep, rich insight and understanding of the heart and ways of God. I was deeply challenged as I listened to them.
We've compiled all of their comments, in addition to the prayers that you've just heard. They're available on CD. If you'd like more information about how to receive that CD, just call us at 1-800-569-5959. Or you can visit our Web site ReviveOurHearts.com.
In addition to this special CD, we've also compiled a booklet called In Times Like These. It's a guide that will help you know how to pray for our nation and for our world during these crucial times.
Again, you can call us at 1-800-569-5959 or visit our Web site ReviveOurHearts.com. And when you visit our Web site, you'll notice that we've made available a number of the conversations that I've had with these different men and women today. Those are available on-line and I trust that you'll take time to listen to those. I know that they'll be encouraging to you.
And now, as we've been praying together, I'd like to just close our prayer time and I thank you for joining us in this. I'd like to ask if we could just join our hearts together and pray together and you may just want to whisper along with me as we pray "Our Father, who art in heaven, hallowed be thy name. Thy kingdom come, thy will be done on earth, as it is in heaven. Give us this day our daily bread and forgive us our debts as we forgive our debtors and lead us not into temptation but deliver us from the evil one, for Thine is the kingdom, the power and the glory forever and ever, amen."
Leslie Basham: Revive Our Hearts with Nancy Leigh DeMoss is a ministry partnership of Life Action Ministries.
*Offers available only during the broadcast of the podcast season.
Support the Revive Our Hearts Podcast
Darkness. Fear. Uncertainty. Women around the world wake up hopeless every day. You can play a part in bringing them freedom, fullness, and fruitfulness instead. Your gift ensures that we can continue to spread gospel hope! Donate now.
Donate Now