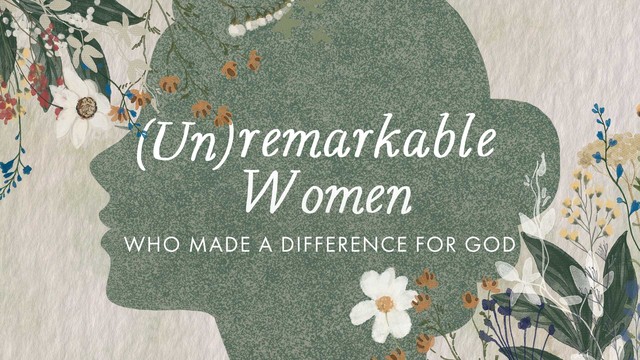 Pandita Ramabai: Scholar, Reformer, Truth Seeker
Dannah Gresh: Imagine becoming a widow at fourteen or fifteen years of age!
Here's how Pandita Ramabai described the plight of teenage widows she observed while growing up in nineteenth century India.
Pandita Ramabai: "Girls of fourteen and fifteen who hardly know the reason why they are so cruelly deprived of everything they like are often seen wearing sad countenances, their eyes swollen from shedding bitter tears. They are glad to find a dark corner where they may hide their faces as if they had done something shameful and criminal. 
"The widow must wear a single coarse garment—white, red, or brown. She must eat only one meal during the twenty-four hours of a day. She must never take part in family feasts and jubilees, with others."
Dannah: We are about to hear how this generation of young widows began to discover hope. 
This is the Revive Our Hearts podcast with …
Dannah Gresh: Imagine becoming a widow at fourteen or fifteen years of age!
Here's how Pandita Ramabai described the plight of teenage widows she observed while growing up in nineteenth century India.
Pandita Ramabai: "Girls of fourteen and fifteen who hardly know the reason why they are so cruelly deprived of everything they like are often seen wearing sad countenances, their eyes swollen from shedding bitter tears. They are glad to find a dark corner where they may hide their faces as if they had done something shameful and criminal. 
"The widow must wear a single coarse garment—white, red, or brown. She must eat only one meal during the twenty-four hours of a day. She must never take part in family feasts and jubilees, with others."
Dannah: We are about to hear how this generation of young widows began to discover hope. 
This is the Revive Our Hearts podcast with Nancy DeMoss Wolgemuth, author of Choosing Forgiveness, for May 23, 2022. I'm Dannah Gresh.
Nancy DeMoss Wolgemuth: I don't have to tell you that there is a whole lot of pain and injustice taking place in our world today. I heard a piece on news recently discussing the whole thing of medical waste companies transporting fetal remains. Just the thought of this was just, like, so saddening and horrifying to think of all that is behind that. Even though it is not so uncommon anymore, it's still a tragedy. 
And issues of human trafficking that come into the news on the landscape far too often. Then there is millions of Ukrainian refugees, women and children being brutalized in the midle of war, cities overrun wth crime, fentanyl and opiods being smuggled into our country and causing tens and maybe hundreds of thousands of deaths.  
That's just to name a few of the kinds of issues we are confronted with day after day. So Dannah, how do we respond to these kinds of injustices?
Dannah: How do you respond and how do we respond to injustices are different questions. I think a lot of people are looking at this long list and they are assuming, "There's nothing I can do." They feel helpless. They don't know what to do, so they do nothing. 
Nancy: Or we can get so used to seeing these images and hearing about the atrocities that we stop noticing them. We get numb; we feel nothing. It is just too much to feel. We've probably all have had both that sense of feeling helpless and feeling numb. Today we're going to hear a story that will challenge both those responses. 
Dannah: That's right. Pandita Ramabai grew up in India in the late 1800s. Anyone hearing about her birth would assume it was just an unremarkable event. Girls weren't valued in that society. Women were basically treated as property of their fathers or husbands. But God used Pandita Ramabai to change the life of thousands of women in India and to challenge unjust practices.
Nancy: Yes, this is a remarkable story. As we are listenen we all need to ask: how might God want to use us as instruments of grace? How might He want to use me to challenge some injustices taking place in our day?
You know, I first learned about Pandita Ramabai when I was a little girl. The Christian school I attended, Delaware Christian School in the Philedelphia area, supported the ministry of Ramabai Mukti Mission (as it was called then). It was and is a Christ-centered home caring for destitute women and children. We'll hear more about it in the program today. But I can remember as a child how we prayed for this outreach. We prayed for this mission, the women, the children. We heard updates from the ministry, and we supported their work.
It's stuck in my head, now fifty-some years later, to have a heart for that ministry.
Dannah: Wow, that's cool! I'm wondering how many mothers and grandmothers are planting seeds like that in the hearts of their children as they support ministries like this mission.
Nancy: I hope even more of that will happen as a result of a short, new book from Revive Our Hearts called (Un)remarkable. One of the ten women featured in that book is Pandita Ramabai, who was the founder of that ministry. You'll learn lots more about her today. I hope it will inspire a new generation of older and younger women.
Dannah: I'm really excited about this new book (Un)remarkable. The "Un" is in parentheses. It's a play on words to remind us, God can do remarkable things through regular women like you and me.
Erin Davis served as one of the editors for the booklet (Un)remarkable. She's here to tell us about Pandita Ramabai. Hi Erin.
Erin Davis: Hey, Dannah.
Dannah: I can't wait to hear the story.
Erin: Like you said, Pandita Ramabai was born in the late 1800s. She was born into the Brahmin Caste. And to understand her life, you need to understand the caste system she was born into.
Dannah: Is that caste "C-A-S-T-E?" 
Erin: Yeah, not list the cast you put on a broken arm.  Now, we're used to saying we have "middle class" and "working class." The caste system in India was much more rigid. 
If you were born into the lowest caste, you basically had to be a slave to the other castes. In Hindu teaching, people in this lowest caste had no hope for salvation. 
Here's how Pandita Ramabai described the plight of low-caste people. We have an actress reading from one of her books.
Pandita Ramabai (actress): "As for the low-caste people, the poor things have no hope of any sort. They are looked upon as being very like the lower species of animals, such as pigs. Their very shadow and the sound of their voices are defiling. They have no place in the abode of the gods, and no hope of getting liberation except that they might perchance be born among the higher castes after having gone through millions of reincarnations."
Erin: In other words, if a low-caste person served faithfully like a slave, they might be reincarnated as a person of the trader caste or a warrior caste.
If they kept doing this over and over, being reincarnated and moving up the caste system, eventually they could be born into the Brahmin class.
Ramabai: "According to this doctrine, a man is liable to be born eight million four hundred thousand times before he can become a Brahmin, and except one be a Brahmin, he is not fit to be re-absorbed into the spirit."
Dannah: So it sounds like the Brahmin caste was at the top of the system. 
Erin: Yeah, Brahmins were considered spiritual leaders and the head of society. If Brahmins did enough good works, they—and only they—could earn their way out of the cycle of reincarnation.
Dannah: And what did they think happened then? Did they believe they would go to heaven?
Erin: They sometimes used the word "heaven." But I don't want you to picture what we picture when we go to heaven. We know that when we get to heaven, we are going to be with Jesus, but Hindus saw god was an impersonal force. When a Brahamin finally did enough good deeds, he would disappear into that impersonal force.
Ramabai: "He is re-absorbed into the spirit and ceases to be an individual."
Erin: Basically, their goal was to cease being—for their spirit to get lost in the great spirit. As an example, they described how a river would get lost when it reached the ocean.
Dannah: So Pandita Ramabai's father was a Brahmin, the highest caste. So her life must have been easier compared to the lower castes?
Erin: I always thought that, too, until I started researching Pandita's life. That's something else that can be hard for us to wrap our heads around when we are not familiar with the system. Brahmin men were considered leaders. They had an opportunity to escape a cycle of reincarnation. 
But Brahmin women had no such hope. They led very difficult lives. 
Dannah: Here's where I want to say, "I love that the Scriptures teach us that Jesus loved women so preciously!"
Erin: Most Brahmin fathers believed they received spiritual merit by teaching and investing in their sons.
Ramabai: "A son is the most coveted of all blessings that a Hindu craves, for it is by a son's birth in the family that the father is redeemed."
Erin: But women were seen as a liability. Fathers had to marry daughters to members of their own caste. But those fathers had to pay their new sons-in-law. So women were viewed as someone to be treasured. They were viewed as an extra expense.
Ramabai: "Fathers very seldom wish to have daughters, for they are thought to be the property of somebody else. Besides, a daughter is not supposed to be of any use to the parents in their old age."
Erin: Ramabai describes friends coming to celebrate the birth of a child. 
Ramabai: "If a boy is born, his birth is announced with music, glad songs, and by distributing sweetmeats. If a daughter is born, the father coolly announces that 'nothing' has been born into his family. The friends go home grave and quiet."
Erin: Ramabai knew of families who made horrific choices after having a daughter.
Ramabai: "After considering how many girls could safely be allowed to live, the father took good care to defend himself from caste and clan tyranny by killing the extra girls at birth, which was as easily accomplished as destroying a mosquito or other annoying insect.
"Who can save a babe if the parents are determined to slay her and eagerly watch for a suitable opportunity? Opium is generally used to keep the crying child quiet, and a small pill of this drug is sufficient to accomplish the cruel task. A skillful pressure upon the neck, which is known as the 'putting nail to the throat,' also answers the purpose."
Erin: I just can't imagine that! 
Dannah: Me either! But the sad thing is, something similar is happening in our country. We call it abortion.
Erin: In light of all this, Pandita Ramabai's father was radical. His name was Anant Sastri Dongre. 
Dannah: That seems like a difficult but important name to remember. Anant.
Erin: Let's go back to before Ramabai was born. Anant wanted to teach his first wife to read Sanskrit and read the Hindu scriptures for herself. 
Dannah: Seems reasonable. 
Erin: But in this society, women weren't allowed to read the holy books. Anant's idea was unheard of! 
Anant said no such prohibition existed in the holy books themselves. He said that rule was just a human-made custom. He convinced the gurus in his area to let him teach his wife to read.
Then he went to his first wife, eager to begin her religious education and she said, "No way. I'm not supposed to read the holy books."
But then she died. Anant got married again—I'm not sure you are ready for this—to a nine year old!
Dannah: No, I'm not ready for that! That makes me, again, more and more thankful for how Christianity views and calls for women to be treated. How old was Anant when he married that nine year old ?
Erin: He was forty-four. 
Dannah: What! I'm so not ready!
Erin: I can't imagine. I have a nine year old, and pretty close to forty-four. Okay, now's probably a good time to explain something else. We said high-caste women had tough lives. One reason is they were given in marriage very young.
Dannah: Yeah, I'd say nine years old is very young! Giving a daughter in marriage was considered a good deed, though. 
Ramabai: "The earlier the act of giving the daughter in marriage, the greater is the merit, for thereby the parents are entitled to rich rewards in heaven."
Erin: When fathers found an eligible bachelor within their caste, they took the opportunity.
Ramabai: "A great many girls are given in marriage, literally while they are still in their cradles. From five to eleven years is the usual period for their marriage among the Brahmins all over India."
Erin: A betrothed girl like this would usually go live with her husband's family. Generations of family lived together, and the bride had to obey her mother-in-law. 
Ramabai: "Breaking the young bride's spirits is an essential part of the discipline of this new abode." 
Erin: So these child brides didn't have much time for school—maybe two to three years.
Ramabai: "Girls of nine and ten when recently out of school and given in marriage are wholly cut off from reading or writing, because it is a shame for a young woman or girl to hold a paper or book in her hand, or to read in the presence of others in her husband's house."
Erin: These marriages weren't consummated until the brides became teenagers. At that point, a bride would basically live as a slave to her husband, shut up in the house, cut off from the world. 
Here's something else hard for us to understand: a family could be high caste but poor. Rich, high caste families would take the most eligible bachelors. That made poor, high-caste girls even more vulnerable.
Ramabai: "Poor parents cannot have the advantage of marrying their daughters to boys of prosperous families, and as they must marry them to someone, it very frequently happens that girls of eight or nine are given to men of sixty and seventy, or to men [completely] unworthy of the young maidens."
Erin: So forty-four-year-old Anant married a nine-year-old wife named Laxmibai. And when she became old enough, they eventually began a new family. And that's how Pandita Ramabai came into the world. She and her brother and sister joined their parents in spending all their time studying Hindu religious texts and doing what they thought were good deeds. 
Dannah: I'm sitting on the edge of my seat, Erin. I have to ask, was Ramabai given in marriage at a young age?
Erin: That's a good question. You'd think so, but her dad Anant was a reformer. He did not give Ramabai in marriage as a child. And defying custom, she learned Sanskrit from her parents and became quite a religious scholar.
At first they had a home in the mountains. But as part of doing good deeds, Anant gave away all his money. The family began trekking across the country. 
Ramabai: "My father and mother were always traveling from one sacred place to another, staying in each place for some months, bathing in the sacred river or tank, visiting temples, worshiping the images of gods in the temples."
Erin: They would quote religious texts in public and people would give them gifts of food, money, or clothing. 
Dannah: Kind of like street preachers serving for donations. 
Erin: Yeah, and this worked for a while. People thought they were earning spiritual merit by giving to them. But then a famine came. They couldn't keep up this lifestyle. Ramabai's father, mother, and sister all died. She was sixteen years old.
Ramabai: "We were too proud to beg or to do menial work, and ignorant of any way of earning an honest living. Nothing but starvation was before us. My father, mother, and sister all died of starvation within a few months of each other."
Erin: Ramabai had spent her life studying Hinduism and pursuing good works like bathing in holy rivers and trekking to special places. But she didn't feel like any of this was getting her closer to God. 
Ramabai: "My brother and I survived. We wandered from place to place, visiting many temples, bathing in many rivers, fasting and performing penances, worshiping gods, trees, animals, Brahmins, and all that we knew for more than three years after the death of our parents and elder sister. We had walked more than four thousand miles on foot without any sort of comfort.
"We had fulfilled all the conditions laid down in the sacred books, and kept all the rules as far as our knowledge went, but the gods were not pleased with us and did not appear to us."
Erin: As this brother-sister duo visited temples, they discovered some dishonest priests. These priests would manipulate pilgrims for the their own gain. 
Dannah: Did that affect Ramabai's faith in Hinduism?
Erin: It did. But when she and her brother arrived in Calcutta, many of the Brahmins there were amazed by her learning. They had never met a woman with such a scholarly background. Some of the gurus in Calcutta said, "The goddess of learning has come to us in human form."
The Hindu goddess of learning was named "Sarasvati." These gurus bestowed that name on Ramabai. So sometimes you see her name written "Pandita Ramabai Sarasvati." 
Dannah: But her given name was Pandita Ramabai?
Erin: Actually, no. The word "Pandit'' was a title of honor given to men with great knowledge. No woman had ever been a "Pandit" before. But Ramabai was so knowledgeable that leaders made a feminine version of that title and gave it to her. That's why she's called Pandita Ramabai.
Dannah: It sounds like her deep knowledge of Hinduism was gaining her some notoriety?
Erin: Exactly. Around this time, Ramabai encountered British missionaries. They gave her a Bible in Sanskrit. Reading it didn't have an immediate effect, but a seed must have been planted. 
Meanwhile, she dug back into Hindu texts. She had gotten an assignment to teach women in Calcutta. She wanted to prepare, so she re-read the ancient documents. And she grew more and more disturbed. She read texts like this:
Male: "A faithful wife who desires to dwell after death with her husband must never do anything that might displease him who took her hand, whether he be alive or dead." 
Erin: Ramabai realized both the ancient texts and tradition viewed women in a very bad light.
Ramabai: "Women of high and low caste, as a class, were bad, very bad, worse than demons. The only hope of their getting this much-desired liberation from Karma and its results, that is, countless millions of births and deaths and untold suffering, was the worship of their husbands." 
Male: "A husband must be constantly worshiped as a god by a faithful wife."
Ramabai: "The husband is said to be the woman's god; there is no other god for her."
Male: "If a wife obeys her husband, she will for that reason alone, be exalted in heaven."
Ramabai: "My eyes were being gradually opened; I was waking up to my own hopeless condition as a woman."
Erin: So, she made a huge choice. At age twenty-two, Ramabai radically challenged tradition. She married a man from the lowest caste. 
Ramabai: "Intermarriages cannot take place without involving serious consequences, and making the offenders outcasts."
Dannah: Erin, I'm imagining that this decision must have represented a break with the religious tradition she had spent her life studying.
Erin: I think you are imagining correctly. Then after less than two years of marriage, Ramabai's husband died. She was left alone with a one-year-old daughter. 
Dannah: So she became a widow. This would have been her mid-twenties?
Erin: Yes. So we need to pause and talk about yet another problem high-caste women faced in this society.
Ramabai: "Throughout India, widowhood is regarded as the punishment for a horrible crime or crimes committed by the woman in her former existence upon earth."
Erin: Widows were often blamed for their husbands' deaths. They were shut up in their houses by their family yet vilified at the same time. And on top of that, they could not get re-married.
Dannah: So they were forced to be widows for life.
Erin: And here's one thing that made widowhood so hard. Wives were told to focus on their outward appearances. But in widowhood, that suddenly changed.
Ramabai: "No sooner does the husband die than they are deprived of every gold and silver ornament, of the bright-colored garments, and of all the things they love to have about or on their persons."
Dannah: Ramabai knew of one group of widows whose heads were shaved every two weeks. 
Ramabai: "What woman is there who does not love the wealth of soft and glossy hair with which nature has so generously decorated her head? 
"A Hindu woman thinks it worse than death to lose her beautiful hair. Girls of fourteen and fifteen who hardly know the reason why they are so cruelly deprived of everything they like are often seen wearing sad countenances, their eyes swollen from shedding bitter tears. They are glad to find a dark corner where they may hide their faces as if they had done something shameful and criminal. 
"The widow must wear a single coarse garment—white, red, or brown. She must eat only one meal during the twenty-four hours of a day. She must never take part in family feasts and jubilees with others."
Erin: And think about it: women were getting married at eight or nine years old to older men. That meant there were a lot of widows!
Ramabai: "Girls of nine and ten or thirteen years of age, whose betrothed husbands are dead, are virgin widows. And these, if of high-caste families, must remain single throughout life."
Erin: Many wives would jump into the cremation flames at their husbands' funerals and die because they didn't want to live as widows. This practice was starting to diminish, but Ramabai still knew of women doing it. 
She wrote to people in the United States and Great Britain, raising awareness of what was happening in her home country.
Ramabai: "Mothers and fathers, compare the condition of your own sweet darlings at your happy firesides with that of millions of little girls of a corresponding age in India, who have already been sacrificed on the unholy altar of an inhuman social custom. Then ask yourselves whether you can stop short of doing something to rescue the little widows from the hands of their tormentors."
Dannah: Did Pandita Ramabai have to live this way when she became a widow? 
Erin: No. She had already grown disillusioned with Hinduism. She had already defied social custom by marrying outside her caste. And now, in 1883, she left her country and went to England.
Now, England had its own social problems. But Ramabai noticed how believers in Jesus were taking action to address the needs of the poor and the hurting.
Ramabai: "I began to think that there was a real difference between Hinduism and Christianity."
Erin: She was especially moved to see former prostitutes receive new life in Christ. One of the Christians told her Jesus loved women—even women society had rejected.
Ramabai: "She spoke of the infinite love of Christ for sinners. He did not despise them but came to save them. 
"I had never read or heard anything like this in the religious books of the Hindus. 
"I realized, after reading the fourth chapter of St. John's Gospel, that Christ was truly the Divine Savior He claimed to be. No one but He could transform and uplift the downtrodden womanhood of India and of every land. Thus, my heart was drawn to the religion of Christ." 
Erin: Pandita Ramabai was baptized in the Church of England in 1883. She lived in England and then moved to the United States. 
She raised her daughter. And continued her studies in English, in math, in biblical Hebrew and Greek. But she never forgot about hurting women of India. 
Ramabai: "The one thing needful for the general diffusion of education among women in India is a body of persons from among themselves who shall make it their life work to teach by precept and example their fellow-countrywomen.
Erin: And so she returned. In 1889, Pandita Ramabai went back to India and started a school for girls. It was six years since she had left.
Ramabai: "I felt as if I were going to a strange country and to a strange people. Everything seemed quite dark before me. I fell on my knees, committed myself to the care of our loving heavenly Father, and sailed."
Erin: As she left, some doubts plagued her mind.
Ramabai: "My religious belief was so weak at the time that I was not certain whether I would go to heaven or hell after my death. I was not prepared to meet my God."
Erin: Helen Dyer was a British missionary who watched a new school take shape. 
Helen Dyer (Actress): "It was not long before pupils began to come in . . . including a specially bright group of little girls from ten to twelve years of age. It was difficult to believe that the latter rested under the cruel ban of widowhood—genuine Hindu widows with shaven heads, plain brick-red garments, and no jewelry."
Pandita (quoted in Dyer): "They come from homes where they have been treated as outcasts; no love bestowed upon them, and no comforts provided for them. I wish them to learn what the outside world is like from pictures and books, and to enjoy the wonderful works of God as they ramble in the garden, and study with the microscope, or view the heavens from the veranda on the roof.
Erin: Ramabai wanted these hurting young women to experience the genuine love of Jesus.
And three years after this school opened its doors, Ramabai herself experienced that same love.
Let's review where we've been so far. 
Dannah: Wow, Erin. Let's just pause and review where we've been so far. It seems like through this whole story, Pandita Ramabi has been striving to connect with God. At first she saw God as an impersonal spirit demanding good works. 
Erin: But she could never do enough. She would have to do good works up to eight million lifetimes to have the chance to work her way to God.
Dannah: But listen, our purpose isn't to single out Hinduism. Everyone is trying to strive—to earn merit—to justify their existence. Deep down we all know we are missing something. We all feel like we have to do something to make up for our shortcomings. 
Not all of us bathe in holy rivers or worship at shrines like a young Ramabai did. But we all are tempted to pursue our own types of idols. Western churches are filled with people trying to do enough good works to make them right with God. And unbelievers everywhere are trying to prove themselves by climbing up the ladder of success. 
Erin: But the reality is that our sin—our rebellion against God—makes it impossible for us to do enough to get right with Him. 
Dannah: We can never work our way up the system because God is perfect and our sin separates us from Him. 
It sounds like Ramabai had understood that intellectually and been baptized. But she had just traded one religion for another. 
Erin: She knew about Jesus. Three years after moving back to India and starting the school, Ramabai actually got to know Jesus.
Ramabai: "I have come to know the Lord Jesus Christ as my personal Savior, and have the joy of sweet communion with Him. My life is full of joy, for the Lord Jehovah is my strength and my song; He also is become my salvation." 
Erin: She realized Jesus became a man and lived a perfect life. He was the only one to deserve merit for his actions, yet He became an outcast. He was punished for our sin, dying on a cross. 
Dannah: When we come to faith in Him, we receive His righteousness and we don't need to earn any merit on our own. He rose again, giving us the hope for eternal life with a loving Father.
Erin: Ramabai could stop striving. Instead, she could lean entirely on the righteousness of Christ.
Ramabai: "I can scarcely contain the joy and keep it to myself. I feel like the Samaritan woman who left her waterpot, and went her way into the city, and saith to the men, 'Come, see a man, which told me all things that ever I did: is not this the Christ?'" 
Erin: Some parents of the school didn't like Ramabai's new passion for Jesus and removed their students. But many other students also found hope in Christ.
Ramabai: "I feel I must tell my fellow-creatures what great things the Lord Jesus has done for me. I feel sure, as it was possible for Him to save such a great sinner as I am, He is quite able to save others. The only thing that must be done by me is to tell people of Him and of His love for sinners and His great power to save them."
Erin: In fact, some American financial supporters of the school threatened to cut off funds. These donors claimed to be Christians but were uncomfortable with Ramabai's excitement to share the gospel, but that didn't stop her.
Ramabai: "Because a necessity is laid upon me; yea, woe is unto me if I preach not the gospel! I am bound to tell as many men and women as possible that Christ Jesus came to save sinners like me."
Erin: Ramabai imagined a place where students could not only learn to read, but would also learn the Bible and build God's kingdom.
Ramabai: "I wished very much that there were some missions founded in this country which would be a testimony to the Lord's faithfulness to His people and the truthfulness of what the Bible says in a practical way. I questioned in my mind over and over again why some missionaries did not come forward to found faith-missions in India. Then the Lord said to me, 'Why don't you begin to do this yourself, instead of wishing for others to do it?'"
Erin: Pandita Ramabai bought 100 acres of land and founded the Mukti Mission. Students there could learn farming, and the ministry could sustain itself. Her daughter served alongside her and would one day run the whole mission.
Dannah: Wow, God gave her the ability to do something about the lack of education for girls, especially in her culture.
Erin: Yes, but her challenges were far from over. In 1896 a famine devastated India.
Dannah: That had to bring back painful memories because Ramabai's parents and sister had died in a previous famine.
Erin: This time she and her team traveled to the places most affected. They tracked down orphans and invited students by the hundreds to the school. 
Girls and boys came, receiving education, practical life training, and hearing the gospel. 
In 1905, Ramabai heard about revivals happening throughout the world. She gathered seventy people to begin praying for revival in India. And in the next few years, this ministry saw hundreds of people come to faith in Christ. 
Ramabai: "They have had their eyes opened by reading the Word of God, and many of them have been truly converted and saved to the praise and glory of God. I thank God for letting me see several hundred of my sisters, the children of my love and prayer, gloriously saved."
Erin: By 1907 she wrote: 
Ramabai: "There are over 1500 people living here. We are not rich, nor great, but we are happy, getting our daily bread directly from the loving hands of our heavenly Father, having not a piece over and above our daily necessities, having no banking account anywhere, no endowment or income from any earthly source, but depending altogether on our Father God. We have nothing to fear from anybody, nothing to lose, and nothing to regret. The Lord is our Inexhaustible Treasure"
Erin: Ramabai embarked on her final grand work while all this was happening. She translated the Bible into Marathi.
Dannah: What's Marathi?
Erin: It was the common language in the area she lived. The ministry printed Ramabai's translation and gave copies away, charging nothing.
She died on April 5, 1922 at sixty-three years old. She was a mother, a scholar, an educator, and an agent of social reform. 
Dannah: I'm so inspired by this woman's life. What happened to the mission?
Erin: The Mukti Mission today is serving orphans, the poor, widows, and people with disabilities.
Dannah: I am so encouraged by this amazing story. Nancy, are you encouraged by this woman's life? 
Nancy: Yes. It's been so fun for me to be reminded of how God used this woman. She's little known today. But really, she made such a significant contribution in her day. By the way, thanks to you and Erin for telling us this story, for being our guides, and introducing us to this really special woman.
Dannah: Thank you, Nancy, because before you mentioned her to us, she was not on my radar, and I am a Christian biography fanatic. So I'm going to be soaking up a lot on her life in the coming weeks. I'm thinking, Ramabai was born in a time when all women were looked at as "unremarkable." But God did remarkable things through her.
Nancy: Isn't that the case when you look back at anyone God uses in the history of the Church, throughout the Scripture, and in the years since then. We all feel "unremarkable" I think most of the time. We're ordinary; we're inadequate to accomplish God-sized things in our world.
I was just sharing with a group of our Ambassadors this week, saying, "Hardly a day goes by where I don't feel really inadequate and unqualified to do what God has called me to do. I think that's a good position to be in, because we serve a remarkable God. And He can do remarkable things in our lives according to His will and His pleasure, in however He chooses to use us.
As we've been sharing with you all this month, Erin and a whole team of women have produced a short book called (Un)remarkable. It's a collection of stories about ten different women including Pandita Ramabai who were used by God to serve Him and to serve others in remarkable ways. 
One of the things I especially appreciate about this short book is that each chapter is followed by a set of questions to help us make these stories personal. 
Erin, I'd like for you to read us one of the questions that helps us follow up the story of Ramabai?
Erin: Sure. Here's one. 
"As Pandita Ramabai studied Hindu law, she found the practices futile and hopeless. Through her dissatisfaction God drew her to Himself. What are some ways that God has used dissatisfaction in your life to show you that He is the only One who can truly satisfy your soul?"
Nancy: Dannah, can you think of how God has used dissatisfaction in your life to remind you that He's the only One who can truly satisfy your soul?
Dannah: I would say at this point in my life, everything that dissatisfies me, whether it is a decision or a disappointment, God always makes me run back to Him. It always makes me go to Him and say, "Help!" My mentor this year has me praying the prayer, "Lord, bind my will to Your will." So there's no way a decision or disappointment could do more than drive me to His heart if I'm praying that.
Nancy: Yeah. As we often say here: anything that makes me need God is a blessing. Right? Erin, what about you? Can you think of a way God has used dissatisfaction in your life to show you that He's the one who can truly satisfy you?
Erin: I have some stuff going on in my body right now that ranges from annoying to really, really disheartening. I don't like it. I don't like some of the changes I'm having to make. I don't like some of the medicines I'm having to take. But it has pressed me back toward God and His Word, listening anew to those things He's said about rest and about seeking Him first. I don't love that I'm having to learn those lessons the hard way, but God is certainly using them.
Nancy: Well, thanks for sharing that Erin. I think you just spoke up for lots of others who may be listening to us right now who may be dealing with similar things.
Lord, I do pray for Erin and for her body which You made. I pray that You would touch her, that You would assure her of Your grace, that You would give her Your peace, that You would give her wisdom to know what steps to take and how to navigate this. Most of all, I pray for Dannah, for Erin, for myself, and for every person listening, that You would use the things that are frustrating to us to press us to Your heart and to help us find deeper heart satisfaction in You, Amen.
This is the kind of discussion generated, I hope, by this new book from Revive Our Hearts called (Un)Remarkable. Erin and Dannah, I wish we had an hour or two to continue this conversation. I hope groups of women everywhere—whether on the phone or Zoom or in person—will be having these types of conversations around the chapters in this book. I hope you'll get a copy. Be inspired by the stories of these women. As you read each chapter, I want to encourage you to dig into these questions. Better yet, go through it with a group of women and sharpen each other.
Dannah: We'd like to send you this new book, (Un)remarkable, when you support Revive Our Hearts with a gift of any size. You can only get it through Revive Our Hearts. Your gift will help us continue encouraging you each day through the podcast and radio program.
You can donate by visiting ReviveOurHearts.com. You'll see a checkbox to say, "Yes, I'd like a copy of the book (Un)remarkable." You can also ask for it when you call 1-800-569-5959. 
Nancy: Thank you so much for your support of this ministry and for your prayers—we need them, they are a huge blessing to us. Thank you, Erin, for joining us today. I'm so grateful for you as our content manager and also for your hosting each week of that Grounded videocast/podcast. If you haven't seen or heard that, go to Revive Our Hearts YouTube of Facebook page and you can catch up on recent episodes.
Erin: Thanks for having me on. What a fun discussion this has been.
Nancy: To be continued . . . Speaking of continuing, tomorrow on Revive Our Hearts, Angie Smith was at her friend's baby shower, praying for the health of this new mom and the baby she was carrying. But she found it difficult, since Angie herself was pregnant, and she knew her own baby that she was carrrying had serious medical problems. We'll hear how she was able to pray for her friend's comfort while preparing for her own storms. I hope you'll join us, as we again ask the Lord to revive our hearts.
Revive Our Hearts keeps pointing you to the God who can do remarkable things. 
Bibliography:
Pandita Ramabai's Mission Website: https://www.prmm.org.in/about-pandita-ramabai/
The High Caste Hindu Woman by Pandita Ramabai. https://digital.library.upenn.edu/women/ramabai/woman/woman.html
Pandita Ramabai by Helen Dyer. www.forgottenbooks.com.
*Offers available only during the broadcast of the podcast season.
For a donation of any amount