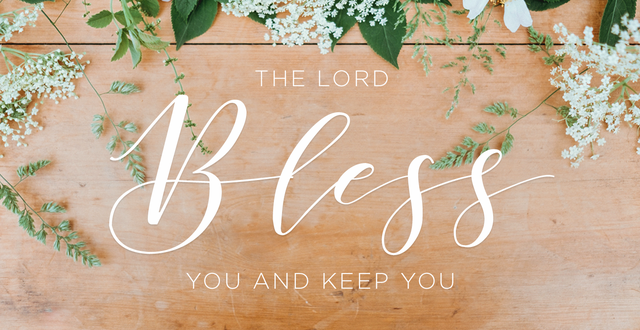 — Audio Player —
May His Face Shine upon You
Leslie Basham: According to the Bible, we are to ask for God's face to shine on His people. Here's Nancy DeMoss Wolgemuth.
Nancy DeMoss Wolgemuth: If you have the smile of God, you can survive the frowns or the rejection of any human figure.
Leslie: This is Revive Our Hearts with Nancy DeMoss Wolgemuth, author of A Place of Quiet Rest, for Thursday, January 4, 2018.
I hope 2018 will be a blessed year for you. What does that word blessed mean, really? Nancy began to explain the concept of a blessing yesterday, and she's continuing in a series called "The Lord Bless You and Keep You."
Nancy: We're looking at the priestly blessing in Numbers chapter 6, verse 24, "The Lord bless you and keep you"—that prayer that we're familiar with. We're starting today to look at some of the specific petitions and blessings that God tells the priest to pray for the people.
As we look at these particular blessings that are requested, you realize that in this prayer we're not asking for the things we usually consider blessings.
There's not a request for anything material here. There's no prayer for good health, for money, or a bigger house. Some would consider having a husband and say, "That's a blessing I'd really like to have."
Some who have a husband would qualify that and say, "Well, what I'd love to have is a godly husband." That's a blessing that you'd like to have. Those things are blessings, and it's not wrong to have them.
It's not wrong to ask for them, but it's interesting that the blessings sought here in Numbers chapter 6 are far greater than those earthly, temporal blessings.
I believe that in this prayer, in this blessing, in this benediction, there are several requests that if we have these blessings, we can do without a whole lot of other blessings.
When God gives us other blessings, thank Him for that. There's nothing wrong with enjoying the blessings of the Lord. You ought to enjoy them, but we're seeing in this blessing, in this prayer, God's heart in terms of what matters most, what the priorities are.
So let me read the blessing, and then let's look at the first request.
The LORD spoke to Moses saying, "Speak to Aaron and his sons, saying, 'Thus you shall bless the people of Israel: you shall say to them, the LORD bless you and keep you; the LORD make his face to shine upon you and be gracious to you; the LORD lift up his countenance upon you and give you peace.' So shall they put my name upon the people of Israel, and I will bless them" (Num. 6:22–27).
We ask for these requests, and we ask for this blessing; we're asking the One who is able to give these requests. I'll tell you what. You couldn't ask anyone on earth these requests and know that you were going to get them.
Your husband can't ultimately do these things for you. Your best friend, your pastor, your counselor cannot ultimately do these things for you. If you want these blessings, you've got to ask them of the Lord.
That's why it starts out saying, "The LORD bless you." And then we come to the first specific petition. "The LORD keep you."
This is a request for protection from evil, for protection from the evil one. It's interesting here, as you look at the whole phrase, "The LORD bless you and keep you," you see that on the one hand, God is providing blessing for His people. "The LORD bless you."
On the other hand, "The Lord keep you"—He's being asked to keep and guard and protect us from the enemy who wants to steal those blessings.
So the Lord give you His blessings, and then the Lord keep you, the Lord provide protection for you from evil, from those who would try to steal those blessings.
The purpose of this protection was to keep Israel in its covenant relationship with God, to keep them from falling, to hold them up, to sustain them, to protect them. We see in the Scripture that the Lord was Israel's keeper, as the Lord is our keeper.
The passage that I think of when I think of being kept by the Lord, immediately my mind goes to Psalm 121. Psalm 121 says in verses 4–8,
Behold, he who keeps Israel will neither slumber nor sleep. The LORD is your keeper . . . the LORD will keep you from all evil; he will keep your life. The LORD will keep your going out and your coming in from this time forth and forevermore.
That says to us that it's the Lord who keeps us. I'll tell you, the more I grow in Christ, the more I walk through life, the more I am aware that I cannot keep myself. The fact that I am still a child of God today is not because I have kept holding on to Him.
It's because He is the one who is my keeper, and that should assure you and comfort your heart when you're in those seasons of life and you think, I can't hold on. Ultimately, your salvation, your eternal assurance, your being kept is not dependent on your holding on. It's dependent on the Lord being your keeper, the Lord holding on to you.
You can't trust others to keep you. You can't know of an assurance that your husband will always walk with the Lord. You can't know that your pastor will always walk with the Lord. Ultimately, our trust has to be in the Lord to keep us. The Lord is your keeper.
That word to keep is a word that means "to keep safe; to guard; to preserve; to hedge around something as with thorns."
No matter what circumstance you may find yourself in, as the children of Israel found themselves for years wandering around in that wilderness. To know that God is attentive.
He's a watchman.

He's awake.

He knows what's going on.

He is always your keeper.
As we come to that High Priestly Prayer of the Lord Jesus in John chapter 17, we see this theme of the Lord keeping us.
Jesus prays as He's getting ready to go to the cross, He prays for His disciples, and He prays for us, and what does He pray?
Our great High Priest prays this blessing on us, "The Lord keep you." Jesus says in John 17:9, "I am praying for my disciples. I am not praying for the world but for those whom you have given me, for they are yours."
Verse 11: "I am no longer in the world, but they are in the world." "I'm going home," Jesus says, "to heaven." But they're having to stay here and deal with this evil world. Jesus prays, "I'm coming to You. Holy Father, keep them in your name."
Verse 12: "Keep them in your name, which you have given me, that they may be one, even as we are one. While I was with them, I kept them in your name, which you have given me. I have guarded them, and not one of them has been lost except the son of destruction, that the Scripture might be fulfilled."
Verse 15, Jesus says to His Father, "I do not ask that you take them out of the world, but that [while in the world] you keep them from the evil one." Protect them. Don't just give them an escape route, but while they're in this evil world, hedge them about. Protect their souls. Guard their hearts.
He says, "I do not ask for these only," that is, the disciples who were living at the time, and I love this—"but also for those who will believe in me though their word" (v. 20). Who is that? That's us.
Jesus prayed for us. He prayed, "Father, keep them in Your name. Keep them saved. Keep them faithful. Keep them protected. Keep them from sinning."
And then He prayed, "Keep them from the evil one." From Satan—Satan is like a roaring lion, always stalking about, seeking whom he may devour. He's active. He's alive. He's well. He's defeated, but he hasn't admitted it yet.
There are many times, particularly when I am preparing to teach new subject material, when I go through such a wrestling match in my own heart for various reasons. Sometimes I keenly feel that I am in the middle of a spiritual battle and that the truth we're getting ready to talk about is so important, so vital, so key to helping people get set free, I have at times just this sense that the evil one is doing everything he can to cause me to fall, to cause me to sin, to cause me to not be able to open up this truth and not be able to teach it effectively.
When I become aware of that, it's such an encouragement to know that Jesus prayed that I would be kept from the evil one, that He has put a hedge of protection around me, and that the evil one, Satan, as great as his power is, cannot touch me if I am kept by God.
I am kept. "The Lord bless you and keep you." I think of that benediction in the book of Jude, "Now to Him who is able to keep you from falling" (v. 24 NIV). Oh how thankful I am for that.
If God didn't keep me from falling, all I would do is fall. He is able to keep me. He is able to keep you from falling and to present us faultless before the presence of His glory with exceeding joy.
To the only wise God, our Savior, be glory, dominion, and power forever. As we look to all of eternity and to the prospect of spending eternity with Christ, what keeps us from now until then is the power of God.
That's the blessing of God. "The Lord bless you. The Lord keep you." Then we come to that request, or that pair of requests, in verse 25 of Numbers chapter 6.
The LORD make his face to shine upon you and be gracious to you; the LORD lift up his countenance upon you. 
In the prayer for God to keep us, we saw prayer for protection. "The LORD bless you and keep you." The Lord protect you from evil. The Lord protect you from the evil one.
Now we see a request for the presence of God, not just His protection, but His presence. "The LORD make his face to shine upon you," and then the parallel phrase in verse 26, "The LORD lift up his countenance upon you."
Remember in the book of Exodus when God said to Moses, "I want you to lead the children of Israel into the Promised Land, and I'm going to give you provision; I'm going to give you protection."
God gave a list of things—"I'm going to send My angel to go with you"—and Moses said, "Wait a minute, Lord," in effect, "What about Your presence?"
"If we have all of Your gifts and all of Your blessings, but we don't have You, I don't want to go. I have to know, Lord, that You are in this with us."
It's so important for us to ask the Lord, for ourselves and for others, for God's presence in our lives. That's the concept that is presented here when it says, "The LORD make his face to shine upon you."
The "face of God" means the presence of God. When the face of God "shines upon His people," that means that God takes pleasure in His people.
Matthew Henry said, "This seems to allude to the smiles of a father upon his child." You see these athletes, some of these high school basketball games where the kid makes his first two-point shot, ever.
He's been sitting on the bench for three years. Now he's in his senior year, and he finally gets in the last quarter of a game, and he makes a shot. Where does he look? He looks to his coach or to his dad in the stands on the sidelines. He wants to see that smile.
Don't we spend so much of our lives looking to the faces of the people whose approval we want to see if we have received that approval.
The face tells so much. Proverbs 16:15 says, "In the light of a king's face there is life, and his favor is like the clouds that bring the spring rain."
We want to look at those in authority, those that we care about, and we want to see in their face that it's okay. "You're acceptable. You can come into my presence."
The prayer here is not for the pleasure of any human face, but for the pleasure of God's face, to know that God is looking on us, that God is pleased, that He is smiling on His people as a father smiles upon his child.
We read in the book of Exodus that God spoke with Moses face to face, as a man speaks with his friend. It's a sign of, "You're welcome. Come into My presence. I welcome you to be here."
As we think about the face of God, we also realize that in this life, being what it is, we have to deal sometimes with the frowns of other people.
Others may reject us. It may be that your parents never looked with grace in their faces upon you, and that may be a memory, a picture that you have to this day.
It may be that your husband doesn't smile upon you, doesn't look with favor upon you. But I want to tell you, if you have the smile of God, you can survive the frowns or the rejection of any human figures.
Now, that doesn't mean it doesn't matter. It doesn't mean it doesn't hurt, but ultimately, the pleasure we need to be seeking, the blessing we need to be seeking is the smile of God.
Friendship with God—think of that verse in 2 Corinthians 4:6 that tells us,
God, who said, "Let light shine out of darkness," has shone in our hearts to give the light of the knowledge of the glory of God in the face of Jesus Christ.
You see, when Jesus came to this earth, God becoming man, He was putting a human face to God, if I can say it that way. In the face of Christ, we saw the glory of God. Jesus was God smiling upon His people and becoming flesh so that we could see the blessing and the favor of God.
Let me say that the face of God can also be a terrifying thing. Psalm 104:29 says, "When you hide your face, they are dismayed." When God turns away His face . . . We're thinking of the face of God as brilliant, holiness, and light, and what does light do to darkness? It exposes it.
You turn on the light in a dark place, and you may start to see the insects and the worms and the things that start to come crawling out scurrying for cover.
Some things don't like to be exposed by light. I think of that face of God, in a human sense, as a friend who sees right through you. You feel like, "They know what I'm thinking."
Well, we're dealing with One who does see right through us, before whom all things are naked and exposed in His sight, Hebrews 4:13 tells us. To be in the presence of God, if our hearts are not pure, is a terrifying thing.
Remember in the Garden of Eden after Adam and Eve sinned against God, what did they do? They hid themselves from the presence of the Lord God. That word presence is the same word in Numbers 6 that is translated, "face or countenance." They hid themselves from the face of God.
"Don't look on us. We can't bear the sight." You've seen this, maybe, with your children when they do something wrong, and they don't want to look in your eyes.
You say, "Look in Mommy's eyes," but they're scared. They're guilty. They know it. When we're guilty before God, when we experience what Psalm 90:8 says, "You have set our iniquities before you, our secret sins in the light of your presence," that's a terrifying place to be.
That's why we need the next petition of this blessing. "The LORD make his face to shine upon you and be gracious to you" (Num. 6:25). It reminds me of Psalm 67:1 where we have a similar prayer, "God be gracious to us and bless us and make his face to shine upon us."
So having prayed for the protection and the presence of God, and the face of God to shine upon us, now the prayer is for the pardon of God—for pardon from our sins that have been exposed in the light of His countenance. "God be gracious to us."
Or as we pray the prayer Jesus taught us to pray, "Forgive us our debts" (Matt. 6:12). "Have mercy on us sinners. We need Your grace." And grace by its very nature is undeserved.
We can't merit it. We can't earn it. The outcome of God's pleasure is His grace. His covenant mercy, and this is fundamental to our salvation, to realize that God has caused His face to shine upon us, and now we need His mercy and His grace to come upon us.
I think of that passage in The Lion, the Witch, and the Wardrobe where Aslan, the great lion, the powerful, ferocious lion. He's the king of beasts; he's the lord of the woods. In that story, Lucy, the little girl, asks Mr. and Mrs. Beaver when she first hears about Aslan, "Is he safe?"
Mr. Beaver says, "Who said anything about safe? Of course he isn't safe. But he's good. He's the king, I tell you." What a picture of the grace of God. Is He safe? Well, not if sinners come into His presence and there's the judgment and the fearful wrath and terror of the Lord that ought to be a terror to us apart from His grace.
So we sing about it, we talk about it, but do we really appropriate it?
Grace, grace, God's grace.
Grace that will pardon and cleanse within.
Grace that is greater than all our sin.
("Grace Greater than Our Sin" by Julia Johnston)
We sing about Calvary, which is where that grace was poured out.
Mercy there was great and grace was free.
Pardon there was multiplied to me.
("Mercy There Was Great" by Charles H. Gabriel)
Where? At Calvary. That's where God caused His face to shine upon us.
The terror of His face, but ultimately, the smile and the favor of His face as there on the cross of Christ He showed us His grace. That's where He said, "I am the God of all grace, and I want to bless you with that grace."
Teach us, Father, to know something of the terror of the Lord and what it means to live under His all-searching, all-knowing eyes.
And then, because of Your grace, to have Your righteous frown turned into a righteous smile. And so we pray, Lord, bless us and keep us and cause Your face to shine upon us and be gracious unto us. For Jesus' sake we pray it, amen.
Leslie: Nancy DeMoss Wolgemuth has been describing an incredible prayer: "May God's face shine upon you." We are asking that for Revive Our Hearts listeners in 2018 and beyond!
We are asking God for a full season of meaningful Bible teaching this year. We're thankful for all who donated to help meet some serious budget needs at the end of 2017. And we're thankful for those who support Revive Our Hearts every month, providing a consistent base of support to help us weather financial ups and downs.
In the year ahead, would you consider joining with Revive Our Hearts at a deeper level and join a special group of listeners? Become a Ministry Partner. It's a decision Carol Iverson made after listening to Nancy teach.
Carol: I could just see how what an impact her ministry and her gifts of teaching God's Word had in my own life personally and how that, in effect, not only benefitted me but benefitted my family, my husband, our marriage, and my areas of ministry to women groups I'm involved with. It's been a real concern of my husband and myself to see revival in our country.
I am so thankful to have become a Ministry Partner because I never dreamed that in doing this I would receive so much back. It's hard to put into words. The Revive Our Hearts organization gives back much more than we give to them. It's still a joy to give, but I just wasn't expecting so much to be given back.
Leslie: So, Nancy, what does a Ministry Partner get back?
Nancy: First of all, Carol and the rest of our Ministry Partners receive a letter each month that I write. In those letters I share various things that are on my heart about the ministry and the mission of Revive Our Hearts. Then our Ministry Partners also receive a special booklet called Daily Reflections. It's a monthly devotional from my writings offering one entry each day—something to think about, something to make personal in your walk with the Lord.
And when you sign up to become a Ministry Partner, we'll send you one of my books. There are a few titles that you can choose from so that you can get one you don't already have.
But even more than all these benefits, as a Ministry Partner, you can know that you're making an investment in the hearts and the homes of women that will last for eternity. Your monthly support will help women experience freedom and fullness and fruitfulness in Christ. That is by far the greatest benefit.
So when you become a Ministry Partner, we ask you to do three things.
First of all: Intercede. We really, really need your prayers.
Then we would ask you as Ministry Partners to help spread the movement of revival and biblical womanhood by sharing the various resources of this ministry with other women. 
Finally, our Ministry Partners support Revive Our Hearts with a monthly gift of $30 or more.
If you've listened to Revive Our Hearts for a period of time and you appreciate what God's doing through this ministry, would you consider joining us at a deeper level? At the start of this new year, I want to encourage you to become a part of our Ministry Partner team.
You can find out more details and sign up for this special team by visiting us at ReviveOurHearts.com, or give us a call 1–800–569–5959. 
Leslie: If everybody is looking for peace, why is it so hard to find sometimes? That's tomorrow on Revive Our Hearts.
Revive Our Hearts with Nancy DeMoss Wolgemuth wants you to experience God's blessing in 2018. It's an outreach of Life Action Ministries.
All Scripture is taken from the English Standard Version.
*Offers available only during the broadcast of the podcast season.
Support the Revive Our Hearts Podcast
Darkness. Fear. Uncertainty. Women around the world wake up hopeless every day. You can play a part in bringing them freedom, fullness, and fruitfulness instead. Your gift ensures that we can continue to spread gospel hope! Donate now.
Donate Now