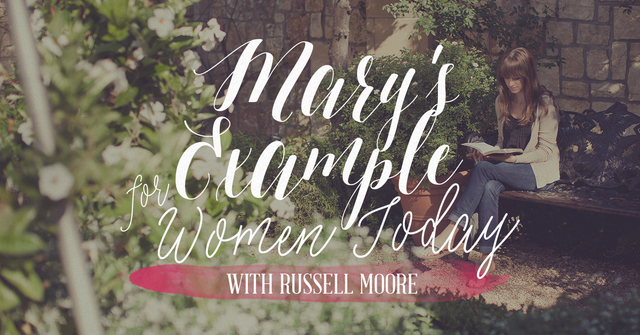 — Audio Player —
Mary's Example, Day 1
Leslie Basham: Dr. Russell Moore wants everyone to know how much God honors women.
Dr. Russell Moore: If we are going to raise up a biblical understanding of women in our churches, we must understand what it means to honor women and to honor womanhood.

Leslie: This is Revive Our Hearts with Nancy DeMoss Wolgemuth for Monday, December 28, 2015.

Nancy DeMoss Wolgemuth: One of my favorite women in the Bible is Mary of Nazareth. I love the way this young woman submitted to the Lord's will and His calling when she was given a huge—actually impossible—assignment and her example is such a challenge to me. Mary has a lot to teach us as women in the twenty-first century. Today and tomorrow I want to share a message I heard some time ago from Dr. Russell Moore. I was so encouraged when I first heard this message by the many practical insights he pulled from Mary's life.
Dr. Moore is the President of the Southern Baptist Ethics and Religious Liberty Commission. In addition, he's an author and father of five. Let's listen as he shows how Mary's story points to the incredible value that God places on women.
Dr. Moore: Luke chapter 1. I'd like for us to read in verse 26 and on down through verse 38:
In the sixth month the angel Gabriel was sent from God to a city of Galilee named Nazareth, to a virgin betrothed to a man whose name was Joseph, of the house of David. And the virgin's name was Mary. And he came to her and said, "Greetings, O favored one, the Lord is with you!" 

But she was greatly troubled at the saying, and tried to discern what sort of greeting this might be. And the angel said to her, "Do not be afraid, Mary, for you have found favor with God. And behold, you will conceive in your womb and bear a son, and you shall call his name Jesus.  He will be great and will be called the Son of the Most High. And the Lord God will give to him the throne of his father David, and he will reign over the house of Jacob forever, and of his kingdom there will be no end."

And Mary said to the angel, "How will this be, since I am a virgin?"

And the angel answered her, "The Holy Spirit will come upon you, and the power of the Most High will overshadow you; therefore the child to be born will be called holy—the Son of God.  And behold, your relative Elizabeth in her old age has also conceived a son, and this is the sixth month with her who was called barren. For nothing will be impossible with God." 

And Mary said, "Behold, I am the servant of the Lord; let it be to me according to your word." And the angel departed from her.
Several years ago there was an activist group called "The Barbie Liberation Front." It was a group of women who were upset about the way that Barbie dolls give this stereotypical view of women. What they did was to break into the Mattel Toy Company factory where you had these talking dolls. For boys they're called action figures. We'll call them dolls.
But they came in and they just reversed the little voice chip from the Barbie's to the GI Joe's. They put everything back just packaged exactly the way that it was so that on Christmas morning the little boys would open up a GI Joe figure that would say things like, "Decorating is fun." And the little girls would open up a Barbie that would say things like, "Kill. Kill. Kill." You know it would just throw everything into confusion.
And, of course, the reason that they believed that this would be effective is because it doesn't seem to make any sense. The Barbie represents a very stereotypical view of what it means to be a woman and the GI Joe represents a very stereotypical view of what it means to be a man. So this would cause all sorts of confusion.
The problem is that you and I live in a church, in a body of Christ, in which we are embedded in a culture. So we can't help but receive all sorts of messages that are out there in the air around us. When it comes to understanding what it means to raise up women, we, too, tend to think in categories that are merely Barbie Doll or GI Jane action figure without considering what does the Scripture say to us and how does the Scripture uproot both of those things with a much, much more complicated picture.
What I'd like to consider this morning is the fact that when you look at the figure of Mary, you see something of what God commends when He is commending a godly woman who is walking in Christlikeness and walking in righteousness. This ought to show us something about what our ministry ought to be like by women and to women within the church.
Now, Mary tends to cause people in Evangelical Protestant communities a little bit of a pause. Whenever I'm speaking to Catholic groups, I will always tell them that I was born of a Southern Baptist father and a Roman Catholic mother, much like our Lord. And of course, I'm joking about that. But many of us tend to think in those terms.
We tend to think of Mary as belonging to our Catholic friends and something that makes us very nervous. So we think about all of the ways that we tend to diminish and downgrade Mary as though in the Scripture she were merely some type of a carrier or a vehicle for the coming of Jesus. She is much, much, much more important than that in the biblical story.
Simply because we honor her and speak of her and emulate her does not mean that we then buy into everything that some of our friends who disagree with us on some of those things might buy into. Mary, when you look at her in the biblical story, is complicated. She is commended by God in a way that I want us to look at in three areas that I think are necessary to raising up women in the church.
The first is honor. Notice what's happening here. The Scripture speaks of Mary in terms that might make some people nervous. She is a "favored one." She is spoken of as being "blessed." As a matter of fact, in verse 42 the Scripture says that "she will be called blessed by all generations."
Now, what's happening here? This is very consistent with everything else that the Bible is doing when it comes to the issue of women. God honors and God blesses womanhood as womanhood and women as women. If we are going to raise up a biblical understanding of women in our churches, we must understand what it means to honor women and to honor womanhood.
Now, one of the ways that tends to go awry in many places is that sometimes you will have churches where the understanding of honoring women tends to be done by men who are doing that in ways that are patronizing and unintentionally belittling.
You can see this in churches where, for instance, the pastor or the speaker is speaking constantly about the fact "I really married up" in a way that can tend to be patronizing. Or you have a group of men and one woman and you speak of them as the "rose among the thorns" and things like that. In other churches where you have the pastor who is talking about the "hotness" of his wife and those sort of things that almost never happens in reverse.
There's a sense in which you're speaking of women with an artificial sort of honor and an artificial sort of praise. That's not what we see in the Scriptures. Instead, you've got a genuine honoring of the woman in all sorts of ways.
So, when the angel speaks to Mary, "Favored one of the Lord," he speaks to her and says, "You are blessed, and you are honored." That's very consistent with what we see elsewhere in the Scriptures. For instance, when the woman comes to Jesus and pours out that perfume upon Him, He says, "She will be honored. She will be spoken of wherever the gospel is going to be preached."
When the apostle Paul talks about the woman, he speaks of the woman as the "glory of the man." You have got a consistent honoring. Then when the apostle Peter in 1 Peter 3 speaks of the woman, he speaks of her as having a quiet beauty of the heart. There is a giving of honor and a recognition of glory that has to take place when we are considering what it means to raise up women and what it means to utilize women in the building up of the body of Christ.
Why is that the case? Because when you see the figure of Mary here, you see an implicit contrast with the other mother of the human race, our mother Eve. What happens with Eve? With Eve, you have the serpent coming to her and dishonoring her on the one hand. He comes to her and speaks to her as though she is an animal rather than a queen; as though she is his servant rather than his ruler.
The Bible has already said that God has put all things under the feet of both the man and the woman including everything that creeps along the ground, all of the beasts of the field. Now, Genesis 3:1 a beast of the field, the craftiest of all those beasts of the field, a creeping thing of the ground tries to take dominion over her. He wants her to see herself as less than what she is created to be, at the same time that he turns around and wants her to see herself as more than what she was created to be.
"Think of yourself, Eve, as an animal driven along by your appetites and by your instincts and then think of yourself not as a queen but as a goddess. Grasp this fruit and you will be as a god knowing good from evil." That is a fake and an inauthentic sense of honor and sense of glory that leads ultimately to what? To dishonor and to a lack of glory as she is naked and ashamed and hiding in the vegetation and hiding in the bushes.
But with Mary, you see instead the kind of honor and the kind of glory that is radically different from what women are going to be hearing in the outside culture. There is an honor that is not based upon external standards. One of the problems that we face within our churches is cultivating and honoring a glory of womanhood that is not merely utilitarian.
Typically, what our culture honors and what any culture honors about women is simply in terms of what those women do in terms of men. Now, that can happen in a stereotypically patriarchal type of society in which a woman is valued simply for doing womanly sorts of things in that context like cooking and baking and cleaning and ironing and raising up the children and that only.
But you can also see that in a feminist progressive sort of culture in which a woman's value is coming in terms of her work life, in terms of her career, in terms of her activism, in terms of all sorts of things.
In order to speak to women in our churches, we must get at what the Scripture is getting at here when it speaks of a kind of honor that is different from all of those things, that is inherent in the woman as she is created in the image of God. We're facing a crisis of that.
We have women all through our churches who are placing their value and placing their worth in the eyes of God upon whatever the values and the ideas of worth are out there in the larger society. That is especially true when it comes to the issue of beauty.
So we have women who are trying to find a sense of honor and a sense of worth in standards of beauty that are being set by people outside of the community of God and by standards that God Himself does not hold. And as a church, it is easy for us to perpetuate that even when it just comes down to the sorts of things, the sorts of materials and the sorts of women that we highlight.
If the women that we highlight in terms of public leadership, in terms of pictures in our publications and on our websites all look like whatever is considered to be beautiful in the outside culture, then we have adopted the standards that are alien to the standards of God's Word.
Instead, when you're cultivating a sense of honor and you're cultivating a sense of glory, that means that God has for one thing designed women who look all sorts of different ways because God loves diversity. God loves multi-formity, and God finds beautiful in women, according to 1 Peter 3, a quiet dignity of the heart that does not decrease with age but in the maturing of the discipleship process increases with age.
If in a congregation the women who are seen to be the ones who can lead are the ones who are of a certain age and of a certain body type and of a certain look, we are missing exactly what the Scripture describes as honorable and beautiful in 1 Peter 3 and in Titus 2 and in the examples of the way that our Lord is relating to women in a way that will have implications for our daughters and for our granddaughters and in a way that will have implications for our sons and for our grandsons.
Honoring women in a congregation is not simply about speaking to women, although it is. It is also about signaling to those young men and those young boys, "This is how it is that you honor the beauty of womanhood." If you leave that alone, if you do not touch that, then you will have sinful, fallen men honoring women only in terms of what the women can do for me or in terms of sexual attractiveness and availability.
You have surrendered that to the pattern of this present age. A lot of what has to happen within the church is intentionally seeking to subvert all of that when you've got people who are inundated constantly with advertising and inundated constantly with beauty pageants and inundated constantly with all sorts of images of womanhood in ways that you wouldn't think would happen in a culture that has allegedly progressed in its understanding of women.
I was preaching at a church several weeks ago, and I went to the hotel where I was going to be staying preaching at this church. I walked in, and it was a conference for the Bikini Pro Woman's Convention. So I'm in this hotel with 400 bikini-wearing female models, so much so, that because I think that I was the only man in the room that the elevators were marked out "Bikini Pro" and "Bikini Amateur." I stood there for a minute, and I said, "I guess Bikini Amateur. I don't know what else to do, to be honest and ethical here."
But you think about this for a minute and you realize, How has the feminist movement triumphed when you still have an understanding of a woman's dignity and worth being in terms of how she is displayed as an object for a group of men?
A church must come in as a counter-culture and honor age and maturity and inner dignity and inner beauty and constantly be reiterating that not only to the women that God is calling out as leaders in our churches but also to that next generation coming up behind them. And it is something that cannot be simply be assumed.
Gabriel, on mission from the Lord, could have simply said to Mary, "You have been chosen to give birth to the King of the Universe, the Savior of the world." That's implicitly an honor. But he does not leave that implicit. He explicitly speaks to her of how it is that she is favored and she is blessed, something that has been going on at that point for a long period of time because at the very beginning of the biblical story, God says the offspring of the woman will crush the head of the serpent. There is a unique role for womanhood in the spiritual warfare that God is leading against the principalities and powers, and we must explicitly speak of that sort of honor.
Now, it also means that you honor ways of being female and ways of being feminine that again are not merely stereotypical. You have some women who are going to be very obviously feminine sorts of women. They are the kind of women that the external culture would see as being naturally very womanly. You're going to have other women within the congregation who are not going to fit necessarily into all of those stereotypical categories.
You have women who aren't interested in Pinterest or whatever. The way that we approach this is not by seeing those women as being somehow less than a woman or less than female. We say, "How is it that you, as a woman, are gifted to minister to the body of Christ in terms of your femininity in ways that don't necessarily fit into whatever the culture stereotypes?"
That's also true in making sure that we honor the different areas of mission that God has given to women in various places that God has put them. So if you speak simply of womanhood in a congregation merely in terms of wife and mother . . . Now, if you denigrate the calling of wife and mother, you are stepping outside of the Scripture, and you are working at counter-purposes with God.
But if you speak only in terms of wife and mother and do not recognize that in the biblical story and throughout the history of the church God has raised up mothers of the congregation who are not married, who have no biological children, but who, as in 1 Corinthians 7, are given that mission. If you see that as being somehow less than female, you are sending a signal and sending a message no matter how unintentional, that is going to hamper you as a church from raising up another generation of women. Honoring women.
Secondly, and that you see here an issue not just of honor but an issue of submission. Notice in verse 38 when the angel speaks to her. Mary says, "Behold I am the servant of the Lord. Let it be according to your word." She doesn't kick against the purposes of God.
But notice this sort of submission is not mousiness. This sort of submission is not being steam-rollered over. Mary here is asking questions. Her asking questions, this is not seen as some sort of insubordination or some sort of attack upon the purposes of God. This is honored by Gabriel as he is answering her questions.
"How can this be since I am a virgin? How will these things happen to me?" She's asking those questions, and notice again how different she is from our other mother, Eve, in this.
Here's the critical issue. When you within the church are discipling and raising up women, you have to simultaneously teach women how to submit and teach women how not to submit. Both of those two things are essential. The problem with most of the women in our churches is not that our women are not submissive enough. The problem is that most of the women in our churches are too submissive.
Scripture calls on every Christian to submit in certain areas of life. Children submit to parents. Citizens submit to rulers. Church members submit to pastors and leaders within the congregation. Wives submit to husbands. Husbands submit to God and to other leadership that God has put around them.
Most of the women in our churches have a problem not, first and foremost, with a refusal to submit, but that they are submitting indiscriminately. The Bible nowhere calls on women to submit to men generally. "Wives, submit yourselves to your own husbands as unto the Lord."
Nancy: You've been listening to a message by Dr. Russell Moore. Mary of Nazareth has always been one of my favorite biblical characters. And this message has helped me think through her life in a fresh way.
Dr. Moore has shown us a lot of practical implications from the way that the Lord spoke to Mary and from the way that Mary responded to the Lord. I appreciate how Russell Moore brought out these applications with a pastor's heart. He'll do more of that tomorrow when we'll hear part two of this message. He's sharing practical applications for us as individuals but also applications for local churches. It's so important for us to live out biblical principles together in community.
Leslie: And Nancy, Dr. Russell Moore will be joining us next fall for the True Woman '16 Conference. The theme is Cry Out. We will be inviting women to come together in community to cry out to God in earnest prayer.
Nancy: You know, I really believe it's time to cry out to the Lord. Throughout history, when things looked the most bleak, God's people would often be driven to pray with desperate cries. A cry for Him to revive the church. Throughout 2016, we'll be studying prayer here on Revive Our Hearts, culminating in True Woman '16 in the fall. It will be an event, but so much more. I'm asking God to raise up groups of women to gather in their communities, connect with us online, and join together in crying out to the Lord to intervene in our nation and our world.
Revive Our Hearts can only engage in that call with your help. If you see the value in calling women to cry out to the Lord in desperate prayer,  you can help make it possible by supporting the ministry with a year end gift. It's also the final week to meet a matching challenge of $820,000 that some friends of the ministry have offered. They're doubling the gift of every listener this month up to that challenge amount, and I'm asking the Lord to move listeners to help meet and exceed that challenge.
Would you pray this week how the Lord would have you participate? Then you can go online to ReviveOurHearts.com to make your donation, or give us a call at 1–800–569–5959. Thanks for your prayers and your support as we ask the Lord to help Revive Our Hearts move into another effective year of ministry "for such a time as this." 
Leslie: Tomorrow we'll continue hearing from Dr. Russell Moore. He'll show us some practical application from the life of Mary and discuss what that looks like for women in the local church.
Please be back for Revive Our Hearts.
Revive Our Hearts with Nancy Leigh DeMoss is an outreach of Life Action Ministries.
*Offers available only during the broadcast of the podcast season.
Support the Revive Our Hearts Podcast
Darkness. Fear. Uncertainty. Women around the world wake up hopeless every day. You can play a part in bringing them freedom, fullness, and fruitfulness instead. Your gift ensures that we can continue to spread gospel hope! Donate now.
Donate Now