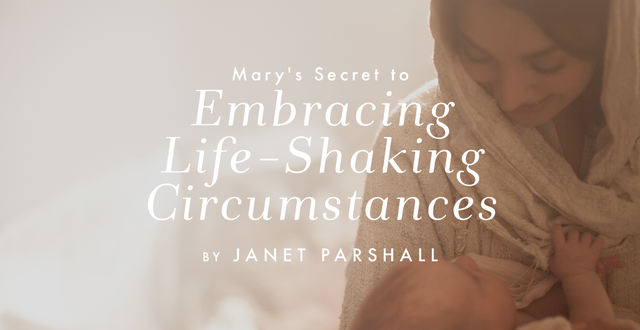 Mary's Beautiful Surrender
Dannah Gresh: Janet Parshall challenges you to consider this: Have you really surrendered your future to God?
Janet Parshall: He is Lord. When you accepted Him as Lord, you gave Him the right to help Himself to your life any time He wants.
Dannah: This is Revive Our Hearts with Nancy DeMoss Wolgemuth, author of The Wonder of His Name, for Tuesday, December 24, 2019. I'm Dannah Gresh.
Happy Christmas Eve! What an exciting day. It's one of my favorites in the year! Do you and Robert have anything that you do traditionally on Christmas Eve?
Nancy: Well, we haven't been married long enough to have established long traditions. But this Christmas Eve we are celebrating with family. And we are really forward to a Christmas Eve service tonight. That's something I love to do.
Dannah: Us too. We love Christmas Eve services. It's very special. Then afterwards, hot …
Dannah Gresh: Janet Parshall challenges you to consider this: Have you really surrendered your future to God?
Janet Parshall: He is Lord. When you accepted Him as Lord, you gave Him the right to help Himself to your life any time He wants.
Dannah: This is Revive Our Hearts with Nancy DeMoss Wolgemuth, author of The Wonder of His Name, for Tuesday, December 24, 2019. I'm Dannah Gresh.
Happy Christmas Eve! What an exciting day. It's one of my favorites in the year! Do you and Robert have anything that you do traditionally on Christmas Eve?
Nancy: Well, we haven't been married long enough to have established long traditions. But this Christmas Eve we are celebrating with family. And we are really forward to a Christmas Eve service tonight. That's something I love to do.
Dannah: Us too. We love Christmas Eve services. It's very special. Then afterwards, hot chocolate and cookies while Bob tries to recruit elves to help with his Christmas wrapping.
Nancy: He gets it done in advance.
Dannah: Yes, way in advance . . . by a few hours.
Nancy: Way to go! (laughter)
Dannah: What I just love about today and tomorrow is that we get to celebrate one of the greatest stories you'll ever hear your whole life long. 
Nancy: People love to lose themselves in stories during the holiday season. But you're right—this is the story of all stories.
Yesterday, Janet Parshall took us beautifully into the Christmas story as we considered the young girl, Mary of Nazareth, and how God wrote a story for her life that wasn't at all what she was expecting. But she quickly said to Him, "Yes, Lord. I'm willing to play the part in this story that You want me to have." In just a few minutes we are going to hear part two of Janet's message.
Dannah: But first, let's hear from a Revive Our Hearts listener named Brooke. She's been learning to trust God to write her story. She remembers hearing Joni Eareckson Tada at one of the True Woman conferences.
Brooke: She spoke about how suffering is like squeezing a lemon. It reveals the impurities and the sin in your heart. She said how God ultimately desires freedom healing for our soul, and that's true freedom.
Nancy: God used that message to prepare Brooke's heart. Because a few months later she was diagnosed with breast cancer.
Brooke: In those moments, it felt like my world was falling apart.
Nancy: The Lord had prepared Brooke thanks to the truth she'd heard in His Word. That message from Joni Tada at True Woman conference played a big part in that process.
Brooke: God brought those truths to mind and promises in His Word. There really was joy in the midst of that very dark hour. There was a time between my second and third chemo treatment that was an especially dark time for me. When I first started therapy, I had the idealistic notion that it wasn't going to be as bad as I thought. I idealized it in my mind. Around that time it became so real to me; I knew how bad it was going to be, and I still had four treatments ahead of me.  I felt, I can't do this. I can't continue to go to that place and get the poison in my body and be in such a weak state. That was a really dark time for me.
Thankfully, the Lord protected me from getting bitter. But it was a time where I didn't feel the presence of God as I had in the past. In those moments I just had to cling to promises I knew to be true—even though I couldn't feel His presence. I didn't have the emotions. I had to cling to His promises.
Nancy: And in that darkest season, Brooke kept listening to that message from Joni. It was available at ReviveOurHearts.com.
Brooke: I listened to that over and over again because it was so perfectly fitting to what I was going through. She actually went through breast cancer, too. I felt like that was God's little kiss from heaven that not only did she go through being paralyzed, but she also had breast cancer. So she understands from that perspective as well what I'm going through.
Nancy: I'm so grateful for the way the Lord prepared Brooke for the season of suffering she went through.
And I'm so thankful Revive Our Hearts could be part of that process. Listeners like you make these connections possible. There are so many women just like Brooke needing biblical perspective and encouragement as they face impossibly difficult situations. You get involved in each of their stories when you support this ministry.
Dannah: It's a crucial time for Revive Our Hearts. Each year, over 40 percent of the donations we need arrive in the final weeks of the year. So we are praying the Lord will provide and help meet and exceed a matching challenge. Some friends of Revive Our Hearts have offered to double each gift up to that matching challenge amount. To help meet this goal, let us hear from you by December 31.
Nancy: You can donate at ReviveOurHearts.com. Or give us a call at 1–800–569–5959.
Dannah: Yesterday Janet Parshall began to tell us the story of Mary, a teenager who said "yes" to the Lord. This is from a message that she initially gave at a True Woman conference. When we left off with this message yesterday, Janet was telling us about a relative of Mary. Zechariah was a priest who had the honor of serving in the temple, when much to his surprise, he was visited by an angel with an important message.
Janet: The guy must have about had a heart attack—he is an old man. He's lighting the incense. This is an amazing moment, and there he is.
The Bible tells us this angel's name, and it's the same angel who shows up for Mary; his name is Gabriel. You know what is exciting about this? In the whole study of Angelology, out of all the angels that serve our great and glorious king, and there are thousands and thousands of them, and they are keeping watch over us, and they are unaware among our midst. And we praise God for them. We don't worship them, but it speaks to His majesty.
But out of all the angels, there are only two that are named—Michael and Gabriel. Gabriel is an M.V.P. for God. He shows up. He is there, standing to the right of the incense. Boy, this has to be an amazing moment. There is this priest who is righteous and blameless and keeping all the commandments, and there is the angel. He has the special task and the special place doing a special job, and you just don't expect to be touched by an angel. And there was Gabriel, and here is what the angel says. I'm so thankful Scripture lets us read the moment. Verse 13, the angel said,
Do not be afraid, Zechariah, for your prayer has been heard, and your wife Elizabeth will bear you a son, and you shall call his name John (Luke 1:13).
Now this is marvelous, by the way, because John means "Jehovah has shown grace." Perfect name. Verse 14,
And you will have joy and gladness, and many will rejoice at his birth, for he will be great before the Lord. And he must not drink wine or strong drink, and he will be filled with the Holy Spirit, even from his mother's womb. And he will turn many of the children of Israel to the Lord their God, and he will go before him in the spirit and power of Elijah, to turn the hearts of the fathers to the children, and the disobedient to the wisdom of the just, to make ready for the Lord a people prepared (vv. 14–17).
What a message; it's a boy! He's going to be bold and uncompromising and stand for the Word of God. He's going to be the last great prophet. He's going to make ready the way of the Lord. He's going to be filled with the Holy Spirit, awesome, amazing, hallelujah! And what does Zechariah do? He gives the angel some lip. This is a priest. Bad move, Zechariah. And what does he say, verse 18, "How shall I know this? I'm an old man, my wife is advanced in years."
Wait a minute, didn't Mary say, "Let it be according to thy word?" Didn't Jesus say, "Not my will but thine?" Didn't the angel say, "Nothing is impossible with God." And this priest says, "How is this going to happen?" No word of God shall be void of power.
I love what C.S. Lewis says about that. "There are two kinds of people, those who say to God, 'Thy will be done,' and those to whom God says, 'All right, then have it your way.'" I prefer the first. 
How many of us are like Zechariah? When we take a look at our circumstances rather than look at our King, we let our circumstances define our response and our reaction rather than understanding it is a great and powerful God we serve.
Elisabeth Elliot, as only Elisabeth Elliot can say it,
I really don't think you are in a bargaining position with God. He is the master. He is the commanding officer. It's not for you to have input. It is simply for you to accept the orders as the orders are given.
Elisabeth Elliot, right on. So he gets a rebuke. The condensed modern Parshall version is, "The angel says, 'Zip it.'"
But here is what he says. When you think about what is going on, it has to send chills down your spine.
Zechariah is standing in the significant spot in the temple, doing the significant job. This angel, one of the two only named in Scripture, he is a magnificent angel, and you can just see him standing next to the altar. And when Zechariah starts to give him some talk-back, can't you just see Gabriel just slightly perhaps starting to open those wings? And he says "I am Gabriel." And as if there were any doubt in Zechariah's mind, he says, "I stand in the presence of God."
At that point I think I'm a pile of goo on the floor. He goes on to tell Zechariah,
And I was sent to speak to you and bring you this good news. And behold, you will be silent and you will be unable to speak until the days that these things take place, because you did not believe my words, which will be fulfilled in their time (v. 20).
Oh, oh.
So take a look at how these two people reacted so differently to the messages of Gabriel.
Zechariah is in the temple.

Mary is in the small town of Galilee.

Zechariah is a priest.
Zechariah is a mature, older male.
Zechariah responds with unbelief and a challenge.

Mary responds with trust and praise.

Zechariah is silenced.
What a reminder, what a reminder and encouragement that God is so not impressed with our station in life, or our credentials, or any of that external stuff. He is interested in our hearts, in our hearts.
God is so not impressed with our station in life, or our credentials. He is interested in our hearts.
This young girl out-shined a privileged priest. No wonder she's called the favored one. The story gets more exciting because it says as we go on in verse 39, "In those days Mary arose and went with haste into the hill country to a town called Judah."
Now can you imagine if Mary, this thirteen-year-old teenager, had gone to her parents and said, "I'm pregnant! Isn't that wonderful? And Joseph is not the father. It's actually the Holy Spirit who performed a miraculous act. The baby is going to be a boy, and it's going to be the Messiah who we've been waiting for! Can anybody say "mazel tov?"
Not exactly, not exactly. So who was she going to tell? Mary can't go tell the rabbi. She can't go tell her neighbors. We don't know of any kind of reaction she had with her family, but odds are she wasn't telling her mom and her dad. So what does she do? The one person she can tell is her cousin Elizabeth, because Elizabeth got the same heavenly "Western Union" that she did.
So she wants to go see Elizabeth. So this young girl from Nazareth takes off on a village drive that probably would have been seventy-five-–eighty-five miles. It would have taken in those days about three to four days, and the odds are that she traveled alone because of her circumstances. But she wanted to get there with haste. 
So Mary knows, Mary knows that Elizabeth, her older cousin, is going to understand full well.
Mary knows that Elizabeth has had a miraculous experience as well. So Mary, when she sees her elderly, formerly barren, now pregnant cousin, Mary knows this is going to physically confirm the message Mary has received. "If Elizabeth is truly pregnant, oh my, oh my, that means everything that Gabriel told me is going to come to fruition as well. Hurry up little donkey. Go faster, go faster, go faster!"
Elizabeth at this point could use some company. She is six months pregnant; she is about to enter her third trimester, and she's old. And her husband, he's not talking so much these days. She then decides that she is going to confine herself at home, after all, this is Elizabeth. She is a senior citizen. She's a card-carrying member of the AARP, and now she's in her third trimester. Her legs are swelling, who knows what morning sickness was like. "I'm not sure I want to be the ridicule of the neighbors. They know the Zechariah's household has been praying for years. I'm not sure I want to go out yet."
The Bible says she confines herself, and I think it was about not just preparing her body but preparing her heart for what God had planned for her. She was carrying a miracle child. And this faithful woman of God wanted to be ready for all that was in store for her.
Mary finally shows up, and what a meeting it is. Scripture describes it in beautiful detail, starting with verse 40.
She entered the house of Zechariah and greeted Elizabeth. And when Elizabeth heard the greeting of Mary, the baby leaped in her womb. And Elizabeth was filled with the Holy Spirit, and she exclaimed with a loud cry, "Blessed are you among women, and blessed is the fruit of your womb! And why is this granted to me that the mother of my Lord should come to me. For behold, when the sound of your greeting came to my ears, the baby in my womb leaped for joy. And blessed is she who believed that there would be a fulfillment of what was spoken to her from the Lord" (vv. 40–45).
The baby leapt. Remember what Gabriel had said, that this baby boy would be filled with the Holy Spirit, even in utero, he would be filled with the Holy Spirit? He manifested that joy, that leaping joy of recognition, that from inside his mama he knew. It was his job, his joy, his mission to foretell the Messiah is coming. And he was doing his job even before he drew his first breath outside of Elizabeth. He was proclaiming from the womb that Jesus is Lord.
Now, do I need to stop here for a moment to discuss the sanctity of human life? Does that sound like a blob of tissue dancing to you? Is there any question that women of the Word are pro-life? So Elizabeth, too, was filled with the Holy Spirit, and I love this. "With a loud cry she shouts out." Loud cry, loud cry.
We have evidence in verse 62 that her husband could not speak but probably was deaf as well. Mary is standing in front of her. Loud cry? She can hear you—she's in front of you! Why do you need a loud cry? She recognizes that Mary is carrying the Lord, the long-awaited Messiah, the Savior of the world. She wanted to shout it from the rooftops, and John jumps just to confirm that message. "Blessed are you among women and blessed is the fruit of your womb" (v. 42).
Elizabeth wasn't jealous of Mary. The older woman calls the younger woman blessed. Now notice it doesn't say that she was blessed above women. It says she was blessed among women. And nowhere in Scripture do we read that she was described as a co-redemptrix, or in fact that she was ever without sin. But for her obedient, believing heart, for her faithfulness to the call God placed on her life she was indeed blessed. She's blessed because she carried the greatest child.
Then Mary breaks into song. It's called her Magnificat. Remember when I said earlier that Mary may have been illiterate? That didn't mean she didn't know the Word of God. Out of her mouth in the Magnificat poured multiple references from the Old Testament. She knows the covenant God she serves. She declares what God has done for her. She recalls His prophets; she remembers His psalms; she knows His law; she points out that even she needs a Savior. She recognizes her humble state. She sings of what God has done.
As Warren Wiersbe puts it, "For the helpless, the humble, and the hungry." She offers praise for what God has done for Israel. She remembers how He kept His promises to the nation, how He protected them. She understands that there is an eternal and profound connection between Israel and the Messiah. Then Mary sings her confidence in praise because God is powerful, sovereign, mighty, merciful, worthy, gracious, savior, Lord. Mary knew God, and she loved Him.
Roman taxation would cause her to make a long and painful trip in the last days of her pregnancy. She would not have a clean bed with clean linens and the attending help of women and a midwife on her delivery date. Being nine months pregnant, she will have to stay in a barn. So take out of your mind that tidy, neat, little nativity scene that you put up each year. Mary is tired and pregnant and in a smelly barn—not what she expected.
Shortly after the birth of her precious boy, she has company in the barn. "Oh, great! Guests who deal with animals—just what I need." The shepherds come and affirm because remember, they, too, had a visit from the angels. "Glory to God in the highest and peace on earth, good will toward men" (Luke 2:14). And these Bedouin shepherds come and affirm again the message she heard so many months earlier from Gabriel, that He indeed is the long-awaited Messiah. They confirm the message, and she remembers in her heart the words, "He will be great and will be called the Son of the most high and Mary pondered these things" (see Luke 2:51).
Then being observant Jews, what did Mary and Joseph do? They take baby Jesus to the temple to have him dedicated. When they get there, there is this old, righteous, faithful man named Simeon. He confirms yet again for Mary the truth of what Gabriel has said. He says,
Lord, now you are you are letting your servant depart in peace, according to your word; for my eyes have seen your salvation that you have prepared in the presence of all peoples, a light for revelation to the Gentiles, and for glory to your people Israel (Luke 2:29–32).
But Mary hears Simeon, this aged man, who knew the significance of this baby, who knew exactly who he had been waiting for. He said something else, something that would significantly impact Mary. He said "and a sword will pierce your soul" (Luke 2:35). The word sword here, believe it or not, is defined as the same word used to describe the big, huge, broad sword that Goliath used. What he is saying in the use of that word is that this is going to be a deep, piercing pain in your life—not what Mary had expected when she said "yes."
A.W. Tozer said, "The true follower of Christ will not ask, 'If I embrace this truth what will it cost me?' Rather, he will say, 'This is truth. God help me to walk in it. Let come what may.'"
So Mary and Joseph and their small son have to flee the country because of a maniacal, paranoid king who wants to kill all the little boys he can. They went to Egypt, not to Nazareth. She would have loved to have gone back to her town to raise her precious baby boy and talk with the neighbors and start living her life the way Mary expected it to be. But things had changed.
They go to a foreign land, and once again the veil of Scripture is closed. The Word is silent of what happened in those young years of Jesus' life. But being a maidservant, a handmaiden, a doulos, Mary knows that she is giving her plans, her timetable, and her expectations to the one whom she has entrusted her life. It's not what she expected when she said "yes."
While He was hanging on that piece of lumber, on that hill outside Jerusalem with the distinctive shape, before the mocking guards and the scoffing crowds, she would hear her firstborn son say, "Woman, behold your son." And to the tender-hearted young man named John standing next to her, He would say, "Behold, your mother." There is that precious word, that defining term, called mother. He was her son, and He was also her Savior.
Mary had pondered; she remembered it all. Mary would love her child and watch her child die. Mary would have the joy of raising her child, while not fully understanding until after His death all that He was, or is, or will be. Mary would come to know God more deeply through Jesus. Mary would watch her son, her Savior, die for her sins. Simeon was right; it did hurt deeply. Not what she expected when she said "yes."
A small town girl, little education, less money, visited by a messenger from God who carried news no one ever heard before that day and no one would ever hear after that day. She was willing to give up her own plans, her own goals, her own timelines, her own dreams, to be a doulos. She was humble, obedient, submissive, and she changed history. If God can do that with Mary, blessed as she was among women, what could God do with a woman today who is willing to be a servant? A woman today who is willing to say, "God, give me Your desires for my heart. Lord, be first always in my life. Father, not my will but Thine."
What could God do with a woman today who is willing to be a servant?
Henry Blackaby also said this. "He has the right to interrupt your life. He is Lord. When you accepted Him as Lord, you gave Him the right to help Himself to your life any time He wants." If we take that same position as Mary, I think we are pretty much guaranteed that things won't be as we expected, but He has the right to our lives. We have been bought with a price. We are His Bride. And we are His handmaidens.
Mary loved God; she knew His Word; she waited for Him. When His messenger arrived, she didn't doubt, or argue, or debate, she submitted and life wasn't always easy for her, but she trusted God and His plan for her life. Ellen Redpath said,
We are prepared to serve the Lord only by sacrifice. We are fit for the work of God only when we have wept over it, prayed about it, and then we are enabled by Him to tackle the job that needs to be done. May God give to us hearts that bleed, eyes that are wide open to see, minds that are clear to interpret God's purposes, wills that are obedient, and a determination that is utterly unflinching as we set before the tasks he would have us to do.
Mary with her humble, obedient, submissive heart said "yes," and so should we.
Nancy: I can hardly think of a greater example of saying "yes" to God's plan than in the life of Mary, the mother of Jesus. We've been listening to Janet Parshall who has shown us what it took for Mary to say, "Yes, Lord." When you think about it, this was a huge act of faith and surrender. I don't know what you may be facing as you walk through this Christmas season, but the question is: In the midst of whatever it may be, are you saying, "Yes, Lord"? Or are you holding on to some issue, some unfulfilled longing, some desire? Are you saying, "I want it my way"? Would you be willing, as Mary did, to release your plans and your desires to the Lord, and just say, "Yes, Lord"? Let Him know that you trust His plan and His ways.
As we reflect on what God did for us on the first Christmas, sending His own Son to be born as a baby, we can be sure that God's plan is a good one. There's no better time to say, "Yes, Lord, I am Your servant. May it be to me according to Your Word."
Dannah: Thank you, Nancy. Well, tomorrow, we hope you have a very meaningful Christmas day. We'll hear a dramatic reading of the Christmas story. I'm Dannah Gresh. I hope you'll join us for that tomorrow, for Revive Our Hearts. 
Revive Our Hearts with Nancy DeMoss Wolgemuth shows you the joy of saying "yes" to God's plan. The program is an outreach of Life Action Ministries.
All Scripture is taken from the English Standard Version.
*Offers available only during the broadcast of the podcast season.
Support the Revive Our Hearts Podcast
Darkness. Fear. Uncertainty. Women around the world wake up hopeless every day. You can play a part in bringing them freedom, fullness, and fruitfulness instead. Your gift ensures that we can continue to spread gospel hope! Donate now.
Donate Now