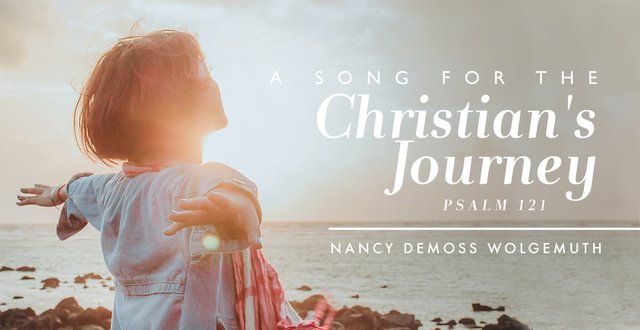 — Audio Player —
The Lord Will Hold You Fast
Dannah Gresh: Nancy DeMoss Wolgemuth says we all need to realize our true security can only come from Jesus.
Nancy DeMoss Wolgemuth: Whose hand are we in? Jesus' hand or the Father's hand? The answer is: Yes. We are in Jesus' hand, and we're in the Father's hand—double protection—clasped by God the Father, God the Son whose hands are bigger than our wavering faith.
Dannah: This is Revive Our Hearts with Nancy DeMoss Wolgemuth, author of Adorned, for Tuesday, October 26, 2021. I'm Dannah Gresh.
Did you know you are secure in Christ? You can be sure that God is holding on to you. That's not just wishful thinking; it's a promise found in Scripture. Nancy's going to explain how you can find your assurance in the Lord as she wraps up the series, "A Song for the Christian's Journey."
Nancy: Well, I don't know about you, but I have so enjoyed this time of meditating on and digging a little deeper into Psalm 121. It's an example of how these really familiar parts of Scripture can have such riches that we don't encounter if we don't stop and ponder and contemplate: What's it saying? What does it mean? And what does it mean for us?
So I hope this has been as rich a study for you as it has been for me. I've been working on this for weeks now, but over these last few days, I hope this has been a great encouragement to you.
Originally, I had planned that this series would just have three days, and if you've listened to the three previous days, you know that we've walked through all eight verses, but as this week was coming, this recording day, I realized there was a fourth session that needed to be added to this series, and you'll see why in just a few moments.
We're in Psalm 121. It's a Song of Ascents, a song for those pilgrims who were on their way to Zion, to the City of God, to Jerusalem. It's a song for any of us who are travelling on this Christian journey from here until our final destination, our home at the throne of God in heaven.
Let me read the Psalm, and then I want to just focus on one phrase in verse 8.
I lift up my eyes to the hills. From where does my help come? My help comes from the Lord, who made heaven and earth. He will not let your foot be moved; he who keeps you will not slumber. Behold, he who keeps Israel will neither slumber nor sleep. The Lord is your keeper; the Lord is your shade on your right hand. The sun shall not strike you by day, nor the moon by night. The Lord will keep you from all evil; he will keep your life. The Lord will keep your going out and your coming in from this time forth and forevermore.
Such precious promises we have in this passage, such rich encouragement for all of us for whatever season or stage we may be at in this journey. But today I want to focus on the last phrase of this psalm, which, perhaps, as I've been unpacking it, may be the most precious promise of all: "The Lord will keep you . . . from this time forth and forevermore."
This talks about the security of the believer. We are secure now while we're journeying on this earth, on our pilgrimage to Zion, the heavenly Jerusalem. Now, "from this time forth," or some of your translations say, "now, from now and forevermore."
Secure—we are being kept by Him during our journey here on this earth, but also secure and being kept by Him from all of eternity. We are eternally secure.
Now, someday I'd like to do a whole series on this subject, the security of the believer, how we can know that our salvation is not going to be lost, that it will be kept—not by us but by God. He's our Keeper. How to have assurance of our assurance of our salvation, which is a little different matter than the security of the believer. We are secure whether we have assurance or not. But the assurance is getting the realization that we are secure.
So we'll do more on this someday, Lord willing, but today I want to just introduce this subject because I think it's such an important one and confusing to so many people.
Now, there are some who believe that the Bible teaches, and therefore they teach, that we are saved as an act of our own will. We choose to become children of God. Therefore, they say, we can lose our salvation through an act of our will—that is by sinning some great sin or by rejecting the faith.
And I know there are people who sincerely believe this. I have had this kind of conversation. I don't want to oversimplify it. I know there may be people in this room who have different perspectives on this. I want to just tell you what I understand the Word to teach on this, and the bottom line is that if our salvation in any way rests in something that we do, then there would be something we could do to lose it.
But if our salvation is based solely on God's mercy and God's grace and what God has done for us through Christ—which is what I believe the Bible teaches—if that is the sole basis for our salvation, then there is no way that we can lose that gift of God.
Now, this psalm that we've been looking at this week isn't really a treatise on eternal security of the believer, but I think it hints at that in—this whole psalm—but, particularly, in this last verse.
We see God is our keeper. God is faithful. We see His eternal covenant with His people. He watches after His people. He keeps His people. He keeps them secure. We see His grace. And eternal life is a gift by the grace of God, and for it to be eternal life, it has to be eternal.
Now, many would call this doctrine—many whose writings and teachings I greatly respect—would call this doctrine the "perseverance of the saints." However, I'm not sure that's the most helpful phrase because, just to my lay person's ears, that sounds like it depends on us being able to persevere. It puts the focus on our willingness or our ability to persevere.
So what if I can't keep hanging on? What if I get tired of persevering? What if my strength runs out—which it does, a lot of days? What if I can't persevere by myself?
Now, the people who use that phrase understand it correctly, but I think sometimes when you just hear that, it suggests that it might be up to us, the "perseverance of the saints."
So, in my opinion, it's better to talk about the "preservation of the saints." That puts the focus on God's ability to keep us—to keep us safe, to keep us in Christ, to keep us in the faith, to keep us on our way to heaven.
If we're going to talk about "perseverance," I think it would be better to talk about the "perseverance of the Lord" with His saints than to talk about the "perseverance of the saints." And that may sound like just semantics, but I think it's really important. When you get to those places where you have sinned or you're weak or exhausted or vulnerable, and you're wondering, Am I really able to stay in Christ? I'm being pressured. I'm being tempted.
The fact is, we don't keep ourselves in Christ. He keeps us. We only keep holding on to Him, which we do because He keeps holding on to us. He is the one who makes our salvation secure both now and forever, as Psalm 121 says in verse 8.
Let me read you a few New Testament verses that expand on and emphasize this point.
First Peter chapter 1, beginning in verse 3 says that, "According to his great mercy . . ." Just see how God-centric all this is. It's of God. God initiates our salvation. God keeps our salvation. "According to his great mercy, he has caused us to be born again to a living hope through the resurrection of Jesus Christ from the dead, to an inheritance that is imperishable, undefiled, and unfading, kept in heaven for you, who by God's power are being guarded through faith for a salvation ready to be revealed in the last time" (vv. 3–5).
Now, this is one of those infamous apostle's sentences that goes on and on forever and ever, so you kind of have to step back and unpack it a phrase at a time. We're not going to do that with this passage today, but did you get the concept that there is a salvation waiting for us in heaven that God has bought for us by His mercy? We have been saved. We are being saved, sanctified. And we will be saved, we will be glorified.
And when we get to heaven, we'll find that there's a treasure that He has been keeping for us, our final, ultimate salvation. He's been keeping it for those who, all during this life, have been guarded, kept, through faith, for salvation, ready to be revealed in the last time.
God is keeping us for something that He is keeping for us. It's all God doing the keeping, the guarding. It goes back to Psalm 121: "The Lord is your keeper."
Philippians chapter 1, verse 6. (Here's a little shorter sentence. This might be easier to digest.)
And I am sure of this, [Paul says] that he who began a good work in you [at the point of your initial salvation, He] will bring it to completion at the day of Jesus Christ.
If God saved you, then He is going to complete that salvation and complete the work of sanctification and transformation until the day we see Jesus Christ. Paul says, "I'm sure of this. I don't have any doubt about it. I know it." That doesn't mean we don't fail. It doesn't mean we don't blow it—we'll talk about that in a few moments—but we can be sure that He who began the good work will bring it to completion.
Here's another one: Romans, chapter 8, verses 29 and 30. And, again, lots of theological concepts in here. We won't get bogged down in them. But just listen to the whole concept.
Those whom he foreknew he also predestined to be conformed to the image of his Son, in order that he might be the firstborn among many brothers. And those whom he predestined he also called, and those whom he called he also justified, and [listen to this last phrase] those whom he justified he also glorified.
Every person that God calls and brings to faith in Christ to be justified, made righteous through Christ, every one of those people God will glorify. He's going to finish the work. And at the end, we're going to be like Jesus. That process of transformation will be complete.
So, if you have been justified through faith in Christ—these are lots of just precious words and other ways of describing our salvation—if you have been saved, if you have been justified through faith in Christ, you can be sure that you will also be glorified. God will finish the work He has begun in you.
God has promised to keep us. We read in the last session from John chapter 17 where Christ prayed to the Father, asking that the Father would keep us in His name. "Keep them that You've given to Me." He prayed for that.
Listen, we can be sure that prayer is going to be answered.
We also know, Scripture tells us, that Jesus today is in heaven praying for us as our Advocate before the Father. So when we sin, or when Satan comes and makes accusations, "Did You see what she did?" And those accusations can really mess with our minds and our faith and our assurance of our salvation. But we have an Advocate before the Father. Today He prays for us.
He said about Peter, "You will fall away. But when you have returned, go and help your brothers so they won't fall."
He says, "I've prayed for you." Jesus has prayed for us. He prayed for us there in John 17. He's praying for us today that our faith will not fail.
Listen, if our faith doesn't fail, it's not because we had great faith. It's because we had a great Advocate, a great Intercessor who never stopped praying that our faith would not fail.
Then in Romans 8—I just read verses 29 and 30, but now you go to the end of Romans 8, the last two verses—Paul says,
I am sure [this is after talking about the saving death and work of Christ—based on that, I am sure] that neither death nor life, nor angels nor rulers, nor things present nor things to come, nor powers, nor height nor depth, nor anything else in all creation [nothing] will be able to separate us from the love of God in Christ Jesus our Lord (vv. 38–39).
Now some people would say, "Yes, nothing can separate me from God, but what if I separate myself from God?" Are you part of anything and nothing? Nothing. Not even you. Not even we, as we sin, can separate us from His love once we have experienced that and come into His family.
Jesus said it this way . . . I'm just throwing out some of these verses to give you a sampling of what the New Testament teaches, at what's hinted at in Psalm 121. John chapter 10, beginning in verse 27,
My sheep [that is those who belong to Me, they] hear my voice, and I know them, and they follow me. I give them eternal life [Jesus said], and they will never perish . . .
That construction there in the original Greek is emphatic. It could be better translated: "They shall certainly not perish forever." That's what Jesus is saying, and that's the basis for our assurance.
. . . and no one [He said] will snatch them out of my hand. My Father, who has given them to me, is greater than all, and no one is able to snatch them out of the Father's hand (vv. 27–29).
Now, whose hand are we in? Jesus' hand or the Father's hand? The answer is: Yes. We are in Jesus' hand, and we're in the Father's hand—double protection—clasped by God the Father, God the Son whose hands are bigger than our wavering faith. "No one will snatch them out of My hand," Jesus said, "or out of the Father's hand."
Now, that doesn't mean that all who profess to be followers of Christ will be saved. Jesus made that clear in Matthew chapter 7 when He said,
Not everyone who says to me, "Lord, Lord," will enter the kingdom of heaven, but the one who does the will of my Father who is in heaven. On that day many will say to me, "Lord, Lord, did we not prophesy in your name, and cast out demons in your name, and do many mighty works in your name?" And then will I declare to them, "I never knew you ["You weren't My sheep," to use that analogy]; depart from me, you workers of lawlessness" (vv. 21–23).
Now, that ought to shake up people who have a profession of faith that they do not possess. They profess Christ, but they do not possess Christ. There are some people in our churches, in most, if not all of our churches, who look like they belong to Christ. They may be actively involved in ministry or their local church. They may have lots of religious activity. They know how to talk. They know how to act. But they don't have Jesus. They don't belong to Him.
They have not repented of going their own way and placed their faith in Jesus Christ. They have not been called. They don't have Christ. So they can have no assurance of salvation.
Listen, God's desire is that the Holy Spirit, working through His Word, would bring assurance of salvation to people who are born again, and would cause doubts in the minds of those who aren't. If you talk like a Christian and do some things that are religious, but you don't have a heart for Christ, you don't have a love for Christ, you're not growing in your faith, you're not connected to Christ—the vine, abiding in Him, to use another metaphor that John 15 uses—then you need to stop and ask: "Have I ever truly been born again? Am I a child of God? Am I one of His sheep?"
Now, to say this doesn't mean that true believers will never sin because all believers do sin. Some who've taken this position have talked about the "sinless perfection"—and we could go into whole aspects of that theology, and that is not biblical. This side of heaven, we will still sin, and sometimes they backslide terribly, can commit serious sins as believers.
But when believers sin in those ways, they are not acting according to who they really are in Christ, and you can be sure that God will deal with them. If they're His children, He's going to deal with them as His children. The conviction of His Spirit will be heavy on them.
Psalm 32, "When I refused to acknowledge my sin, the hand of God was heavy on me" (see vv. 3–4).
That's part of how God keeps us, by the conviction that says, "No. This is not who you are. This is not who you are called to be." They will be miserable. And sooner or later, if they have ever been truly born again, sooner or later they will repent and will seek to be restored.
Now, it's dangerous for us to try and figure out who's on which side of this because we don't know. We can't see the hearts. We don't know if somebody is maybe just a young believer. We don't know if they're going to repent, if they're going to be restored. Jesus said, "The wheat and the tares will grow together," and you can't tell which is which until the end of time.
But God's Word speaks to all of us and says examine your heart and be sure that you are in the faith because if you don't have evidence of Christ living in you, then you need to not say, "Oh, I prayed this prayer when I was a child, therefore, I have eternal security." That's not right.
You see, the concern of some who resist this teaching of the eternal security of the believer, the "preservation of God over His Saints," the concern is that if you tell people, "Once saved, always saved," that they're going to lose their motivation for holiness, and they're going to feel free to sin, that it's going to authorizes careless living.
But those who have been truly born again, those who have the indwelling Spirit of Christ, those who know the persevering love and faithfulness of God, they are eager not to sin against Him. That's part of their new nature.
There are a lot of familiar songs and hymns over the history of the Church that testify to this steadfast, sure hope that we have in Christ. You are probably familiar with this one:
My hope is built on nothing less than Jesus' blood and righteousness.
I dare not trust the sweetest frame, but wholly trust in Jesus' Name.

When darkness seems to hide His face, I rest on His unchanging grace.
His oath, His covenant, His blood support me in the overwhelming flood.
When all around my soul gives way, He then is all my Hope and Stay.

On Christ the solid Rock I stand, all other ground is sinking sand."

("The Solid Rock" by Edward Mote, circa 1834)
And then here's another one, written much more recently, the last stanza of Keith Getty and Stuart Townend, "In Christ Alone":
No guilt in life, no fear in death—this is the pow'r of Christ in me;
From life's first cry to final breath, Jesus commands my destiny.
No pow'r of hell, no scheme of man, can ever pluck me from His hand;
Till He returns or calls me home—here in the pow'r of Christ I'll stand.
And so, Father, we thank You for Your promise given to us in Psalm 121 and then in these many other New Testament passages: The Lord will keep you from this time forth and forevermore. And for that we give thanks, in Jesus' name, amen.
Dannah: The Lord will hold you fast.
Nancy DeMoss Wolgemuth has been exploring that truth in the series, "A Song for the Christian's Journey." If you missed any of these episodes, you can go back and listen on the Revive Our Hearts app or on our website, ReviveOurHearts.com. Nancy will be right back to close our program.
Trusting the Lord to be your security is a lot easier when your eyes are on Him. When we're distracted and focused on the world in front of us, we tend to lose sight of God's promises and His truth. This Christmas, let's fix our gaze on the Savior. Revive Our Hearts has designed a beautiful, daily Advent card set to help you steady your heart on the security of Christ.
Each day in December, you'll dwell in promises from Scripture and read encouraging quotes from Nancy. These cards are beautiful and the perfect size to display on your kitchen counter or on the table in your living room . . . really anywhere in your home. They're a reminder at a glance of the importance of preparing your heart for the message of Christmas. You can look at samples and find out more on our website.
You'll receive this Advent card set when you make a donation to Revive Our Hearts for any amount. We appreciate your support of this ministry so much. We're so grateful to produce resources that God is using to help women thrive in Christ. Along with the Advent card set, we'll also include a discount code for you to order Nancy's advent book, The First Songs of Christmas. This is a great resource to use alongside the cards as you approach this season with the peace of Christ. Visit ReviveOurHearts.com to make your gift, or call us at 1–800–569–5959. Be sure to ask for the Advent card set.
Are you a confident woman? Where does your confidence come from? Tomorrow on Revive Our Hearts, you'll hear from Mary Kassian about the meaning of true confidence. I hope you'll join us for this important conversation.  
Now, here's Nancy to wrap up the series, "A Song for the Christian's Journey."
Nancy: Matt Merker is a man who serves on the pastoral staff at Capitol Hill Baptist Church in Washington, D.C. He writes about how he was going through a season of doubt at one point in his life.
He says, "I was wrestling with the hard questions of the faith and struggling to place my trust in the enduring power of God's preserving grace."
Well, during that season, he heard a sermon by Pastor John Piper on the last paragraph of the New Testament book of Jude. And he said, "That sermon was a lifeline for me, and Jude 24 became an anchor for my soul in that trying time."
Here's what that verse says: "Now to him who is able to keep you from stumbling and present you blameless before the presence of his glory with great joy."
Well, having meditated on that passage, Matt pulled out the lyrics to an old hymn someone had sent him. It was written in 1906 by a woman named Ada Haberson. And those words ministered deeply to him.
As he meditated on this text, he wrote a melody for these words and then added another stanza and eventually taught this hymn to his church. It has become a beloved hymn in our era. And as we share these words today, let them wash over your soul and give you confidence in Christ.
When I fear my faith will fail, Christ will hold me fast.
When the tempter would prevail, He will hold me fast.
I could never keep my hold through life's fearful path,
For my love is often cold. He must hold me fast.

Those He saves are His delight, Christ will hold me fast.
Precious in His holy sight, He will hold me fast.
He'll not let my soul be lost, His promises shall last.
Bought by Him at such a cost, He will hold me fast.

For my life He bled and died, Christ will hold me fast.
Justice has been satisfied, He will hold me fast.
Raised with Him to endless life, He will hold me fast.
Till our faith is turned to sight, when he comes at last.

He will hold me fast; He will hold me fast.
For my Savior loves me so. He will hold me fast.
Revive Our Hearts with Nancy DeMoss Wolgemuth wants to lead you to freedom, fullness, and fruitfulness in Christ.
All Scripture is taken from the ESV unless otherwise noted.
*Offers available only during the broadcast of the podcast season.
Support the Revive Our Hearts Podcast
Darkness. Fear. Uncertainty. Women around the world wake up hopeless every day. You can play a part in bringing them freedom, fullness, and fruitfulness instead. Your gift ensures that we can continue to spread gospel hope! Donate now.
Donate Now