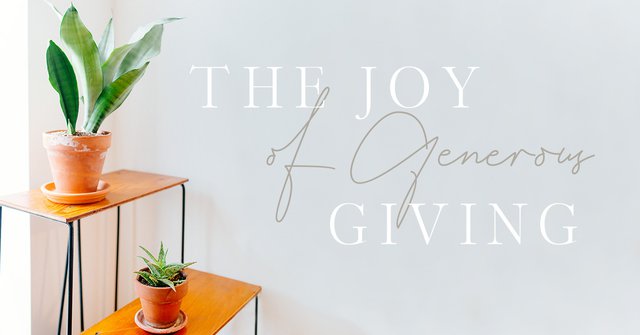 — Audio Player —
A Lifestyle of Generosity
Leslie Basham: How do you know the right amount to give to God's kingdom? Here's Jimmy Seibert.
Pastor Jimmy Seibert: It's not a set principle: Is it thirty percent, is it forty percent, is it a double tithe, is it ninety percent? It's not about percentages. It's about the leading of Jesus in your life. It's about absolute surrender: "You speak, Lord Jesus, and I'm in!"
Leslie: This is the Revive Our Hearts with Nancy Leigh DeMoss for Friday, November 21, 2014.
Nancy Leigh DeMoss: For the last few days, we've been exploring the joy of generosity. Tuesday, we heard from John Rineheart about gospel patrons—those who support the work that God is doing in the world. That message came from a gathering earlier this year called the Generous Giving Conference.
Then on Wednesday and Thursday, we heard the message the Lord laid on my heart to share at the conference. Today, we're going to hear from Jimmy Seibert, the pastor of Antioch Community Church in Waco, Texas. Pastor Seibert shared about the journey that the Lord has had him and his family on as it relates to generosity. It really challenged my thinking. It encouraged me to make sure I'm giving everything to the Lord.
In this testimony, you'll hear about some of the choices that the Lord led Pastor Seibert to make for his family. I think it's important to understand that the Lord doesn't lead everyone in the same way when it comes to giving. The Lord might be calling you to make some choices that are different when it comes to the specifics.
But we're all called to give generously and to live by faith, and that's what I found so challenging about Pastor Seibert's message. I hope you'll listen to this testimony with an open heart, and ask the Lord how He wants you to live out the joy of generosity. Here's Pastor Jimmy Siebert.
Pastor Seibert: As a kid, I grew up wanting "stuff." I grew up kind of middle-class-struggling, and my parents said, "We're committed to providing for your needs, but you'll have to provide for your wants. Well, like most little kids, I wanted a lot!
So, I figured out I could sell lemonade, or I could sell Tandy leather bracelets, or then I found out I could get a lawn mower and start mowing lawns. Eventually, I would start sneaking in early to wash dishes, kind of under the minimum wage deal. I found ways to make money. I think I had twenty-five different jobs before I graduated from high school.
I was motivated for stuff and for money. I started getting the Wall Street Journal as a junior in high school, and said, "All right, if I have all this money, now I can learn how to invest this money."
I got saved right before I came to Baylor University. And so I came to Baylor, and I wanted Jesus, but I also wanted money and fame. I looked around at Baylor and I said, "This is awesome. There are all these Christian people who are wealthy and influential. You can have it all!"
I dove into all of it with all my heart and said, "I'm going to love Jesus," so I started going to Bible studies. "I'm going to be somebody on campus. I'm going to be a leader, and I'm going to learn even more skills on how to make money and be influential."
By the end of my sophomore year, honestly, I was kind of out of gas—a little disillusioned. I was doing leadership things; I was having some success, but I started actually reading the Bible for myself. I was struck by the central passage that Jesus said was the most important.
Jesus said all the law was wrapped up in this basic thought, "You shall love the Lord with all your heart, soul, mind and strength, and you shall love your neighbor as yourself." That's everything. I was stunned. I thought, I don't love Him with all my heart. I looked around and I thought, Actually, I don't know anybody who does.
It seems like we're all playing a game. We want Jesus, but we'd like to have everything else, too. I began to pray, "Lord, show me how to love You with all my heart, soul, mind, and strength." Well, God's faithful to answer prayers like that, and so He had the love of my life break up with me!
I had been dating this girl, the first person I thought I could marry, and all the sudden she's gone! She's drifting away from me. We had the last final deal right after finals. We were down at her home in San Antonio, and she let me know, "It's over; it's done."
I remember going for a jog and saying, "God, it's so painful! What are You doing?" And it seemed to me that God spoke to my heart, "I'm answering your prayer! You'd given your heart away . . . now I'm going to let you give it to Me." I thought to myself, "Okay God, then I'll give you three months of my life."
That summer I was going to work at an oil refinery in Beaumont, Texas, where I grew up. I said, "God, I'll give You three months of my life to show me that You're real. I'll give You my heart, and You show me You're real." Isn't that funny . . . a mere man making a deal with God Almighty? But isn't God merciful in our immaturity?
So I'm driving home to Beaumont, Texas, and I'm thinking, "What is distracting me?" I thought, "Well, the secular music I had." In my day it was cassette tapes. I had a little orange Ford Fiesta, and I started pitching my secular music out on the highway, driving down the highway, just smatterings of little cassette tapes everywhere.
Then I thought . . . I grew up in Texas. I chewed tobacco; I dipped Skol since I was in sixth grade. I thought, That's probably a distraction . . . let's get rid of that. So I threw my Beechnut chewin' tobacco out—that was actually the hardest thing. Then I thought to myself, You know, I've lived myself vicariously through other people all my life.
I'd see somebody on the movie screen, I'd see somebody on TV, a famous somebody. "I'm tired of mirroring my life off others; I've got to mirror my life off Jesus." And I said, "Well, I'm done with movies and TV. We're not going to do that this summer."
So, I got home, where I worked eight to ten hours a day. I  had this job at the oil refinery. So every morning I got up and I said, "Okay, I'm going to find out Who Jesus is." Now remember, I didn't grow up in the church, didn't know what a quiet time was, but I just figured if it's about relationship, I've got to know this guy Jesus.
So, I made a deal with God. I thought, Okay, I'll read a chapter a day starting in the book of Matthew, and whatever Jesus did, I'll do it that day, and whatever Jesus said to obey, I'll obey it that day, no matter what. Now, I'm a pretty strong-willed guy. I'd resolved, "Whatever it looks like, I'm going to do it."
Well, by chapter six, six days in (I was doing one chapter a day), I'd given away about everything I had. I'd forgiven everybody I'd not planned on forgiving, and my life was changed! Six days! Have you ever actually read the words of Jesus?! (laughter) I should have read it before I made the deal. It was changing my life; it was changing my worldview. The kingdom of God was becoming central, and Jesus was becoming my mirror.
So, what about the money? I was surprised that the money was one of those big deals. There were three key passages early on. In Matthew 5:42, Scripture says if anybody asks for anything, give it, and if anybody asks to borrow anything, give it without expecting anything in return. I thought, Wow. Okay.
So, anytime I went to church, if there was anything in my wallet, I'd just empty my wallet. "They asked for it; I'll give it." I remember, I did turn on the TV for just one hour, and there was a Compassion commercial. They were asking you to support a kid; so I said, "I've gotta support a kid, 'cause I said I'd give it! They're asking!"
People asked to borrow stuff. I used to get mad at people. But I'd give it to them, and I'd say, "Don't even plan on returning it." Another passage that really struck my heart was Matthew 6:19, where the Bible says to store up for yourselves treasures in Heaven and not on earth, because treasures in Heaven can never be destroyed.
I thought, You know, I'm into investment. If you get a ten percent return, that's awesome; twenty percent, you're really kickin' it. If you get a return of fifty percent in some great deal, you're really smokin'! But then I thought, In Jesus, if I invest in the kingdom of God, that's a hundred-fold return. It can never be taken from me.
The wisest investment in the world would be to give my resources, my time, my energy to the kingdom of God, because it's a hundred-fold return. It's the surest investment on the planet! So it changed my investment mind-set.
Then I read this little passage in Matthew 6:33. It said, "Seek first the kingdom of God and His righteousness, and all these things will be added to you." And I thought, Absolutely. And what proceeds that is, "Don't be anxious about what you're going to eat or wear," or whatever, and I kind of came up with this little phrase: "I'm going to be in it for Him . . . and for them . . . and He'll take care of me! I don't have to be in it for self-preservation."
Well, I came back, and obviously I'm radically changed. I'm with a buddy one day we're out biking, and he's talking about all that God's doing in his life, and I'm telling him what God's doing in my life. And he asked, "Have you ever heard about missions?" Because we were saying, what do we do with this incredible new-found light of Jesus?
When he asked if I'd ever heard of missions, I said, "No, I haven't" . . . because, again, I didn't grow up in the church.
He said, "Well, you know missions is when you go tell people about Jesus, somewhere in the world, who have never heard."
And I said, "Cool! Do you know anybody who knows anything about it?"
He thought, and he said, "No I don't, but why don't we go to a church tomorrow morning and find out if anybody knows anything about it?"
So we went to this church, Highland Baptist Church, and we went to the Sunday School. They had a break-out for Sunday school classes and a little greeting time in the beginning. During that time they said, "Hey, today we have a missionary from Thailand who's here, and he wants to talk on the topic of 'What is Missions?' If you're interested in that, go over to that class."
I hit my buddy. I said, "Alright! God's answering our prayer! We're going to find out what missions is!" So we went to that class, and the guy talked about missions. He took Matthew 28:19 and 20 and unpacks it. At the end he said, basically, "Everybody's called to be missional. Everybody's called to be a missionary, wherever God has called you." He finished, and I thought, "I'm going to go up and tell that guy he's right. He's right on. He needs some encouragement."
I went up to him, and I said, "Hi, Mr. DePue. I wanted to let you know, you're right on. You know, Jesus said what you just said. I read it in Matthew. I read that Jesus said that, and you're right. That's good."
He laughed, and he said, "I don't know why I'm saying this, but I have a friend who looks for lost tribes, cannibal tribes, even, in the interior of New Guinea, to preach the gospel to. He'd love some young people to come with him this summer. What do you think?"
Well, or course, he's asking; we're going. "We're in!" So that was September, and we were planning on going the next summer. I knew a couple of people with Campus Crusade who knew how to raise support, but I didn't know what that meant, and we were kind of going through an organization that wasn't that organized.
It was me, another guy and a gal, and we all said, "We're going to go, and we're going to pray and believe God for this money." But, remember, I've got this other thing going on, and God had already spoken to me about being a giver. So, I had made about $5000 that summer and, as the year goes on, if people are asking, I'm giving; people are asking, I'm giving.
Well, I come to the end of the school year, I'd given away about $2500; I'd given away about fifty-percent of what I'd made. That's great and everything, but the only thing is, there's nothing left. It's the end of the year and a little bit has come in, and God's working in different ways for our money for this trip.
It comes down to kind of the last day. Together, we needed $3000 apiece—so $9000 to spend the summer in New Guinea, and we're about two-thousand dollars out. I had sold all my books. I'm now dating my wife-to-be, Laura. (She doesn't know that I'm poor, because I'd been taking care of her.) We're supposed to be presented in front of the church about our trip to New Guinea, to provide an opportunity for people to give money to us.
So we're thinking, Okay, we're $2000 out; Lord, you can do this. They'll present us in front of the church, and it will work. So, I realize I'm in a little bit of a dilemma. I'm supposed to go to Laura's home and spend a few days with her family before I leave for New Guinea. I've sold all my books, paid all my bills, and I only had fourteen dollars cash (I should also say, we were committed to no debt at the same time).
So I had fourteen bucks and I had a quarter tank of gas. It's about a three-hour drive from Waco to Houston. So, I'm walking to the church service praying about how God is going to provide for us. I just sensed the Holy Spirit saying, "Go get your wallet." I had left my wallet underneath my car seat. I knew what that meant. "My fourteen bucks is going! I know they're going to pass the plate, and I gotta give everything that I have if they do."
And I thought, Aww, Lord Jesus. But I thought, Well, I've come this far. I'm going to go for it." I got my wallet. They passed the plated in the regular offering; I throw in the fourteen dollars. They were playing some worship song during the offering. I stood up and just sobbed. I just wept out loud. I am out there now, at a point of no return. I'm sure people were thinking, Look at that young man, just loving Jesus! No, I was surrendering, painfully, to Jesus.
Well, that night they had the wife of Nate Saint (of the famous Auca Indiana martyrdom in the 1950s) speak. She was raising money for her son to go dig water wells, so they took a big offering. And then the pastor gets up and says, "We have Francois from France, and he's going to come up here and share what's going on in France." And they passed the plate again.
We're thinking, We're cooked. We're done. They've passed the plate. They had an offering; they've had two mission deals. And he says, "We're so glad! Thank you, Francois." And as we all stand up to leave, we're thinking, No! All of a sudden, I guess the Lord just reminded him, he said, "Oh, and there's these three college students going to New Guinea. If you want to help them, you can."
And he said, "Good night, have a great evening!" [laughter] And people started coming up to us right away. Immediately, a business guy walks across the way, and he said, "Here's three tickets to Los Angeles. God spoke to me already to get involved with you guys."
Then people began to give money, and it was awesome. All of a sudden things were just flowing like crazy. We're standing there just in shock. I looked down to read a Scripture from my Bible, and there are two crisp $100 bills in there. I thought, Wow, okay, God's provided even more!
Well, when we counted up all the money, we had $1000 more than we needed. I thought, I can't take that money. I had never received money from anybody. Actually, it was a very awkward experience. I had always worked for everything I had.
But it seemed like the Spirit of God was saying, "Those are for you. I put those there for you, to take care of things." I was going to submit it to the pastor, who we talked with afterwards. My friends and I said, "Hey, I don't know how to say this . . . about this $200 . . . but. . ." And they said, "God already spoke to us. That's for you and for Laura. Go for it."
And I thought, Yay. I can fill my tank with gas, and she still won't know I'm poor! Well, those were the beginning days of being marked by God, of going on the great adventure, of trusting Him.
I want to fast-forward with you, though, because the question is, "Well, that's cool . . . a young college student. So how did that translate once you got married?" Well, for Laura and I, right before we got married, I was working in business in Houston. Her dad was a partner for KPMG in estate-planning.
Because of my job and his job, we'd meet downtown at the Petroleum Club. I was what he wanted. I was a business guy, and we were together and all that stuff. The only thing was, God spoke clearly to me that we were to go into full-time missions, that we were to leave this job . . . right before we got married.
I still remember the meeting at the Country Club with Grandma: "Wha-a-t? You're doing wha-a-a-t?!" I had to explain over and over again that we were going to leave our jobs, and we didn't know what the future held, but God wanted us to reach the world for Jesus.
So, long story, short, we got married, and we submitted a proposal to our church: "What would it look like if the local church owned the process of training and sending people to the nations, instead of just people going to seminary or going to a para-church organization?"
What if we actually, through relationship, evangelism, discipleship, and small group reproduction, had a training school, and we trained people and sent them to the nations? They said, "It sounds like a great idea. If you guys and the other students are willing to do the school, you can do it . . . it's just that we don't have any money." So, there it is again. What do you do about the money?
Laura and I said, "What do we do about the money?" As we sought God, searched the Scriptures, we also ran into a book about the guy named George Mueller. Most of you may know, George Mueller was the guy that started an orphanage in England in the 1800s that served thousands of kids. His big deal was praying without asking anyone for anything.
So Laura and I went on that same journey with that same mindset: "We're just going to pray for our needs. We're not going to tell anybody our needs. We're going to work when we can." So on Monday, Wednesday, Friday, Saturday mornings (the school was on Tuesday, Thursday, Saturday afternoons) we would work. It would take care of about half of our needs.
But in the middle of it, Laura and I said, "Okay, we're not going to tell people our needs. We just want to trust God to do this. But we also want to be givers along the way, so Lord, let us not be out of the giving mode." So in the midst of it, we saw God provide in incredible ways.
One day, we had a man coming from out-of town. He was a pastor who needed a meal, and so we hosted him. He was coming to our house, and literally, we had one can of beans left. (Just so you know, we never missed a bill payment, never missed a rent payment in those two-and-a-half years, living like that.)
But this particular day, it was close and Laura said, "What do we do? We want to be hospitable and loving."
I said, "Honey, he's a man of God. If it gets to that point, we'll trust God to multiply the food, or we'll just fast and pray together. Let's just go for it!"
The guy pulled up in our driveway, and I went out in our yard to meet him. He said, "Hey, I just wanted to ask for your help to bring something in. My mom lives in Waco, and we just had to put her in assisted living. I'd gone and bought her ten bags of groceries to take care of her. But I prayed about it, and I thought I'd just bring it to you guys. Is that okay?"
And I said, "Dude, you just brought your dinner! This is awesome!" 
We would get encouragements along the way. In another situation we had a man from Brazil who was coming through town. He was working with Youth with a Mission, and he was raising money. He had done a presentation that night, and he was staying with us. We had packed his lunch and done the things you're supposed to do for him.
We really wanted to give to him, but we had $100 due for the next bill and we only had twenty dollars to our name. So, Laura and I prayed about it, and I said to Laura, "Honey, let's give him the twenty bucks. We've trusted God this far. Let's just sow into his life and trust God to take care of us."
Well, we gave him the twenty dollars. Of course, we didn't explain our need. We prayed for him, told him we wished we could do more, and asked God to multiply that. The next morning before he left, he wrote a note, and it said this: "As I was praying this morning, God showed me that your need was greater than my need and that I was to leave you a hundred dollars."
We thought, Yes. God knows where we live. Well then, as always happens on a faith journey, some resources came in, and we had a couple thousand dollars over one month. My wife brought up the great idea, "What if we actually saved for a car?"
Of course, we had cars, but one of them wasn't really running that well. So we thought, Well, should we do that or not do that? So we put that $2000 over there. About a week later, these dear friends who had just had their first child, their car totally breaks down. They don't have another vehicle; that's it. They asked if people would pray with them about that.
So Laura and I were praying. After about two seconds, we said, "We're praying, and we have the money! How can we not keep the money moving? Of course, that's why God wanted us to hold the $2000—to take care of their need, because that's not our need right now."
That's how we just approached life. We asked, "God, what are You saying? What are You doing?" And if was saving, then we said, "Alright, God, then You're saving Your money for something." Well, these stories I could talk about for days, about marriage . . . but then what about kids?
Kids came along, and kids are really the big deal, that gets our hearts. So I want to tell you just briefly where we came, biblically, about how to raise our kids. There were three basic truths that we came up with when we looked at Scripture. We wanted to teach them to: Live simply. Work diligently. Give generously.
Live simply: That doesn't mean a particular lifestyle. We're not the lifestyle police. I know that within the sound of my voice, there sit people with houses and cars and boats and everything else. I'm glad you have them, and I'm glad that you share them. Be blessed!
For others, you may say, "I've chosen a narrower life," or "God's spoken to me to live in a different way." It's not the lifestyle police. Living simply for us was living within our means. We weren't going to leverage ourselves out, we weren't going to go into debt. And so we would teach our kids, "Whatever we have is what we have, and that's what we work with, whether it's vacation or whatever it is.
Then we taught our kids how to share. We always made sure that wherever we lived, there was always another room for somebody to live with us . . . that there was always another room for somebody to be a guest. That means that our kids had to live together. Do you know that that was one of the healthiest things we did, teaching our kids to live together, in order to help make room for other people? That was another big piece.
The other big thing that we did was kind of unique. We rented for sixteen years because we didn't have cash to buy a house. We did the debt-free thing all the way across the board. Do you know what the main motivation, really, for that was? We always wanted to be free to go whenever God said, "Go." We didn't want to be tied to anything in this world. We wanted to be able to just walk out of the house and go.
Well, here we are, and God's speaking to us to plant this church, and we're planting it in the inner city. How are you going to minister to the inner city? You can't minister to people, you need to minister with people, and so we said, "Guys, we're going to move into the inner city."
So, we looked around and we found that the city was selling lots for $1000, and what they really wanted us to do was to build houses in there and move in. So we bought the $1000 lot, and we said, "Alright, we're going to build a house, guys. We don't have any money, but we're going to do it together."
We had friends, and we actually did kind of the barn-raising thing with the framing and all that. We did pay-as-you-go. We came to this critical point where $18,000 was due in about ten days. So we gathered the kids together and we said, "Alright, guys, here we are," (they're probably ages nine, seven, five, and one) "we owe $18,000 and we don't have anything. This is awesome! It's gonna be great." (I'm saying that; Laura's not saying that, but we're there.)
I said, "Kids, I went jogging this morning, and I found seven cents. We've got seven cents towards the future." So we put that seven cents in the Tupperware bucket, and I said, "Alright, guys, how much change do you think we could find in the house?" They take off and run around and came back about twenty minutes later with one dollar and fifty-two cents from couches and chairs!
I said, "Alright, we have one dollar and fifty-nine-cents! We only need seventeen-thousand, nine-hundred and ninety-eight dollars, and whatever it is—some change. That's all we need now! Let's pray and trust God. And you know what, at the Seibert house it's "clear the cupboards" week. Whatever's in there, we're going to make it work. Mom's going to make some cool stuff. Whatever's in there, we're not going to gripe or complain. We're going to have a fun time doing this!"  
About four days later, we get a note from missionaries that we had supported for the last ten years. You see, Laura and I were always committed to tithing, committed to ten percent of managed giving, and then tried to give a percentage higher, no matter how much we'd made, all of our married life. We just said, that's just who we are as a people.
****So these people wrote us a note and they said, "We got a small inheritance and we asked God what to do with it. And He said you had need. We're sending a check for eleven thousand dollars." I knew their need, I knew where they were. They didn't have the money to do it, but they did it. And man, rejoicing in the house!
Well you know how it goes . . . obviously all the eighteen thousand came in . . . and we built a house in the 'hood, across the street from a crack house, and our kids learned to minister in the neighborhood and live out life.
So we taught them to live simply, we taught them to work diligently. We trained all our kids: "Hey, this is what we're going to do with chores, this is how we're going to do jobs and all that stuff." We taught them how to do a lawn business and we taught our daughters how to give swim lessons. We taught them, "This is how you provide for yourself," and then we taught them: "Ten percent tithe, ten percent to missions, ten percent to the poor, and the other seventy percent you can do whatever you want with."
What we found out was that that other seventy percent also was surrendered to Jesus. And they would give to friends and family and care for others and do so many great things.
But, fast-forward a little bit. As we got into college education, the question is, "What did you do? Did you guys save for college education?" Probably you know the answer by now. We didn't. But here's what Laura and I said: "If we teach them how to live simply, work diligently and give generously . . . if we teach them how to do those things . . . then, you know what, we'll give them what they need for a lifetime."
And when it comes to college, we'll do anything; we'll sell anything. It will be all for one and one for all." Well, we got to that first kid in college. I sold my truck, we were down to one vehicle . . .we made it through debt-free for her, her first year. Second year, she got great scholarships because of her diligence, and so on and so forth . . .
And then her other sister was coming in to college and we had everything covered except three thousand dollars. (Our second daughter took her first semester and lived in India, because she had college hours from high school, so she was starting in the spring semester of the next year.)
So on December twentieth, three-thousand dollars was due, and it's December eighteenth. And Laura and I are starting to fret a little bit and starting to ask, "Did we do our kids right? Are they going to be bitter in the end? Their friends aren't struggling like this. They're not having to sacrifice. Did we do them right?"
We said, "We just need to ask them. We've always been honest and open. We need to just have a little family pow-wow and talk about it. So we went out of town to a friend's house, about forty-five minutes away, we caught up on life, we talked about the transitions to college and into adulthood and we talked about if you start dating somebody, is that fair game for everybody to give input, or is that just your deal?"
"As you make career decisions, are we all in this together, or do you just want to make your own way? And over and over again our kids, with joy, said, "Hey, we're the team, man. This is Team Cyber. We're in! We're want everybody's input. We're in this together."
And then Laura and I brought up the topic. We said, "You know, Mom and I are struggling. We feel like we don't want you guys to struggle financially, and Lauren, you know we've got three-thousand dollars due, and we can't not do it debt-free-it's due in two days. We just need your wisdom and input."
"Mom and I thought I could get a second job, she can go back to work. We would do it with joy." And we started talking about the different ideas we came up with, and the kids are just-like they're in shock-and tears start coming down different ones' faces, and they said, "What are doing? What are you doing? You didn't raise us like this! You raised us to trust God and work hard. We'll get two or three jobs, not you. You've been called to do what you're called to do, and we are with you."
I mean, we were just undone. We prayed and we said, "God, we're Yours." (All of our kids worked through college and they have more than done their part.) A friend called me, the next day-and nobody knew our needs, or anything going on-and he said, "Hey, I need you to stop by; I just need your help with something."
And I stopped by. He's a dear friend, I've known him for twenty years; he offices out of his home. He said, "Hey, you know, I did really well last year, and my wife have been praying about giving a gift to somebody. We wanted to give you something for your kids' education."
I said, "Hey, man, you don't need to do that. You're free. That's not what we're about." And he said, "No, no, I have to obey God. This isn't about you, this is about me and God." So he hands me an envelope and I, of course, thank him and walk out of the house. I pull up to the stop sign, open the envelope and it's a check for three thousand dollars.
I called the kids and said, "Well, we're still on course. You don't have to get the second or third job. We're going to make it."
Obviously we taught our kids to give generously. They share with one another. My daughter's going to graduate debt-free, my other daughter graduated debt-free. Caleb's at the end of his sophomore year-God has provided for them. Do you know what they do? They end up giving to each other. When they get a little bit more in scholarship money, they give to the other one. It's working-the next generation.
I think when we all wrestle through these issues-it's about impacting people, isn't it? But I think what most of us are really drawn to is, "How is this going to impact my kids? Are they going to get it? Is the next generation going to make it?"
I want to share one last story: We not only taught our kids how to live simply, work diligently and give generously . . . we taught them how to risk abundantly . . . that the kingdom of God is the most important thing . . . everything for Jesus. We took them 'most every summer to Haiti, to Mexico, to India, to Africa . . . we took them all over the world.
We would sell things, work hard, do whatever we could, because we wanted them to be active in the kingdom of God and in the big picture of God's world mission. But there were times that they had to let me go. One particular time, when we were actually trying to get into Afghanistan for the first time, my kids were little kids-nine, seven, five and maybe one-and we gathered the kids together and said, "Daddy needs to go to Afghanistan, and it's dangerous, and we don't have the money for it . . ."
"We have enough for the plane ticket, but we only have a hundred dollars left for the family while Daddy's gone. What's God saying, guys?" I was there with Laura and I was saying, "Just take the hundred dollars, baby. I'll trust God to take care of it. I can make it to the airport in Uzbekistan . . . I'll walk into Afghanistan. I'll make it." And the kids all gathered together with Laura and they said, "Daddy, you take the money." So we had this big argument: "No, you take the money! No, you take that money!"
So we agreed on me taking twenty bucks and them taking eighty. So, they're praying for me . . . and you know, of course, God provides for them while I'm gone. But I got on the airplane, I don't know what's going to happen. I get to Uzbekistan-we have friends there, missionaries where we planted a church there.
I get off a plane in Tashkent, and my guy walks up to me and says, "Hey, how're you doing? Good to see you! There's a friend of mine here who called me this morning and said he has to meet you. He's one of the other missionaries in town." I said, "Really? What's he want?" He said, "I don't know."
So, I walked up to him and said, "Hey, how're you doing, Dave?" I talked to him a little bit. He said, "Hey, this is weird man. I've never done this before, and I don't know what all is going on, but I heard that you were trying to get to Afghanistan."
"I was praying this morning, and God told me to go to the airport, and to give you whatever it takes to get there and back." I was able to email my family and say, "God has answered, again, your prayers. Way to go, guys!"
We got into Afghanistan . . . I would have the opportunity to witness to the number two guy under the northern alliance, who was eventually assassinated. It opened up a doorway for us to do our work, which even goes on today in that country. My kids prayed me through Iraq, through Iran, all over the world. We've done it as a team.
The kingdom of God is not simply a set of principles, it's following a Person named Jesus and living as much like Him as we can . . . and when we don't, repenting abundantly. And what your kids actually want is an authentic life. They want to see what you do and how you live, and therefore it's never too late.
I was in a meeting just like this, with people who are very, very generous-about twenty-five. It was men only and I told my little story and then we did question and answer. And people kept asking the same question in different ways: "Well, I've gotten up to where I'm giving thirty percent and I'm wondering if that's okay?" Or, "What does God say if I have a lot of money (and I gave five million last year out of my foundation) . . . what do you think about that?" Or, "We're trying to do this. What do you think about that?"
And I was trying to answer questions practically, and then after about three questions I just said, "Hey, time-out guys! All you guys are asking is really the same question, and the question is, 'How much is enough? What's going to justify me before God?' And you know what's going to justify you before God? Nothing but Jesus. We're saved by grace through faith . . ."
". . . That's the power of the gospel. You are loved and wanted by God because of His initiative, and therefore you're free, man. You're free because Jesus died for you. You do not have to justify yourself anymore. But you're also now free to surrender to Jesus, to go on the great adventure with Jesus."
I said, "It's not a set principle: 'Is it thirty percent? Is it forty percent? Is it a double tithe? Is it ninety percent?'" I said, "It's not about percentages. It's not about how this person does it or about how that person does it. It's about the leading of Jesus in your life. It's about absolute surrender . . . 'You speak, Lord Jesus, and I'm in!' That's what it's about! It's about Jesus, and you following Him whole-heartedly!"
[music segue]
Nancy: That's Pastor Jimmy Seibert: Getting to the Heart of Generosity. As I said earlier this week, we've received grace and that should fill us with gratitude and the result should be overflowing generosity. Jimmy Seibert gave that message at the Generous Giving Conference, where I was able to speak as well, earlier this year.
It's a challenge to all of us to surrender everything to the Lord-open hands, open heart-and then to ask Him, "How do you want me to live a surrendered life for Your kingdom purposes?" Now, the specifics may look different for you, and for me, and for Pastor Siebert, but what I hope you come away with is a heart of surrender and joyful generosity for Jesus' sake.
And let me express how thankful I am for all who give generously to make Revive Our Hearts possible. We're able to come to you through the radio and online, through our daily podcast, thanks to listeners who support the ministry financially. So if you believe in the ministry and the message, the mission of Revive Our Hearts . . .if you see God's Word helping women thrive in Christ through this ministry, would you ask what He would want you to give, to support this ministry financially? [music comes up behind Nancy's voice as she is speaking this paragraph]
When you make a donation of any size this month, we want to say "thank you" by sending you my new Christmas piano CD called Come Adore. My prayer is that God would use this album to help keep your heart focused on Jesus throughout this coming Christmas season.
We're able to send one CD per household for your gift of any amount here in November. Just ask for Come Adore when you call us at 1-800-569-5959. Or you can visit us online at ReviveOurHearts.com.
Now, what could you do this Christmas to make the season more meaningful? We'll explore that on Monday. I hope you'll be back for Revive Our Hearts. [music tapers off after she ceases speaking]
Leslie: Revive Our Hearts, with Nancy Leigh DeMoss, is an outreach of Life Action Ministries.
*Offers available only during the broadcast of the podcast season.
Support the Revive Our Hearts Podcast
Darkness. Fear. Uncertainty. Women around the world wake up hopeless every day. You can play a part in bringing them freedom, fullness, and fruitfulness instead. Your gift ensures that we can continue to spread gospel hope! Donate now.
Donate Now