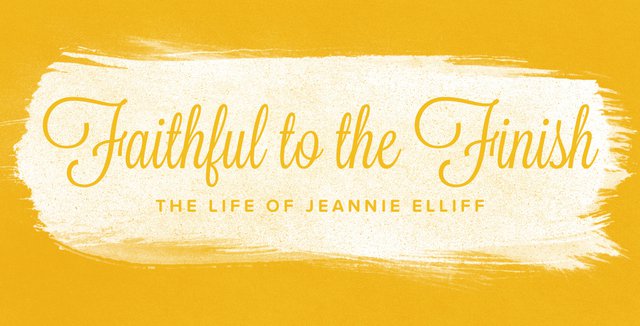 — Audio Player —
The Life of Jeannie Elliff—Part 1
Leslie Basham: What will you be remembered for? Here's the way Jeannie Elliff is remembered.
Sarah Elliff Mann: Nine years ago during the middle of the night I received a phone call from my parents, at which time they informed me that my mother had been diagnosed with cancer. Through the years of chemo treatments, scars, pain, nausea, and great suffering, my mother still pointed us to God's Word, which says . . .
"For to you it has been granted for Christ's sake not only to believe in Him, but also to suffer for His sake." So, for the beautiful way that my mother glorified Christ through her suffering, I praise the Almighty God!
Leslie: This is Revive Our Hearts with Nancy Leigh DeMoss for Thursday, October 1, 2015.
Nancy Leigh DeMoss: The writer of the Book of Hebrews tells us in chapter 13, "Remember your leaders, those who spoke to you the Word of God. Consider the outcome of their way of life, and imitate their faith. Jesus Christ is the same yesterday and today and forever" (vv. 7–8).
Well, I find it so helpful to do exactly what this verse says: to look at godly women who have served the Lord faithfully, and to imitate the choices they have made to follow and serve Christ. One woman who has served as an example to me was my long-time friend, Jeannie Elliff.
I've known Jeannie since the early 1980s. She served alongside her husband, Tom Elliff, in local churches where he was the pastor. For a time, they were also missionaries to Zimbabwe, Africa. Jeannie went home to be with the Lord earlier this year, July 20. As I watched her memorial service, I was so moved to hear about her faithfulness to the Lord.
It was especially touching to hear testimonies from each of her four children: Jon, Beth, Amy, and Sarah. I'd like to share with you a portion of the tributes that her children shared, as a reminder to all of us what matters most in life. Jeannie's son, Jon Elliff, who is a pastor in Hawaii, helps us to see why seeking the Lord through His Word can have such an effect on the generations that follow. Here he is, remembering his mom, Jeannie Elliff.
Jon Elliff: There are a thousand reasons why we love our mother and wife and aunt and pastor's wife, but I wanted to share the one foundational thing that she gave to me . . . and everything—literally everything—in my life hinges on this grace that my mother gave to me.
In 2 Timothy 1 Paul says to Timothy, "I am reminded of your sincere faith, a faith that dwelt first in your grandmother Lois and your mother Eunice" (v. 5). I can think of no other passage that better describes my life, my experience, my relationship with my mom, than right there in 2 Timothy 1.
Theologians have a phrase to describe the human element of the activity of God. It's called "the means of grace." We know that God, and God alone, saves people. God and God alone sanctifies people and changes people and moves people. However, because He is gracious and because He is loving and kind, He includes us in His plan.
He includes our obedience and our prayers and our activity in His plan. He uses these things to draw His people in. He uses a guy handing out a tract to a waitress to save that waitress. He uses a faithful neighbor who's not ashamed of the gospel to save somebody.
He uses obedient coworkers and faithful preachers and true praise and persistent prayer. He uses even the activity of a church, faithfully carrying out the truth and the ordinances of the church. These are all called the "means of grace."
But perhaps the most effective and efficient means of grace is a faithful mom. That's what this passage is saying—a woman of faith, investing hundreds of thousands of hours into her children. When Scripture says 'faith" there, it's not talking about this generic leap into ambiguity that American Christianity has come to define. This is talking about simply taking God at His Word, believing Him, obeying Him, building your life on His clear, discrete, understandable, written Word.
If you were to ask me, "What were your mom's hobbies, what were her interests, what did she do in her spare time, what did she like? What was her favorite leisure, her favorite TV show, her favorite movie?" Before the Lord, I could not answer those questions. I can simply say, "My mom loved the Word."
Throughout the day, every day, my mom consumed the Word of God. When she was washing, ironing, cleaning, she was listening to J. Vernon McGee, John MacArthur, Chuck Swindoll, Adrian Rogers, and others. We just heard the Word around the house.
When she took a rest from that, she would sit down and break open her Precepts stuff—get her colored pencils out, and her Bible and her notebook and highlighters. When she left the house, when she would drive away, if it wasn't for domestic reasons, she was going to a Bible study. She wanted to study the Bible.
After we were grown and gone, she would call us all the time. Even in the last few weeks, she would call us and tell us of some great new truth she discovered in the Bible. If you ever watched her at church, she had her notebook open, her Bible was open, her pen and highlighter out, even if she had the same lousy sermon fifty times before [laughter].
It wasn't because she loved my dad—she loved the Word. My mom's faith was a rich, brilliant, multi-faceted, deep trust in God and in what He had said.
Later in 2 Timothy, the Scripture says in chapter 3,
"But as for you, continue in what you have learned and have firmly believed, knowing from whom you have learned it and how from childhood you have been acquainted with the sacred writings, which are able to make you wise for salvation through faith in Christ Jesus. [Then what does it say right after that?] All Scripture is breathed out by God" (vv. 14–16).
From my dad I learned the doctrine of inspiration. I learned it in seminary as well, and I needed it. In my mind the science and logic and the archeological and linguistic defense of inspiration, I needed that. I needed it for my faith and my heart, and I'm thankful for those things.
But just like Timothy, my mom didn't just hand me a doctrine. She gave me a love for the Word of God! It was her sustenance; truly the Word was her bread. She lived on it, she consumed it, she obeyed it, she proclaimed it. So, in my formative years, when I began to truly deal with what God had said—and whether or not God had really said it—this means of grace (the faith of my mother) was the very tool that God used to save me, and the tool that He continues to use to sanctify me.
This remains, for me, my objective—and should be your objective, too. I've never felt, even to this day, that I've loved the Word as much as my mom did. I've never been as disciplined or as passionate about His Word as my mom—and I've got news for you: you haven't either. All of us need to achieve this. That's our challenge.
As dark as her death is, this is a mercy of God to call us to faith in Him. So, in spite of death, this is a wonderful mercy—to reflect on the life of someone who hung on God's every word. So let's go and do the same.
Nancy: That's Pastor Jon Elliff, remembering the legacy of his mom. Jon has reminded us that seeking the Lord through His Word doesn't just affect us. Others are watching to know how high a priority we place on God's Word and whether we really live it out.
Now we'll hear from another of Jeannie's children, Beth Cox. She also saw her mom making a priority of spending time with the Lord.
Beth Cox: In the Book of 2 Corinthians, 3:18 says, "[We] are being transformed into the same image, from one degree of glory to another. For this comes from the Lord who is the Spirit."
My mom would tell me when I was growing up, and mainly in my teen years, you become like the ones you hang around—and that's pretty much the reality of her life. She spent her time with Jesus and pretty much just became like Him.
Nehemiah 8:10, "The joy of the Lord is my strength." Because my mom was so constantly in the Word of God, getting His perspective, she could enjoy things and she loved to laugh. It didn't matter how many times she had heard the joke or heard the story, she always acted like she hadn't.
And then she'd just laugh and laugh again. I know you've heard it. This is a good thing when married to Tom Elliff, right?" [laughter] I love you, Daddy.
Psalm 104:33: "I will sing to the Lord as long as I live; I will praise my God to my very last breath." Because she trusted the Lord and believed God's intentions for her were good, she could sing, and music was always playing in our house or the car. It was usually really loud. Even last week all of her grandchildren gathered and sang with her. She sang—a small whisper, but it was a song.
First Peter 5:7: "Casting all of your anxieties on Him, because He cares for you." Because my mom would pour out her heart to her heavenly Father daily, she began to have a love for listening to others the way that her heavenly Father listened to her. I know you have experienced this as well. When you came and talked to her, you just felt like you were the only person in the whole world, because she would listen so deeply to you.
The most important decision my mom ever made in her whole life was to give her heart to Jesus. This made all the difference, because from that point on, her life pointed us to Jesus. Even in the last few weeks, while this has been such a bitter and sweet time, she and my dad have pointed us on how to live and how to die, and our marriages—Daddy—are stronger because of watching you.
I was not deserving of my mother, but God gave to me anyway. The Lord gives and He takes away. Blessed be the Name of the Lord. When things weren't going my way at times, when I felt like all was lost, my mom would say, "Oh, Beth, every day is not your day. It's somebody else's day today. Let's just be celebrating with them"—which is really a great perspective.
Today is not my day, but it's your day, and I celebrate with you, Mom. [applause]
Nancy: And here's another one of Jeannie's daughters, Amy Jarboe.
Amy Jarboe: Like my sister said, my beautiful mom loved music. She loved singing in the choir; she played worship music constantly in that peaceful home she created. She sang often, spontaneously, her heart just overflowing with praise. She even found music—opera in particular—to be useful in times of great frustration or anger.
Instead of raising her voice, she would just burst into opera! [laughter] We all found that—and still do—to be a rather effective conflict resolution means [laughter]. My mom didn't feel like she was especially great at anything. In fact, she actually struggled with that thought at times.
She was humble, but that's why we all adored her so. She was authentic and sensible and balanced, and helped to stabilize us—and especially Dad. She was approachable. Mom didn't want to be special or the center of attention, but that's why we all wanted to be around her.
She was quiet, she listened, and it was important to tell Mom. It was important to tell her things. The day Momma died, I sat and told her about my children, and I told her about that ivy I had planted from her garden. I shared prayer requests the kids had asked me to give her to pray when she went to heaven.
It was important to tell these things to Mom. All my life Mom rejoiced with me. She wept with me. But mostly, she prayed for me and our family—and so many others. My beautiful momma walked before me and she laid down footprints for me, to know how to live and love.
When I saw her at five-thirty in the morning, curled up on the couch with her coffee and her Bible open and her meticulous prayer journal, she taught me how to love God. When she quietly served Dad, adjusting her schedule, packing her suitcase, traveling all over the world with him—even in her sickness—she taught me how to love my husband.
When she laid aside her plans to lead a Bible study one spring when we were young, in order to tend to special needs in our family, she taught me how to love my children. When she read a book about Muslim women so she could reach them with the gospel in our city, she taught me how to love others.
In fact, the last book she read, which laid on her night stand, was a book about a Muslim woman who came to faith in Christ. I loved my mom, but first she loved me and showed me how to love. And she passes the baton to me, and to you ladies, to be women who love and obey God's Word and pray consistently.
I honor this woman who made me what I am. I honor this woman I do not deserve. I honor this woman who loved Jesus and His Word and was constantly grateful to Him for the sure salvation He had given her. She was a great lady!
I struggled to choose a verse to describe Mom, because she loved them all. She lived and died by the words of God. If she could choose a verse for this day, I'm fairly certain it would be a gospel verse which would speak of salvation and forgiveness alone through Jesus Christ, urging all here to fully believe in Jesus.
So, I will close with one of her favorite verses, one in fact that she loved to sing: Jude verses 24 and 25:
"Now to him who is able to keep you from stumbling and to present you blameless before the presence of His glory with great joy, to the only God our Savior through Jesus Christ our Lord be glory, majesty, dominion and authority before all time and now and forever. Amen."
Nancy: As we continue remembering the life of Jeannie Elliff, here's her daughter, Sarah Mann.
Sarah: I sat on the back porch of my parents' home a few days ago asking God to give me the appropriate words to honor my mother, knowing that she would never, never ever want to be the one to receive the attention. I've decided to do what I believe she would do if she were standing here, and that is to give all glory to God.
In April 1946, a tiny beautiful girl—my mother—was welcomed on this earth. God's Word says the Spirit of God has made us and the breath of the Almighty gives us life. So, for my mother's birth I praise the Almighty God. In August 1966 God united my mother and father and they began a journey that was indescribably wonderful.
As it is written, "What no eye has seen nor ear heard, nor the heart of man imagined, what God has prepared for those who love Him." So for the marriage of my mother and father, I praise the Almighty God. In July 1971 my mother gave her life to Christ.
God's Word says, "Therefore, if anyone is in Christ he is a new creation. The old has passed away. Behold the new has come" (2 Cor. 5:17) So, for my mother's salvation, I praise the Almighty God! Nine years ago during the middle of the night, I received a phone call from my parents, at which time they informed me that my mother had been diagnosed with cancer.
Through the years of chemo treatments, scars, pain, nausea, and great suffering my mother still pointed us to God's Word, which says, "For to you it has been granted for Christ's sake, not only to believe in Him but also to suffer for His sake."
So, for the beautiful way my mother glorified Christ through her suffering, I praise the Almighty God! Just a few days ago, on July 20, my precious mother took her last breath. But Jesus says,
"I am the resurrection and the life. He who believes in me will live, even though he dies. And whoever lives and believes in me will never die" (John 11:25–26 paraphrased).
And so, for my mother's resurrection, I praise the Almighty God! And Daddy, someday soon—the Bible says:
"For the Lord Himself will descend from heaven with a shout, with the voice of the archangel and with the trumpet of God, and the dead in Christ will rise first. Then we who are alive and remain will be caught up together with them in the clouds and meet the Lord in the air, and so we shall always be with the Lord" (1 Thess. 4:16–17).
So, for the beautiful promise of reuniting with my mother, I praise the Almighty God!
Nancy: We've been remembering the life of my friend Jeannie Elliff, who went to be with the Lord earlier this year. We've heard from her children, Sarah, Amy, Beth, and Jon. They've painted a picture for us of a woman who made a priority of spending time with the Lord. Anyone who knew Jeannie well would have told you the same thing about her. We've also heard how that kind of life, that's built on an intimate relationship with Christ, is able to handle suffering with hope.
We've been reminded of the ultimate hope that we have in Christ, looking forward to eternity with Him. When a follower of Christ moves on to heaven and I hear these kinds of tributes, I think to myself , What kind of legacy do I want to leave? When my days are over, what would I like people to say?
What kind of legacy do you want to leave?
What do you hope people would say at your memorial service?
Are your days centered around being close to Christ through prayer and His Word, as is the testimony of Jeannie Elliff?
Is your life being built on a foundation that can handle the inevitable storms of life?
O Lord, I thank You for the example of women like my sweet friend Jeannie Elliff—who is now free from her suffering, free from her pain, and in the presence of Christ. And thank You for the witness she has left behind, for how her life speaks to us today.
I pray that You will give us grace to live each day that You give us here on earth by being intentional and purposeful in following You, in seeking You, in serving You, and in serving others. Help us to build our lives on that solid foundation of Your Word—to be women of prayer, to be women of worship, to have grateful thankful hearts, to focus on serving our families and others.
And when it's Your time for us to suffer, we pray that—like Jeannie—we will do that in a way that brings You glory. We bless You, Lord, we thank You for this faithful servant.
I pray that, as a result of what we've heard today, You will make us more faithful servants of Christ, in whose sweet name we pray, amen.
Leslie: Thanks, Nancy. Tomorrow we'll hear from Jeannie Elliff's husband, Tom. You'll hear the surprising story of how Jeannie came to know the Lord. You'll hear how she had the strength to be the kind of woman we heard about today. Please be back for Revive Our Hearts.
Revive Our Hearts with Nancy Leigh DeMoss is an outreach of Life Action Ministries.
*Offers available only during the broadcast of the podcast season.
Support the Revive Our Hearts Podcast
Darkness. Fear. Uncertainty. Women around the world wake up hopeless every day. You can play a part in bringing them freedom, fullness, and fruitfulness instead. Your gift ensures that we can continue to spread gospel hope! Donate now.
Donate Now