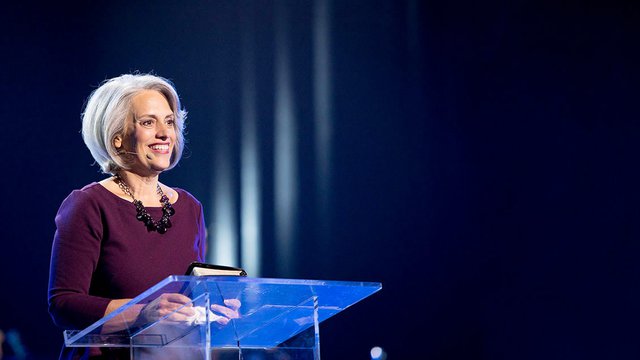 — Audio Player —
Lies Women Believe About Themselves, Part 2
Leslie Basham: Which are you more likely to believe, your emotions or the Word of God? It's Tuesday, January 29. This is Revive Our Hearts with Nancy Leigh DeMoss.
You've probably heard the phrase "God loves you," but sometimes we simply don't feel loved despite our knowledge of that truth. Today we'll hear how to take our knowledge of God's love and apply it to the situations we face every day. Let's join Nancy as she teaches a group of women.
Nancy Leigh DeMoss: How many of you in this room would say that at some time in your life you have struggled with this deep sense that "I'm not worth anything"--wrestling with a sense of worthlessness. Let me see some hands here. Almost every one of us in this room.
We're talking this week about lies that women believe about themselves; and this is one of the most pervasive, common lies that we as women believe about ourselves. It's interesting that no matter how many times you tell a woman who feels worthless, "You are worth something to God"--many times the problem is that even though we know that's true, we choose instead to believe what we feel. If our emotions tell us, "You are worthless," then we believe our feelings rather than believing the Word of God.
It's interesting that just knowing the truth, for most of us, is not enough. We need to embrace the truth and surrender our hearts to it by faith and believe God to make the truth a reality in our beings. "I'm not worth anything"--this lie that the enemy tells us is something that many of us believe deeply. How do we counter the lie?
We go back to the Truth. We need to go to the Word of God to get our perspective on ourselves and find out how God views us. Let's think about what we learn from the Word of God about God's perspective on us. First of all, we know from the Scripture that we were created by God.
I remember as a child growing up, my parents had an old LP album that was of the series of poems called God's Trombones by James Weldon Johnson. I don't know if you've heard any of those; but in one of those there is a very tender, dramatic account of God's final, crowning act of creation.
Here's how that passage reads where it talks about God creating man:
Up from the bed of the river,
God scooped the clay;
And by the bank of the river
He kneeled Him down;
And there the great God Almighty
Who lit the sun and fixed it in the sky,
Who flung the stars to the most far corner of the night,
Who rounded the earth in the middle of His hand;
This great God,
Like a mammy bending over her baby,
Kneeled down in the dust
Toiling over a lump of clay
Till He shaped it in His own image;
Then into it He blew the breath of life,
And man became a living soul.
Amen, Amen.
What a picture of the tenderness, the mercy, the grace, the power of God--in taking a lump of dirt and fashioning it into a man. We were created in the image of God. The Scripture tells us in Psalm 139--one of the most wonderful passages of Scripture about how God views us. It says that He knit me together in my mother's womb, He fashioned all my parts, all my pieces, before anyone else had ever seen my substance. There in my mother's womb God, my Heavenly Father, fashioned me.
The Scripture tells us not only was I created in His image, but I was created for His pleasure. The Scripture tells us that we are the object of His tender love and affection and attention--that He ordained all our days and wrote them in a book before one of them ever came to pass.
Someone was saying to me this morning, "I don't know yet why this incident happened to me as a little girl." She said, "I may never know"--but God wrote that day in His book before it ever came to pass. That day did not slip by God's attention. It wasn't an "Oops! I forgot to be on My throne that day." God was there. He was caring and He was fashioning. As I said to that woman, "That day was a part of God making you into gold, fashioning you into a woman who will reveal His glory to our world."
Scripture says that God thinks about us all the time. Again, in Psalm 139, "How precious concerning me are Your thoughts, O God! How vast is the sum of them! Were I to count them, they would outnumber the grains of the sand." Think about God thinking about you all the time, having more thoughts toward you than there are grains of sand on the seashore.
So many other things that the Scripture tells us--God reveals Himself to us. He has compassion on us, even in our fallen, sinful condition. When we were His enemies, He pursued us--as the Hound of Heaven, He pursued us. He sent Christ to die for us, to bring about our redemption. He chose us to be a Bride for His Son. The Scripture says He has a purpose for my life and for your life, that He wants you and me to be fruitful and for our lives to bring Him glory.
There's a wonderful passage that I was reviewing just this morning in Ezekiel 16. I want to read this story to you. God is using it as a picture to His people in the Old Testament of how He had been faithful to them even--as the story goes on--when they were unfaithful to Him. Listen to this word picture that God paints for His people.
Your ancestry and birth were in the land of the Canaanites; your father was an Amorite and your mother a Hittite. You came out of a pagan, idolatrous background. [You weren't born loving God; I was not born loving God. We were born separated from God and His enemies. God goes on to say,] On the day you were born, your cord was not cut, nor were you washed with water to make you clean, nor were you rubbed with salt or wrapped in cloths. No one looked on you with pity or had compassion enough to do any of these things for you. Rather, you were thrown out into the open field, for on the day you were born, you were despised.

Then [God says] I passed by and saw you kicking about in your blood, and as you lay there in your blood, I said to you, "Live!" I made you grow like a plant of the field. You grew up and developed and became the most beautiful of jewels. . . . Later I passed by, and when I looked at you and saw that you were old enough for love, I spread the corner of my garment over you and I covered your nakedness. I gave you my solemn oath and entered into a covenant with you, declares the Sovereign Lord, "And you became Mine. I bathed you with water and washed the blood from you and put ointments on you (verses 3-8).
Notice God didn't just choose those who had something to offer Him. None of us had anything to offer Him. He didn't choose those who were beautiful, who had their act put together. He chose those who were wallowing around in the muck and mire of their own sinfulness and selfishness.
I bathed you, I washed you, I put ointments on you. I clothed you with an embroidered dress [a picture of the righteousness of Christ] and put leather sandals on you. I dressed you in fine linen and covered you with costly garments. I adorned you with jewelry (verses 9-10).

You became very beautiful and rose up to be a queen. And your fame spread among the nations on account of your beauty, because the splendor I had given you made your beauty perfect,' declares the Sovereign Lord (verse 13). 
Ladies, the fact is that you and I have no worth of our own. We have no value apart from Christ. We are worthless apart from Him--His creative redemptive choice in our lives. It's His love for us, lavished upon us--His grace poured out upon us that is what gives our lives value and worth.
I want to read a portion of one other passage from Psalm 8 that I think puts this all in proper balance and perspective. Here's the balance. He begins with a high view of God. Verse 1, "Oh Lord, our Lord, how majestic is your name in all the earth! You have set your glory above the heavens." That's the starting place for a right view of ourselves--to get a right view of God.
Our problem is not really a poor self-image; our problem is a poor God-image. The psalmist says, "God, You are high and lifted up--no worthless idol. You are the great God." Then he says in verse 3, "When I consider Your heavens, the work of Your fingers, the moon and the stars, which You have set in place, what is man that You are mindful of him, the son of man that You care for him?"
An exalted view of God will give us a humble and right view of ourselves. The psalmist says, "I stand in amazement, in awe, that You would consider me. And not only that You would care for me," but verse 5, "You made him a little lower that the heavenly beings and You crowned him with glory and honor. You made him ruler over the works of Your hands; You put everything under his feet."
Then we come to the last verse of chapter 8, and he ends up right where he started, "O Lord, our Lord, how majestic is Your name in all the earth!"
Leslie Basham: Today Nancy Leigh DeMoss has been pointing us to God. Once we see Him as He is, we gain a proper view of ourselves. Nancy's not finished, she'll be right back. First, why don't you think of someone you know who would benefit from hearing today's message. Why don't you share it with them? You can order them a copy of this week's series called Lies Women Believe About Themselves. It comes on two cassettes for a suggested donation of $8.
You may also want to consider hosting a Bible study in your home and invite Nancy--via video tape--to teach on this topic. For a suggested donation of $15 you can get the video Lies Women Believe and the Truth That Sets Them Free. The video comes with study questions to help you identify lies you may be tempted with, and help you apply the Scripture to your life.
For more information on the cassettes or the video, just visit our Web site, ReviveOurHearts.com, or give us a call at 1-800-569-5959.
Tomorrow we'll hear from a woman who heard many cruel words as a child. We'll see what result they've had in her life as an adult.
Here's Nancy to once again remind us what to do when feelings of worthlessness come.
Nancy Leigh DeMoss: The goal is not to keep looking at ourselves. But having seen God's tender care and mercy and choice of us, then to lift our eyes and say, "O God! You are worthy of praise. You have made me. You have chosen me. You love me. You brought me close to your heart. You care for me. I am Your cherished treasure and possession. I don't know why. For all of eternity, I'll never figure out why You would have poured Your love upon me; but I accept it and I give You praise. 'O Lord, our Lord, how majestic is Your name in all the earth!'" 
Revive Our Hearts with Nancy DeMoss is a ministry partnership of Life Action Ministries.
*Offers available only during the broadcast of the podcast season.
Support the Revive Our Hearts Podcast
Darkness. Fear. Uncertainty. Women around the world wake up hopeless every day. You can play a part in bringing them freedom, fullness, and fruitfulness instead. Your gift ensures that we can continue to spread gospel hope! Donate now.
Donate Now