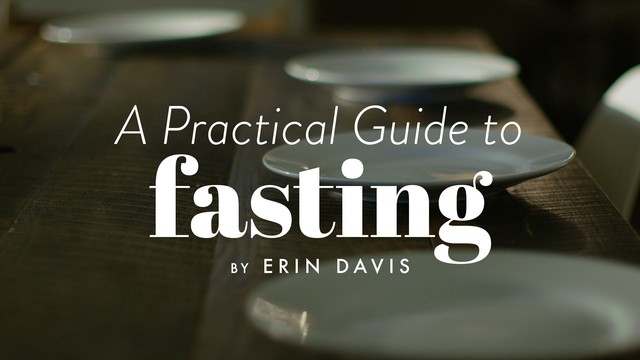 How to Fast
Dannah Gresh: According to Erin Davis, fasting isn't something to check off a spiritual to-do list.
Erin Davis: Fasting is a gift, waiting for you to open it. It's a "get to," not a "got to." It's a delight, not a duty. But I'll say it again, "Fasting is feasting."
Dannah: Welcome to the Revive Our Hearts podcast for January 27, 2023. I'm Dannah Gresh. Our host is the author of Adorned, Nancy DeMoss Wolgemuth.
Nancy DeMoss Wolgemuth: Have you heard the term "spiritual discipline"? Some of us may have a natural tendency to shrink back a little when we hear the word "discipline." But discipline is actually a good thing. And a spiritual discipline is anything we do, any habit we form, that's intended to help us grow in our relationship with Christ. I think we can all agree that's a good thing. 
They're things we do, life rhythms …
Dannah Gresh: According to Erin Davis, fasting isn't something to check off a spiritual to-do list.
Erin Davis: Fasting is a gift, waiting for you to open it. It's a "get to," not a "got to." It's a delight, not a duty. But I'll say it again, "Fasting is feasting."
Dannah: Welcome to the Revive Our Hearts podcast for January 27, 2023. I'm Dannah Gresh. Our host is the author of Adorned, Nancy DeMoss Wolgemuth.
Nancy DeMoss Wolgemuth: Have you heard the term "spiritual discipline"? Some of us may have a natural tendency to shrink back a little when we hear the word "discipline." But discipline is actually a good thing. And a spiritual discipline is anything we do, any habit we form, that's intended to help us grow in our relationship with Christ. I think we can all agree that's a good thing. 
They're things we do, life rhythms we develop, not to earn favor with God, but because we love Him and want to grow closer to Him. They're ways we can put ourselves in a better position to receive His Word and His grace.
Well, fasting is another one of those spiritual disciplines. 
Yesterday on Revive Our Hearts, we heard part one of a message Erin Davis gave in a breakout session at the last True Woman conference. It was all about the subject of fasting. She gave us two reasons to fast: first, because Jesus and other heroes of our faith fasted. And then second, because fasting is a way to, as she put it, turn down the volume on our flesh and turn up the volume on things of the Spirit. 
If you missed yesterday's program, you can review it at ReviveOurHearts.com, or on the Revive Our Hearts app.
Here's Erin, with the conclusion of her message, "A Practical Guide to Fasting."
Erin: Fasting is a tool in your spiritual arsenal, and what I need you to know is on like a front level knowledge, not a subconscious level knowledge, is that we are at war! And you are soldiers on the winning side of that war, but you do have to fight. And one of the weapons that God has given you is fasting.
[Not using this weapon is] the equivalent to having a sword in your belt, going up against the enemy and just leaving it sheathed. It's a weapon. Second Peter 2:19 says that you are a slave to whatever controls you. That's a pretty broadly brushed verse. Food controls us. It does!
In many ways it's a culturally acceptable area of sin. I could hear your toes curling up, but we're nodding. You were sweet about it! What fasting does is it is a God-given reset when our appetites are off.
It's been really interesting as I've been promoting the book these past few weeks, I've been talking about fasting a lot . . . I feel like this was an area where the Lord has given me a lot of freedom. I still feel that way. He's given me a lot of new patterns. But as I was day-in and day-out talking about our appetites, suddenly my appetite started to get off! I started craving all kinds of things I wasn't craving and eating all kinds of weird times. It was like, "I've gotta walk out what I'm teaching here!"
When your appetites are off—your appetites for food, your appetites for entertainment, your appetites to be with the people of God, your appetites for Scripture (you have appetites)—when they are off, fasting is a reset button that I want you to push more often.
Okay, Number 3, Fasting is an outward expression of an inward change. We have a lot of these in the Christian life, right? Baptism comes to mind. Somebody is above the baptismal waters, they go below the baptismal waters, and they come out . . . and they're saved. Is that how it works? No. 
I met a woman once who got baptized before she came to Christ. She said, "I went in a dry devil, I came out a wet devil!" (laughter) It didn't change her nature! So why do we get baptized, if that's not what saves us? Well, because Jesus did it, and because it's an outward expression of an inward change. 
Sabbath is the same thing. Sabbath doesn't save you; there's no sticker chart in heaven—who had the best of rest times. It's an outward expression of an inward change: "I believe heaven rules, so I believe I can rest."
Tithing is the same thing. I hope you don't think that God has like abacuses and Excel sheets and He's really paying attention to how much you give because how He feels about you is somehow contingent on that. No! You get to give. You don't "got" to give. It's an outward expression of an inward change.
So, your salvation does not hinge on whether or not you fast. Good news! You could never fast—ever, ever, ever—and you would be as saved as the person who fasts every week. But because of Christ's work in you, if you want to find ways to express what He's done for you—which I know you do—then fasting is one way you can do that.
And what do those things I mentioned—baptism, tithing, setting aside a day to rest—what would you say, other than the fact that they're outward expressions of inward changes? What is something that those have in common? Sacrifice, good. What else? Spiritual discipline, good. What else? Faith. What'd I hear? Blessings. Yeah. Renewing your mind, yeah. Often done in community, you're right. Humility is what I'm going for, but those were all good answers!
Humility, so good! That's what I was thinking, right? I mean, Sabbath is an act of humility. "It is okay, I can rest; I'm going to surrender my to-do list." I hate it! 
My family is always like, "Erin, come sit on the couch." I'm like, "I've got seven thousand things to do, guys." But it's a step of humility. Baptism is a step of humility. Tithing is a step of humility, and fasting is a step of humility.
It's a surrendering of yourself, of your comfort. It's a surrendering of your most basic need, your most urgent need. I mean, when you say you need Jesus, do you mean it? Do you mean you need Him to satisfy your hunger? It's a step of humility.
I think sometimes we feel like the only thing we can control in a day is food, right? And to let go of control of that area of our lives can put us in a free fall. It is a step of surrender. It is saying, "Okay, Jesus, I know I need food. I'm going to set it aside, and in humility I'm going to put myself at Your mercy and trust that You're going to sustain me without food."
So, as I've talked about fasting, some women have said to me, "I tried fasting. I got a headache! I must be doing it wrong." I'm like, "You were doing it right!"
"I tried fasting. My brain just got so foggy! I don't know how you do it! I just quit it." Yeah.
To fast is to embrace the consequences of not eating for a spell, it is to not feel good. Now, you get to a point where you feel really good, actually. But it's to take on those consequences. It's to humbly embrace that part of our humanity, which is like, "I think I'm in control of the world, and I can't go six hours without some protein!" I'm not in control here!
It's an outward sign that I trust Jesus to take care of me. Those are the high level reasons. Scripture also gives us many specific reasons to fast. I'm not going to give them all to you because we have limited time, but if you head to ReviveOurHearts.com there's a blog post that I wrote there that I think is comprehensive of the reasons Scripture gives us to fast, and there are a lot of them there. But I'll give you some of them.
Acts 13:2 showcases the early church praying before they had to make a decision. By a show of hands, does anybody have to make a hard decision in the next thirty days? Anybody? Okay, there's a biblical example that one way to prepare to make that decision wisely is to fast.
In 2 Samuel 12:15–17, this is fasting for God's intervention. Does anybody need to see the hand of God in their life? Me, too. Scripture gives us an example that maybe that's when we fast.
In response to grief or mourning, I'm going to give you two passages: Psalm 35:14 and Esther 4:3. Isn't it interesting . . . I'm confident some of you in this room have experienced this, that when you come up against a period of intense grief (someone's died), your body often doesn't want to eat . . . or some of us eat whole pizzas and whole chocolate cakes!
That's your body naturally kicking into something that Scripture teaches us is an appropriate response to grief. Isn't that cool? Esther 4, again, verses 15–16 is to request God's protection. You guys know that story.
The Israelites were going to be annihilated on a single day, and Esther sends word: "Have the people of Israel fast." It was corporate, and of course, the hand of death was stayed.
Joel chapter 2, verses 12–15 gives us an example of fasting in repentance. I don't know if you've ever been so grieved by your sin that you've entered into a fast, but I have, and there's a sweetness to it.
Jonah chapter 3:6–10 is when a leader fasts because they want to see God move among their people. You know that story: Nineveh was full of pagans doing all kinds of things pagans do. God sent Jonah to share the gospel, essentially, with them, and the leader is flabbergasted, gobsmacked (because I want to be part British) by their sin. So he calls the whole nation to fast. Do we want to see God move in our nation? I do. Are we fasting?
Again, that's not a comprehensive list, but I think those are some good reasons to fast. I would guess that those would touch your lives, every one of you, in one way or another. God's Word makes a very strong case for the people of God to fast when our need for Him is very great. And my question to us is: "When isn't it?"
Fasting is a gift, waiting for you to open it. It's a "get to," not a "got to." It's a delight, not a duty. You are not commanded to do it in the New Testament, but I'll say it again . . . fasting is feasting, friends. Okay, so that's the "why." What about the "when"?
Let's open our Bibles to Matthew chapter 6:16, it says, "And when you fast, do not look gloomy like the hypocrites, for they disfigure their faces that their fasting may be seen by others. Truly, I say to you, they have received their reward." So what Jesus doesn't say is, "Shame on them, shame on them; I'm mad at them!"
He says, "They got everything they're going to get from the fast; they got attention." But you want more, you want something supernatural from the fast, right?
Let's jump to Matthew 9. I want you to know this is like a congruent narrative happening here between Matthew 6 and Matthew 9. It's all happening together, so they go together.
Matthew 9, verses 14 and 15: "Then the disciples of John came to him, saying, 'Why do we and the Pharisees fast, but your disciples do not fast?' And Jesus said to them, 'Can the wedding guests mourn as long as the bridegroom is with them? The days will come when the bridegroom is taken away from them, and then they will fast.'" Which I'm sure made John's disciples go, "We don't get it!"
But Jesus gives us here the "when" and the "then." So, "when you fast" implies that God's people are already fasting. And the "then"—when do we fast?—the "then" is in the sliver of history between His resurrection and His return.
Jesus was saying, like, "Why would they fast and cry out to me when I'm right here with them? But a day is coming when I'm not going to be with them, and then they're going to fast." And boy, did they! As Pentecost came, as the church was born, as the church faced persecution, as the brethren were martyred for their faith . . . then the disciples fasted!
And guess what? We are in that sliver! We are eagerly awaiting the moment—it could still happen today!—when the clouds part. Wow! And Jesus returns for His own! The Bridegroom comes for the Bride, and we feast! So, we are in the time when Jesus taught that the people of God were to be fasting. Are we? 
Now, it's interesting that in this dialog the disciples of John said, "Well, we fast and the Pharisees fast." You should know that fasting is not a uniquely Christian discipline. In fact, the other faiths that worship false gods out-fast us like crazy! They put us under the table in the area of fasting.
They are disciplined; they are dutiful. And we're just like, "Mmm, we don't really get it; we're not going to do it." We're missing it! Here's an interesting quote from G. Campbell Morgan (don't try to write this down, you'll be stressed out!).
I never lay my head on the pillow without thinking that perhaps before I awake, the final morning may have dawned. I never begin my work without thinking that He may interrupt it to begin His own. And every night before we go to sleep, we ought to say, "He may come tonight." Every day when we get out our tools to go to work, we think, "This may be the last day's work I do."
We are in this uniquely small and uniquely significant sliver of history before Jesus comes back. He said, "When the Bridegroom's gone for a little while, then the people will fast."
I have this dream that thousands of women—it gives me goosebumps—maybe tens of thousands of women, maybe millions of women would begin to fast and pray.
And then I think, "What would God do?" Now, there are not thousands of us in this room, but we're a pretty good start. 
You know what's crazy? Scripture seems to indicate that we can hasten the return of the Lord by our prayers, which are filling bowls in heaven. (see Rev. 5:8) Somehow, there's impact. If we fasted and prayed like the return of Christ depended on it, what if it hastened the day? I'm willing to find out.
Try to imagine if this group . . . You're from all kinds of different places, all kinds of different churches. You represent many children, you represent many families, you represent many communities. If this group began to fast and pray, something would happen. Things would shift.
There's a little prayer, it's only there once, that the new believers prayed: "Maranatha!" It means, "Come, Lord Jesus!" And if we began to fast and pray, "Maranatha, maranatha, maranatha!" what might shift? I don't know, but I want to find out!
So, what's the "when"? When you fast. What's the "then"? Once Jesus has ascended, while you're waiting for His return, so now is the time. [You might say:] "I thought this was a class on the practical application of fasting." So, what's the "how"?
That was just all the preamble. Here we go! Here's the "how!" How do we fast? We want to know the nuts and bolts of that. Well, if you look at Scripture, what you're going to find is a lot of variety. Sometimes people fasted in groups; sometimes they fasted as individuals. Sometimes they fasted for many days; sometimes they fasted for a single day.
Sometimes they fasted from sundown to sundown; sometimes they fasted from sunup to sunup. Sometimes they had nothing—no food, no water; sometimes they only had water. Sometimes God just gave them certain foods. Sometimes, like Daniel who said, "I'm not going to eat the delectable foods from the king's table.
"Well, that's frustrating! Why doesn't He just tell us how to do it!?" It's not formulaic, it requires walking in the Spirit. 
Now, I'm going to tell you a few ways that I've done it and—again—I'm not bragging. I started fasting years ago. The Lord just put it on my heart and I said, "Okay, Lord, I don't know what it looks like." I thought I was going to fast on Fridays for my sons.
I grew up in a house where my mom was always dieting, so I'm very conscientious to not have my boys think I'm dieting. I would take them to school, and I would fast for breakfast and lunch every Friday. And the time I would have spent in eating, I spent praying for my sons' salvation.
My two oldest boys gave their lives to Jesus during that year. Now, is that because my fasting discipline was so amazing? No! You do not fast to twist the arm of God. I cannot manipulate God, which I'm grateful for, because I would if I could! (laughter) 
But somehow something shifted and Eli and Noble gave their lives to the Lord and were baptized during that year. Well, I was hooked after that!
Then I had the opportunity to lead the women's ministry at my church, and I was way out of my depth. We'd never had a women's ministry before. 
There were a lot of people who didn't think we needed a women's ministry. I had my work cut out for me, and I just knew I needed the Lord. So I fasted for forty days at the beginning of our women's ministry. I just had liquids—so I had chicken broth, beef broth. Everybody always wants to know how much weight I lost: zero pounds! (Thank you, metabolism!) But I wasn't doing it for that anyway.
And then, Grounded. My Grounded girls, you've heard me talk about this some. My fortieth birthday was April of 2020. If I live to an average age, that was a halfway point to me.
Not because I needed to, I didn't need to recommit my life to the Lord. But I just wanted Him to know, "The second half is all Yours! Whatever You want, You can have it." So, I fasted for forty days.
Now, the pandemic hit, and I said to my husband, "Uh, there's like a global pandemic. Maybe we're all going to die. Maybe I shouldn't fast."
He said, "You told the Lord you would do it. I think you could do it!"
And then we launched Grounded in the midst of that, which was a really intense ministry outreach. Man, it was a sweet, sweet thing. But here's the story I don't tell often publicly.
One of my boys and I have a complicated relationship. We love each other very much; we're either too much alike, or we're too different, or we're both. I don't know.
He had an incredibly traumatic birth. We just struggled, and we'd tried everything else. I sure wanted to be a good momma, and he sure wanted to be a good boy. We had gone to counseling, and we'd read books, and we just struggled.
As my fortieth birthday came, I thought, I don't want that to be there anymore. I want You to take it away." And so that fast was really about healing the chasm between me and my boy. But it also is really sweet, and God did it. About partway through that fast, He did it!
That boy is now much taller than me, and he's starting to get some peach fuzz on there. If he was here, he would come up here and just put his big ol' head right on my chest. There's nothing between us anymore.
Now, he's a human; I'm a human, but God did something so supernatural in the midst of that fast. It was so, so sweet! I really thought that fast was about God giving me some big new assignment. It was about Him taking things off of me that were weighing me down, areas of sin in my relationship with my child so that I could just keep running the same race well.
Some of you are tearing up because you have a "that." In Mark 9:29 Jesus calls it a "this kind." Jesus says, "This kind can only be driven out by prayer and fasting." And so, God did such a sweet, sweet thing!
Okay, so that's some of the "how." You can do it any length of days you want. You can do different things with the amount of food; that's between you and the Holy Spirit. It can be a single meal.
"Does it have to be food?" I hear that a lot. Can it be fasting from social media?
Well, here's a news flash: you could give up social media for seven days, ten days, seven hundred days, and you would not die. It's not the same as food. In Scripture it is always food, with one exception, which is when Paul tells married couples they should sometimes fast from sex in order to pray. So it's always food or sex, and it's between you and the Lord, and He will show you. He will show you.
So, what's your first step? Your first step in any fast is to walk in step with the Spirit. You've gotta pray before you pray. 
So you go to the Lord and say, "Okay, I just heard this breakout on fasting," or "In my personal time in the Word I keep bumping into fasting," or "I heard this sermon on fasting," or "I read this book on fasting," or "I know this friend who fasts". . . "And I feel like You're getting all up in my business about that!"
Did that ever happen to you? Like, the Sunday sermon's about a topic, then you turn on the radio and it's about that topic, and then your daily devotional's on that topic. Okay! That's gonna happen, that's not my fault! I did not prearrange it! That's the God of the cosmos. [A lady in the room calls out, "Heaven rules!"] Heaven rules! There you go. It's everywhere!
Okay, so, you feel the Spirit to confront you about this, and you're willing to obey, and what do you do? You ask the Lord. He will show you, He will! It's not going to be some mystical sign. You're going to know in your spirit, it's going to line up with the Word, and it's going to be okay.
I would say, how I fast now most regularly is when someone I love is going through something challenging. As a step of solidarity, I will fast a single meal for them. And I will text them (because nobody calls anybody anymore, and I like that). 
I will text them and say, "Hey, I'm fasting for you Friday at lunch. I've set aside about thirty minutes to pray for whatever it is you're going through. I just want you to know I stand with you." Some of you, the Lord may call you to a forty-day fast, and can I tell you, it's an amazing gift!
Okay, I've made a vow before the Lord. If you've heard me teach the Bible, you've probably heard me say this. (Don't ever make a vow before the Lord unless you intend to keep it. That's another interesting thing to study in Scripture . . . study the Nazarite vow, which is all about food and haircuts.) I made a vow before the Lord that every time I teach the Bible, I will make it very easy for the listeners to be doers, and very hard for you to be hearers only, because that's our responsibility—to do the Word.
So this is not just a breakout on the theory of fasting, for you to just store up the knowledge of it. At some point, you've got to take what you know and turn it into what you do. And so, I'm going to issue a challenge to us. I will have no idea if you do it or don't do it.
That's another question I probably should have addressed. I get a lot of, "I can't fast for medical reasons." I would just propose to you that there is a fast that you can do. It might be a specific food, but there is a way that you could do it.
But I would challenge us, the women in this room, to fast dinner tonight before Cry Out! [the evening TW corporate prayer session planned]. Now, we're not going to make a big scene of it. We're not going to be in the hallway, like, [she yells out] "We're fasting!"
And you know, you're like, "Oh, you know, I'm eating with my group." They actually don't pay very close attention to you! (laughter) They're paying attention to their food. Get a hot tea, play it cool, or you can say, "Yeah, I just got done a breakout on fasting and decided to fast this meal because we're going to spend our night praying together."
So, my challenge to us in this room is that we fast just one meal before we head into Cry Out! as a way of humbling ourselves before we humble ourselves . . . and then where the Lord takes it from there in your life is between you and Him. Let me pray for us.
Jesus! Man, thank You for knowing what's good for us. Thank You for the ways You've put our bodies together. You've given us taste buds and stomachs . . . and so much good food . . . and then also this call to denial. I pray for the women in this room. Food can be such a difficult area to tame. I pray that any of us—me included—that if this is an area of our life that we have not submitted to your Lordship, that You'd make that really clear. 
And I pray that as we enter into this fast now, as a group in solidarity, we want to do the fast that gets Your attention. We don't want to do the fast that is about us. We want to give You glory. So, help us to walk in humility. We don't do that naturally, we depend on Your Holy Spirit to help us with that. Thank you for these women; they're a blessing to me. I know they're a blessing to You. It's in Your name I pray, amen.
Dannah: Amen. That's my friend and co-worker Erin Davis, sharing some practical considerations on the whole subject of fasting. There's a link to her book, Fasting & Feasting, as well as that blog post she mentioned, within the transcript of this program at ReviveOurHearts.com. 
She spoke during a breakout session on that Friday afternoon at True Woman '22. Nancy, Erin mentioned something that was going to be happening that same evening.
Nancy: Right. We referred to it as Cry Out! It was basically an evening of corporate prayer and worship, as we cried out to the Lord for Him to awaken a sleeping world, to revive His people, and to work in our communities and churches and in us as individuals. It was a sweet time. And I wasn't aware that Erin had challenged those who attended her breakout session to fast in anticipation of that Cry Out! prayer event. How cool is that!
Dannah: Oh yeah, I'm sure it was a blessing for them! 
Nancy: Dannah, I'd also like to add a thought to something Erin said in her message. She talked about the possibility that God could be calling you to do a 40-day fast. A number of times I have sensed the Lord leading me to do an extended fast. But I think it is important to say that fasting doesn't necessarily mean a complete fast from all food and nourishment. There are different kinds of fasts. It may be as Daniel did in the Old Testament, a fast from certain kinds of food or perhaps a juice fast. I have some friends who have done extended fasting, but under their doctor's supervision. So if you are older or have health issues, that could be really important too. Ask the Lord not only should you fast, but how long would please Him and the kind of fast He may be leading you to take.
Dannah: Yeah. Thank you, Nancy, that's helpful. Well, anytime you fast, the spiritual discipline of prayer plays an important part of that. And anytime you pray, I hope God's Word is also entering into your prayers. 
This month, we'll send you a set of fifty-two beautifully-designed Scripture cards intended to help you think on God's Word more. It's our way of saying "thanks" for your donation of any amount. There's more information about the Savor and Share cards at ReviveOurHearts.com, or you can call us at 1-800-569-5959. 
Nancy: So, what's the most difficult project looming on your horizon? I can think of what it is for me. The question is, are we leaning on God's power or are we relying on own talents? On Monday, I'm gonna explain why it's so important to depend on the anointing, the fresh oil of the Holy Spirit of God, for everything. I think it is one of the most important concepts in Scripture, and I know it has been in my life. I hope you're able to listen in, as we once again ask Him to revive our hearts.
Revive Our Hearts with Nancy DeMoss Wolgemuth helping you find freedom, fullness, and fruitfulness in Christ.
All Scripture is taken from the ESV.
*Offers available only during the broadcast of the podcast season.
For a donation of any amount