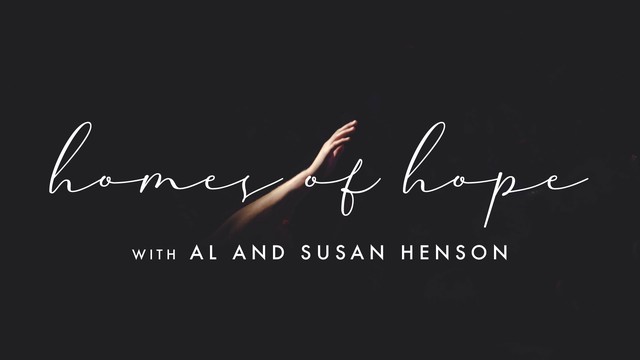 Homes of Hope
Dannah Gresh: Al Henson says there are over eleven million at-high-risk children living in the streets of just one Asian country.
Al Henson: I may not ever be able to reach the million or even the hundred thousand, but together we can make a difference in the life of one, and then a second one, and then a third one, and then a fourth one. Over a period of time as they become disciples of Christ, this multiplies in the period of ten, fifteen, twenty years. There could be tens of thousands and hundreds of thousands of lives that are touched.
Dannah: This is the Revive Our Hearts podcast with Nancy DeMoss Wolgemuth, author of Adorned, for January 11, 2023. I'm Dannah Gresh.
Today is National Human Trafficking Awareness day. It's recognized every year on January 11. And before you reach for your radio or your device to listen …
Dannah Gresh: Al Henson says there are over eleven million at-high-risk children living in the streets of just one Asian country.
Al Henson: I may not ever be able to reach the million or even the hundred thousand, but together we can make a difference in the life of one, and then a second one, and then a third one, and then a fourth one. Over a period of time as they become disciples of Christ, this multiplies in the period of ten, fifteen, twenty years. There could be tens of thousands and hundreds of thousands of lives that are touched.
Dannah: This is the Revive Our Hearts podcast with Nancy DeMoss Wolgemuth, author of Adorned, for January 11, 2023. I'm Dannah Gresh.
Today is National Human Trafficking Awareness day. It's recognized every year on January 11. And before you reach for your radio or your device to listen to something else, I'd like to point out that human trafficking is way more prevalent than most people realize. It's possible that you could run into someone today who's being forced against her will to be here or do certain jobs for unfair wages for no pay at all.
Our guests today help rescue young people from being trafficked. Al and Susan Henson live out passages like Proverbs 31, verses 8 and 9, where King Lemuel's mother counsels him, 
Speak up for those who have no voice,
for the justice of all who are dispossessed.
Speak up, judge righteously,
and defend the cause of the oppressed and needy. (CSB)
Nancy DeMoss Wolgemuth: Al and Susan, Welcome to Revive Our Hearts. Thank you for being willing to share your story. 
Susan Henson: It is an honor to be here, thank you. 
Nancy: I am thinking back to the early days, if I can just reminisce for a moment, and how the Lord knit our hearts together when I was with Life Action Ministries, which is the parent ministry of Revive our Hearts. We did a meeting in the church you were pastoring at the time, Al, Lighthouse Baptist Church in Antioch, Tennessee. 
Al: We have changed the name now to Lighthouse Christian Fellowship. Del (the founder of Life Action Ministries) and I were close friends, mutual mentors you might say, for each other. We had a deep passion for Christ and a passion for the movement of God, a revival. It was around those passions and God's passions that our hearts were knit together to grow and to seek the Lord together. 
Nancy: And Susan, we connected in that early meeting there. It was one of the ladies' prayer times that the Lord did a fresh work in your own heart of believing God for revival. That is a passion that has never left you. 
Susan: Exactly, that day I will never forget because you had been speaking that whole week with our ladies on the Song of Solomon and that intimate relationship with the Lord. I saw such a passion in your heart for the Lord that it made me hungry to want to go deeper with God. I remember us praying together, kneeling side by side and just crying out to God. "I want to know You. I want to intimately know You and not just about You. God I want to see Your glory." God knitted our hearts together in prayer that day. You have been a mentor to my life ever since. So, thank you for your investment not only in my life but in the lives of women around the world. 
Nancy: Well, we have walked through a lot of life together. You know that whole burden for the world which God has put on your hearts and a burden for the least of these, were going to talk about over these next few days. It's a burden for the things that burden God's heart. It really starts on our knees in His presence. It's very personal. It's, "Lord start a revival and start it with me." Until we have that longing for more of Him and living in His presence, we are not going to know what's on His heart to do through us. 
Al: Yes, it's when we're in His presence, Nancy, that we draw near to Him. Then He begins to share His thoughts with us. He shares His feelings with us. He shares His heart with us. Actually, that's what happens in Isaiah 6 when Isaiah was in the presence of God. There he heard the burden of God after his own brokenness for Israel compelled Isaiah to cry out, "Here am I send me." 
That really is a testimony in my life. People asked, "Were you called to do this or called to do that?" 
I said, "No, I just got close to the heart of God and found out He was burdened about." I said, "Lord, here am I. I volunteer send me." 
A part of Compassionate Hope and its work has been to the least of these. It's been partly to those of the persecuted church and partly to those who are orphans—those involved in human trafficking and labor trafficking, child brides, and sexually abused children—those that we have been able to rescue into our Homes of Hope. 
Nancy: Back in those days when we first met, I don't think you could have ever imagined the places the Lord would take you, the stories He would show you of what He's doing and the ways He would use you around the world. 
Al, you had physical issues. A lot of people would have just said, "I can be excused for just taking a seat and taking it easy." Not you. You spend a third of the year in other countries, which we're going to talk about. 
Let me just back up and say that the context for this conversation is that when people give to support Revive Our Hearts . . . of course that goes to support the various outreaches of the ministry, the events, the publishing, the broadcastings. But a certain amount of what comes in, we designate that to what we call our missions account. That supports God working in the hearts of women and girls and families around the world. One of the ministries that Revive Our Hearts has supported for many years is the one He led you to start called Compassionate Hope. I hope our listeners will get to learn more about this ministry. 
Dannah: Yeah, and they'll find a link to Compassionate Hope's website in the transcript of this program at ReviveOurHearts.com.
Nancy: But what God is doing through that ministry is something that a lot of people, like myself, wish we could be more connected to. We wish we could know more about could be making a difference. So when people support this ministry, part of what they give is in ways that maybe we can't do personally, but you're doing it.
Al: In the Kingdom, there is no I, there is only a "we." 
Nancy: Yes.
Al: I can't do what we do without Nancy and the ministry of Revive Our Hearts and those who pray and give. As a part of that, it's a we. Only in eternity will we really understand how God really uses us together to accomplish the work of the Lord.
Dannah: We're not going to go into all the details right now, but through a series of events, God began to use you to help Christians who were being persecuted in Southeast Asia. And that led to your exposure to the problem of orphans and child brides in that same part of the world, and you're involved in rescuing at-risk children even today. 
Nancy: You're extending compassion and hope to the least of these. A lot of them are children in some of these countries in Southeast Asia. Tell us how you started to discover these children and what their needs are. Some of this is really hard to relate to sitting here in this first-world country. But Susan, do you remember how the Lord first began to put these children on your heart? How you began to come across them?
Susan: I think that any time that you go and live life together with these believers, first of all, it stirs your own faith. But you also see the needs of the children. These children live in a very very dark culture, where the light of the gospel has not been. The children and the women are the first to reap the consequences.
Nancy: They are the vulnerable ones.
Susan: They are the vulnerable ones, and so when you are there, you see what's going on around you.
Nancy: So paint that picture for us because we haven't been there. You have help us see what you have seen.
Al: When you walk in the streets of the cities, Nancy, I can take you on a fifteen-minute walk. You would pass ten-thousand boys, girls, little ones, older ones who are being sex trafficked. Just bar after bar after bar—buildings that are five stories high and deep. There are hundreds out on the streets. So you watch this and see this. Even out in the villages, because of the darkness, it's rare to find a young girl among the poor who hasn't been sexually abused. It's the abandoned ones. A lot of the tribal groups have cultural customs that a girl is expected to be married by twelve or thirteen years old, and she becomes a target for an older man.
Nancy: A child bride.
Al: A child bride, especially if a man has some funding, because he, in essence . . . they would call it a dowry, but it's not a dowry. Really, he's purchasing a young wife. In a year or two she's just an object of his lust and greed. He may disregard her after a child or two. There's just so many perilous things that come against the children. The boys even with young men. And there are young boys getting a sex change. In that country they would call them lady-boys. There are thousands and thousands and thousands every year that are being pushed into that kind of evil and darkness. We've watched it for years. Actually, one of my spiritual gifts is mercy, and my heart just wept.
Nancy: Tell us about the Homes of Hope. There are now forty-four of them, is that right?
Susan: There are forty-three homes, and we're in twenty-eight different locations and in three different countries. We're in an undisclosed country, in Thailand, and we're in the Philippines.
Nancy: Al, it seems that any time I see you on Facebook, you've got little children gathered around you. I know that some of these are some who have been rescued. They are being provided for, and it just reminds me how our God is on a search and rescue mission. That's what the gospel is about.
Al: Matthew 25 speaks about us before the throne of God. He says to some "come in." And to others He says, "No, you cannot." 
They asked Him, "Why us?" 
He says, "When I was thirsty, you gave Me water to drink. When I was in prison, you visited Me. When I was hungry, you fed Me. When you've done it unto the least of these, you've done it unto Me" (see vv. 35–36). 
So we picked up that heart to care for the least of these. In our minds and hearts, we don't have orphanages. These are not orphanages; they are not halfway houses. These are homes.
Nancy: That's what Psalms says, "He puts the solitary in families" (Psalm 68:6).
Al: Yes that's how we view every young man, every young girl we take in. They become our sons and our daughters. Not my sons, but our sons and our daughters, because they belong to the Lord that way. I've been involved in orphan work in different kinds of ways over three decades, but deep inside, Nancy, I had this question: it's wonderful what we're doing, but we're just not doing enough.
God put it in our hearts that we would take these as sons and daughters, and we would give them the spiritual environment, the home environment, the family environment, the educational environment. We would stick with them until they are twenty-one, twenty-two, twenty-three—until they've graduated from the university or graduated from vocational school or Bible school. 
We now have young men and young girls who have graduated from the university, and it's just wonderful. Some are nurses, and some are accountants. Some are in God's kingdom work and working back in the Homes of Hope and Villages of Hope. (These homes—we call them homes.)
Just think about homes full of hope. It's the hope that the love of God and the gospel can bring to them.
Nancy: I asked you when we were talking earlier today about how you find the kids you bring into these homes. You looked at me like, "They're everywhere!" 
Al: Yes.
Nancy: You said, "That's no problem finding kids for these homes."
Al: Yes. We just saw a recent study that in the country of Thailand, which is a country of seventy million people, that in a report done by the government said that there are eleven million children that are at high risk in the country.
Nancy: Wow.
Al: Eleven million!
Nancy: You can't help all of those, but you're saying, "We're going to do what God allows us to do."
Al: I'm often asked that question. We have approximately 750 in our forty-three Homes of Hope. I don't think that way anymore. I really believe that Jesus would have died, and did die, for the one.
He died for us all, but He died for the one—for us individually. I believe it's the same way in ministry. I may not ever be able to reach the million or even the hundred thousand, but together we can make a difference in the life of one, and then a second one, and then a third one, and then a fourth one. Over a period of time as they become disciples of Christ, this multiplies in the period of ten, fifteen, twenty years. There could be tens of thousands and hundreds of thousands of lives that are touched.
Nancy: And that can really transform a whole culture, a whole country.
Al: That's the power of the gospel, yes.
Nancy: Okay, I want to hear some stories. I know you guys have lots of stories, but we've got time here. Susan, you wrote and told me about a young girl named Ly. Tell us a little bit about this girl.
Susan: Ly came to Christ when she had two children. So she was a little bit older than some of our other ones that we've rescued. We are there for the single mom as well as the widows and the children as well. 
She came to Christ, and her husband was very angry at her. She wanted to go to church, and he just would not allow her to have any form of religion outside of their own social religion of their country. Eventually, he just kicked her out of the house with the two babies. 
She had no place to go. She finally found an abandoned old hut. She was within the edge of a village. She wanted to share the gospel there. Then the people in that village got upset that she was sharing Christ. One morning the babies were asleep, and she left to go out to the wooded area near her home to find anything to go with the sticky rice that she had fixed for the children. While she was gone, she heard screams. She turned and ran back toward her house and saw the whole hut engulfed in flames with her babies inside!
I can't imagine as a mom what that would be like. But Ly loved the Lord. We were able to bring her into one of the Homes of Hope to give her a place of healing.
Al: I think it's important to note that her home was set on fire, but they didn't know that the babies were in there. But they set it on fire because of her Christianity
Susan: We were able to get her in the Homes of Hope. Actually, two of your Life Action staff, the Loveings, adopted her and sponsored her to be able to go to Bible college. This was another way that Revive Our Hearts and Life Action Ministries have been a part of making a difference—especially in this dear, precious, young woman's life at such a crucial time.
She loved the Lord. She loved the Word of God. We took her through Bible college. She was able to come back to the Homes of Hope, and she's a mom in the Homes of Hope. Now she has many children. 
She's also helping the girls become entrepreneurial. She's teaching them how to make quilts and pillows and bookmarks and all kinds of different things. She's created a bakery for them that they can make goods and take them to the market. To watch her go through this and still cling to the Lord in the midst of this is such a beautiful, beautiful picture.
Al: When we brought her into the Homes of Hope, she said that she was thinking, What job do I have? And we just said, "We're here, and we love you. You're in a family now; just heal."
So for just three or four months she served around. There's a girls home there which has about fifty-six girls in it, and a boy's home with about twenty-six boys. They just took her and loved her. I remember at that time that there was a missionary there by the name of Dorothy, who's now gone to be with the Lord. We would go back and forth in messages concerning Ly. She said, "What should we do?" 
I said, "You should ask Ly what she wants to do." 
When she asked, Ly said, "I've never been loved like this. I want to love others the way that I have been loved."
Dorothy said, "Well, you should learn the Word of God." 
That's how she ended up going to Bible school. And like Susan said, one of the Life Action families adopted her and supported her for four years. They put her through Bible college. Now her life is being invested back into the lives of those fifty-six girls. When Susan says that she has children, she has fifty-six daughters now.
She also wanted to be able to communicate with me, so she taught herself some English. So probably five days out of the week I'll get this message, "Dad, you there?"
Nancy: Aww . . .
Al: For her, we're the only family now that she has. But she has been able to reach back. She goes back to her village, the very village in which her children were burned. She's ministering the gospel. There are Christians there. She has led those who had brought suffering, unbelievable suffering into her life to Christ. As we told yesterday, we see the power of the gospel to not only save people but to heal them. They grant forgiveness, and they go back to those who persecuted them to share the love of God and minister the love of God to them.
Nancy: This is almost incomprehensible.
Al: Yes.
Nancy: To us who haven't seen things like that. How appropriate to call them Homes of Hope. Because this is not just a hand out to make them survive. They're becoming, they're thriving, and they're becoming fruitful missionaries themselves.
Al: Yes. Our statement at Compassionate Hope is, "Rescuing the least of these, one leader at a time." Our vision and our mission and our goal is that each of these young men and young women that God brings to us, that we see rescued; that the stories of rescue would come and they would fulfill the potential that God had in mind for their purposes. 
We have one home where the girls in a home have babies as a consequence of rape. Those babies are two, three, four years old. Watching these girls now who know the Lord and their children are growing up, I wonder in sixteen to eighteen years who they will be—what this young man or young girl are they going to be like?
Man had his purpose. Man meant it for evil, but God has a good purpose. Thing that I want out listeners to understand is that these things don't happen apart from believers being the hands of God, the voice of God, and the feet of God. 
Ly's story or these girls' stories, these are all possible because people give and pray and do a part of laboring with God. We're co-laborers together with God and the kingdom of God.
Nancy: Tell us a little bit about Ning, and maybe just read for us a letter that she wrote that tells some of her story.
Susan: Yes. When I think of Ning, I think of the word "redeemed!" I sometimes shake my head in wonder at what God has done in her life. Roy Hession has a statement . . . I cannot quote it perfectly, but he says, "Redeemed means to buy back that which was lost or forsaken or caused or occasioned by our sin or by the sin of others."
He goes on to say, "Many times God gives back to us far more than that which was lost." And then he puts the question, "Why?" And that's what I think of Ning. I think, How does He do this when there's been such pain and loss in her life. 
Roy Hession says, ". . . so that we can be lost in the wonder of who God is and what He has done."
Nancy: Yes.
Susan: When I hear Ning's story and I walk life with her, I really marvel at that—to see the redemption part of her life, and not only the redemption, but the forgiveness that she's been able to offer. So if you don't mind, I would like to read her story and be her voice, as you shared earlier about "speak up." I want to speak up for Ning and be her voice for a moment.
Nancy: So this is Ning's story in her words. 
Susan: Yes, in her words. It begins:
Ning: I am Ning. I am twenty-seven years old. I was raised in a very poor family in a small village in an undisclosed country. As a little girl, I grew up full of fear. My father was an alcoholic. He constantly brought conflict. He abused and beat my mother. When troubles started, my sister and I hid because we knew we would be next.
When I was eleven, I became a very beautiful young girl and men began to want me, even my teacher. At twelve years old, my mom and dad pulled me out of school and sent me to work in a candy factory in Bangkok, Thailand. They falsified my papers to make me older. The next few years were very fearful and confusing. I just tried to do what I was told.
You see, I was just Ning, a poor village girl who was born only to do what others commanded me to do. My beauty grew, and to my family, it was an asset. My beauty could provide for my family. At seventeen years old, my aunt—with my parents' permission—sold me! I was brought to America to marry a much older man whom I did not know or love.
After all, I'm just Ning, born to do what I was commanded to do. The next three years were beyond difficult and lonely! At times I was locked away for weeks. I often felt hopeless and wished not to live. It was horrible! Words cannot express the abuse and hopelessness I felt.
Eventually, I was made to work in a restaurant. It was there I met an Asian man who knew a Thai pastor who called Brother Al [or now we call him "Papa Al"] with Compassionate Hope. When they heard my story, together they arranged for my escape by plane to Bangkok.
The Thai pastor and his wife took me into their home as a daughter. They helped me to come to know Jesus! I remember feeling loved by God. I fasted for twenty days to draw near to Him, and I sensed His forgiveness and cleansing.
Instead of becoming bitter, I deeply felt so thankful for all that had happened in order to bring me to Jesus! When I first returned to Thailand, my parents and aunt were all very angry at me. They did not speak to me nor try to help me for several years. 
Words can never express how deeply this hurt me, so I just clung to Jesus and hoped that He would heal my heart. I found great joy in serving people, especially children and young girls that were like me. 
Then one day, I heard Papa Al speak in our city. I was drawn to his wisdom and love of Jesus. Later I realized that he was the one that arranged the funds for my escape! Because I could speak English, we talked. He listened to me and truly cared about who I was. He saw me! Through him, a deeper healing and restoration began.
He encouraged me to consider the Lord's purpose for my life based upon all I had experienced. I began to believe I was significant and that God had a special plan for my life. With his help, I was able to touch my passion to help young teen girls who were in danger and trapped like I was. 
And with encouragement, I began to believe that with God's grace—along with the encouragement of others—I could make a difference in other young ladies' lives. Others said I was weak and just a young, poor female and I could not do this. However, Papa Al believed in me and said, "Yes, you can! You may make mistakes, but you will learn. You have God's heart, and God's hand is upon you." 
They committed to help me fulfill my dream to help other girls. We celebrate today because since we have given girls a home of love, preventing them from going through many of the hurts and pains that I experienced, I helped them to find the love of Jesus much younger in their lives than I did.
Through this home of love, through this home of hope, they have a wonderful and different future! Please pray for us. In the last few weeks we have rescued two more girls. Please encourage us; please love them. Please love me. I now know that I am not "just Ning." I am a princess. I am a daughter of the Most High King. I'm set free to free others!
Nancy: Wow . . . "set free to free others."
Al: It's hard for me to . . . I'm weeping for joy, for thankfulness. You see, I know her deeply. There is such power of the gospel! I just think of someone listening. There are so many women in America who have been traumatized or abused in so many ways. My heart was just thinking, God knows! God sees!
God can help. Come to Him, and He can help heal that. The shame, perhaps, that sin has brought upon your soul, or the fear or the bondage that you feel as a consequence of this, like Ning, you feel insignificant. All of that is a lie, by the way. It's a lie! 
It's the truth of the gospel. It's experiencing of the love of God and finding the forgiveness of God. It's then the ability to forgive others and receive healing. Just like Ning has been set free to free others, so can you! 
You don't have to live a life like this. That's why He loved you and died for you, to set you free. The Scriptures are so full of that power of the gospel, of the love of Christ!
Nancy: If that's speaking to you right now, just lift your heart, your voice, your face up to the Lord and say, "Lord, I want to be set free!" Only Christ can do that for Ning or for you.
Al: Part of the story here, Nancy, is that all of Ning's family who, as she said, were so bitterly angry with her they wouldn't even talk with her for a couple of years . . . They said, "How could you be so stupid that you would give up this money and things for us and our family!?"
Now she has led her dad to Christ, her mom to Christ, her sisters, and recently her aunts and family. Everyone is reaching back to her. And I told her recently, "One day you'll become the matriarch of this family! One day you will become that."
I thought of Joseph, whose family turned against him. And yet God said, "They meant it for evil," but God actually is raising her up. All of that's possible because she has really turned to the Lord, fully and completely, in her life.
Susan: Nancy, we were just with her not long ago. She was our translator for two weeks, traveling with a team of ladies that were with me. One of the things that I marveled at as we went into these Homes of Hope to visit, each of us ladies on the team would share a little bit.
In the end we would always ask Ning to share her story, in the appropriate way that she could share with the children. I want to tell you, there was not a dry eye in that place! She just challenged those children to forgive and that they had a future and a hope! We just marveled at how God was using her to impact the children in all the other Villages of Hope and Homes of Hope!
It was a powerful thing to witness! She has such a passion for children not to face what she had, and to give them an education, and to give them a hope and a future. God's hand is on her in a mighty way! I mean, there is an anointing upon her when she stands and she shares with these children . . . and with such passion!
Nancy: And that is redemption. 
Al: Yes, it is!
Nancy: It's God recovering and overruling the losses occasioned by our sins or the sins of others. You know, I think today in the West, we're so of a mind to become identified by our past, by the things that have been done to us, or in some cases, the things that we have done. We get locked in that.
We get imprisoned in that emotionally, mentally, spiritually. We may sit in church every Sunday, but there's not hope. And these stories are not just for young women in Thailand or in the Philippines. We need that no less in our lives here! We need to know that God has a plan, a purpose, a future.
He wants to use that very thing that could have taken you under and would have destroyed your life, had it not been for the grace of God! He wants to redeem it and use it as a means to make Christ and the gospel known!
Al: We don't have to persuade Him to do that. We just need to come to Him and trust Him and allow Him to do that. Everyone's journey of healing and restoration and freedom is somewhat different, but somewhat similar.
I would just encourage everyone out there: you don't have to find God. He's there, just turn to Him!
Nancy: He's the search-and-rescue God!
Al: Yes, He's there. He's present with you, waiting for you to just turn to Him and trust Him.
Susan: Another thing: it's important, too, for us to be aware of those around us. Sometimes we may be that one that can be that come alongside someone, or we can be the one to get in the pit with them to help to see that there's light. It's important for us to just be aware of those around us.
Nancy: And that girl was in the U.S., working in a restaurant. One of us may have been in that restaurant! We can't be responsible for what we don't know, but I wonder how much more we might know if we were just sensitive to who the Lord is putting around us and how He wants us to get out of ourselves and open our eyes to those around us who are poor and needy or imprisoned or in some way need of being rescued. 
How much more of this would be happening—the grace-of-God-redeeming stories—if we were willing to be that person. We might say, "Some other ministry's going to do this," or "Al and Susan Henson are going to catch them with their ministry."
No, God has put you and me in places where Al and Susan Henson and Compassionate Hope will never be! He wants our lives to be compassion and hope for others. He wants our lives, our homes, to be homes of hope for others in our neighborhood. 
It may be neighborhood kids; it may be people in our churches. How many people's stories do we not know? We don't ask, and we don't listen, and we don't look and say, "Who are you putting here, Jesus, who needs Your presence?" 
Al: One little step of obedience brings clarity to the next several steps of obedience. This is why I think that many believers are not being as fruitful and effective. It is because they can't understand, "Just take the first step of obedience and just obey. That obedience will bring you down a path that you never dreamed!"
Nancy: But in just the moment we have remaining here . . . There are churches and families and small groups and even corporations that are adopting these Homes of Hope around the world. Just give us a glimpse of what that could look like. Some of our listeners may feel prompted of the Lord to do that.
Al: Yes, a lot of people ask, "How can we be involved?" These are God's Homes of Hope, and I know He wants a "we" involved. They're very holistic: from the gospel to education to family, food, college, vocational school. It's a whole package. We plant a church along with the Home of Hope . . . it's then a church-planting movement.
Often I see young churches—or smaller churches—think, How can we be involved? We couldn't. We're just too small! But Homes of Hope gives an opportunity for a small local church to adopt a home.
Nancy: Or a Sunday School class could do this or a small group.
Al: You know, there's some sister listening in and saying, "Oh, I wish I had the money so I could do this!" We have someone like that, and we just say to her, "Go find eight or nine of your friends and come together, and together you can adopt a Home of Hope."
I think anybody could actually adopt—working and serving the Lord—one of these Homes of Hope. We have a corporation that has adopted one—their employees and everyone. They have a Wall of Hope now with the children and a picture of the home. They're in regular communication. 
Their business, they're thinking, Our business is God's business! Thank God that we can have our own homes and food, but we're also underwriting the lives of these "least of these" that have been rescued. So anyone listening, make sure you get in touch with us if you have any interest whatsoever in becoming a part of this holistic work of a Home of Hope.
Nancy: There are some smaller ones, some larger ones. You said that even three- or four-hundred dollars a month could underwrite some of the smaller ones . . . and larger ones more than that. 
We've posted a link to Compassionate Hope foundation on our website. I'd love to see God raise up a lot of support for the Homes of Hope.
Al: I promise you that anyone that gets involved, it will change your life! For the good!
Susan: And it also offers the opportunity for people to go and love on these children.
Al: And meet Ning! 
Nancy: I want to do that! What a precious story!
Dannah: Well, there is a way for our listeners to see Ning's story in greater visual detail. Hugh and Graham and Nora, members of our video production team, traveled to Thailand to film Ning and see first-hand her ministry in the Homes of Hope. You'll find a link to that video, along with more information about Compassionate Hope, and Al and Susan Henson's newest book, all within the transcript of today's program. Find it at ReviveOurHearts.com. 
Their book is titled Breaking Invisible Chains, and it was just released yesterday. Again, there's more information about the Hensons' book and ministry at our website, in the transcript of today's program, at ReviveOurHearts.com.
Compassionate Hope is one of the ministries we partner with here at Revive Our Hearts. That means that when you support Revive Our Hearts financially, you're also helping support Compassionate Hope and the Homes of Hope Al and Susan were just talking about.
We wanted to remind you of that here on National Human Trafficking Awareness Day.
This month, when you make a donation to Revive Our Hearts, we'll send you a set of fifty-two beautifully-designed Scripture cards. It's our way of saying, "Thank you for your support." All the details are at ReviveOurHearts.com, or you can call us at 1-800-569-5959. Contact us with your donation, and be sure to ask about the cards with Bible verses on them. That number again is 1-800-569-5959.
Tomorrow we'll hear from a woman who has made it her habit to, as she puts it, "run to the Word." Kay Arthur will be on Revive Our Hearts, to encourage us all to know God better. 
Please be back for Revive Our Hearts.
Revive Our Hearts with Nancy DeMoss Wolgemuth calls you be a voice for the voiceless as you proclaim freedom, fullness, and fruitfulness in Christ.
*Offers available only during the broadcast of the podcast season.
Support the Revive Our Hearts Podcast
Darkness. Fear. Uncertainty. Women around the world wake up hopeless every day. You can play a part in bringing them freedom, fullness, and fruitfulness instead. Your gift ensures that we can continue to spread gospel hope! Donate now.
Donate Now