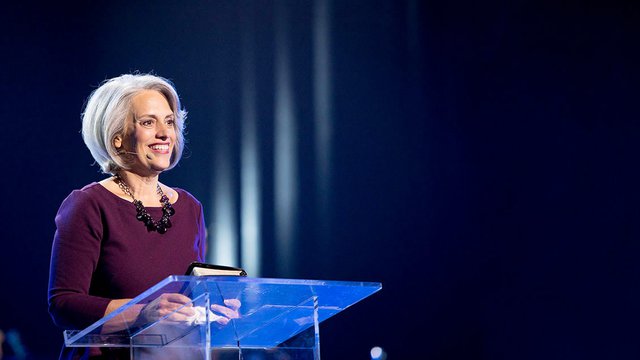 His Healing Touch, Part 5
Leslie Basham: Sometimes the things we strive for are not the things we actually need. It's Friday, March 8; and you're listening to Revive Our Hearts with Nancy DeMoss.
Often what we ask God for is not really what we need. We see this in the story about the woman with the issue of blood in Mark 5. She came to Jesus for healing and then realized that she actually needed much more. Let's join Nancy and hear how Jesus healed this woman from the inside out.
Nancy Leigh DeMoss: One of my prayer partners is a woman in Texas whom I've only met a couple of times. She went through some very disappointing experiences in life--a lot of issues in her family, with children, with children-in-law, with parents. Over a process of time, she became a deeply angry, bitter woman. She tells the story of how she got to the place where she was almost vegetative. She would just sit down on the couch and turn on the television and could hardly function because of the bitterness and the anger and the resentment toward these life circumstances.
Several years ago a sister who cared about the condition of this woman spiritually encouraged her to come to one of our Revive Our Hearts conferences. These women drove quite a distance to come and be in the conference. I didn't know the story until later.
But as I got to know this woman some time later, I found out that there in that conference there was a point in time when something that was said--not by me as much as by God to her heart--God used (that) to open up this woman's heart, to expose more what it was that she had done in responding to those issues. She just responded in humility. She accepted by faith what it was that God was wanting to do in her life. She just said, "Yes, Lord. I receive this--the love of God, the forgiveness of God, the grace of God" for her issues.
In a moment, God set that woman free. Now she has continued to be in a process of letting God peel back the layers of her life, kind of like we do with an onion. She is seeing that there is more in there that needed to be dealt with than what she identified in that one conference. But the transformation has been dramatic.
When I think about the woman that we've been studying in Mark 5, I think of Karen as a modern-day illustration of this woman. We've been talking about this woman, who for twelve years had had an issue of blood--a flow of blood from her body. She was ceremonially unclean. She had been rejected. But she got the courage and the faith to press into that crowd that was pressing in on Jesus, saying, "If I can just touch the hem of His garment, I know that I will be made well." She did reach out and touch.
We've seen that immediately she experienced the power of Jesus flowing into her body and setting her free from that incurable disease, in much the same way that the power of Christ has flowed into many of us, setting us free from years of bondage to our sin. Sin is an incurable disease. Only the power of Christ, only through faith in Him can we be set free from that sin.
Well, Jesus looked around and asked who had touched Him. We saw in the last session that Jesus made this woman come forward and identify herself and tell what it was that had happened so that she would publicly confess what it was that He had done for her. Then we see in verse 34 that Jesus said to her, after she has told Him the whole truth, He engages her in a conversation. We see that He wants a relationship with this woman.
He said to her, "Daughter." As far as we know, that's the only time that Jesus ever addressed a woman with that word. Can you imagine how this woman, who had been rejected and isolated from all fellowship for twelve years, how she must have felt when not only did His power go out to heal her, but then when He identified her? Trembling and fearful as she was, He heard her story. Then His response was "Daughter. Daughter."
What is He saying? "I want a relationship with you." I think that had to be far more important to her in meeting the deepest issues of her heart than getting rid of that physical illness. What good is it to be physically well if your heart is sick, if you're cut off from relationships, if you're cut off from a relationship with God? Jesus knew that the deepest need of her heart was to be reconciled to God from whom she had been estranged--not because of her physical issue but because of her sin.
Sin separates us from God. Jesus was reaching out to her as she had reached out to Him in faith. He was saying, "I want to have a relationship with you." She didn't receive that assurance that she was now a daughter of God until she had made that public confession. I think sometimes one of the reasons that many women wrestle with doubts about their salvation--there are different reasons--but one of them is that they've never been willing to publicly confess Christ as their Lord, as this woman did.
Here is a woman who had been estranged. She had been isolated. But now she had family. Now she had somebody who was connected to her life. When you come to Jesus, it's not just because He wants to heal you from your symptoms, He wants an ongoing family relationship with you.
Jesus said to her next, "Daughter, your faith has made you well." The healing was complete. Your faith has made you whole. That word well is the same Greek word in the original text that is translated in other places to save. Your faith has saved you. It's normally the word in the New Testament used for being saved from sin. Jesus' use of this word suggests that this woman's faith led not only to her physical healing but far more importantly to her spiritual salvation. That was her greatest need. The fountain of blood was not as significant as the fountain of sin in her life that needed to be dealt with.
The picture here is of a Messiah--a Savior who shed His blood so that she would not have to shed hers and so that we would not have to shed ours. He was willing to be defiled by this contaminated woman so that she could be clean. He is willing to risk--if I could say it that way--our defiled, contaminated lives touching Him in faith so that He can extend His wellness and His wholeness to our hearts.
Now in a sense, it was not her faith that healed her. It was the object of her faith. The healing came from Jesus. The value of faith is always in its object. It was Jesus' power that was what had healed her.
Then Jesus says to her, "Go in peace and be healed of your affliction." Why would He have said to this woman, whom He had just healed, "Be healed of your affliction"? I think this is a very important follow-up comment on Jesus' part and one that we need to hear as well. He is saying, "I've healed you of this physical ailment, but now I want you to go out and live as a healthy woman."
He is saying to her, "The healing is complete. It is permanent. Now go out and live like a well woman." The temptation for this woman might well have been to go back to her old patterns. We talked in the last session about those tapes--those old tapes--that could have kept playing in her mind, saying, "Unclean! Unclean! Unclean!" Jesus is saying, "Don't go back and keep living as an unclean woman when I've made you clean. You're healed. You're whole. Be restored. Go have relationships that you haven't been able to have all these years. Go out in joy. Enjoy what it is that I've done for you."
It would have been possible for this woman to want to hold on to her identity as a sick woman. Maybe she'd gotten some attention that way. Jesus is saying, "Don't keep living as a sick woman."
I listen to a lot of Christian women--women who claim to know Christ. My observation is that many of them who claim to have been made spiritually whole by Christ are not living as well women. They're continuing to live in an unhealthy state--to hold onto that identity that they had as a person before they knew Christ and before Christ dealt with their issues. I think Jesus is saying to us, as He said to this woman, "Go out and live in the victory that is yours through My power. Don't keep living as a victim. You're not a victim. Through My power, you're now a conqueror."
That's not to say that there won't be a process of growth in our lives. There will be. That process is continuing. It's not to say that we won't have any more problems. The fact is that you will. This woman's problems weren't over. She was going to go back to maybe some different problems than she had ever faced before. Now she had to go figure out how to get back into society. There were perhaps financial issues to deal with, finding her family who perhaps had cast her off twelve years ago. There were going to be problems, as there are in your life and mine.
But those problems may in fact be part of the healing process. They may actually become a means to greater help and healing. The starting point of that process is to turn to Christ in faith; to receive His grace; to find in Him hope, help, healing; to believe that wholeness and cleanness--the fruits of salvation--really can be ours.
Most in this room, as I've talked with you, would claim to be Christians. You've come to Christ. You've experienced forgiveness of your sin. He's done a miracle in your life. It may have been a few years ago. It may have been many years ago. It may have been just very recently.
Now my question is "Are you living like the well woman that He has made you to be? Are you experiencing by faith the fruits of that salvation in your life or have you gone back to living like a woman who has an incurable disease?" Jesus says, "Go in peace. Be healed of your affliction. Walk in truth. Walk in faith. Walk in peace. Walk in joy." That doesn't mean you won't have problems. You will. But even those problems are steppingstones to a greater measure of freedom and healing and grace.
I'm looking into the eyes of women who have experienced some deep, painful hurts and wounds in life. My heart goes out to you. There are more stories in this room than any of us could know about all of us. But the fact is that we have a Savior who says, "If you'll reach out and touch by faith, there is power to redeem you, to restore you, to make you a well woman. Go in peace. Be healed of that affliction."
Leslie Basham: That's Nancy DeMoss reminding us that no one but Christ can meet our deepest needs. Perhaps you've experienced deep hurts and aren't convinced that God can bring true healing. We encourage you to read Glenda's Story by Glenda Revell. Unwanted and abused throughout her childhood, Glenda desperately wanted a loving family. This book will show you where her healing ultimately came from.
You can call us to order a copy at 1-800-569-5959. We're asking for a suggested donation of $8 for the book. You can also visit our Web site, ReviveOurHearts.com.We hope you've been encouraged by what you've heard this week.
You know, it's through your financial support that we can continue pointing women to the healing God can provide. Would you consider partnering with us through your prayers and financial gifts? You can send your donation to Revive Our Hearts. Thanks for your support and thanks for listening. We hope you can be back with us on Monday.
*Offers available only during the broadcast of the podcast season.
Support the Revive Our Hearts Podcast
Darkness. Fear. Uncertainty. Women around the world wake up hopeless every day. You can play a part in bringing them freedom, fullness, and fruitfulness instead. Your gift ensures that we can continue to spread gospel hope! Donate now.
Donate Now