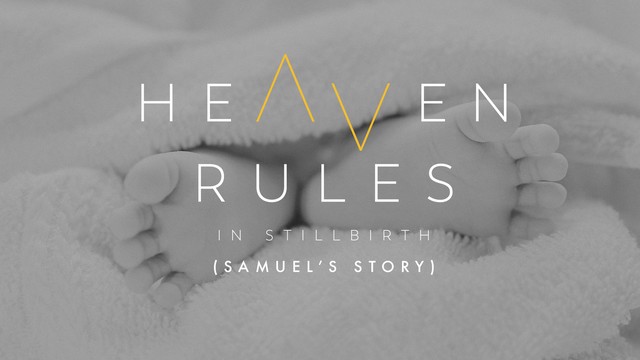 Heaven Rules in Stillbirth (Samuel's Story)
Dannah Gresh: Nathan and Katie wrote a letter to their baby. Their pastor read it . . . at his memorial service.
Pastor Wes Ward: Our precious Samuel Ethan, your first name means "God has heard," and your middle name means "strong, safe." We had no idea, when God led us to that name, how perfect this name would be for you! 
Dannah: This is the Revive Our Hearts podcast with Nancy DeMoss Wolgemuth, author of Heaven Rules, for December 5, 2022. I'm Dannah Gresh. Our theme for this month is the idea that "our anchor holds." No matter what's going on around us, we won't drift if we're tethered solidly to Jesus, our Rock. 
The two-word phrase that gives us comfort and courage in times of difficulty is one Nancy repeats often: "Heaven rules." Remembering that God is completely in charge is like the rope that keeps us …
Dannah Gresh: Nathan and Katie wrote a letter to their baby. Their pastor read it . . . at his memorial service.
Pastor Wes Ward: Our precious Samuel Ethan, your first name means "God has heard," and your middle name means "strong, safe." We had no idea, when God led us to that name, how perfect this name would be for you! 
Dannah: This is the Revive Our Hearts podcast with Nancy DeMoss Wolgemuth, author of Heaven Rules, for December 5, 2022. I'm Dannah Gresh. Our theme for this month is the idea that "our anchor holds." No matter what's going on around us, we won't drift if we're tethered solidly to Jesus, our Rock. 
The two-word phrase that gives us comfort and courage in times of difficulty is one Nancy repeats often: "Heaven rules." Remembering that God is completely in charge is like the rope that keeps us anchored to Him, even in the hardest moments. Moments like what Nancy wrote about in her book Heaven Rules. Let's listen to Samuel's story.
Nancy DeMoss Wolgemuth: Saturday, June 12, 2021, Katie Bollinger was doing some of the few things a pregnant woman can do when she's nearly forty weeks along. 
She spent the morning swinging with her three other "littles," and snuggling with them around her belly, trying to fill up their love buckets with some special attention. She wanted to do everything she could to help them adjust to having a new baby in the house.
Katie and Nathan already knew that this baby would be their second son. In fact, they'd already given him a name: Samuel Ethan. She could feel the rounded shape of her baby's body through her tightly stretched skin. There he was. Sleeping soundly. Not really moving at all. Not really moving at all . . .
A chill shuddered through her body. Katie suddenly realized that she had not felt baby Samuel move all afternoon. Was she imagining that? Nathan called and asked his parents, who live nearby, if they could come watch the other children so he and Katie could head to the hospital, just to check, to be sure the baby was okay. 
Once they arrived, they were taken to a triage room. With Nathan at his wife's side, holding her hand, the nurse placed a monitor on Katie's belly. Nathan texted a couple of close friends to share what they learned.
Nathan Bollinger: Please pray for us! We just went to the hospital to check on our baby boy. Samuel Ethan Bollinger is in Jesus's hands. The doctor confirmed that there is no heartbeat. We will communicate more soon as we are able. Katie will be induced soon.
Nancy: Nearly twenty-four hours later, Samuel came . . . eight pounds and ten ounces of him, just one day short of his due date. But now, instead of the anticipated gladness and celebration, grief filled the room. It was the hardest day, the hardest moment, that Katie and Nathan had ever endured. Sunday, June 13, 4:33 p.m.
The Bollingers have been friends and ministry colleagues of mine for over a decade. Along with the rest of our team at Revive Our Hearts, I had watched God bring their lives together and then grace them with three precious children. We had rejoiced with them at the news of this fourth child and had eagerly awaited his birth. Now, this devastating news stung at a deep place for all of us. We felt crushed for them, with them.
For years I've opened God's Word and taught that things don't "just happen," that our God is in control. He knows what He's doing. The events that touch our lives are purposeful. 
Nancy (on air): God, Elohim, created the heavens and the earth. He is the One who created and controls all the forces of nature. Nothing in this world happens by chance or outside of His knowledge and His control.
He's the sustainer of this world, by Him all things hold together—and that includes us. God uses events that turn our world upside down to drive us to cling to Him . . . and sometimes it's just raw, naked faith. 
God wants to use your trial, your battle, to train you. So don't run from it. You see, it's in the midst of trials that God provides for us opportunities to grow, opportunities to see God's power. Those trials, those battlefield experiences, put us in a place where we most need God, where we're desperate for Him.
The riches, the wisdom, and the knowledge of God, they're deeper, they're bigger, they're greater, they're grander than anything we can know, so that's why we trust God . . . even when He works in unexpected or unexplainable ways to accomplish His purposes. God sees the beginning and the end, and everything in-between.
God sees it all, whereas we can only see this little, itty-bitty present moment. We can't see the context, we don't have the view that God does of the whole big picture. It's a truth that runs all through the Scripture. But when a moment like this comes along, that truth is so painfully hard to understand. 
Nancy: While Katie was still in labor, Nathan's mom texted me with an update on the situation. Beneath her message was a picture Nathan had sent her. It was an image of a whiteboard on the wall in Katie's hospital room. Across the top of the board, Nathan had written a message with a red marker.
Nathan: "Heaven rules, and Samuel is there!"
Nancy: You see, over the previous few weeks, Nathan had been the video producer for a new Revive Our Hearts teaching series. Nathan had been directing the crew on the other side of the wall that had been videotaping this series on Heaven Rules.
During these sessions, I had walked through the book of Daniel, looking at each chapter through the lens of its proclamation that"Heaven rules." Over the course of those sessions, I must have repeated that phrase dozens of times. From his position seated in the control room, Nathan had taken in this teaching.
Nancy teaching: Heaven, God, rules over world powers, over nations, over governments, over kings. But Heaven also rules in the micro, the details of our personal lives: that unfulfilled longing for a godly mate, for a child, miscarriages, stillborn babies. Heaven rules. 
I want to tell you, this is not a trite thought, this is not a throwaway line. This is huge! And this, my friend, is what will anchor your heart when you're being tossed and thrown in the storms of life! Heaven rules!
Nancy: Back in that hospital room, my precious friends were in the middle of the hardest storm they had ever had to face. The loss was real. It was raw, aching, traumatizing. Katie had spent hours of intense labor only to deliver a fully formed, lifeless baby. Together they FaceTimed Samuel's siblings to tell them that the little brother they had been so excited to meet would not be coming home. 
He was in Heaven. Then as a family—parents, grandparents, small sisters and brother—they wept and ached together in that hospital room, where each of them had a chance to hold Samuel's body.
It was too fragile a moment to want to touch. A few days later, Nathan and Katie wrote a lengthy, poignant letter to their son. That letter was read by their pastor at Samuel's memorial service.
It described that unforgettable scene in the hospital. Pastor Wes Ward read this, "That delivery room was a holy ground of worship amidst the deepest of heartache." Holy? Yes. Worship? Yes. Intermingled with heartache and weeping? Yes. 
Heaven rules. It's one thing to say it, it's another thing to believe it, and it's a spectacular act of worship and faith to cling to that reality when God's ways are painful and unfathomable, and you've lost one that you love so dearly.
Pastor Wes: "For everything there is a season, and a time for every matter under heaven: a time to be born, and a time to die; a time to plant, and a time to pluck up what is planted . . ." (Eccl. 3:1–2)
Nancy: My husband and I joined hundreds of heartbroken friends for Samuel's memorial service. You never forget those kinds of funerals. 
Pastor Wes: ". . . a time to break down and a time to build up; [there's] a time to weep, and a time to laugh; a time to mourn, and a time to dance; a time to cast away stones . . ." (Eccl. 3:3–5)
Nancy: And then the service began . . . with worship. I'll never forget seeing that bereaved couple on the front row with their three children and two sets of grandparents on either side of them. There they were with eyes, hands, and voices lifted to heaven in worship.
Pastor Wes (at Samuel's service): As we prayed earlier, be reminded that Jesus was acquainted with pain and grief and death, and He Himself entered right into it. That's what we're doing here today. We are memorializing Samuel, but we're also comforting each other, and we're giving ourselves to Christ at every turn. 
This is a moment of sorrow and lament, but it's also—in God's strange ways—a heart-lifting celebration, so let's enter into all of that. Jesus did, so can we and should we. "God is already there and has gone before us. He has all of this, and we will be okay." That's what Nathan said as he was headed to the hospital on Saturday.
He said that to the kids, and then he texted these words to the family: 
It was the only thing that came to mind to tell them as we departed. The lamp for our feet is only so bright these days. I would love to have a searchlight to help us see what is ahead and prepare, but we trust the Giver of Light to give us what we need and when we need it.

We have to learn what He wants to teach us through all of this and steward the pain and steward the suffering well, with the goal of pointing others to the Author and Finisher of our faith. [Nathan wrapped up that text by saying], These are just some thoughts from a crushed daddy's heart who is clinging to the Good Father who never changes and will never forsake us.
So as we memorialize Samuel and think on Jesus, I think it's fitting to do that by calling out some of the themes that I have seen just this week in Nathan and Katie's life, but also that I've seen in their lives for more than a decade. 
Themes like: 
Family and relationships matter. 
Children matter to Nathan and Katie. 
Names matter. 
Surrendering matters, because we know that Heaven rules. 
Showing honor matters. 
And above it all, the gospel matters.
I want to pause and just tease out an example, a couple of those things, to you. First of all, names matter to Katie and Nathan because names matter to God. Nathan and Katie are purposeful people; they're deliberate, they're thoughtful. 
When they go about naming children, they start by asking the Lord things like, "Lord, what might this child's spiritual purpose be? God, what attribute of You do You want us to forever and purposefully attach to our child through their name? Jesus, how can Your faithfulness and Your goodness be on display just by saying their name?"
So they went to praying those kinds of prayers, and they didn't stop praying until they landed on Samuel Ethan. Now, truth be told, they didn't actually want to land on that name. Again, they're not a fan of Sam or Sammy, because they knew what you would do with it.
But the Lord would not let them get away from it, and so, "Samuel Ethan Bollinger it is. That's the name!" Katie and Nathan have written a letter to their dear Samuel, and I get the honor of sharing that with you now.
Dear Samuel,

You are our miracle baby that we prayed for, for so long! When God answered that prayer in His timing, we rejoiced with great joy! There have never been such excited siblings as Caleb and Grace and Brielle.
They kept track of your developmental milestones each week while God was knitting you together in perfection in Mommy's womb. Early in the pregnancy she began to bleed, and we were scared that we would lose you, but God answered our prayers and kept you safe. That was our first time walking through the process of fully releasing you to God.
We all cheered, alongside your grandparents, as we watched the ultrasound screen and discovered you were a boy! Caleb was jumping up and down, grinning from ear to ear, beyond ecstatic to have a brother, at last! 
We marveled at your boundless energy as you kicked and sucked your thumb. How were we going to keep up with you when you were born? We were amazed at the beautiful intricacies of your beating heart, your bones, and your little feet. It was fun to peek into your world!
As you got bigger, the whole family could all feel your kicks and stretches and frequent hiccups. You are the only person that we know who gets hiccups twice a day! We had the opportunity to watch you in 3-D when you were thirty-two weeks along.
Our favorite part was your cute little lips and your little button nose, just like your siblings. It was clear you were a Caleb look-alike! We watched you smile; we watched you look worried. Your range of faces made us laugh! We longed to kiss those cute chubby cheeks.
That same afternoon, your medical sonogram was misread, and we were told that there may be significant problems with your brain. The next week was very difficult as we processed through what life could be like. 
This was our second time of deeply relinquishing our will and holding you with open hands, surrendering to whatever God deemed best, trusting that His plan was perfect and that He would give us the strength to walk whatever path that was.
It was with great relief when the next sonogram showed that your brain was perfect! You see, while God was forming you, He was also forming us—deepening our faith, growing our trust, bringing us to the point where we knew experientially that the more difficult the trial, the greater His presence and peace. He is such a good Father, who prepares His children for what is ahead.
Our countdown to meet you continued. We kept track of the weeks and the days until you were due. Brielle kept asking, "Why isn't the baby born already?!" Mommy's belly got kissed many times a day by your siblings! They talked to you, and Caleb learned to play a piano lullaby just for you!
We got down to two days left. Everything was ready: bassinet set up by our bed, changing stations, baby clothes, hospital bags packed. The car seat was in the truck and Daddy had plotted the fastest route to the hospital!
Then around 5:00 p.m. Mommy realized you hadn't been moving that afternoon. She ate a snack and laid down, but didn't feel you kick. We went right to the hospital to monitor you, but instead of your strong heartbeat, all we heard was silence. It was the biggest shock of our lives.
It took a while to even comprehend such a thing, crying out to God to not let it be so! God's presence met us in that triage room and fed us with Scriptures that He would be with us in the hardest of times and that He loved us and that He loved our children.
Meanwhile, you were in heaven, in the presence of God! The first thing your eyes got to see was the beauty and perfection of a world not messed up by sin! The next thirty-six hours were the hardest of our lives, as Mommy labored and delivered your earthly body, and we all held you to say, "goodbye."
God carried us through in ways that words can never express. That delivery room was a holy ground of worship amidst the deepest of heartache. As word spread of your passing, the body of Christ surrounded us with love and prayer support. 
God raised up an army of prayer warriors to lift us up. We began to realize that there must have been over a thousand people praying fervently for us. It blows our minds!
Our precious Samuel Ethan, your first name means "God has heard," and your middle name means "strong, safe." We had no idea when God led us to that name, how perfect this name would be for you! 
You are now completely strong and safe in the arms of God, who heard our prayers. Your short earthly life has already made a huge impact on so many people. You are a testimony of God's faithfulness, goodness, and love.
We miss you deeply and look forward to seeing you in heaven someday! 
With all our love, 
Daddy and Mommy
Nancy: Underneath these unplanned, tragic circumstances, supporting and carrying this sorrowing family, stood the One whose reign over every situation—and I do mean every situation—could take even this situation to its knees in worship. 
Heaven rules, and Samuel is there!
Samuel's story took place as I was completing my book, Heaven Rules. It seemed fitting that his story should be told in the preface . . . and that the book should be dedicated to this precious child.
Samuel Ethan Bollinger
June 13, 2021–June 13, 2021

You never drew a breath on earth.
But with tears streaming down
and hands lifted up,
in a way we will never forget,
your heartbroken parents magnificently affirmed that
Heaven rules.
Nancy (teaching): Heaven rules, and there is nowhere He is not—comforting us, giving us courage through our tears, through our fears, calling and leading us to worship.
Dannah: Wow! What a powerful reminder that even in our most heartbreaking circumstances, Heaven does rule and our anchor holds. Thank you, Nancy. Thank you for reading that for us. That was the preface of your book Heaven Rules.
Nancy: Yes, Dannah. I just felt that this was such a fitting and beautiful illustration of a couple living out the reality of trusting that Heaven really does rule in the midst of the hardest circumstance they had ever faced in their lives!
As we've been listening to that story, I'm mindful that there are perhaps a lot of women who are currently expecting a child, and maybe listening to a story like this strikes fear into your heart.
Let me just remind you that God is giving you grace today for what you are experiencing today. So when Nathan and Katie had to face this difficult circumstance, God gave them grace for that, in that moment. 
Don't let the enemy steal your joy today by giving into what I call, unauthorized imaginations of what might happen tomorrow. Whatever happens tomorrow, God will give you grace for that.
Now, our team has produced a beautiful video based on what you've just heard. If you attended True Woman '22, you remember that we showed it there. You can find a link to that video in the transcript of today's program. 
If you know someone who's going through a painful experience, it may be something you'd want to share with them as well. Just ask the Lord to give you wisdom and sensitivity about the right time to share it.
Dannah: You know, Nancy, I'm sitting here thinking, we know the story after the story. There's kind of a P.S. to that video. Do you think we can tell them?
Nancy: Oh, I think we definitely need to! In His kindness, God blessed Nathan and Katie with another pregnancy. Now, you can imagine the natural concern, the fear that they both felt after what happened with Samuel just last year.
But just as they did with Baby Samuel, they kept looking to Christ, they kept anchored to Him. They kept trusting in the faithfulness and goodness of God. And once again, with this pregnancy, they took courage, and they took comfort in the fact that Heaven rules.
In fact, when we showed that video at True Woman, Nathan and Katie were not there because she was just less than a week away from delivering that precious little girl! And we announced that at True Woman. 
If you've wondered how that went—as many have—I'm thrilled to tell you that precious little Natalie Joy was born this fall, and she's a beautiful, healthy two-month old baby!
Dannah: Yay!
Nancy: Yes, such a joy! God is good. He's good all the time. He's good when it seems that He's good, and He's good when it doesn't seem that what He's giving us is a good thing. Nathan and Katie experienced what it meant to trust in the goodness of God when He chose to take Samuel Ethan from them.
I'm thinking about a verse from Psalm 119. That was the first conscious thought I had the day I heard—on the weekend of my twenty-first birthday—that the Lord had taken my dad. He'd had a heart attack and instantly was with the Lord.
As I got that call from my mom, the verse from Psalm 119, verse 68, that says God is good, and He does good. And I'll tell you, over those next days and weeks, there were many tears shed. I was very close to my dad. This was a sudden and painful loss.
But that assurance—God is good and does good—was an anchor for my soul in a really difficult season. That's what Nathan and Katie have experienced, both in the Lord taking Samuel Ethan and then in the Lord showing His goodness to them again, this time in giving them a new child, Natalie Joy, and in giving her a longer life.
Dannah: Yes, so true, Nancy. You know, sometimes it is hard for us to see, and it takes eyes of faith to believe that God is good all the time.
Nancy: Again, that comforting verse I just quoted and paraphrased a little bit. Psalm 119:68 says, "You are good and you do what is good" (CSB). 
Dannah: Such a good reminder. You know, Nancy, I want to mention to our listeners that your book Heaven Rules is available and, as I said earlier, what we heard today is from what you wrote in the preface of Heaven Rules.
We'll send you a copy as our way of saying thank you when you make a donation of any amount today to help support Revive Our Hearts.
Nancy: And don't forget that your donation will be matched, dollar for dollar, by a group of generous friends of Revive Our Hearts. They believe in the message and the mission of this ministry. By making this challenge, they're wanting to encourage others to give as well.
Now, I know these are times of economic uncertainty, at least from a human perspective, and it may represent greater sacrifice for you to give this year. And of course, we never want to do anything to take away from your regular giving to your local church. 
But as the Lord leads, would you consider giving to Revive Our Hearts? We'd be so grateful for that! And, yes, your donation today will be effectively doubled because of the matching gift that's available right now.
Dannah: To give, just visit ReviveOurHearts.com, or call us at 1-800-569-5959, and ask about Nancy's book Heaven Rules when you do.
Tomorrow, Nancy begins a study about an important character in the Christmas story who is often overlooked. He was one of the first people on earth to meet baby Jesus. Can you guess who it is? Tune in to Revive Our Hearts tomorrow to find out. 
Revive Our Hearts with Nancy DeMoss Wolgemuth wants you to trust that Heaven rules, as you discover freedom, fullness, and fruitfulness in Christ.
*Offers available only during the broadcast of the podcast season.
For a donation of any amount