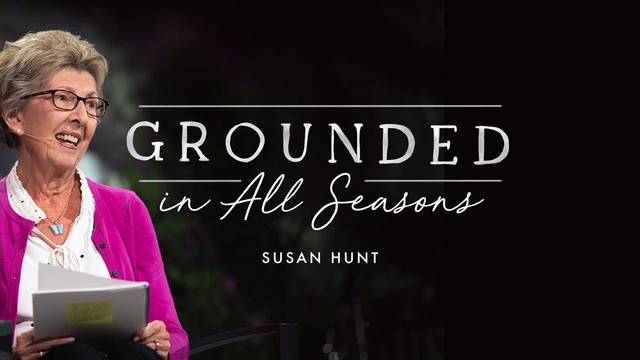 Grounded in All Seasons, with Susan Hunt
Nancy DeMoss Wolgemuth: Spiritually speaking, there's no such thing as coasting. Susan Hunt says we have a choice.
Susan Hunt:  The question is: am I becoming beautiful like Christ? Or am I becoming brutish? We cannot change ourselves, but Jesus made provision for us to choose beauty.
Nancy: Welcome to Revive Our Hearts. Today is Friday, November 5, 2021. I'm Nancy DeMoss Wolgemuth.
For a couple of weeks here in November, we going to share a few messages from the recent Revive '21 conference in Indianapolis. It was an amazing time both for the women who were there in Indy as well as those who participated by way of the livestream. In these days we want to give you a taste of what the women heard that weekend.
The theme for our conference this year was Grounded: Standing Firm in a Shaking World. One of the sweetest points of the …
Nancy DeMoss Wolgemuth: Spiritually speaking, there's no such thing as coasting. Susan Hunt says we have a choice.
Susan Hunt:  The question is: am I becoming beautiful like Christ? Or am I becoming brutish? We cannot change ourselves, but Jesus made provision for us to choose beauty.
Nancy: Welcome to Revive Our Hearts. Today is Friday, November 5, 2021. I'm Nancy DeMoss Wolgemuth.
For a couple of weeks here in November, we going to share a few messages from the recent Revive '21 conference in Indianapolis. It was an amazing time both for the women who were there in Indy as well as those who participated by way of the livestream. In these days we want to give you a taste of what the women heard that weekend.
The theme for our conference this year was Grounded: Standing Firm in a Shaking World. One of the sweetest points of the whole weekend, at least for me, was hearing our dear friend, Susan Hunt on the final afternoon of this event. She talked about what it means to be grounded in all seasons of life—all the way to the finish line.
If you don't know who Susan Hunt is, you may say, "How does she know about this?" Well, she's eighty-one years old. After fifty-some years of marriage, Susan is now a widow. She's had some health challenges. She's a tiny, slip of a thing and a little bit frail, but she's mighty in spirit.
I don't know that I'll ever forget that image of Susan not standing to speak, but sitting in a chair on the platform, as if we were gathered around her in her living room to talk with us about what it means to stay grounded in every season of life.
This precious woman has been a spiritual mother to many—including many of us who are part of the Revive Our Hearts team and the True Woman movement. Her words have inspired me many times over the years, as they did afresh that day, and I believe they will inspire you over these next few moments. Here's Susan Hunt.
Susan: Girls, I'm not sure why I'm here, except that I'm old. (laughter) I guess they needed someone old to talk about being grounded to the finish line. I know you're probably wondering, How old is she? Well, I'm eighty-one. I'm too old to stand for thirty minutes; I'm not even sure I can talk for thirty minutes! But my biggest concern is, this is my naptime. I don't know if I can stay awake for thirty minutes! (laughter)
But not to worry. My two daughters and ten spiritual daughters from our Titus 2 group are sitting right over here, as close to the steps as they could get. We have lived life together. We have shared the gospel in our lives with one another for twenty-five years. They know me well, and they care for me well. I can assure you that if I do fall asleep or forget what I'm talking about, they have a plan already in place to get me off the stage! (laughter) I can assure you that there's at least one of them that will be all too glad to take the mic and tell you what I was going to say. She knows who she is. (laughter) But girls, just settle down. For right now, I'm good, and I want to tell them what I've been telling you.
The path of the righteous is like the light of dawn, which becomes brighter and brighter until full day. (Prov. 4:18) 
Girls, it's true. My physical eyesight is dimmer and dimmer, but my spiritual eyesight is brighter and more vivid. The opposite, in verse 19, is also true: 
The way of the wicked is like deep darkness; they do not know over what they stumble.
We're grieved and shocked by the cultural chaos, the deep darkness, and people not even knowing what causes such despair and sadness and distress. But for the righteous the path gets brighter and brighter, because God's Word is the lamp for our feet and the light for our path. God's Word renews our minds and equips us to think biblically, to think beyond what is seen to the unseen, eternal realities. Then slowly, as our hearts are transformed, we connect the eternal realities to our earthly realities, and our theology becomes our doxology.
J.I. Packer wrote, "The older I get, the more I want to sing my faith and get others singing it with me. Theology is for doxology. The first thing to do with it is to turn it into praise and thus honor the God who is its subject," which is what Ephesians 1 tells us. We were chosen in Christ before the foundation of the world to praise His glorious grace. This is what we were made for! Our chief end is to glorify God and to enjoy Him forever.
I was in my twenties when this profound statement captured my imagination, because it answered the burning question in my heart: "Why am I here?" Then gradually, I began to understand that my purpose is to become a part of the redemptive history, part of putting God's glorious grace on display in a broken world. It focuses me on the grand reality that the gospel is big enough, good enough, and powerful enough to make every moment of every season of life glorious and significant.
Putting it into practice has been shamefully and painfully slow, because it is a daily battle of dying to self. But being grounded in these truths really does clarify and simplify life, even as the wonder of it reorients me every morning as I wake and pray, "Lord, give me grace to glorify and enjoy You in whatever You ordain for me today."
Will you turn with me in your Bibles to Psalm 92? Psalm 92 gives a poetic picture of the path of the righteous. It shows us how to glorify and enjoy God. It crescendos with the extraordinary promise that the path will get brighter and brighter. 
The righteous flourish like the palm tree and grow like a cedar in Lebanon. . . . They still bear fruit in old age. (Ps. 92:12, 14)
Who flourishes? The righteous ones! 
Jesus walked the path of righteousness all the way to the cross and gave His perfect, sinless life as the substitute and sacrifice for our sins. On the basis of His obedience, God declares us to be justified, just as if we never sinned, and just as righteous as Jesus Christ. We do not stand before Him naked and ashamed. Isaiah 61:10, 
He has clothed me with the garments of salvation; He has covered me with the robe of righteousness.
What does it mean to flourish? It doesn't necessarily mean doing more; it means becoming more like Jesus. As counterintuitive as it sounds, flourishing is the progressive death of self and the growth of the life of Christ in us.
This psalm is very personal for me. I began studying it about three years ago. Then I had been praying and reading it into my life for about a year when my husband went to heaven, and I became a widow. In the grief and fatigue of Gene's illness and the unfamiliar place of widowhood, the truths of Psalm 92 went from my head to my heart, and I experienced the reality of these truths.
The title of Psalm 92 is "A Song for the Sabbath." It's a community song. They sang it together when they gathered for worship. Our salvation is personal, but God adopts us into His family. He does not intend us to walk the path alone. What we see in Psalm 92 happens in community.
It is good to give thanks to the LORD, to sing praises to Your name, O Most High. (Ps. 92:1) 
Note the names of God that are used here, reminding us of the God-centeredness of true worship. "LORD" is the Hebrew Yahweh. God is revealing Himself to us through this name as a personal God who enters into a personal relationship with us, binding Himself to us in covenant love and loyalty, promising, "I will be your God, you will be my people. I will live among you; I will be with you always."
"Most High" reminds us of His transcendent sovereignty. This song is calling us to remember God's love and His sovereignty, His presence and His promise, His goodness and His greatness. This is the theology that will ground us to glorify and enjoy God even in the hard places and the hard relationships. His sovereignty assures us that He can keep every promise, and His love assures us that He will keep every promise.
Isn't this what Jesus teaches us in the Lord's Prayer when He tells us to pray? "Our Father" reminds us of His tender care for us. "Who art in heaven" reminds us of His sovereignty.
Verse 1 also shows us how to sing our theology. "It is good to give thanks to the Lord." I began praying that the grace of gratitude would go deep into my heart, and in the hard place of Gene's illness and death the Lord answered that prayer as my fear was replaced with an overwhelming sense of gratitude for God's presence with us.
It is good to declare His steadfast love and faithfulness morning and evening. (Pr. 92:2)
"Steadfast love" is the Hebrew word hesed, a rich word full of meaning. It means God's covenant commitment of love and loyalty to keep every promise, no matter what it cost Him. We see the full expression of hesed at the cross. Talking about God's steadfast love and faithfulness is good for our souls, and it's good for others.
For you, O LORD, have made me glad by Your work; at the works of Your hands I sing for joy. (Pr. 92:4)
As I prayed, "Make me glad by Your work," I began to meditate on the work of His hands as they were nailed to the cross for my salvation, His saving and sanctifying work in my life and in the lives of those around me, especially in Gene. He was so weak he could barely speak, but every single time someone came into his room, whether they came to draw blood or to mop the floor, he opened his eyes and he said, "Thank you for coming." Instead of seeing his physical weakness, I saw the beauty and the power of the gospel, and it made me so glad.
Grief is real, and it's hard. But we grieve in the context of the hope and the power and the joy of the gospel.
G.K. Chesterton wrote, "Joy is the gigantic secret of the Christian." Girls, we should not keep this secret to ourselves. Yet I heard my friend Pastor George Grant say, "Too many Christians look and act as if they were baptized in vinegar." (laughter)
Think about it. The redemption story, our story, is a story of joy! At the birth of our Savior the angels said to the shepherds on the hillside, "Fear not, for behold, I bring you—" what? "Good news of great joy." Gospel joy is beyond our ability to understand or to produce. It is a spiritual reality.
In John 15 Jesus said, "These things I have spoken to you, that my joy may be in you, that your joy may be full" (v. 11). It's His joy in us; it's a gift. He is the source. People, circumstances, the pursuit of my own happiness, will never bring gospel joy. Elisabeth Elliot wrote, "The only means to real joy and contentment is to make His glory the supreme objective of my life."
Philippians 4 makes an outrageous statement, telling us, "Rejoice in the Lord always" (v. 4). Is this even possible? Only if we think big, if we think long, and if we think biblically. Paul was in prison, but he knew the bigger story. He knew that more was going on than his imprisonment, so he assured the Philippians in verse 12, "I want you to know that this has happened to advance the gospel."
You see, we're in the middle of the story at any given moment. We can't see how everything is going to turn out, but we can rejoice, because our sovereign God will use it to advance the gospel in our lives and maybe even in the lives of others. We can rejoice in all things because He is with us in all things. Nothing can separate us from His love (see Rom. 8:35). Only a sovereign God can make such large promises, and only a loving God would make such large promises.
Joy is not the absence of pain and sorrow, it's the presence and purpose of Christ in our sorrow and suffering. So let us do as our Savior did—1 Peter 2:23—"when he suffered . . . he entrusted himself to him who judges justly." 
Dear sisters, let us entrust ourselves to our Father, because He is trustworthy, and then "let us run with endurance the race that is set before us, looking to Jesus, the founder and perfecter of our faith, who for the joy that was set before Him endured the cross" (Heb. 12:2). Jesus looked beyond the present reality to the eternal reality.
We can't produce this joy, but we can pray for it. Psalm 21:6 is my constant prayer. I walk around my house praying it: "Make me glad with the joy of your presence." And He does.
Then Psalm 92:5–7 reminds us of the compelling contrast between the path of the righteous and the path of the wicked. This Sabbath song does not blur these two worldviews, and neither should we blur them in our lives. These verses clearly show the destiny and the destination of those who know and worship God and those who do not.
How great are your works, O LORD! Your thoughts are very deep! The stupid man cannot know; the fool cannot understand this; that though the wicked sprout like grass and all evildoers flourish, they are doomed to destruction forever. (Ps. 92:5–7)
Verse 6 is not talking about our mental capacity but our spiritual capacity. The word translated "stupid" is from the Hebrew word for "brutish." Dr. James Boice wrote, 
It is our calling to look up to God and become like God, in whose image we are made; but if we will not look up, the only place we will be able to look is down, and we will begin to behave like an animal.
The question is, am I becoming beautiful like Christ, or am I becoming brutish?
We cannot change ourselves, but Jesus made provision for us to choose beauty, and His prayer for His people in John 17—Jesus said to the Father, "The glory that You have given to me I have given to them, that they may be one even as we are one, I in them, and you in me" (vv. 22–23).
Think about that! His glory is in us now. His glory is the essence of who He is. It's His Holy Spirit who produces in us His life-giving fruit of love, joy, peace, patience, kindness, goodness, faithfulness, gentleness, and self-control. This is an exquisite summary of the character of Christ! The destiny of God's righteous ones is to become like Christ and to reflect Christ. Our union with Him is transformative. Our circumstances and relationships do not necessarily change, but there is a radical change in our attitudes and our actions when we entrust ourselves to our faithful Father.
Then verses eight to eleven quickly take us to Jesus, reminding us that it is the power of the gospel that we're gradually transformed from beast to beauty. 
But you, O LORD, are on high forever. For behold your enemies, O LORD, for behold, your shall perish; all evildoers shall be scattered. But you have exalted my horn like that of the wild ox; you have poured over me fresh oil. My eyes have seen the downfall of my enemies, my ears have heard the doom of my evil assailants.
The horn of an animal is a symbol of power, it's a weapon. Scripture refers to Jesus as the horn of salvation. Remember, they sang this song in Sabbath worship, continually reminding them and us of another Sabbath, when His horn was exalted, when God poured fresh oil on His anointed, and He rose victoriously from the grave and ascended on high forever, scattering His and our enemies and securing our destiny to glorify God and to enjoy Him forever, and our destination, the home Jesus is preparing for us.
The question is, which path are you on? Are you trusting the obedience of Jesus for your salvation? Then you're clothed with His righteousness, and He has set your feet upon the good path. Are you walking in the brightness and joy of the righteous path, or do you feel stuck? Are your circumstances and relationships, the messages and the mess of this fallen world, confusing and defeating you?
We make progress on the righteous path by using the outward means of grace that God has given us: His Word, prayer, Sabbath worship, the sacraments, and fellowship. As we continue, day after day, year after year, decade after decade, developing and practicing these holy habits, sometimes it feels like we're just going through the motions, that we're in a rut. But oh sisters, it's a righteous rut that gets brighter and brighter as we ask the Lord to use these outward means to "strengthen us with power through Your Spirit in our inner being, that we might be rooted and grounded in love, that we might have strength to comprehend the greatness of Your love, which surpasses knowledge, that we might be filled with the fullness of You" (Eph. 3:16–19 paraphrased). 
When the Holy Spirit uses the outward means of grace that we're using to strengthen our inner being, the result is Psalm 92:12, 
The righteous flourish like a palm tree, they grow like a cedar in Lebanon. They are planted in the house of the LORD: they flourish in the courts of our God. They still bear fruit in old age; they are ever full of sap and green. (vv. 12–14)
In Leslie Bennett's heart preparation devotion last week, she explained that the palm tree's flexibility and root system enable it to endure the violent winds of a hurricane. This is what she wrote: 
The child of God is shaped to remain upright in any disaster through the infinite resources of His Spirit, His Word, and His Church. The fruit of the date palms which grow in Israel grow sweeter and more abundant as the tree gets older. 
I like that. The huge cedar of Lebanon grows and grows. Their branches spread out and intertwine. What a sweet picture of the interdependence and unity of God's Church! A tree does not plant itself. God sovereignly plants us in the time in history and the place on the planet and the family and the local church where He wants us to flourish and to help one another flourish. We flourish in community as we declare verse 15:
The LORD is upright; he is my rock, and there is no unrighteousness in him. 
If there was even a hint of unrighteousness in Jesus, He could not be our righteousness. This is a declaration of confidence, not self-confidence, but Christ-confidence.
The little church where God placed me is less than a hundred people, as insignificant in the eyes of the world as those shepherds on a hillside outside Bethlehem. But Jesus loves the church, and He gave Himself for her (see Ephesians 5). 
He said that He is building His Church, and even the "gates of hell cannot prevail against it" (Matt. 16:18). The church is not perfect, but we have a perfect Savior who has declared us righteous in His sight and who is using His Word, His Spirit, and His Church to gradually make us righteous in practice.
My friend Judy flourished in our little church. She was part of our Titus group. She would have been here with us, but she had cancer and went to heaven in July. This is Judy's daughter Sarah, who is here with us, and she's going to help me tell Judy's story.
Judy was one of our storytellers in the book Aging with Grace. She begins her story by explaining that her husband left her after forty-three years of marriage. Sarah, will you read part of what your mama wrote?
Sarah: Here's what Mom wrote. 
Could I recover from the shock of divorce and moving from the familiar to the unfamiliar? I took refuge in the Lord and in the sanctuary of His presence. He ministered to me through His Word, slowly breathing life, hope, and joy to my soul. Eventually He provided a new home and a loving church family who welcomed me. I asked Him to let me proclaim His power to this new generation (see Ps. 71:18). I want my children and my grandchildren to know that in this broken world we will have troubles, but in Christ we can have joy, peace, contentment, and hope, if we keep our eyes on Him, surrender our will to His will, and flourish in His perfect plan for us.
Susan: As Judy became weaker, the fruit of righteousness became sweeter, and one morning she sent me a text. Will you read your mama's text?
Sarah: "He has given me such peace, rest, hope. I'm just held in His hands. It's nothing like I've ever experienced. I don't know what the outcome will be, but He does. He has brought me to this valley, He is in this valley with me, and He will decide when we come out of this valley. The biggest lesson so far has been, don't try to get out of the valley on my own, but wait for Him."
Susan: Judy waited, and when she and her children were told that the doctors could do nothing else for her, they sent someone from the chaplain's office into her hospital room who said, "We're just here to comfort our patients and their families. We believe whatever you believe."
Sarah, what did your feisty mama say? (laughter)
Sarah: She said, "Well, I believe my only hope in life and in death in Jesus Christ."
Susan: A couple of days before she went to heaven, as I sat by her bedside, something about seeing her in that hospital gown just overwhelmed me with grief. My beautiful friend always had the perfect outfit for every occasion. Then I remembered our theology; I remembered the eternal reality. I said, "Judy, you are going on the ultimate trip, and you don't have to shop or pack! (laughter) You are clothed in the perfect righteousness of Jesus, the garments purchased for you by our Savior!" (applause)
We flourish in the courts of the Lord as we share the gospel and our lives with one another. Friendships are formed as we keep the nursery together or plan an event together or take a meal to a grieving family. Over time, friendships flourish, and we're privileged to make the sacred journey to the edges of heaven with a gospel friend.
Titus 2 relationships between older and younger women happen in God's church, as one generation shows and tells the next generation of women how to be life-givers. It's in the courts of the Lord that we learn to love one another, pray for one another, repent to one another, and forgive one another. When we walk the righteous path together, we become a joyful community of love and unity where we serve the Lord with gladness and serve one another in love. We become those who give a drink of water to the thirsty, welcome the stranger, clothe the naked, visit the prisoner, and who will one day hear Jesus say, "When you did it for one of the least of these my brothers, you did it for me" (Matt. 25:40).
It's in the courts of the Lord that we pray for Christians being persecuted and for prodigal children, and in some mysterious way those prayers are used to draw prodigal children back and to encourage brothers and sisters in Christ who face martyrdom, and they do so with peace and joy, and their theology becomes their doxology. So it's not surprising that the psalmist in Psalm 48 marvels at the wonder of it all when he exclaims, "Great is the Lord, and greatly to be praised in the city of our God! His holy mountain, beautiful in elevation, is the joy of all the earth" (v. 1).
In the Old Testament, Jerusalem was the city of God. Now it's the community of God's people in heaven and on earth. It's you and it's me; it's us. So let us join Christians down through the ages and around the world and joyfully declare our purpose and our hope by using two of the historic creeds of the church, written to ground us in our most holy faith.
Stand with us. I'll read the questions, and Sarah will lead you in responding.
Sisters, what is your chief end?
Sarah and audience: My chief end is to glorify God and enjoy Him forever.
Susan: What is your only comfort in life and in death?
Sarah and audience: That I am not my own, but belong, body and soul, in life and in death, to my faithful Savior, Jesus Christ. He has fully paid for all my sins with His precious blood and has set me free from the tyranny of the devil. He also watches over me in such a way that not a hair can fall from my head without the will of my Father in heaven. In fact, all things must work together for my salvation because I belong to Him. Christ, by His Holy Spirit, assures me of eternal life and makes me wholeheartedly willing and ready from now on to live for Him.
Susan: What must you know to live and die in the joy of this comfort?
Sarah and audience: Three things: first, how great my sin and misery are. Second, how I am set free from all my sins and misery. Third, how I am to thank God for such deliverance.
Susan: Amen and amen. (applause)
Nancy: Wow, Dannah! What an amazing thing to be part of that group there at Revive '21 to hear this precious older woman affirming the goodness of God, the faifulness of God, and leading us in joining us with believers from past centuries in affirming our only hope in life and in death is Christ and His gospel.
Dannah:  She certainly reminded me that the reason to rejoice is Jesus, no matter what is going on in our life, no matter how shaken the world is around us. Of course, we've been listening to Susan Hunt share how you can flourish in any season of life. 
Nancy: Whether you were able to attend the conference or not, we want to help you stay grounded all year long with the new 2022 wall calendar that's based on the grounded theme. We want this to be a constant reminder throughout the year ahead that no matter what the year may bring that even though the world is shaking and your life may be shaking, God and His Word always remain firm. We can be grounded in that truth year round.
Dannah: Nancy, this calendar is absolutely beautiful, as all of the Revive Our Hearts calendars are each year. This year we are really hoping that it will help you take root in God's truth every month with the content as you look at this calendar, which is yours when you make a donation of any amount to support this ministry. Visit ReviveOurHearts.com, or call us at 1–800–569–5959 and request your 2022 calendar.
Nancy: I hope you'll get this calendar and put it up in your home as a yearlong encouragement to stayed grounded in Christ. And then one other way you can do that is through a 30-Day challenge we are offering called Grounded in Wisdom. It's wisdom from older women like Susan Hunt that will help you over the next thirty days to stay grounded in the wisdom of God's Word. Sign up on our website, ReviveOurHearts.com, to get the Grounded in Wisdom: Sage Advice from Older Women Challenge.
Next week you'll hear more from Susan Hunt in a special interview, along with inspirational truth from a few other speakers that joined us for Revive '21. I hope you'll join us back here for Revive Our Hearts.
Revive Our Hearts with Nancy DeMoss Wolgemuth wants you to be grounded in the freedom, fullness, and fruitfulness in Christ.
All Scripture is taken from the ESV.
*Offers available only during the broadcast of the podcast season.
Support the Revive Our Hearts Podcast
Darkness. Fear. Uncertainty. Women around the world wake up hopeless every day. You can play a part in bringing them freedom, fullness, and fruitfulness instead. Your gift ensures that we can continue to spread gospel hope! Donate now.
Donate Now