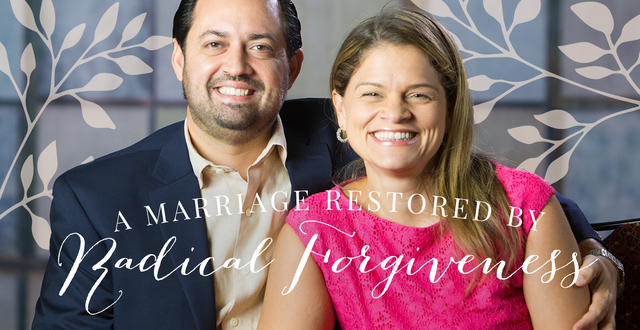 — Audio Player —
Gregory and Aileen Story
Leslie Basham: Aileen remembers the day she found out her husband had been unfaithful.
Aileen Salcedo: When something like this happens in a marriage, trust is lost. I remember I closed my hands, and I went to, like, punch him. I was very, very mad, betrayed.
Leslie: Is there hope for a marriage in that situation? We'll find out today on Revive Our Hearts with Nancy DeMoss Wolgemuth. She's the author of Brokenness: The Heart God Revives, for May 31, 2019.
Nancy DeMoss Wolgemuth: My heart is still full of memories of God's power and faithfulness as we came back from Mujer Verdadera, the True Woman conference that was taking place in Mexico. There is such a sweet hunger in Latin America for teaching from God's Word. Throughout that conference I sat there thinking, Many of these women, maybe most of them, may never have had an opportunity to attend a women's conference like this.
That's hard for us to fathom because in our country, we can do one every weekend if we'd like. But Latin America doesn't have a lot of ministries like Revive Our Hearts where women can get solid Bible teaching tailored for women's needs. As soon as MV '17, the True Woman conference in Mexico, came to an end, women were saying, "When's the next conference going to be? Can you come to my country? Can you come to Columbia? Can you come to Peru? Can you come to Bolivia? Can you come to Europe?" We were asked by a contingent who came to the Mexico conference from Europe.
Today we're going to hear from one couple who benefitted in a big way from the Spanish ministry of Revive Our Hearts. Gregory and Aileen have become sweet personal friends and friends of this ministry. But not all that long ago, they faced some huge storms in their marriage, and, from a human perspective, it looked like they did not have hope. But God knew just what they needed, and He provided the resources to help at just the right time.
Today we'll hear Gregory and Aileen's story. And let me mention, you can also watch the story on video when you visit ReviveOurHearts.com.
Gregory and Aileen Salcedo met at church and were immediately attracted to each other.
Aileen: At the age of fifteen, I met the one that is my husband today. It was love at first sight. We met at church. The first time I met him, I loved his eyes. 
Gregory Salcedo: The way she talked was very sweet.
Aileen: He was very secure of himself.
Gregory: I approached her personally to introduce myself.
Aileen: And that is something that called my attention because that is not common for a boy of that age to come up and present himself.
Gregory: She was very gentle.
Aileen: He was very intelligent.
Gregory: I think those were the things that caught my attention and stirred something in me.
Aileen: He has been my only boyfriend. We got married when I was twenty-three and he was twenty-four.
Gregory: And, of course, the expectation was that everything was meant to be perfect. 
Aileen: I felt that I was getting married to be happy, especially because we were both Christians, and God wanted us to get married and have a family. But after a while, I realized that it wasn't that easy.
Nancy: Early in her marriage to Gregory, Aileen began to feel dissatisfied. She felt distant from Gregory. They had different interests. He loved people and loved serving in ministry.
Gregory: I was very passionate. I started working with youth, and then I started singing. I love singing. And then I started worshipping the Lord, and then I became one of the worship directors.
Nancy: This new church plant grew quickly.
Gregory: Within four years we were doing three services per Sunday.
Aileen: And my husband had to invest a lot of his time on the rehearsals with the worship team
Gregory: I got to the church at 7 a.m., and we were finished at, like, 3 p.m. It was my hardest working day. It was a Sunday, and I was a full-time worker in the band that I used to work for.
Aileen: I was very timid. I preferred to stay back at home than being with people, and that was a point of conflict in our relationship.
Nancy: This cycle of contention between Gregory and Aileen continued, and they got caught up in activities. Gregory became overcommitted to work and ministry.
Gregory: So my life was pretty caught up in doing. That was one of my mistakes, of getting too involved in the doing rather than in the being. And you start to lose track a little bit of why you do what you do when you're serving the Lord.
Nancy: Aileen immersed herself in motherhood, to the neglect of her marriage.
Aileen: When I had my first daughter, motherhood was a big thing for me. I became very involved in being a very good mother. For a very long period of time, I gave myself to my daughter, and also, at the same time, I left my husband to his work to the church and to whatever he wanted to do. I just centered my attention to my daughter.
And then, after a while, I was pregnant with my twins. So that pregnancy was a tough time because I felt very, very lonely. He wasn't there for me. I remember that I felt very tired all the time. I thought that with a twin pregnancy he was going to be more present, more of a gentleman, but that didn't happen. So I remember that it was a difficult time.
Nancy: While Aileen was pregnant with her twins, someone from their church invited her to attend a small group study using the resource I co-authored called, Seeking Him.
Aileen: It was the right time for me to do that because God confronted me with my sins, and He made me focus on what He wanted to do in my life—nobody else's life but mine.
Nancy: Soon after that study finished, Aileen was invited to join a group of women from the Dominican Republic to attend the first True Woman in 2008 in Chicago, Illinois.
Aileen: I went with a group of women from our church, and it was overwhelming when we got there, and we saw all these women. Wow! Incredible!
Nancy: This was Aileen's first English-speaking conference to attend. Since English is her second language, it was difficult to understand everything that she was hearing.
Aileen: It was disappointing for me at the beginning because I said, "Is this what I came for?" because I couldn't understand a lot. But it was, like, building up as time passed. I remember that the videos of the testimonies and also "You've Come a Long Way" from Mary Kassian. It was, like, "Wow!" It was the whole experience that really stroked my heart.
Nancy: At True Woman '08, each attendee received a copy of a book by John Piper called This Momentary Marriage. The title caught Aileen's attention.
Aileen: That same night that I received that book, I went back to my room, and I started reading the book. I couldn't stop reading the book. When I went back home, I finished the book very fast. It was impressive for me because I never thought that marriage had such a big, big part in God's view of humanity.
To receive the book and the content of it at that time in my life, my heart was prepared to embrace the conviction that marriage is not about me being happy. It's not about my husband. But it was about a display of His commandment—His pact between Jesus and His Church.
Nancy: After the True Woman conference, Aileen got on the plane and returned home to the Dominican Republic, but she was carrying some extra luggage.
Aileen: I was going back home with a backpack full of information to put into practice and with a lot of resources and things that I had to think about and change in my life.
Nancy: One of those tools that Aileen implemented was the 30-Day Husband Encouragement Challenge from Revive Our Hearts.
Aileen: And that really, really did a good deal of work in my heart and in my husband's heart.
Nancy: Aileen also started intentionally praying for her husband.
Aileen: I was concerned about my husband's spiritual health. When I came back home, my prayer for him was to show me if there was something in his life that I needed to know, if there was something that he needed to change in him. I sensed that something was wrong.
Gregory: Well, given the fact that I was a Christian for so many years, I had read and had been taught about temptations and how to say "no" and about being unfaithful and all those things. I had had all the teaching that you can get. So I was proud. I had the knowledge. I knew what not to do. But I was naïve with temptation. I was naïve with sin. Sometimes temptation and evil comes wrapped in a way that you don't see it as it really is.
Aileen: They asked me to help translate the Seeking Him book into Spanish because we wanted to use it in the church. So, of course, I would love to do that because I knew so many would benefit from the book.
Gregory: So my wife and I were doing Seeking Him together. She was translating the book. But separately, I was being ministered in a very personal way through the same material.
Aileen: I was supposed to translate chapter 10, I think. It was about purity, and every chapter started with a story.
Nancy: That particular chapter in Seeking Him told the story of a man named Pete and his wife Sue. Pete was a believer, but his life and his family were unraveling due to his sexual immorality.
Aileen: And while I was translating that, the Holy Spirit came over me and asked me, "You have to ask your husband about this."
I first gave him the book to read the story. And after he read the story, I asked him, looking into his eyes, "Is there something that you have to tell me?"
Gregory: I got too close to a female person. It was within the church, so it was a Christian person. I ended up sinning against God with this person and against my wife. I felt, of course, a huge burden in my soul, in my spirit, and the Holy Spirit continuously confronted me.
The Lord used the material, the book Seeking Him from Revive Our Hearts, especially in those chapters in which your soul is searched through in a very deep way. I was confronted with my sin.
One night she asked me directly, "Is there something you want to confess?" I felt that was the day the Lord was also preparing me to be brave enough to face the consequences of my sin and to confess to her.
Aileen: I was very, very mad. I was like a tigress, like a tiger—very, very mad. I remember I closed my hands, and I went to, like, punch him. I was very, very mad, betrayed.
I asked some questions about him and this other person. Then the Holy Spirit showed me that that anger that I just experienced was a sin as bad as what he had just confessed to me, and that I was also a sinful woman before Christ.
Nancy: As Aileen continued processing, the Lord reminded her of forgiveness, the forgiveness that had been given to her by Christ on the cross, and the forgiveness that, through God's grace, she could offer to her husband Gregory.
Aileen: Forgiveness is something that is not about feelings. It's about obeying God. It's an answer of a heart that had been redeemed by Jesus Christ, who forgave all my sins. And if He did that for me, Him being holy and being myself a sinner, a constant sinner, who am I not to give forgiveness when I have received it by grace?
Gregory: When my wife decided to grant me her forgiveness, it was a refreshment from the grace of God. She had all the right to get separated and even to get divorced, but she was already being ministered to by God in her heart, so forgiveness was already there for me. The Lord knew that He had further plans for us as a couple. It was like a big hug to my heart and my spirit. So having her forgiveness was like a second, a true second chance.
Leslie: As Aileen looked back, she could see how God had been preparing her heart for this news months ahead of time as she went through Seeking Him and when she attended True Woman '08.
Aileen: Because of the presence of the Lord in my life and the work of His Holy Spirit, I was okay. I was hurt, of course. I was very, very hurt. I cried a lot. Yes, I did. But I was okay because my life was grounded in Jesus Christ.
Gregory: So it was the grace of God, not His wrath, that convinced me that I would not be alone, and that I would rather spend one day in His presence than live my whole life without His blessings.
Leslie: Even though Aileen extended Christ-like forgiveness to Gregory, the long road ahead of rebuilding trust.
Aileen: When something like this happens in a marriage, trust is lost. Only by the presence of God in the life of both the husband and the wife you can rebuild it, but that takes time.
Of course, I forgave my husband right away, but something inside my head said, "Yes, I forgave him, but that doesn't mean that everything is going to continue like if nothing had happened because something huge had happened."
Leslie: Aileen and Gregory wisely sought counsel as they walked through this time.
Aileen: I remember we went in to counseling with our pastor. I asked him, "So I'm supposed to continue on as if nothing had happened just because I say I forgave him?"
And he said, "No. If you forgave him, you put that in the past, but there are consequences for our sins."
Nancy: As Aileen went through counseling, she realized there were things in her life that needed to be addressed as well.
Aileen: I realized that I wasn't being a helper for him, that I didn't support him in the things that were important for him. 
Nancy: God was also working deeply in Gregory's life. Since Gregory had been in pastoral leadership at his church, he knew public confession to the church was necessary.
Gregory: My biggest fear was the damage to the church and to my reputation. But His grace is so amazing. He gave me the bravery to come clean and to ask for God's forgiveness to my wife and to my pastors and to my church. I knew that was going to be the beginning of a very difficult situation, but there was a storm inside of me that nobody knew.
Although a new storm began, in terms of public and all the people knowing, but since that time, there was peace in my heart because I knew I was doing what was right before God and He would be with me. That's where restoration began.
Nancy: Gregory took a bold step, humbled himself, and came before his church in repentance.
Gregory: I had opportunity to ask for forgiveness publically to God and to the church. It was the most difficult night of my life. It was also one of the most special nights because I felt God's forgiveness. I was not proud of what I did, but I could see the grace of God at work.
Aileen: Even though it was something very embarrassing, God was with us.
The way He had put our lives together after such an experience had shown us that we need Him desperately, and only by His presence in our life we can be whole in this world. No matter if you have all the money in the world, no matter if you are famous and you have a very good family, no matter what, there is only one cornerstone that can fit into your heart like Jesus Christ.
Nancy: We've been hearing the dramatic story of Gregory and Aileen Salcedo. And when I look at this couple today, I think what a beautiful testimony they are of God's grace and His power to heal relationships that have been broken by sin.
I think of how there's so many more women out there just like Aileen. They want to walk with Christ and serve Him, but they need others to come alongside of them and teach them the ways of God and show them how to stand firm in the midst of the storms of life.
I'm so grateful that God chose to use Revive Our Hearts to provide that kind of support for Aileen. And, today, her story is being multiplied in the lives of thousands of women all across Latin America.
There's such a hunger there for the truth of God's Word, so this is a really encouraging season of expanded growth and outreach and opportunities. We are only able to act on those opportunities because listeners—like you—support the ministry financially. We are watching ministry in Latin America explode. In fact, in 2018, for the first time the traffic to the Spanish website, Aviva Nuestros Corazones, surpassed the traffic to our English website of ReviveOurHearts.com.
God is really at work and we're eager to continue watching what He does. But that can only happen as listeners like you support Revive Our Hearts. And that support is especially important now.
As we've been sharing, this month marks the end of our fiscal year, when we wrap up our accounts for a twelve-month period, and we prayerfully plan budgets and outreaches for the year ahead. Your gift now will help us set those plans in place. The donations that we receive in the month of May also help us to get through the summer months when giving is typically lower.
That's why we're praying that God will provide $775,000 in donations this month. Now, that's a big amount and definitely a faith goal. You can go to ReviveOurHearts.com to follow a graph there that will show you how far we are toward that goal. 
Would you pray with us that God would provided that entire amount, and perhaps even beyond if that would please Him?
When you help meet this need by making a donation of any amount to Revive Our Hearts, we want to thanks you for your part in that ministry by sending you a brand-new resource our team designed just for our listeners. We've called it Refresh. It includes a journal and cards with daily reflection questions to help you walk through the process of experiencing spiritual refreshing over the next thirty days. We'll be glad to send you the Refresh kit when you donate online at ReviveOurHearts.com. Or you can call us at 1–800–569–5959.
Leslie: Let's say you want your children to be mission-minded. But then your daughter comes up with a crazy, risky, mission-minded big idea. Do you give your blessing when you think her life might be at risk? We'll hear from a mom in that situation. Join us Monday for Revive Our Hearts.
Revive Our Hearts with Nancy DeMoss Wolgemuth give you hope in the middle of the battles you face. It's an outreach of Life Action Ministries.
*Offers available only during the broadcast of the podcast season.
Support the Revive Our Hearts Podcast
Darkness. Fear. Uncertainty. Women around the world wake up hopeless every day. You can play a part in bringing them freedom, fullness, and fruitfulness instead. Your gift ensures that we can continue to spread gospel hope! Donate now.
Donate Now