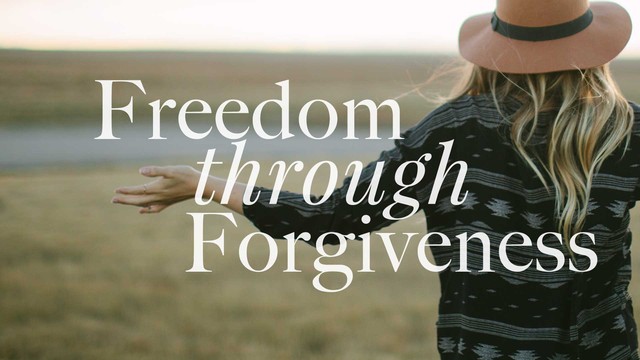 Flood with Forgiveness
Dannah Gresh: Tammy and her husband were in the midst of a time of confession and asking forgiveness.
Tammy: And I assured him, I said, "James, you couldn't tell me anything as bad as what I have done. You know that, so there's nothing you could tell me."
And he said, "You wanna bet?"
Dannah: We'll hear about the power of complete forgiveness, today on the Revive Our Hearts podcast with Nancy DeMoss Wolgemuth, author of Choosing Forgiveness, for July 15, 2022. I'm Dannah Gresh.
What's the relationship between thankfulness and forgiveness? All this week, Nancy's been in a series called "Freedom through Forgiveness." If you've missed any episodes, or even if you'd like to just relisten, you can do that by scrolling back in your podcast feed, you can do it through the ReviveOurHearts app, or of course on our website, ReviveOurHearts.com.
We've learned how important …
Dannah Gresh: Tammy and her husband were in the midst of a time of confession and asking forgiveness.
Tammy: And I assured him, I said, "James, you couldn't tell me anything as bad as what I have done. You know that, so there's nothing you could tell me."
And he said, "You wanna bet?"
Dannah: We'll hear about the power of complete forgiveness, today on the Revive Our Hearts podcast with Nancy DeMoss Wolgemuth, author of Choosing Forgiveness, for July 15, 2022. I'm Dannah Gresh.
What's the relationship between thankfulness and forgiveness? All this week, Nancy's been in a series called "Freedom through Forgiveness." If you've missed any episodes, or even if you'd like to just relisten, you can do that by scrolling back in your podcast feed, you can do it through the ReviveOurHearts app, or of course on our website, ReviveOurHearts.com.
We've learned how important it is to grant forgiveness, even when we don't feel like it. Yesterday, we heard how loving someone who's wronged us begins our healing process. Today, we'll understand how to continue that process of healing through the power of thankfulness. And we'll hear a powerful testimony from someone who's lived it out. Now, here's Nancy.  
Nancy: We've been talking about what I believe is one of the most frequent issues and problems in our lives as Christian women today. And that's this whole matter of bitterness and unforgiveness. We've seen how bitterness puts us in a prison. We think we're putting others in prison when we're being debt-collectors and holding them hostage but really, we're just putting ourselves in a prison.
So if we're willing to take that key of forgiveness and open the prison doors of the people we have held hostage, then God in His grace and mercy takes His key of grace and opens the prison doors in which we have been held hostage. We've said that if we refuse to forgive, we give Satan an opportunity and an inroad in our lives. Ultimately, our bitterness is destructive, not only of our own lives, but of our families and all of the other lives that we touch.
You've known what it's like to be around a bitter person, and often that person doesn't know that they're bitter, but everyone around them does. Their bitterness is like a poison. It contaminates the atmosphere in which they live. I see some nodding heads.
It's so much easier, isn't it, to see it in someone else than it is to see in ourselves. Often, the last one to know she is bitter is the woman who is a bitter person. When we refuse to forgive, we can't experience the love and forgiveness of God on our behalf, and we live lives of bondage.
So we've said that in responding to those who've sinned against us, we need to identify who they are, who those individuals are and then how they have sinned against us. And then to purpose to make sure that our conscience is clear with them and to fully forgive each person who has sinned against us.
We're not saying that forgiveness is easy. It's costly. It's not cheap. It's difficult. It takes some hard choices. I realize that asking some of the women in this room, as God does, to forgive, is a huge decision. There are those thinking perhaps, "I can't forgive." You know, when it comes to down to it, the truth is, it's not that we can't forgive, it's that we're unwilling to forgive. We won't forgive.
And then in the healing process, we said yesterday that it's necessary that we come to the place of returning good for evil, seeking to build bridges of love and blessing back to those who've hurt us.
By the way, when we won't forgive, you'll find that kind of bitterness being passed on to children and their grandchildren, and sometimes coming back to haunt you in more major ways that you ever dreamed possible.
But when you, as a mother, walk in grace and forgiveness, you may find that your children are more likely to walk in the grace and forgiveness of God. This is particularly important for those of you who have experienced the pain of a divorce, or the pain of living with a man that is not a man of God, as is sometimes the case. Your children may be more wounded and more damaged by living with a mother who's got a heart of bitterness than they will be by the circumstances that created that bitterness. Remember that as you live our forgiveness before your children; that you are discipling and training them in the ways of God.
And then I want to make a final point here about forgiveness. And that is, we must come to the place where in everything that we give thanks. In everything we give thanks.
I'm not suggesting by this we give thanks for sin, or we give thanks for sinful things that have been done to us. But I believe that if we're going to be really free from the bands and the bonds of bitterness in our lives, if we're going to experience God's healing for our damaged emotions, we're going to have to come to the place where we look at these hurts and these wounds from God's point of view.
And we recognize that God is sovereign, and that this sovereign God is a good God. He is too wise to make a mistake with our lives, and there's nothing that has come into our lives that has not been filtered through God's permission. Nothing can touch me; nothing can touch you as a child of God that does not first pass through God.
Now it may be that's Satan's involved, it may be that evil people are involved. But ultimately, God is the ruler over all kings and rulers and powers and dominions and authorities and even over all the powers of Satan in hell. So we have recognize that it is a good and wise and loving God, who has allowed these circumstances to come into our lives. For reasons that in many cases we cannot fathom, and don't even try to understand.
Sometimes I think we have the sense that when we get to heaven, God's going to pull out this little chalkboard or overhead projector or something, and He's going to answer all these questions we have about "Why this?" and "Why that?" and "Why did You do this?"
And we'll have all the answers then. I don't think that's quite the way it's going to be. I think when we get to heaven and when we see God Himself, when we see Jesus, He will be all the answer we need.
We won't need to have all the explanation; we'll just know that God has done all things well. In the meantime, until we can see, we have to trust that God has purposes that are bigger than we are and bigger than our circumstances and bigger than we can understand.
You see, God's about building His kingdom; He's about glorifying Himself. And there are ways that my life has been able to glorify God because of hurts and wounds that I have experienced that might not have been possible apart from those hurts and those wounds.
We've talked during this series about Joseph who was sold into slavery by his brothers, who was falsely accused by his master's wife, who was thrown into an Egyptian prison and forgotten and left to languish there for years.
And then finally, Joseph didn't know the end of the story during all those years, by the way. We know the end of the story. And we know how God finally raised him up and exalted him to the second highest position in the land.
And when Joseph's brothers came into the land of Egypt not recognizing Joseph, but Joseph recognizing his brothers, and then he finally identified himself to them. You can imagine those men shaking in their boots. They were quivering in fear of what Joseph, this mighty man in Egypt now, might do to them.
But Joseph said, "Don't be alarmed. Don't be afraid. Draw near to me." That's the heart of the person who's forgiven. He said to his brothers, "You sold me into slavery, but God sent me here to preserve life." You see the perspective?
And in this context, you can give thanks that though there are others, who have sold you into slavery, so to speak, though others may have sinned against you greatly, yet God ultimately sends you. God had a plan and a purpose that was bigger than your personal life and situation. He's working in you. He's working through you. He's working through your circumstances to make you like Jesus and to allow you to be a woman that could bring Him great glory.
Many of you, perhaps, are familiar with the story of Ben Hur. You may have read the book or seen the video. It's a story about a Jewish family set in the time of Christ. When Judah Ben Hur was still a young man, the Romans confiscated his family's home and all their possessions. They forced Ben Hur to become a galley slave in the belly of a Roman warship. And then they imprisoned his mother and his sister in an underground cell where they contract leprosy.
As the years pass, Ben Hur becomes consumed with hatred and obsessed with a desire of revenge, especially toward his childhood friend, Messala, who had betrayed him to the Romans.
After a long separation, Ben Hur is finally reunited with the girl of his dreams, his childhood sweetheart. Her name is Esther. And as they meet now after these years, he begins to spew out the venom, the hatred that's in his heart, towards the Romans in general, and towards his friend—his former friend—Messala, in particular.
As it happens, Esther has just that day heard a man named Jesus speak. He's very different than any other speaker she's heard, and His message is a different kind of message. And she says to Ben Hur, "If you had heard this man from Nazareth, He said, 'Blessed are the merciful, for they shall obtain mercy. Blessed are the peacemakers, for they shall be called the children of God.'"
She said, "The voice that I heard on the hill today said, 'Love your enemies; do good to them that despitefully use you.'" Well Ben Hur is so filled with rage and hatred that he reacts angrily to Esther's words.
And then she responds with these words. She said, "It was Judah Ben Hur I loved. What has become of him? You seem to be now the very thing you set out to destroy, giving evil for evil. Hatred is turning you to stone. It's as though you had become Messala."
Let me ask you a question. Is it possible that you are becoming just like the one who hurt you? Is hatred hardening your heart and turning it to stone?
God wants to set you free today. And it will happen to you in the very same place that it happened to Judah Ben Hur in this story. Ben Hur ends up in Jerusalem the day that Jesus is being taken to be crucified. He follows the procession to Golgotha.
And then Ben Hur stands underneath the shadow of that center cross. He watches as the blood flows down from Jesus' tortured body onto the ground below. As he gazes up on the Savior, the love of Christ finally penetrates his hardened heart, silently, without saying a word, He believes. He receives that love.
And you can see in the video version that his face is visibly transformed as the years of bitterness and hatred and anger are washed away by the love and the blood of Jesus.
In the closing scene of the video, Ben Hur returns to his home where Esther's waiting for him. And he says to her, "It was the moment He died. I heard Him say, 'Father, forgive them, for they know not what they do.' And I felt His voice take the sword out of my hand."
Is there still a sword in your hand? A sword of bitterness, resentment, unforgiveness, vengeance? Why not let His voice take the sword out of your hand?
I want to invite you to take a trip to Calvary to see what Jesus did there for you, to receive His grace, His forgiveness and then to choose to forgive.
Dannah: In a moment we're going to hear how one couple lived that kind of forgiveness out.
Nancy DeMoss Wolgemuth has been challenging us to make a choice that can feel like a painful one  to make, but in reality is the most freeing: Don't let bitterness have the last word: to find freedom, to choose forgiveness. As you may know, Choosing Forgiveness is the title of a book Nancy wrote. The subtitle is Moving from Hurt to Hope.
We recently heard from a listener named Jan, who told us that this summer, she and a group of about twenty women are going through Choosing Forgiveness together. In her email, she said, "Thank you for being so thorough with Bible verses. Thank you for adding in true stories of real people around the world. Thank you for blessing our group with this book."
Thank you, Jan. Well, whether you want to work through Choosing Forgiveness with a group of friends, or you want to read it on your own, we'll send you one copy as our thank-you for your donation of any size to help support the work of Revive Our Hearts around the world. If you want to purchase additional copies, you can do that. Just ask about Nancy's book Choosing Forgiveness when you contact us with your donation. To give, go to ReviveOurHearts.com, or call us at 1-800-569-5959.
Next week, Nancy will pick back up in her series on Habakkuk. I hope you'll join us for that. Well, Jan just mentioned those true stories of real people. We're about to hear one of them. This week Nancy's brought us a series called "Freedom through Forgiveness." And now we're wrapping up the series with a testimony one woman gave at a Revive Our Hearts conference where Nancy was speaking. It's a powerful story that illustrates the freedom that forgiveness provides. Here's Nancy with more.  
Nancy: I have known Tammy for a number of years. And several years ago, God did something in one of the—well it was a whole process—but one of the instruments that God used in this process was when one of the Life Action ministries teams held a two-week, or how long did it end up being?
Tammy: Two-and-a-half weeks.
Nancy: Two-and-a-half week revival crusade in the church that Tammy and her husband attend. Her husband is a college professor. And maybe she'll tell you a little more about that because they usually tell their story together. But James is not here today, so Tammy's going to tell it on his behalf and for them together.
But it's been quite a pilgrimage that God's had them on. I just thought your heart would be very encouraged to hear how God has worked these truths into Tammy's life.
Tammy: My husband James and I were married eighteen-and-a-half years ago. At that time, neither one of us were walking with the Lord. We entered the marriage with an improper, immoral relationship.
And on our honeymoon night discovered that I was pregnant and believing that I would shame my family and believing the lies that the world tells us about the unborn, my husband I made the first of several abortion decisions.
That began a breakdown in our marriage, as you can imagine. For the next years, we'd go through a tremendous depression and a lot of emotional pain and self-loathing—really looking for punishment. But God was not forthcoming with that.
Fast-forward eight years from that point. I came to know Jesus as my Lord and Savior and realized that I was a murderer. I asked His forgiveness, and He forgave me. It took some additional time of healing and time just to accept that forgiveness. But that was on my heart. I began at that time to pray for my marriage and for my family.
About three-and-a-half years ago, I heard that this team from Life Action was coming to our church, and it was going to be a revival crusade. I had not grown up in church, so I didn't know what to expect and what that would mean.
I was very excited. I was involved in a precrusade prayer time, organizing prayer cottage meetings and just different prayer efforts through our church.
And throughout that prayer time, God showed me that, yes, I had sought His forgiveness for my part in those abortions but I had not forgiven my husband for his part. I was not respecting him or submitting to him, loving him, or any of those issues. I wanted to argue with the Lord that, you know, that this was too terrible. He didn't support me during those decisions.
But God showed me, "I died for his sins as well as I died for your sins, Tammy, and you have to forgive him." And I did. So that was clear.
I went into the crusades with a clear conscience and just total forgiveness in my heart for issues with my husband. And through the crusade, on the second week, one night my husband and I went home, and I could see that he was troubled.
I know that for over a week and a half he sat there in the pew, very stoically. I was wondering if God was doing anything at all. I knew he was a believer and had been praying for him and asked many people for him and just nothing seemed to be happening. He didn't seem to be moved.
So one night I asked him, "So why haven't you been touched or moved by the preaching that we heard? I mean it's just been tremendous how God has been piercing my heart and other people's hearts."
And he said, "Well, you just don't know what's on my heart." 
I assured him, and I said, "James, you can't tell me anything as bad as what I have done. You know that, and in other testimonies we've heard so there's nothing you can tell me."
And he said, "You wanna bet?"
"You've gotta take a step of faith here, James, and share."
And he began to share with me some painful issues of his past, some forgiveness issues that he needed to take care of. And then, finally, he had one last thing to tell me, and that was that he had been unfaithful to me for over half of our marriage with several people. And even in one of those relationships, there had been another abortion.
And I don't know what to tell you other than that I was totally numb and in shock. But a sense of peace flooded my heart and my soul. I was totally calm—that's only by God's grace, and my heart flooded with forgiveness.
And in that moment, I thought, Surely this is the end of our marriage; but "I forgive you. I know God's forgiven me so much that I forgive you, and I don't know where we'll go from here."
And so, the next morning, we went back down and talked to the revivalist with the Life Action team, and he suggested that there were other issues that James had in his life that needed to be taken care of.
So I traveled with him over several states where he went and cleared his conscience and sought forgiveness from other individuals. And even on that very trip, that was just one night from the time of his confession to me, God began to put our marriage back together before my eyes.
As I went with him to each person that he had to seek forgiveness from, I saw the power of God working forgiveness in these other people's hearts before he had a chance to get the words out.
And that night, as I said, He put our marriage back together. And coming back home and just as a result of that choice of forgiveness, and James' choice to be obedient and clear his conscience, our son got saved.
Our other two daughters—our oldest daughter made a decision for purity in her life, and our youngest daughter made her profession of faith public. The Lord has continued to heal our marriage.
And as Nancy said earlier, forgiveness is in that moment, and then there's a process. Yes, there has been a healing process  as you can imagine. Issues of trust need to be re-established and so there have been some rocky times, but the Lord has not forsaken us during that time.
He has just continued to address each issue one at a time. He has been in His mercy ("It's been mercy all the way." I love this chorus.) putting our marriage back together and just blessed us in other ways, too.
My seventy-year-old father came to live with us, and he's gotten saved. God is just so good, and that process has continued to even this weekend. After three-and-a-half years, I thought, Okay, we're done. This is all settled.
But no, God showed me. He said, "Tammy, you've got a proud heart. You're not even grateful for the husband I gave you. You are more or less just tolerating him because you know that I want you to be in that marriage. You've acted as if I made a mistake giving you that husband."
But as Nancy had shared that God designed our husbands, particularly, for each one of us.
And He has shown me that I had been proud. I was just praying on what to do. I went out and called my husband and told him to please forgive me for not being grateful for him and still kind of resisting him.
And once again, it's been mercy all they way. I just want to encourage anyone out there that needs to forgive someone, you will be blessed. I just give Him all the glory, honor,  and praise for everything that He's done in our lives.
He has changed my marriage; He's changed me, my marriage. My husband is a spiritual leader. Sometimes I want to call him a spiritual maniac, because God has really captured his heart. And our children . . . I am so thankful.
I just can't believe that He blessed me with three healthy children, and my oldest daughter's name is Jessica. After those abortions I thought, I don't deserve children. And my daughter's name is Jessica. I found out a few years ago that her name means "God's grace." Thank you.
Revive Our Hearts with Nancy DeMoss Wolgemuth want you to move toward forgiveness to experience freedom, fullness, and fruitfulness in Christ.
*Offers available only during the broadcast of the podcast season.
Support the Revive Our Hearts Podcast
Darkness. Fear. Uncertainty. Women around the world wake up hopeless every day. You can play a part in bringing them freedom, fullness, and fruitfulness instead. Your gift ensures that we can continue to spread gospel hope! Donate now.
Donate Now