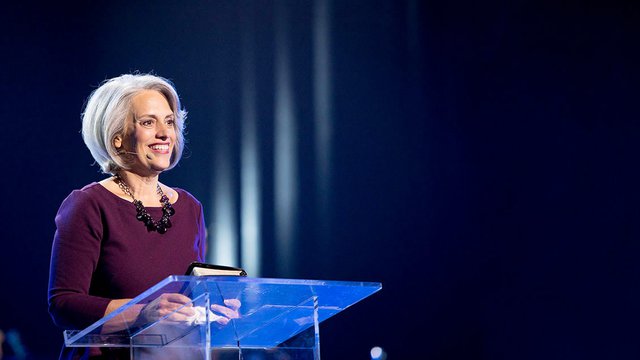 Flooded With Forgiveness
Leslie Basham: In our culture, people end marriages with all kinds of excuses. So if a husband were unfaithful, most people would encourage his wife to seek a quick divorce. But is it possible to forgive the sin of adultery? This is Revive Our Hearts with Nancy Leigh DeMoss for Friday, July 2.
For the last two weeks, Nancy Leigh DeMoss has been teaching a series called "Freedom Through Forgiveness." And we're wrapping up the series with a testimony one woman gave at a Revive Our Hearts conference where Nancy was speaking. It's a powerful story that illustrates the freedom that forgiveness provides. Here's Nancy to introduce our guest.
Nancy Leigh DeMoss: Tammy, come if you would. I have known Tammy for a number of years. And several years ago, God did something in one of the--well it was a whole process--but one of the instruments that God used in this process was when one of the Life Action ministries teams held a two-week, or how long did it end up being?
Tammy Lollar: Two-and-a-half weeks.
Nancy Leigh DeMoss: Two-and-a-half week revival crusade in the church that Tammy and her husband attend. Her husband is a college professor. And maybe she'll tell you a little more about that because they usually tell their story together. But James is not here today, so Tammy's going to tell it on his behalf and for them together.
But it's been quite a pilgrimage that God's had them on. And I just thought your heart would be very encouraged to hear how God has worked these truths into Tammy's life.
Tammy Lollar: My husband James and I were married eighteen and one-half years ago. At that time, neither one of us were walking with the Lord that was evidenced. We entered the marriage with an improper, immoral relationship.
And on our honeymoon night discovered that I was pregnant and believing that I would shame my family and believing the lies that the world tells us about the unborn, my husband I made the first of several abortion decisions.
That began a breakdown in our marriage as you can imagine. And for the next years, we'd go through a tremendous depression and a lot of emotional pain and self-loathing--really looking for punishment. But God was not forthcoming with that. Fast-forward eight years from that point.
I came to know Jesus as my Lord and Savior and realized that I was a murder and I asked His forgiveness. And He forgave me. It took some additional time of healing and time just to accept that forgiveness. But that was on my heart. And I began at that time to pray for my marriage and for my family.
About three and one-half years ago I heard that this team from Life Action was coming to our church, and it was going to be a revival crusade. And I had not grown up in church, so I didn't know what to expect and what that would mean.
I was very excited. I was involved in a pre-crusade prayer time, organizing prayer cottage meetings and just different prayer efforts through our church.
And throughout that prayer time, God showed me that, yes, I had sought His forgiveness for my part in those abortions but I had not forgiven my husband for his part. And I was not respecting him or submitting to him, loving him, or any of those issues. And I wanted to argue with the Lord that, you know, that this was too terrible--he didn't support me during those decisions.
But God showed me, "I died for his sins as well as I died for your sins, Tammy, and you have to forgive him." And I did. So that was clear.
I went into the crusades with a clear conscience and just total forgiveness in my heart for issues with my husband. And through the crusade, on the second week, one night my husband and I went home and I could see that he was troubled.
And I know that for over a week-and-a-half he sat there in the pew, very stoically. And I was wondering if God was doing anything at all. I knew he was a believer and had been praying for him and asked many people for him and just nothing seemed to be happening. He didn't seem to be moved.
So one night, I asked him, "So why haven't you been touched or moved by the preaching that we heard? I mean it's just been tremendous how God has been piercing my heart and other people's hearts."
And he said, "Well, you just don't know what's on my heart." And I assured him, and I said, "James, you can't tell me anything as bad as what I have done. You know that, and in other testimonies we've heard so there's nothing you can tell me."
And he said, "You wanna bet?"
"You've gotta take a step of faith here, James, and share."
And he began to share with me some painful issues of his past, some forgiveness issues that he needed to take care of. And then, finally, he had one last thing to tell me, and that was that he had been unfaithful to me for over half of our marriage with several people. And even in one of those relationships, there had been another abortion.
And I don't know what to tell you other than that I was totally numb and in shock. But a sense of peace flooded my heart and my soul. I was totally calm--that's only by God's grace, and my heart flooded with forgiveness.
And in that moment, I thought, Surely this is the end of our marriage; but "I forgive you. I know God's forgiven me so much that I forgive you, and I don't know where we'll go from here."
And so, the next morning, we went back down and talked to the revivalist at the Life Action team, and he suggested that there were other issues that James had in his life that needed to be taken care of.
So I traveled with him over several states where he went and cleared his conscience and sought forgiveness from other individuals.
And even on that very trip, that was just one night from the time of his confession to me, God began to put our marriage back together before my eyes.
And as I went with him to each person that he had to seek forgiveness from, I saw the power of God working forgiveness in these other people's hearts before he had a chance to get the words out.
And that night, as I said, He put our marriage back together. And coming back home and just as a result of that choice of forgiveness, and James' choice to be obedient and clear his conscience, our son got saved.
Our other two daughters--our oldest daughter made a decision for purity in her life, and our youngest daughter made her profession of faith public. And the Lord has continued to heal our marriage.
And as Nancy said earlier, forgiveness is in that moment. And there's a process--and yes, there has been a healing process--as you can imagine. Issues of trust need to be re-established and so there have been some rocky times, but the Lord has not forsaken us during that time.
He has just continued to address each issue one at a time and He has"¦His mercy--it's been mercy all the way. I love this chorus, putting our marriage back together and just blessed us in other ways, too.
My 70-year-old father came to live with us, and he's gotten saved. And God is just so good, and that process has continued to even this weekend. After 3 and one-half years, I thought, "Okay, we're done. This is all settled."
But no, God showed me. He said, "Tammy, you've got a proud heart. You're not even grateful for the husband I gave you. You are more or less just tolerating him because you know that I want you to be in that marriage. And you've acted as if I made a mistake giving you that husband."
But as Nancy had shared that God designed our husbands, particularly for each one of us.
And He has shown me that I had been proud and I was just praying on what to do. I heard her talking about the phones--the cell phones. I knew my friend had a cell phone, and I said, "Lord, I don't want to do this. This is too hard." And I went out and called my husband and told him to please forgive me for not being grateful for him and still kind of resisting him.
And once again, it's been mercy all they way. And I just want to encourage anyone out there that needs to forgive someone, you will be blessed, and I just give Him all the glory, honor and praise for everything that He's done in our lives.
He has changed my marriage; He's changed me. My marriage, my husband is a spiritual leader. Sometimes I want to call him a spiritual maniac because God has really captured his heart. And our children--I am so thankful.
I just can't believe that He blessed me with three healthy children, and my oldest daughter's name is Jessica. After those abortions I thought, I don't deserve children. And my daughter's name is Jessica and I found out a few years ago that her name means "God's grace." Thank you.
*Song
Leslie Basham: That's John Elliott with "All the Way." Before we heard that, we heard the powerful story of Tammy Lollar. She told of God's complete forgiveness after she had multiple abortions, and she told of the freedom that came from granting forgiveness to an unfaithful spouse.
If you'd like to have a copy of Tammy's testimony, why don't you call and get a CD of today's program.
Today wraps up the series of teachings from Nancy Leigh DeMoss called "Freedom Through Forgiveness." You could order the entire series on two CDs for a suggested donation of $10.
To order, just call us at 1-800-569-5959. When you order, ask for a free copy of Nancy's booklet, Freedom Through Forgiveness. You could use it with a small group or as a personal Bible study.
You'll learn more about what the Bible says about forgiveness and go through some exercises to help you apply it to your life. We'll give you a copy free when you call 1-800-569-5959 or visit our Web site ReviveOurHearts.com. When you visit our Web site, be sure to look up Nancy's speaking schedule.
Today's testimony was originally presented at conference where Nancy was speaking. And if you enjoy the daily teaching of Nancy Leigh DeMoss on this program, you won't want to miss her when she comes to your town. Now if this week's series on forgiveness has touched your heart, we'd love to hear about it.
Send your letter to Revive Our Hearts. On Monday, we'll get some great advice on serving the Lord in singleness. We'll get some principles that benefit everybody, married and single. We hope you could be here for Revive Our Hearts.
*John G. Elliot, "It's Been Mercy All the Way," 1996 Galestorm Music ASCAP from the album The Praise Goes On.
*Offers available only during the broadcast of the podcast season.
Support the Revive Our Hearts Podcast
Darkness. Fear. Uncertainty. Women around the world wake up hopeless every day. You can play a part in bringing them freedom, fullness, and fruitfulness instead. Your gift ensures that we can continue to spread gospel hope! Donate now.
Donate Now