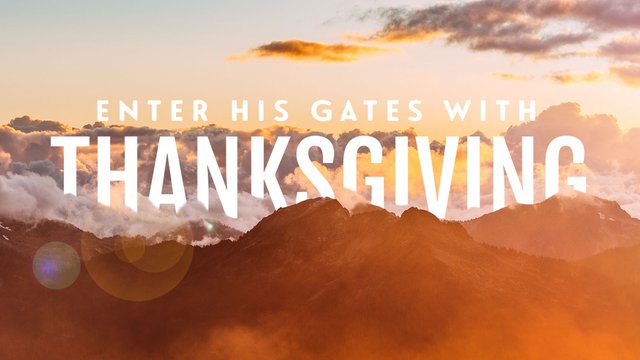 — Audio Player —
Enter His Gates with Thanksgiving, Day 4
Dannah Gresh: What does it mean to give thanks in all things? Here's one example . . .
Woman: Our third-born had gone off to college, so our fourth daughter was the only one left at home. I remember her saying, "I'm thankful for this year since Laura has been gone to college, because I haven't had her to talk to, and so I've had to talk to the Lord."
Dannah: This is Revive Our Hearts with Nancy DeMoss Wolgemuth, author of Choosing Gratitude, for Thanksgiving Day, November 25, 2021. I'm Dannah Gresh.
Happy Thanksgiving, friend. I hope you're with someone that loves you and you love very much. But know this, even if you are not, God loves you and He is with you. I hope like me,  you've been inspired to be grateful, not only in this season, but no matter what circumstances you're facing right now. Today, Nancy's talking about the power of thankfulness as she finishes the series "Enter His Gates with Thanksgiving."
Nancy DeMoss Wolgemuth: Well, Happy Thanksgiving to you and to your family, your loved ones, friends—whomever you're gathered with—on this day that we set aside to give thanks to the Lord.
I think this is one of the most important and meaningful holidays that we celebrate each year. This week on Revive Our Hearts we've been looking at a psalm of thanksgiving—Psalm 100. In fact, I'd like to just start the broadcast today by reading that psalm, and asking you to join in your heart with me as we give thanks to the Lord.
Psalm 100 is called a song for giving thanks.
Make a joyful noise to the LORD, all the earth! Serve the LORD with gladness! Come into his presence with singing! Know that the LORD, he is God! It is he who made us, and we are his; we are his people, and the sheep of his pasture. Enter his gates with thanksgiving, and his courts with praise! Give thanks to him; bless his name! For the LORD is good; his steadfast love endures forever, and his faithfulness to all generations. 
This is the Word of the Lord.
If you haven't had a chance to listen to the teaching we've been sharing over the last few days—verse-by-verse through Psalm 100, this thanksgiving psalm—today might be a great day for you to do that.
You can go to ReviveOurHearts.com, and you can find all this week's programs, the audio or the transcripts, if you'd like to catch up on those programs.
Today we're going to hear from some listeners who are giving thanks to the Lord for what He is doing in their lives, even—in some cases—in the middle of very trying circumstances. I hope that what we're about to hear will plant seeds in your own heart that will grow into an even greater harvest of thanksgiving, today and in the days ahead. Let's listen.
Marilyn: My momma used to always fix the big Thanksgiving dinner, and all the kids and the grandkids and everybody would come. But in the last four-and-a-half years, my momma and my daddy and both of my sisters have all gone home with to be with Jesus, so I have my temporary family that keeps me going . . . and I'm just so thankful for God.
Nancy: "He puts the solitary in families," says the Psalms. I see Marilyn here praising the Lord, having just lost a lot of family members, every family member close to her, and now having major physical challenges and affliction over the last year or so.
Yet she has the biggest smile on the planet! And now, she has this Bell's Palsy, and it's the first time I've seen her since she had this diagnosis. She says, "I only have half a smile now." Her half-smile is bigger than most people's whole smile! Some people seem to really have thankful spirits, joyful spirits in the midst of affliction.
Then you have "Eeyore" on the other side of that. You know, it's never a good day. So as you think about how the Lord has tutored you in the school of affliction or difficulty, what have you learned? What have you seen? What have you experienced about finding a thankful heart, a grateful heart, a praising heart in the midst of fire or affliction or difficult times?
Woman 1: My dad died a couple of years ago, and he's a big cook. I can remember, last year, picking up the phone to call him and ask him how to make the gravy for the turkey, and then thinking, Hmm—probably not going to get that call. It makes you think about not having regrets.
So often, we're with our extended family, and they claim to be followers of Christ—but they don't want to pray, and they don't want to talk about how they've seen God work in their life this year, and how they're thankful for the Lord and His blessings. It's difficult to be in that setting when everybody thinks you're in the same boat, and you're really not.
So it's empowering to think about this beforehand, to be able to set a different tradition this year. 
Woman 2: We do what a lot of families do, which is to tell something you're thankful for. We try to do that. I remember the year our third-born had gone off to college, so our fourth daughter was the only one left at home. (I have four daughters.) It was very different for her to be the only one, and she was really sad.
I remember as we were driving home from Thanksgiving dinner with my family, we were saying something we were thankful for. (She was fifteen at the time.) I remember her saying, "I'm thankful for this year—these months since Laura has been gone at college. I haven't had her to talk to, so I've had to talk to the Lord more than I ever have, and I've grown in that!"
As mom, that was a really precious thing to hear her say, and I'll never forget that. I saw that bear fruit in her life over the years, as she's grown up (she's now twenty-five)—just to see the way that she loves the Lord and knows Him.
Christy: My name is Christy, and I guess I got gratefulness years later. When I was about six or seven, my parents got divorced. My mom became a believer, and so we had a very different lifestyle than my dad.
I've been serving in AWANA—I've just started my thirty-first year, so I've been in it a long time. There was a girl I asked, "Do you want to be on the AWANA games team?" She's really tall and athletic, and I was like, "I need her on the games team."
And she said, "I can't come every weekend to the practices."
I asked, "Oh, why not?"
She said (she whispered), "My parents are divorced." She was so embarrassed to say it. And nobody could have heard her.
I said, "I know. My parents were divorced, and you can't come every weekend—you never get the awards."
And she looked at me, and was like, "Ahh, you're right!" So—long story, short—she was able to be on the team. Her mom thanked me. Her dad thanked me. She thanked me more than once.
So I was able to think back about it. I've had the chance to help girls along the way, where I just drop a little seed. I don't announce to everyone that my parents were divorced, because I don't think it's a big deal now. I'm fifty-one now—I was six then.
But in particular, someone where we used to go to Thanksgiving a couple of years said something. And I said, "How do you think the kids feel? Every other weekend they're with a different family—and their dad is with your kids."
She said, "Obviously you understand what you're talking about."
I said, "Well, yeah, I do."
She asked, "Can I tell the kids your parents were divorced?"
I said, "If you want to. I don't know how that could be helpful." Like, why?
She said, "You smile and you still go to church."
So when I was going through it, I didn't think, Poor me, my parents were divorced. (I mean, you think about it.) But in the rearview mirror, I think I am a better AWANA leader because I know how some of those kids feel. I would never say "I understand," because you can't—but you can relate.
When I brought this one girl home, she said, "Thank you so much for not ever saying where I was when I missed practice!"
Nancy: So out of your experiences as a child, God has brought fruitfulness and greater usefulness in ministering to a next generation of blended children. Sweet.
Janelle: My name is Janelle. Three years ago a friend and I went through Choosing Gratitude. And that winter, I got into a car accident. I was by myself and ran into a semi-truck and shattered my scapula and totaled our car. It was late at night on one of those winter nights.
I was amazed, just thinking about how many things to be thankful for—that changed that experience. I reflect on that experience. I go back to the spot where the accident happened, and almost always tears come to my eyes, and I think about how many things I'm thankful for.
The kids weren't with me. A girl, the next day, was in a very similar accident with a semi on the same road, and her car her got pulled under the semi, and she didn't live. Just God's sovereignty in every detail of it: where we were in life-situation and our family and friends and doctors—every aspect. There were so many things to be thankful for.
I don't think of it as a difficult time, but more of just a time where God sanctified and showed His kindness in so many ways.
Nancy: Sweet. Thank you, Janelle.
Woman 3: I'm forty-four, and I'm still single. I never dreamed that that's what my life would be. I always thought I'd be married and have kids. I dreamt of getting married and having kids all my childhood.
So being this age and still not being married—not having any children, and being in my forties, and knowing that's probably never going to happen—has been really hard. But I'm so thankful for the many kids that God has put in my life!
I have a niece and three nephews, and I'm a teacher, so I'm around children all day, every day. Where most people come to work and they get annoyed with them, I just love them. I'm very thankful God has given me a lot of patience. I don't get to use up my love on my own kids; I get to use it up on everybody else's. I'm very thankful!
Woman 5: In Psalm 100, it says in verse 2, "Serve the Lord with gladness! Come into his presence with singing!" I have a good memory, which is a blessing, so I can remember songs and verses.
It will be two or three years in September—I don't remember—that I got some very bad news at work. At the same time, my husband had a lot stuff going on at work. Two dear friends were diagnosed with cancer, so I thought, I really can't share this burden with anybody. But that's okay; it will be like the old song, "Jesus and me."
And so, what I decided to do—because Scripture says you should take captive your thoughts—I decided every time I started worrying and fretting about this work situation, I would sing that Gaither song, "Jesus, Jesus, Jesus—there's just something about that Name . . ."
I found that by coming into His presence with thanksgiving, with singing, I was able to not dwell on that negative. I said to the Lord, "I would like on the other end of this—whatever happens—for people to think, How could you do this? And I could say, "Because of You!"
So finding a way to take captive those thoughts when the enemy tries to lie to you and get you down the wrong path . . . finding a verse or finding a song helps me so much, because I can then "set my mind on things above where Christ is at the right hand of God" (Col. 3:1).
I just think, finding something to concentrate on and think about which is true, that we can put our mind on in the midst of whatever's going on with a lot of different things (work, home, family, we never know what it is), we do know that we can trust God because He is the same, and we can find things to point us to Him.
Carrie: When you were teaching this morning, Nancy, I thought of Psalm 100:4, "Enter his gates with thanksgiving, and his courts with praise! Give thanks to him; bless his name!" So often, in the midst of whatever we're going through, that's not always easy. It's not natural. It's not what rolls off of my tongue oftentimes, in the midst of a dark valley.
But this verse, Psalm 50:23, came to mind. Someone shared it with me a number of years ago. This is out of a 1901 translation, and it says, "He who offers praise over and over makes a beaten path over which God comes with deliverance." I love the passage, but I often stumbled because I thought, God's not obligated to us, to answer us, simply because we're praising Him. 
But as you were teaching this morning, I thought, Actually, the deliverance is for us. As we offer praise over and over in the midst of the darkness, we're counseling our own hearts. We're being delivered from our souls being downcast and our hearts and minds being foggy, sometimes, and just burdened. 
I just thought that was so beautiful, because it's us He's delivering—whether He ever delivers us out of the midst of the trial or not. He's delivering our hearts and our minds as we praise Him from His Word.
Nancy: Praise overcomes the enemy, and Satan flees from the place of praise, right? You see a lot of illustrations in Scripture of the power of praise and thanksgiving. Paul and Silas in prison, in Acts chapter 16—in the middle of the night they're singing hymns—and God sends a little heavenly accompaniment (an earthquake!) and releases them.
We talked about Jehoshaphat today (2 Chronicles 20), after he said, "Lord, we don't know what to do, but our eyes are upon you!" Well, then God gave the battle instructions, and what did He say? "Send the choir to the front line." That's kind of unconventional wisdom! "Send the choir to the front and let them begin praising the Lord." And as they did, the enemy was overcome.
I just wonder how many enemies in our lives . . . how many times Satan is having a heyday with our minds, with our emotions. We women, I'll tell you, we mull these things over and over and over 'til it's overwhelming us.
But when we come to the place of praise—and I find that singing praise to the Lord makes a huge difference here; it's such a gift—it's focusing my mind on the things that are pure and good and true. It's bringing my thoughts captive to the obedience of Christ, and it's causing the enemy to flee.
When we say, "I will sing, even though my eyes are filled with tears, because I believe that God is more real, more present, more great than any circumstance I may be facing." I think more often than not, the enemy says, "I'm out of here!"
But it's when we continue in our own muddle and puddle of our thoughts and our fears and our anxieties, the enemy has his way then. So praise has the power—I think—to banish the evil one. What's that hymn stanza? "When morning gilds the skies . . . The powers of darkness fear when this sweet chant they hear: 'May Jesus Christ be praised!'"
So sing to the Lord. I often say to people who are really struggling with discouragement. I know there can be lots of reasons for that. I know there can be reasons for clinical depression, there can be postpartum circumstances and lots of issues. But when I see people who are just stuck in negative emotions, for whatever reason, they may have just been off the chart in all those things happening to you that are life changes. I've been there at points in my own life. 
I say to them, "Are you memorizing Scripture?" and "Are you singing to the Lord?" Now, it's not like those are a magic potion—but they are very powerful! As you're memorizing Scripture, you're meditating on it, you're dwelling on it, you're rehearsing it over and over and over again. You're counseling your heart according to God's Word.
And some of you, in this really hard time, may just want to take a passage like Psalm 100: five verses, eighty-one words. You say, "I could never memorize it!" You can memorize it! You'll have to say it so many times that you won't have as much time to think about all the things that are bothering and bugging you, and tripping you up in life.
Then, as those thoughts, those fears, those anxieties, those areas of turmoil surface, then you quote back to the Lord His Word. You meditate on it, you counsel your heart with it.
So quoting Scripture, meditating on it, memorizing Scripture, and singing to the Lord. I've just found there is something very powerful about it, whether in private or in corporate worship. I can't tell you how many times I have gone to church with a heavy heart (for whatever reason)—not even wanting to be there sometimes, I confess. But as I open my mouth and sing the praises of God with the people of God, there is something that sets me free.
And I don't mean it's like this great big emotional experience, but it's just a dissipating of the cloud. It's changing my thoughts from ones that are very earthbound to ones that are eternal. That's why I like keeping a hymnal with me. I know that's very old-fashioned now.
Robert and I actually—long story, short—gave each other three different hymnals for wedding gifts, without realizing the other was planning to do this. So we both love hymnals; we both love hymns. I love going through those and just singing.
And don't just do the first and last stanzas, because those middle stanzas can sometimes have the best stuff in them and can be the most encouraging. It causes you to affirm the ways of God, the plan of God, the purposes of God, the goodness of God . . . the fact that the best is yet to come.
As you do that, with a heart of thanksgiving, you'll find that the things that were toxic and consuming your emotions—causing fears, causing doubt, causing critical negative thoughts—those things change as you replace them with the Word of God, found in so many of those great hymns and choruses—spiritual songs—that we sing.
To sing them with the people of God, I think, is to lift our hearts corporately. It's not just singing to lift your load; I think that when we all sing, we help to lift the loads of others around us. We're stopping in the presence of the Lord to invoke His presence through lifting up these offerings of singing, praise, worship to Him.
I think there's something powerful that happens in the midst of God's people that leaves us with a different perspective. It changes us; it changes our thinking, and it can be a source of encouragement to those around us.
That's why I think it's a shame when you have so many people in church who aren't singing. (Again, I sympathize with those who don't have great singing voices. My voice was meant for singing in private.) But when we sing corporately, praise to the Lord—no matter how non-melodious our voices may be—there's something that is encouraging to those around us, as we give thanks.
Woman 6: I would agree with that. In the vein of thanksgiving, my experience has been exactly the same as Nancy. You go to church with a heavy heart . . . and what the Lord has prompted me to do one time, I thought, "I need to sit down and write a note to my worship leader at my church because they do lots of work and preparation. I know that they're doing it for the Lord, but I thought, I need him to know the difference that his leading me in worship on that Sunday made.
Maybe this Thanksgiving is a time . . . You're saying the power of singing to make us thankful, to make us worship God, to turn our hearts . . . Those men and women who are doing that job, I think it's good to thank them, because they're making a difference—a huge difference—in individual lives, then families, then communities. Those people are being renewed to serve with gladness, right?
Nancy: I remember Dr. Bill Bright when he was dying of a lung disease. He was having trouble breathing. He was connected to oxygen. He had the tube at all times. This man who had praised the Lord as a way of life all his Christian life, for as long as I had known him—decade after decade . . .
He said, "As long as God gives me breath, I'm going to praise Him, and I'm going to tell others about Him." And he did. Until the moment he died, that man was praising Jesus, telling others about Jesus—and what an example that is for those of us who maybe just sometimes trudge through our days and our lives.
What brings God glory is when we can say in the midst of whatever we're going through, "May Jesus Christ be praised!" He gets glory, our hearts are set free, others are encouraged—they're pointed to Him—and it's all, all, all about Him!
So here at Thanksgiving, we want it to be a reminder to "thanks-living," always lifting up the Lord, singing with joy in our hearts to Him—praising Him, giving Him thanks, blessing His name—because He is good. His mercy endures forever and His faithfulness to all generations." Amen? Amen!
------------------------
Well, I've been so blessed listening to these testimonies from some of our Revive Our Hearts listeners. What we just heard is a snapshot of gratitude, the kind of heart attitude we're called to cultivate all year long.
On this Thanksgiving Day, I hope you'll take some time to stop and thank the Lord for His amazing gifts and blessings to you.
I know we have many listeners who are facing some fearful or stretching, stressful, difficult circumstances. It may be a financial situation, maybe a family situation, a health situation, an area of confusion or perplexity, you're having to make a tough decision, maybe it's a time of loss for you. I have some sweet friends who, just last week, buried their father. I know this is a difficult Thanksgiving for them. But these are the times that a heart of gratitude becomes even more important.
I think that when we develop a habit of gratitude, it transforms the way that we think about everything. I'm so thankful to be married to a grateful man. When I'm around Robert, I find I'm just not as quick or as prone to whine or to complain because I know that doesn't bless him. But also I know it doesn't bless the Lord, and I want to bless the Lord—and I think you do, too.
So during this holiday season, would you take a step into a deeper practice of gratitude? I hope this Thanksgiving Day won't just come and go, but that it will be the start of a season of new, overflowing gratitude in your life.
Dannah: Is gratitude a regular part of your lifestyle? Nancy DeMoss Wolgemuth has been sharing some encouragement with you for this Thanksgiving and beyond. To help you cultivate an attitude of gratitude—a thankful heart all year long—we'd like to send you a helpful resource. Choosing Gratitude is a book written by Nancy, and it's filled with practical and inspiring ways to make gratitude an intentional ingredient in your life.
You'll receive a copy of Choosing Gratitude when you give a gift of any amount to the ministry. Your support means so much to us. Visit ReviveOurHearts.com to make your donation, or call us at 1–800-569–5959, and ask for your copy of the book.
Today is Thanksgiving Day in the United States, and we hope you're having a meaningful celebration with family or friends. But how do you usually feel the day after Thanksgiving? Perhaps you're tempted to feel depressed from post-holiday letdown, or stressed about a new shopping season, or guilty for overeating. Nancy DeMoss Wolgemuth will help you counsel your heart with the truth about this day, and any day that you feel down. That's tomorrow on Revive Our Hearts. I hope you'll join us.
Revive Our Hearts with Nancy DeMoss Wolgemuth is helping you cultivate gratitude by calling you to freedom, fullness, and fruitfulness in Christ.
Giving thanks in all things.  . . on the next Revive Our Hearts with Nancy DeMoss Wolgemuth.  
All Scripture is taken from the ESV.
*Offers available only during the broadcast of the podcast season.
Support the Revive Our Hearts Podcast
Darkness. Fear. Uncertainty. Women around the world wake up hopeless every day. You can play a part in bringing them freedom, fullness, and fruitfulness instead. Your gift ensures that we can continue to spread gospel hope! Donate now.
Donate Now