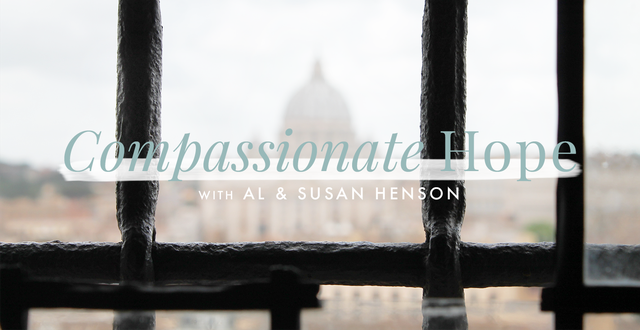 Compassion Is Kindled
Leslie: A follower of Jesus was being persecuted in a prison in Southeast Asia. Al Henson was watching through binoculars from a distance. 
Al Henson: I watched them kick him. I watched them push him around. My heart just broke because I could do nothing other than pray. I said, "Now, God, what do I do with this?" 
Leslie: This is Revive Our Hearts with Nancy DeMoss Wolgemuth, author of Lies Women Believe, for July 29, 2019. 
Before we start, just know that today's discussion of persecution could be disturbing for younger listeners. Here's Nancy.
Nancy DeMoss Wolgemuth: The conversation we are having today here on Revive Our Hearts actually wasn't planned very far in advance. It was a surprise to me and a delightful surprise. I am so thankful to be back with my longtime friends Al and Susan Henson from Nashville, Tennessee . . . and all around …
Leslie: A follower of Jesus was being persecuted in a prison in Southeast Asia. Al Henson was watching through binoculars from a distance. 
Al Henson: I watched them kick him. I watched them push him around. My heart just broke because I could do nothing other than pray. I said, "Now, God, what do I do with this?" 
Leslie: This is Revive Our Hearts with Nancy DeMoss Wolgemuth, author of Lies Women Believe, for July 29, 2019. 
Before we start, just know that today's discussion of persecution could be disturbing for younger listeners. Here's Nancy.
Nancy DeMoss Wolgemuth: The conversation we are having today here on Revive Our Hearts actually wasn't planned very far in advance. It was a surprise to me and a delightful surprise. I am so thankful to be back with my longtime friends Al and Susan Henson from Nashville, Tennessee . . . and all around the world. As we talk, you're going to understand that better.
Al and Susan, Welcome to Revive Our Hearts. I think this is your first time in this studio down here though. You have been on the broadcast before. Thank you for being willing to share your story. 
Susan Henson: It is an honor to be here, thank you. 
Nancy: I am thinking back to the early days, if I can just reminisce for a moment, and how the Lord knit our hearts together when I was with Life Action Ministries, which is the parent ministry of Revive our Hearts. We did a meeting in the church you were pastoring at the time, Al, Lighthouse Baptist Church in Antioch, Tennessee. 
Al: We have changed the name now to Lighthouse Christian Fellowship. Del (the founder here at Life Action Ministries) and I were close friends, mutual mentors you might say, for each other. We had a deep passion for Christ and a passion for the movement of God, a revival. It was around those passions and God's passions that our hearts were knit together to grow and to seek the Lord together. 
Nancy: And Susan, we connected in that early meeting there. It was one of the ladies' prayer times that the Lord did a fresh work in your own heart of believing God for revival. That is a passion that has never left you. 
Susan: Exactly, that day I will never forget because you had been speaking that whole week with our ladies on the Song of Solomon and that intimate relationship with the Lord. I saw such a passion in your heart for the Lord that it made me hungry to want to go deeper with God. I remember us praying together, kneeling side by side and just crying out to God. "I want to know You. I want to intimately know You and not just about You. God I want to see Your glory." God knitted our hearts together in prayer that day. You have been a mentor to my life ever since. So, thank you for your investment not only in my life but in the lives of women around the world. 
Nancy: Well, we have walked through a lot of life together. You know that whole burden for the world which God has put on your hearts and a burden for the least of these, were going to talk about over these next few days. It's a burden for the things that burden God's heart. It really starts on our knees in His presence. It's very personal. It's, Lord start a revival and start it with me. Until we have that longing for more of Him and living in His presence, were not going to know what's on His heart to do through us. 
Al: Yes, it's when we're in His presence, Nancy, that we draw near to Him. Then He begins to share His thoughts with us. He shares His feelings with us. He shares His heart with us. Actually, that's what happens in Isaiah 6 when Isaiah was in the presence of God. There he heard the burden of God after his own brokenness for Israel compelled Isaiah to cry out, "Here am I send me." 
That really is a testimony in my life. People asked, "Were you called to do this or called to do that?" 
I said, "No, I just got close to the heart of God and found out He was burdened." I said, "Lord, here am I. I volunteer send me." 
A part of Compassionate Hope and its work has been to the least of these. It's been partly to those of the persecuted church and partly to those who are orphans—those involved in human trafficking and labor trafficking, child brides, and sexually abused children—those that we have been able to rescue into our homes of hope. 
Nancy: Back in those days when we first met, I don't think you could have ever imagined the places the Lord would take you, the stories He would show you of what He's doing and the ways He would use you around the world. 
Al, you had physical issues. A lot of people would have just said, "I can be excused for just taking a seat and taking it easy." Not you. You spend a third of the year in other countries, which we're going to talk about. 
Let me just back up and say that the context for this conversation is that when people give to support Revive Our Hearts . . . of course that goes to support the various outreaches of the ministry, the events, the publishing, the broadcastings. But a certain amount of what comes in, we designate that to what we call our missions account. That supports God working in the hearts of women and girls and families around the world. One of the ministries that Revive Our Hearts has supported for many years is the one He led you to start called Compassionate Hope. 
I hope our listeners will get to learn more about this ministry. There is a link to your website on our website at ReviveOurHearts.com. There is some more information than were going to have time to talk about in these few broadcasts. But what God is doing through that ministry is something that a lot of people, like myself, wish we could be more connected to. We wish we could know more about could be making a difference. So when people support this ministry, part of what they give is in ways that maybe we can't do personally, but you're doing it.
Al: In the Kingdom, there is no I, there is only a we. 
Nancy: Yes.
Al: I can't do what we do without Nancy and the ministry of Revive Our Hearts and those who pray and give. As a part of that, it's a we. Only in eternity will we really understand how God really uses us together to accomplish the work of the Lord.
Nancy: My hope through these conversations this week is that the Lord will lay on the hearts of people to pray, to give, and to be encouraged by what God is doing through the small resources that we are able to give through Revive Our Hearts. My hope is that there will be this whole great cloud of prayer ascending to the Lord on behalf of these that you are serving so hands-on. It is a great privilege for us to have just a little, itty bitty part of what the Lord is doing through you. 
A lot of this started, we won't go into all the details, but back in the late 70s when a host of refugees were fleeing war in these countries. We're not going to name the countries in this program, but in Southeast Asia, a lot of them came to the United States and were relocated in Nashville, Tennessee. You became aware of this, and it became a mission field to the world in your own backyard. 
Al: Yes. God brought the nations to us, and we just started expressing the love of God in their human need. They were strangers in a strange country. They needed clothes; they needed food; they needed shelter; they needed a place to stay; they needed to learn this language; they needed to know how to work and find a job here. 
In the middle of that, as we let them taste the love of God and see the love of God, we were able to share with them the love of God. I begin to hear their stories of the persecution and suffering that they had been through from the country they had come from. God touched my heart, and I fell in love with this group of people. I decided that I would begin to travel over into that country, and that's how this ministry was birthed, by just simply washing the feet.
I have often looked back over my ministry. I have been in ministry for forty-two years. Almost every significant thing God has ever done in and through my life, it started somewhere where I washed the feet of someone who could give me nothing back. I just loved them with the love of God. Out of that God just birthed something significant.
Nancy: That's what Jesus did for us, right? When we had nothing to offer Him, He came and loved us and gave Himself for us. You started first by ministering this people group there in Nashville, and then some began to come to the Lord. How many churches did you say have been planted among that people group in Nashville now?
Al: There are thirteen churches now in Nashville. And that one particular people group, actually on a Sunday now thirty-something years later, every Sunday we have seven different churches of seven different languages meeting on our campus. 
Nancy: Wow!
Susan: I think one of the significant things is as these children grew up through the ministry there was that we really adopted some of them. We brought them into our lives. But we also helped raise funds for them to go through our Christian school, so they got that Christian education. But some of them were so burdened for the family that they had left behind that they would just beg for us to pray for their families back home. That really was a part of us just having that burden to take the gospel back to their people group. 
Nancy: God began to give you opportunities to do that. You gave me a history lesson over lunch just a little bit ago. I wish we had a lot more time to unpack some of this. As you got into that country and the neighboring countries, people came to know the Lord. You found believers being persecuted for our faith because there was . . . Well, what was the because?
Al: Yes, Nancy, one of the things that is important for me to say is that we think about the work of Compassion Hope on the other side of the world, it's God's kingdom. God is building His kingdom through the nationals and not through us. 
Nancy: Right. 
Al: The reason why this work has spread from the thousands to the ten thousand is because we're thinking and functioning like a spiritual organism not like an organization. I have told them on the other side of the world I will never take a title. I will never take a position nor place of authority. God saw you, and God wants to build His kingdom through you. He knew you needed a servant. And Al and Susan and Compassionate Hope feels called of God to come and serve you. 
But as I begin to go, Nancy, if I might share the burden about the persecuted church. I was there about a year or so and began to build loving relationships. We were driving one day, and they were talking about that over the hill there was one of the prisons. They were talking about one of our brothers that was in the prison. I heard them talk about prison and the stories and the horror stories. I asked, "Is there any way I can see him?" 
So they stopped and said, "We think we can walk to the top of the hill, and with binoculars, you can actually see him." 
I am sure God orchestrated all of this, as God does, because He wanted to put something deep in my heart. We went to the top of the hill, got the binoculars, and I saw. I heard about these boxes that they had that would have something like a wooden bench in it. The men would stay in these hot boxes all day in their underwear. There were not even allowed out to relieve themselves. 
It just happened as I was looking, one of the boxes opened, and out came a brother that I helped equip and train. I watched them kick him. I watched them push him around. There are just so many stories around this. My heart just broke because I could do nothing other than pray. 
I came back, and we drove a little ways to get away. I finally asked to just stop. I went to the woods alone, and I said, "Now God, what do I do with this? What do I do? You just shared with me Your heart for the persecuted." 
The Lord said, "I want you to go back to America." This is what started [this ministry] decades ago. God told me to go back to America and just cry out to the Church to help My hurting Body and help My suffering Body. 
I felt that God has wanted me to be a voice for His Body, the Body of Christ, in places of the world as we know more about because of media. The Body is suffering, and we need to stop and think about this and consider it and ponder it and remember and pray for those whom God loves. Pray to do what we can do to care for the suffering Body of Christ. 
I think I was here several decades ago and I shared that story. I remember you. When I finished, you were weeping. You got out of your chair, Nancy, and you just prayed. That's when our friendship and love which had started decades before, that's when you got up and you said we want to be a part of this. That's when Nancy DeMoss and Revive Our Hearts became an intimate partner with us in reaching the persecuted body of Christ in this country.
Nancy: You know what helps? So much of what burdened your heart in that moment was putting a face to the problem. That's what has challenged us to get involved. I want our listeners to meet (not literally meet), but to hear about one women who has been supported by Revive Our Hearts for years now. We're calling her Sister M.
Susan and Al together, if you could tell the story of Sister M and her experience as a widow of a martyr, so our listeners can know that this is a real face, this is a real person that God is using. And He's allowing us to partner with and have a place in her life. How did you first meet this family, and tell us a little bit about that story. 
Susan: Sister M's husband was a key leader in that province and had multiple churches. Al had discipled and mentored him. At Christmastime is usually when they have their festivals. They would go in to these festivals and share the gospel and use this as an outreach ministry.
This brother would go and travel from church to church to share the gospel. Hearing from Sister M's side of the story, she shared with us that in the beginning she was very resentful of her husband being gone all the time. Here, once again, he didn't show up at home, and here it is almost Christmastime.
He is three days late coming back home, so she starts making phone calls. She starts trying to track him down and cannot find him, so she gets on her motorcycle and heads on the way to try to back track, you might say.
She gets up on the scene where the police were, and there she discovered that they found her husband's body. He had been run over and knocked down into a revive. The people who had caused this to take place had taken a rock and had beaten his head in. There was still blood on the rock. They had stabbed him multiple times. One of the things they did was they had almost severed his neck off, all the way 360 around. Nothing was holding it on but his spinal cord. There was also a secret word that had been released during that time, mainly for Christians, was that the tiger that got him will get you. 
Nancy: So this is a threat to all Christians.
Susan: Yes. At that point she became a widow taking care of three children. It was during that time she fasted for twenty days. She did not cry, did not weep. She had never met Al. Only her husband had been in contact with Al because that was undercover, you might say.
The one thing she said was that the man that loved my husband, served my husband, he will come. He will be here. She waited until the very day that Al walked into that room. She got up and fell at his feet and just wept and wept. She had believed that God would bring help along for her as well.
Al: I remember that her dad caught me outside. He was the one who told me the story about how she had fasted in believing that I would come. I had just sensed an urgency to go. We had actually met several kilometers away so that it would be a safe place for her.
I remember her looking at my face after she had wept on my shoulder. She said, "I knew you would come." I looked at her and said, "When you look at me, Sister M, you see one person, but I represent thousands. You are not alone.
"I know you lost your husband, and I know that you are thinking in your mind, What am I going to do? What am I going to do with these twenty-something churches my husband has planted? What am I going to do? (And it's four children not three children.)
"We promised your husband." We knew his life was in danger. As we promise many, if something happens to them, imprisoned or martyred, we will make sure that their wives and their children are taken care of.
It was about that time, a year or so later that we were telling the story. That's when Revive OurHearts stepped in. Since that time, this widow has matured in the Lord. She is no longer resentful, and she became passionate for the kingdom of God, that it would grows up and be encouraged.
Many times I've sat with her. She has said, "Brother Al, I am in danger." There are now sixty-seven churches. This widow and her four children are now grown, and you would think she would be wanting to take a break. But she came to me. They call me Papa Al now.
She said, "Papa Al, my children are gone. Is it okay if I start taking children in my home? Because throughout our province, there are children of persecution or children who have been abandoned or children who are being abused.
So the funds that Revive Our Hearts has put in over the years has helped take care of this widow and these churches and her children and now the Home of Hope that she opened up about eighteen months ago. It is just a beautiful story of the power of the gospel. 
Nancy: We've actually got a photo on our website of Sister M and some of the children that are in that Home of Hope and one of her sons. If you go to ReviveOurHearts.com, you can see that photo. I hope you'll maybe look at it and print it out as a reminder to pray for this widow, because month after month we are able to support the work that God is using her to do there. What was a hopeless situation where it seemed like the enemy has won, but it is Jesus who is triumphing. 
Al: You know that you've heard that the Church grows in times persecution, and so it is true. I must just quickly say this. Three or four years ago, Sister M found out who the man was that martyred her husband. She found out he was in prison now. She went to the prison and looked him in the face. She said, "You are forgiven." Then she shared the gospel of Christ with him.
I am thinking a human couldn't do this. It took God's Spirit and the love of God and the grace and mercy of God in her heart to not only have the courage, but the forgiveness and love for the man that had killed her husband to go share the gospel with him. 
Nancy: Yes.
Al: These are the people, Nancy, I have the joy of hanging with and serving the Lord with. I have learned so much about love and loving God and sacrifice that it has shaken even me out of my religion—American religion—and comfortableness as I walk with these saints that are willing.
They are not bitter. I don't want anyone to think that these people are bitter. Sometimes they'll be talking about being in prison, and they will start laughing. It was the joy that they had to witness or to share Christ or share what God had done as a consequence of their time in prison. It is not the atmosphere that you would think would be one of peace and joy and happiness and humility. But it is that they are able to serve the Lord in this way. 
Nancy: It is not just us giving—you or Susan or Revive Our Hearts—to minister to these, the least of these those in prison, those who are martyred. They're giving to us. They're teaching us the heart and the ways of God. We need them. They don't need us. 
Al: I often say that, Nancy. We need them more than they need us. 
Nancy: Well, the Lord is using Compassionate Hope and Al and Susan Henson to do a lot more. You mentioned Homes of Hope, and some are wondering what are Homes of Hope. It's just a beautiful shining work that the Lord is doing Southeast Asia. We're going to talk more about that when we come back tomorrow on Revive Our Hearts. 
Leslie: Nancy DeMoss Wolgemuth will be right back to pray. She has been talking with Al and Susan Henson about the hope God is offering hurting people in Southeast Asia. The suffering you are going through may look a lot different than the kind of trial we heard about. But your pain and tough circumstances are still real.
No matter what type of trial you're facing, we'd like to help you by sending you a new Bible study called Esther: Trusting God's Plan. The team at Revive Our Hearts wrote this study based on Nancy's teaching of Esther.
This would be a perfect study for your devotions over the next six weeks—especially if life doesn't make sense and you are learning to trust God's plan. We'd like to send you a copy when you support Revive Our Hearts with a gift of any amount.
Look for the Esther: Trusting God's Plan when you donate online at ReviveOurHearts.com, or call us at 1–800–569–5959.
Tomorrow we'll hear about some heroes of the faith in Southeast Asia who gave their lives for the sake of the gospel. Please be back for Revive Our Hearts. Here's Nancy to close our time in prayer. 
Nancy: Thank you Lord for what you're doing through these servants through this ministry. Thank you for Sister M. We know that she needs Your grace. Thank You for the way You've triumphed over her life—over bitterness, over resentment—and how you are using her now in these multiples churches to be a witness and a testimony and an example in the church community there in her province and for the children she has taken into her home.
We pray Lord that You would bless her today, that You would encourage, that You would strengthen her in grace, that You would meet her every need. Thank You for in this moment letting us have a chance to lift her up to Your throne as well as these others that are suffering, that are imprisoned, the widows and children of martyrs.
Lord, one day we will meet them in heaven, and we will together worship before the Lamb, before the throne. And we will say thank You for letting us partner together in bringing hope and the gospel into these lives as they have into ours. We pray it in Jesus name, amen. 
Al: Amen thank you, Nancy. 
Revive Our Hearts with Nancy DeMoss Wolgemuth wants to help you connect with how God is at work around the world. It's an outreach of Life Action Ministries
*Offers available only during the broadcast of the podcast season.
For a donation of any amount