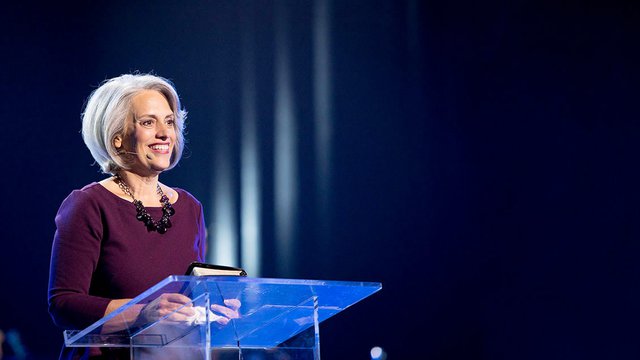 Birth Pangs
Due to the timeliness of this material, this transcript may contain additional material not aired on the actual radio program.

Leslie Basham: As any woman who has given birth knows, labor pangs don't let up. They get more intense and more frequent until suddenly all the pain is rewarded by the joy of a new life.

This is Revive Our Hearts with Nancy Leigh DeMoss.

Crises in the Persian Gulf and in North Korea come as no surprise to God. In fact, the Bible tells us that wars and rumors of wars will continue and intensify, kind of like labor pains. Here's Nancy to explain.

Nancy Leigh DeMoss: In these days of heightened terrorist threats and international conflicts taking place all over the globe, we all want to know what's going to happen, what can we expect?

In fact, you may be one of those people who just, first thing when you get in your house at night, you find yourself turning on the TV [wondering], what's happened? And what's going to happen?

Well, the fact is that there's not a person on this planet who can tell us for sure what we can expect or what's going to happen in our world. They can't even tell us what's going to happen tomorrow.

But as we turn to the Word of God, written 2000 years ago, we find an account that tells us what we can expect. We're looking at the Gospel of Mark, chapter 13--the passage known as the Olivet Discourse, the very intimate and personal conversation Jesus had with four of His disciples as they asked Him "What is going to happen at the end of the age? And how can we know when these things are going to happen? What can we expect?"

And Jesus tells us, in no uncertain terms, what we can expect.

And the first one, I have to say, you may not think is very encouraging. But we need to understand that it's true. Jesus says, number one, "Expect trouble." Plan on it. Count on it.

Now, we like fairy tales where everyone lives happily ever after or stories on TV where every problem is solved in 27 or 58 minutes, but Jesus says, "Before there comes that final chapter, that final grand ending to this story, you've got to count on the fact that there is going to be trouble.

We're in Mark, chapter 13. Read verse 7 with me. Jesus said, "When you hear of wars and rumors of wars, do not be alarmed. This must take place." Wars. That's speaking of wars that are close at hand and then, rumors, or reports of wars that you hear about going on in other parts of the world.

Jesus said, "This must take place. But the end is not yet. For nation will rise against nation," and, by the way, that verb that says "nation will rise against nation" in the original language, it's actually "nation will be raised up against nation."

And that suggests to me that we're, even as we see wars going on in our world, that God is the one who is raising up and tearing down nations. He is still in control.

But Jesus says, "Expect that there will be international conflicts," kingdom against kingdom. There will be earthquakes in various places, there will be famines, these are but the beginning of the birth pains. Jesus says, "Expect trouble." Don't be surprised when it happens. Don't get caught off guard. Don't throw up your hands and say, "What's happening? Where is God? Why is He letting this happen?" He told us beforehand that it would happen. This must take place.

And I have to say that I have another piece of news that perhaps you'll find even more troubling. Jesus says, "Not only should you expect trouble, but you must expect that the trouble will get worse and worse." Count on it. Things are not going to get better yet. Count on it that the troubles will get worse and worse.

Jesus said, "When you see these things happening, wars and earthquakes, natural disasters, famines, those things are not yet the end, they are just the beginning of the birth pains." Jesus says, "Trouble will increase." It will increase in intensity, and in frequency.

I have some friends whose oldest daughter is getting ready to have her first baby, and a week or so ago she had some contractions, some labor pains. And Kristy was sure that the baby was coming.

She went to the doctor and the doctor said, "Come back in two weeks." So, these were just the beginning of the birth pains. Now, if you've had a baby, you know that those labor pains increase. They come more and more frequently. They come closer together, those contractions do. They become more intense, more powerful, more painful. And what happens as those contractions, those birth pains increase? It means that the end is coming, the end of the pain--and the birth of a baby.

But, as you know, if you're a mother, you can't bypass the process. You've got to go through the process, through those labor pains. But, as you go through that process, you keep in mind the objective--to have a baby, to see that new life--and you realize that there is purpose in the pain, that the pain will not be in vain, that there will be something to rejoice over if you'll work through the process and let it take its course.

And so Jesus is saying here that the labor pains of these tumultuous things happening on our planet, they are leading up to the end, the end of the pain. And they're leading up to the birth of Christ's Kingdom.

And I find that if we can see the big picture, and we can keep in mind the end result, that that helps us to endure the birth pains all the way to the end.

And so Jesus says in verse 8, "These are but the beginning, all these troubles are but the beginning of the birth pains." And we need to be reminded that Christians will not be exempt from these troubles, that we as believers will get drawn into the fray.

You think you're just sitting at home, minding your own business, trying to be a godly wife, to rear your children to love the Lord and train them in His ways--but, you know, we get drawn into the fray because, ultimately, the battle is not between nations.

The battle is a fallen world that is in conflict with her Creator. Therefore, this fallen world under the dominion and the power of Satan, is going to attack and to try to destroy anything and anyone that is allied with God.

So, if you're on God's side, you're in a battle. You've declared your side, and you can expect to be the object of attack. And we read this as Jesus goes on in Mark 13, verse 9, to say, "They will deliver you over to council." This is believers. "You will be beaten in synagogues and you will stand before governors and kings for my sake."

Jesus says that there will be opposition through official channels, through hostile authorities. This is religious persecution, persecution by false religious systems and by political systems.

And we know that this is taking place in a great way in other parts of the world today. But even in our nation we're seeing the erosion of spiritual and religious and political liberty. Increasingly that's true in the U.S. And I believe before the end comes, those birth pains are going to become more intense, they're going to become closer together, more frequent. And you and I as Christians will not be exempt from those troubles that will increase.

Jesus goes on to say in verses 12 and 13, not only will it be authorities in political and religious systems that will be hostile, but even closer to home, within our own human families and relationships. There is going to be conflict. Jesus says, "Brother will deliver brother over to death and the father his child. And children will rise against parents and have them put to death. And you will be hated by all for My name's sake."

Now, it's hard for us, in our part of the world and in the relative comfort in which we live, to imagine that kind of thing happening. But you know, in some parts of the world for a man or woman or young person to declare their faith in Christ, means that they become subject to the attack of their very own family members. This is talking about that stark contrast between light and dark, between good and evil, that's going to result in persecution and opposition to believers even within their own families.

And, can I remind us that Jesus knew exactly what He was talking about? Keep in mind, He was about to be betrayed by one of His best friends and closest followers. Within 24 hours He was going to be arrested by the religious leaders of His day. The multitudes that just days earlier had sung His praises and escorted Him into Jerusalem would turn against Him and would demand His death.

Jesus knew what it was like to suffer opposition and persecution. And He said to us, "You're going to have to experience some of the same yourself so don't be caught off guard. Be prepared. Prepare to suffer." You know, we live such comfortable and convenient and relatively easy lives today in the West but we need to get girded up, to get prepared, to become spiritually strengthened to face the troubles that are going to come upon us.

And let me say that if you want peace at any price, if you view tolerance as a supreme virtue, what you'll try to do is to avoid the birth pains, to avoid any confrontation, to avoid any conflict and then you're going to miss out on God's plan.

Or, you'll become bitter and disillusioned when the troubles come. You see, Christ promised us as believers, that, in this world we will have tribulation. But what He does is offer us peace in the midst of the storm. Why? Because He walks through the storm with us.

I love that passage in John, chapter 16:32, where Jesus says, "Behold, the hour is coming, indeed, it has come, when you will be scattered, each to his own home, and you will leave me alone. Yet" Jesus says, "I am not alone, for the Father is with Me. I have said these things to you, that in Me you may have peace. In the world you will have tribulation, but take heart! I have overcome the world."

So, Jesus said, "I'm not having to walk through this alone, even though you're all going to desert me. God's going to stay with Me." And He says, "When you have to walk through these birth pains, these times of adversity and persecution and pressure and problems, you can have peace because I'm going to stay with you."

And then, as we face these troubles and these birth pains, as intense and as frequent and as painful as they get, remember that the trouble is not the end of the story.

Jesus says, "When you hear of wars and rumors of wars, don't be alarmed. This must take place. But the end is not yet." This isn't the end of the world. The end of the world is yet to come. And Jesus says, "There will be earthquakes, there will be wars, there will be famines, these are but the beginning of the birth pains." And, in a sense, that's actually a word of encouragement--because Jesus is saying, "This isn't the end of the story. This isn't the last chapter. There's more to come."

So lift up your eyes, in the midst of the problems and the tumult and the turmoil, you can have hope, you can have peace, you can walk in security, in confidence because you know that God has written the story and that there will be an end to the labor pains, to the birth pains and that after the end of the pains, there will be a birth. The Kingdom of Christ will come and will be fulfilled on this earth as it is now in heaven.

As our nation walks through these tumultuous days, it is so important that you and I be praying earnestly for our President, for our troops, for other world powers--praying that God's purposes will be fulfilled in our world in these times that seem to be so insecure.

That's why we have prepared a little booklet to help you know how to pray. It's called In Times Like These. It includes a section of specific prayer requests that we need to be praying for our world and for our nation.

It also includes a section called "Psalms for Perilous Times." Some passages of Scripture are listed there along with some reflection questions to help you ground your heart in the promises of God--and that's how you can stay secure even in times that are very insecure.

So I want to encourage you to order this booklet and to make it a priority to be praying for our nation and praying for our world and trusting God to fulfill His sovereign purposes in these days.

Leslie Basham: To get your copy of the booklet, In Times Like These, you can visit our Web site at ReviveOurHearts.com or call toll free 1-800-569-5959.

We're making the booklet available to you if you support the minstry of Revive Our Hearts with a gift of any amount.

 You can also write to us. We'd love to hear what you think about this week's programs relating to wars and rumors of wars.

As believers, troubled times give us an opportunity to glorify God and share our faith. We'll hear more about that tomorrow. Now let's join Nancy in prayer.

Nancy Leigh DeMoss: Father, as we remember the words of Jesus telling us that there will be trouble, and that the troubles will increase and will get worse and worse, we would get discouraged if we weren't reminded that those troubles are not the end of the story.

So I pray that today, as we read the news and we listen to the accounts of what's going on in our world, that we will not let our hearts be troubled, that we will trust that You are still in control--that we will have confidence in Your presence with us.

Thank You that You walk with us through those birth pains and thank You that a day is coming when Jesus will reign and rule, not only in heaven but throughout the earth, from sea to sea, from continent to continent, that He will express His reign and rule. And with eyes of faith we see the end coming and we rejoice for You are in control. I pray in Jesus' name. Amen.

Revive Our Hearts with Nancy Leigh DeMoss is a ministry partnership of Life Action Ministries.

 

*Offers available only during the broadcast of the podcast season.
Support the Revive Our Hearts Podcast
Darkness. Fear. Uncertainty. Women around the world wake up hopeless every day. You can play a part in bringing them freedom, fullness, and fruitfulness instead. Your gift ensures that we can continue to spread gospel hope! Donate now.
Donate Now