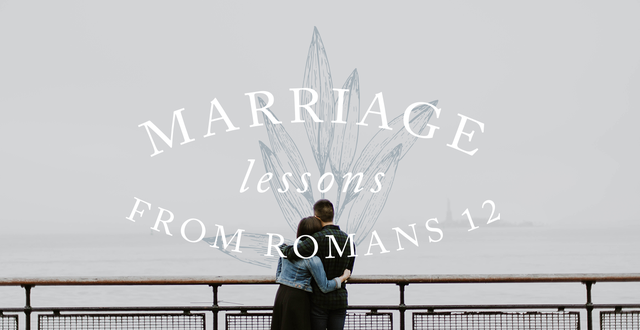 — Audio Player —
Becoming a Couple That Prays Together
Leslie Basham: Here's Nancy DeMoss Wolgemuth.
Nancy DeMoss Wolgemuth: Every moment of every day is an opportunity to blend our lives together by surrendering together to Christ and then to one another.
Leslie: This is Revive Our Hearts with Nancy DeMoss Wolgemuth, author of Lies Women Believe, for February 14, 2019.
On this Valentine's Day, we have a treat for you. We'll hear from Nancy DeMoss Wolgemuth and her husband Robert.
In 2018 they spoke on the "Love Like You Mean It" cruise hosted by our partner ministry, FamilyLife. We'll hear what they had to share with the couples gathered on that cruise from Romans chapter 12.
On this Valentine's Day, I hope you'll take time to read Romans chapter 12 for yourself. If you're married, ask the Lord to use this passage to guide the way you treat your spouse. And whether you're married or not, I hope you'll use this passage to learn to love everyone in your life and display the love of Jesus.
Here are Robert and Nancy, getting ready to walk through Romans 12.
Robert Wolgemuth: We're going to dive into something together out of Romans chapter 12. And this makes Nancy really nervous, I'm going to tell you right now, because Nancy's a very scripted person—right? She doesn't just do anything on the fly. I'm telling you, she doesn't do anything on the fly. (laughter) Me? I'm more comfortable with the fly—differences. (laughter) Let's hear it for differences. (cheering and applause.) Yes! Yes!
Nancy: As the men say "amen." (laughter)
Robert: Right. Those are my guys! Those are my guys!
So, I'm morning people. Nancy's night people. We pass like—I'm going to use this illustration, I can't wait—like ships in the night. (laughter) Yes, you heard me! That's right. In fact, some of you have been so up so long, this rocking motion is like when you had your kid in the car seat, and you drive just to make him go to sleep. So don't snore, but go ahead, rest. That's fine.
From, really, the early days of my marriage to Bobbie, she said, "I sure hope the Lord takes me home first because I don't want to live by myself." So she said, "If I go to heaven first, I want you to get remarried." Now, I could take that as an insult. Right? Like I don't know how to live without a wife? (laughter) And sure enough, I don't! (laughter) I don't mind telling you that.
Before she stepped into heaven, Bobbie told two friends that she wanted me to marry Nancy Leigh DeMoss, but she never told me. After we started to date—a couple of months after we started to date—those two friends contacted me and said, "We think you ought to know something: This is exactly what Bobbie wanted you to do." Isn't that amazing? That's a God story.
Audience: Awwww . . .
Nancy: Say that again.
Audience: Awwww . . .
Robert: Awww . . . yes. I was actually at an Orlando Magic Game. I lived in Orlando for seventeen years. In fact, in January of '15, I went to the DMV and turned in . . . I live in Michigan; we live in Michigan. I turned in my Florida license for a Michigan license, and it was snowing outside. And she said, "What?! Nobody does this!"
I said, "I'm doing this."
And she said, "Why?"
I said, "Her name is Nancy." (laughter)
So I lived in Orlando and went to an Orlando Magic basketball game. At halftime I called my old buddy, Bob Lepine, who I've known for a long time. I told him about this, because Nancy and Bob have been very good friends for a long time.
Nancy: And the next day as the ship was taking off . . .
Robert: Right, this very ship.
Nancy: My part of the story . . . I didn't know that they'd had that conversation, but I called Bob and Mary Ann as they were just getting ready to pull out of the Fort Lauderdale port. It was Valentine's week. I had been to Walgreens to look for some, like, meaningless Valentine's cards.
Robert: Walgreens . . . she was really going for it . . . Walgreens. (laughter)
Nancy: Well, that's what we have in our town. That's pretty much what it is.
Robert: At least it wasn't a 7-Eleven.
Nancy: Have you ever tried finding a Valentine's card that doesn't have the word "love" on it? (laughter) So this was very, very early. I had three picked, and I FaceTimed Bob and Mary Ann, and I showed them each of the three cards. I said, "Do you think any of these would be okay to send him on Valentine's Day?"
And Bob said—this is my version of it—"Listen. I'm a guy. If I got a Valentine's Day card from a woman, I would think she's interested. Is that what you're wanting to say to him?"
"Well . . . not yet."
So he said, "Maybe you could save them and send them together if the Lord continues in this."
So in April or May . . .
Robert: April. I have all three.
Nancy: About the time we got engaged, he got all three Valentine's Day cards. (laughter)
Robert: So Nancy figured, "That's good for the next three years." (laughter) Not true.
Nancy: We actually do anniversary cards on the fourteenth of every month.
Robert: We do.
Nancy: We buy out Walgreens and every other place we can find.
Robert: We do. In fact, we kind of call it "Anniversary week," like we do "birthday week."
Nancy: I've never been married. So when you start at fifty-seven, so you've got to make up for lost time here, and we have been.
Robert: So when we got engaged in May of '15, we started talking about wedding, and I said, "I'd love for you to have the wedding of your dreams."
And Nancy said . . .
Nancy: "I've never dreamed about a wedding." It was true.
Robert: She said, "I never prayed for a husband." Now, what we discovered . . .
Nancy: There were a whole lot of other people who had been praying for a husband for me. (laughter) Some of them for years! And they came out of the woodwork.
Robert: They did.
Nancy: So God heard and answers prayers even that other people pray for us—aren't you glad?
Robert: Exactly. Amen.
Speaking of that, let's pray now.
Nancy: Yes.
Robert: Thank You, Lord Jesus, for the joy of this conversation. Thank You for Your ways. Many times we don't understand, but we trust You. And so, together with one voice, we would say "amen" to that. We trust You. And we would pray that You would guide our conversation this morning. I pray that You would speak either because of or in spite of what we are saying up here to the hearts of each of our friends sitting here.
Thank You for the marriages represented, and we pray that You would inspire us to be better husbands and better wives.
We love You. We thank You. And all God's people said, "Amen."
Let me just tell you a little secret. The first year we were married, Nancy and I were buried in writing. We both do some writing. I was writing a book—and we're not going to talk about it specifically, but a lot of what I'm going to say, we're going to say, is in the book called Like the Shepherd. I was writing a book on marriage, and Nancy was writing a book called Adorned. How many of you have read Adorned or are in the process of studying Adorned: Living Out the Beauty of the Gospel Together?
So, Nancy was writing a book on marriage—or that included marriage—and I'm writing a book on marriage. Like the apostle Paul said, we have no excuse to not at least be intentional about our relationship with each other.
Okay, if you would turn to Romans chapter 12—and we are using the ESV, but there are as many translations as there are people in this room. Nancy and I are going to read a paragraph back and forth, or verses back and forth. In fact, if you don't mind, let's do the paragraphs. Can we do that?
Nancy: Yes.
Robert: Then we're going to take a few minutes to talk about it. And while we're reading, we'd love to encourage you to put a lens on this wonderful chapter. Many of you are familiar with this chapter, so put a marriage lens on this chapter. And we would encourage you throughout this week, as you find time to be with each other, to talk through some of what we're going to talk through. We might give you some ideas. Chances are even better that you'll come up with some things that we didn't even think about.
Nancy: And we're just going to skim the surface of so much.
Robert: We are.
Nancy: We've had so much fun doing this together, just talking through this passage and saying, "Okay, if we applied this to our marriage, what does this say to us? How does it instruct us?" So we're really just hoping to whet your appetite to spend more time together in this passage.
Robert: Right. Good.
So, did we pray yet? (laughter)
Nancy: We did. You're rocking.
Robert: I'm rocking. I know. I'm singing. See, I'm in the car seat. I'm about to fall asleep here. (laughter)
So, did you all find Romans 12?
I [and that's the apostle Paul] appeal to you therefore, brothers, by the mercies of God, to present your bodies as a living sacrifice, holy and acceptable to God, which is your spiritual worship.

Do not be conformed to this world, but be transformed by the renewal of your mind, that by testing you may discern what is the will of God, what is good and acceptable and perfect.

For by the grace given to me I say to everyone among you not to think of himself more highly than he ought to think, but to think with sober judgment, each according to the measure of faith that God has assigned.

For as in one body we have many members, and the members do not all have the same function, so we, though many, are one body in Christ, and individually members one of another.

Having gifts that differ according to the grace given to us, let us use them: if prophecy, in proportion to our faith; if service, in our serving; the one who teaches, in his teaching; the one who exhorts, in his exhortation; the one who contributes, in generosity; the one who leads, with zeal; the one who does acts of mercy, with cheerfulness.

Let love be genuine. Abhor what is evil; hold fast to what is good. Love one another with brotherly affection. Outdo one another in showing honor.

Do not be slothful in zeal, be fervent in spirit, serve the Lord.

Rejoice in hope, be patient in tribulation, be constant in prayer.

Contribute to the needs of the saints and seek to show hospitality.

Bless those who persecute you; bless and do not curse them.

Rejoice with those who rejoice, weep with those who weep.

Live in harmony with one another. Do not be haughty, but associate with the lowly. Never be wise in your own sight.

Repay no one evil for evil, but give thought to do what is honorable in the sight of all.

If possible, so far as it depends on you, live peaceably with all.

Beloved, never avenge yourselves, but leave it to the wrath of God, for it is written, "Vengeance is mine, I will repay, says the Lord." To the contrary, "if your enemy is hungry, feed him; if he is thirsty, give him something to drink; for by so doing you will heap burning coals on his head.

Do not be overcome by evil, but overcome evil with good" (Rom. 12:1–21).
Robert: Ah . . .
Nancy: Wow! How rich is that!
Robert: This is the Word of the Lord, thanks be to God, amen.
Nancy: It's a great way to start our day, just washing our heart in His Word.
Robert: Isn't it true.
Nancy: And there is no better foundation for our lives, for our marriages, than Christ the Living Word and this written Word of God.
Robert: Amen.
So, this first verse, if you want to flip back or turn your pages back—you know, Honey, I thought of "living sacrifice" . . .
Nancy: Can I say one thing before you say that?
Robert: Go, this is a conversation.
Nancy: We're going to just let you in to our living room. This is how we've been sitting, talking about this passage.
But just before the "living sacrifice," the "mercies of God"—if you remember . . . This is chapter 12 of Romans. The first eleven chapters have been laying out for us how holy God is, how sinful we are, how much we deserve His wrath and His judgment, but that He took that wrath and judgment for us and has extended His mercy and grace to us through Jesus Christ our Savior.
Robert: Amen.
Nancy: So in light of the gospel, those mercies, this is how we're supposed to live. And as we've been meditating on this, we've been saying, "Look, if we don't have the gospel in our marriage, at the center of it, at the center of our own lives, what chance do we have? We cannot live out all of this stuff that we're just getting ready to see here if we don't have our lives really rooted in the gospel of Christ."
Robert: Amen.
So if somebody says, "I can't be a great husband." Then the answer to that is, "Amen."
Nancy: Or wife.
Robert: Or wife. Yes. That's right. Of course you can't.
And then "living sacrifice." So you remember the Old Testament and the animal put on the altar. What kind of rights does the sacrifice have? None? When you get married, you relinquish your rights. As a believer, you've already done that, but you relinquish your rights to each other. That's part of this "being one" thing, that I have said to Nancy, "I could say this; I could do this. I would have the right to do this or to say this, but I relinquish those rights, like a living sacrifice."
Nancy: And the starting place for that is in our relationship with the Lord, presenting ourselves, our bodies, everything about us, to Him.
Robert: Amen.
Nancy: Isn't it a whole lot easier for us to surrender ourselves to each other once we've been surrendered to Christ?
Robert: Completely.
Nancy: So my body is His, now I can give my body to you, as a living sacrifice.
Robert: So we know what that looks like, to surrender to Him and then surrender our rights to each other.
Nancy and her ministry have little white towels that . . . whatever they say on them.
Nancy: They're hankies.
Robert: Oh. That's right. The Steelers have the towels. (laughter) Sorry. I get them mixed up. (laughter)
Nancy: They say, "Yes, Lord." That's what it says on it.
Robert: So why is it white?
Nancy: And when we wave that white flag of surrender . . .
Robert: That's it. That's it. There you go.
Nancy: And don't we need to do that every day in our marriages? Like, you guys got different ideas—we all do—about what we want to do on this cruise. And every moment of every day is an opportunity to blend our lives together by surrendering together to Christ and then to one another.
Robert: Awesome.
In verse 2—can we go to verse 2?
Nancy: Sure.
Robert: "Don't be conformed to this world." How hard is that? J.B. Phillips says, "Don't let the world squeeze you into its mold."
When hot plastic goes through this machine, and it gets sucked into a mold, it doesn't have a choice. So, by the mercies of God, we have presented ourselves as a sacrifice, and then He gives us the right to resist being conformed to the world. On our own, it's a futile effort. But He helps us to not be conformed to the world.
Nancy: And how true is that in relation to what we believe about marriage. The world has a mold for marriage.
Robert: That's right, yes.
Nancy: And it's not God's mold. It's not God's way. But we have to be intentional, I think, about resisting, because. . .the world's way is being fed into us from every conceivable direction.
Robert: Yes.
Nancy: Which is the great thing about a week like this. We get a chance to renew our minds according to the way of God in relation to marriage.
Robert: Amen. That's so good.
So, "Don't be conformed to the world, but be—what's the word?—transformed." Isn't that a great word? Be transformed, be different. Different is good.
If you have children, and you know who you are, and they say, "But, Mom! But, Dad!" You say, "Honey, different is good." Would you say, "Amen," to that? (Sounds of "Amen.") Different—we're going to be different, and different is good. It's not weird or nerdy.
Nancy: If it's lined up with God's Word.
Robert: Yes. It's good. Different is good. We're going to be different here.
In fact, I lived in Orlando for seventeen years. It's the most . . . It's not beautiful. What's the word in Orlando? Disneyworld, Walt Disney World is the most magical, spectacular—whatever—place in the world. That's different. Walt Disney understood that different was good.
So, Mom, Dad, Honey, different is good. Different is good.
All right, that "you may discern the will of God."
So I have a question: What is the will of God for you? And what is the will of God for your marriage? Do you know that the Scripture tells us? It does. It does. And it doesn't say, "Move to Des Moines, or buy a white car instead of a red car, or live in this house rather than this house."
Three things that the apostle Paul says about the will of God. Do you remember what they are? Three things: 1 Thessalonians 5:16-18—do I have it right? "Rejoice." I'd like to be married to a rejoicing person. "Pray . . . and give thanks . . . for this is the will of God."
So: Rejoice, pray, give thanks.
Wasn't Dennis wonderful last night? I'm so grateful to see all of these friends stand honoring Dennis and Barbara for their sacrifice. But he talked about praying. Do you find yourself when you pray that you tell the Lord things that you wouldn't necessarily say to each other—even if you're in each other's presence?
So from the very beginning, the Lord has given us the joy, Nancy and me, of praying together. Dennis talks about that, right? And he says, in fact, the sweet couple who are the emcees, if you're here tonight, or this morning, forgive me, I don't remember your names, but the guy confessed, "That's really hard for me to do." Right?
How many of you men would say, "That's me, too. It's hard for me to do"?
Well, I would encourage you to take Nike's slogan—what is it? "Just do it." Just do it.
Leslie: That's Robert Wolgemuth with an encouragement for married couples. When it comes to praying together: Just do it.
Robert referred there to Dennis. That's Dennis Rainey who is president of FamilyLife and part of the "Love Like You Mean It" cruise. He was nearing retirement at the time of that cruise where Robert Wolgemuth and his wife, Nancy, spoke.
Revive Our Hearts and Nancy DeMoss Wolgemuth are called to speak to women, but since we have Robert on today, I have an idea: Why not get together with your husband and listen to today's program together. You can hear it again at ReviveOurHearts.com.
And we have a unique opportunity for you: When you donate any amount to the ministry of Revive Our Hearts, we'd like to say "thank you" by sending two books, one from each of our speakers today. You'll get Lies Men Believe by Robert Wolgemuth, and Lies Women Believe by his wife, our host, Nancy DeMoss Wolgemuth.
These books effectively expose lies that women and men most commonly believe and show you how to overcome Satan's deceptions with the most effective weapon we have—the truth of God's Word.
Get the Lies Women Believe and Lies Men Believe book set for your gift of any amount. Visit ReviveOurHearts.com to make your donation and request this set, or ask for it when you call with your gift. The number is 1–800–569–5959.
Tomorrow we'll heart part two of this message as Robert and Nancy continue to show us how to demonstrate Christ-like love from Romans chapter 12.
Nancy: In marriage, the fact that we are one—there's a unity there but there's also diversity. We are different. And we bring different gifts and strengths and needs to our marriages.
Robert: Right.
Nancy: Our oneness with Him—that's where it starts. We're members, we're one with Christ, that makes us one with each other. I don't think it's possible that a marriage could really be one to the extent it should be if we don't have our oneness with Christ first. But then, being one with each other, we realize that we're different members. Celebrate those differences. Celebrate those gifts.
I mean, we have many, many similarities, but we also approach a lot of things differently. There's male/female, different strengths, different gifts, different life experiences. I found myself, even as we're going into this session, we prepare differently. We present differently.
And I'm thinking, How do we do this as one in Christ?
Well, the way we do it is, I celebrate how God has wired Robert. It's not a matter of my way is better, his is not as good. It's, "Lord, thank You for the ways You've gifted him." I needed those in my life. I need his ability to be more spontaneous. And maybe he needed something about my being not as spontaneous.
Robert: Maybe—just maybe. (laughter)
Nancy: But we celebrate those differences, and that's humility living out in that marriage.
Robert: It's so interesting, the one-body concept. You think of Genesis 2, "a man leaves his father and mother and clings to his wife, and they become one flesh" (see v. 24). So this text is used a lot relating to the Church as the Bride of Christ, but, guess what? You and your mate are also the Bride of Christ.
And, Nancy, really, when we started putting our wedding together—and it was actually a blast, especially for me because Nancy did most of the work (laughter)—but the big idea of us being the Bride of Christ, that was a really big deal.
And so this chapter also relates to you and me as husband and wife being one—one. I love that.
Leslie: Please be back for Revive Our Hearts.
Revive Our Hearts with Nancy DeMoss Wolgemuth wants you to find freedom in Christ. It's an outreach of Life Action Ministries.
*Offers available only during the broadcast of the podcast season.
Support the Revive Our Hearts Podcast
Darkness. Fear. Uncertainty. Women around the world wake up hopeless every day. You can play a part in bringing them freedom, fullness, and fruitfulness instead. Your gift ensures that we can continue to spread gospel hope! Donate now.
Donate Now