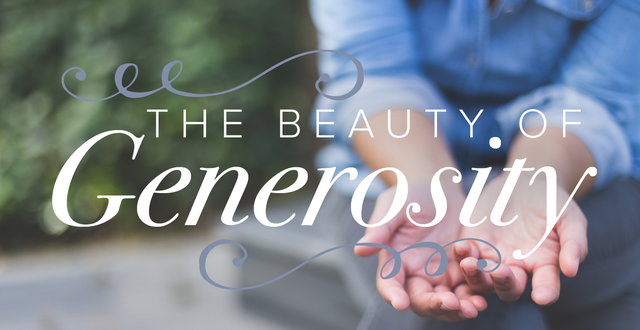 — Audio Player —
The Beauty of Generosity
Nancy DeMoss Wolgemuth: At twenty-nine years of age, Beth had already taken on a lot of responsibility at her church. She was a youth leader, and she was involved with the worship ministry. She was pouring out herself all the time, and she was wishing that an older woman would pour into her life.
Beth: I was getting bogged down and overwhelmed . . . and just dry.
Nancy: There was another woman at church, about twenty years older than Beth, and so Beth asked this woman if they could get together. In God's providence, just that day this other woman had heard a message on Revive Our Hearts about the importance of discipling relationships.
Nancy (on radio): We are all to be involved in teaching the younger women what is good. The world is peddling—every day—what is not good. We're supposed to be teaching them by our example and then by our engagement in their lives.
Nancy: So the other woman said, "Yes, Lord!"
Beth: And she said, "Absolutely!—and, in fact, I just heard this great podcast today, and I think you would really like it." So that's how I heard about Revive Our Hearts.
Nancy: Now, that was about six months ago. During that time, Beth and this older woman at church had been going through the book I've written called Adorned, that went along with that radio series. And Beth has continued listening to Revive Our Hearts ever since.
Beth: It's just such a refreshment for me, coming off of being a leader and pouring into others, to just sit and know that what Nancy's saying is true—and researched and prayed over. I just see God's hand all over it. So I'm blessed by it every single day!
Nancy: Several weeks ago, I started sharing about a serious financial need that Revive Our Hearts was facing. As a listener of several months, Beth wanted to help, but she didn't see how she could.
Beth: I had already created my budget for the month and I knew I had nothing extra. Money is tight for me, so when I make my budget, it has to stick.
Nancy: Then Beth heard a Revive Our Hearts program where we shared a letter from a listener who had prayed and asked God to provide so she could give and be a part of meeting this need.
Woman (on radio): God is so creative! I got a call from a research company asking me to be part of a food study. I basically went downtown to pick up $135 cash. Today I donated it to Revive Our Hearts. God is so good! I learned from my mom that whenever she wanted to give to missions, she always asked God to provide an extra job or a means for her to give. And, guess what? He always did!
Nancy: That stood out to Beth.
Beth: And so, right then, I wrote on a sticky note in my office: "Pray about giving to Revive Our Hearts . . . and ask God to give me the means to give."
Nancy: A couple days later, Beth got a call asking if she could work on a free-lance graphic design project.
Beth: That was out of the blue; I hadn't spoken to them in several months. It was beautiful the way that God connected the means to give to Revive Our Hearts.
Nancy: Today we want to share with you a special report of how, over the past several weeks, God has shown His amazing power and moved through thousands of listeners—like Beth—to meet this significant financial need and to put the beauty of generosity on display.
Leslie Basham: This is Revive Our Hearts with Nancy DeMoss Wolgemuth, author of Adorned, for Monday, June 19, 2017.
Nancy: Well, if you've been listening to Revive Our Hearts over the past several weeks, you know that throughout the month of May we were sharing that we had a particularly significant financial need as we came to the close of our fiscal year, May 31. We were asking the Lord, needing for the Lord, to provide the largest May income that we had ever received. In fact, as I shared with you during those weeks, this was the most stretching time we had ever had financially in this ministry since 2010.
We knew that significant changes would need to be made in our core outreaches. In fact, we had been—along the way—making some budget cuts and expense cuts wherever we possibly could because over the past several months donations had been down to the ministry and we had some additional unexpected expenses. So we were drawing on cash reserves, and we were just praying and saying, "Lord, we need to see You do something that (well, humanly speaking) it seemed impossible to us."
We've never had a fiscal year-end need anywhere close to what it was during the month of May. And you've heard us share, over and over again, that need of $830,000. I've had it on my heart, now that the month of May is behind us, to come back and share with you what the Lord did, so you can rejoice with us, so you can be encouraged!
Let me just say, first, Psalm 145:15–16 has been on my heart as I reflect on this time. The Psalmist says,
The eyes of all look to you, and you give them their food in due season. You open your hand; you satisfy the desire of every living thing. The Lord is righteous in all his ways and kind in all his works. The Lord is near to all who call on him. 
Well, I read a little past verse 16, but I love that psalm, and especially how the Lord provides for our needs as we call on Him. He does it "in due season." He does it when He knows it's the right time. And for sure, we have seen that be true over these last several weeks—particularly during the month of May.
Now, going into those final days of May (the 31st was a Wednesday), in the Memorial Day weekend leading up to the end of our fiscal year. Over the course of three or four days that weekend (that long holiday weekend), we experienced some fraudulent credit card transactions on our website—thousands of them that were made by a robo-caller. It resulted in our having to shut down that part of our website. So for part of that weekend, people couldn't even make donations, if they wanted to, through the website!
When I saw that happening, I was pretty discouraged—honestly—and a little bit anxious (okay, a lot anxious!), because I thought, If people can't give, how is this need going to be met?
But, long-story-short, as we came to May 31, that Wednesday—at four o'clock that afternoon—we still needed about $43,000 to get to the total (which, in and of itself, was amazing, that we were that far along!). At midnight that night, when we had to close our financial books, we had just about exactly the $830,000 that we had been praying and asking the Lord for! And since then, we've received a number of other significant gifts that were already en route because people wanted to participate in that fiscal year-end need. So the Lord has given above and beyond what we needed!
And I tell you, there was not "fat" in that budget that we were sharing. That was what we need to be able to get into these summer months—where giving is lower—and then to be able to move into the next fiscal year.
Now, there are several things about this whole adventure that were particularly encouraging to me. One is that there were just about 7,000 people—friends of this ministry from all around the world—who participated in this challenge.
They gave. They emailed notes of encouragement. They sent gifts—small gifts, large gifts—and every gift is important no matter what the size if it's what God prompts you to give . . . then that's exactly what's needed.
That number, 7,000 gifts in one month of May, is approximately twice the number of donations we've had in any previous May. And the total that was given is far above and beyond any previous fiscal year-end that we have ever experienced! So, it was "due season," and God gave through His people!
Jesus said, "Where your treasure is, there your heart will be also" (Matt. 6:21). One of the things I love about the number of people who participated is that the letters and the emails and the calls we received from people who said, "I want to have a part in this." They demonstrated that their heart is in this message, in this mission, in this ministry of helping to call women to freedom and fullness and fruitfulness in Christ. So I want to say a huge "thank you" to every person who participated. I want to say "thank you" to those who wrote and said, "I want to give, but I can't right now, but I'm praying that the Lord will meet your need." Thank you for that, too!
Those gifts will enable this ministry to continue, and also to begin to say "yes!" to some of the incredible opportunities that are ahead of us around the world, as women are saying, "We want this message in our country and in our language."
Now, as I think about what God did over this month, I just want to share with you a few takeaways that have been encouraging to me, and I think will be to you as well.
First, we've been reminded again that God is a generous God. He's a faithful God, and He's a powerful God. That's true, not only for us as a ministry—and those of us who are in ministry vocationally—that's true for you, as well.
In fact, as I shared a bit of this update on Facebook Live right at the beginning of June, we received a couple of comments that were really sweet to me. One woman said,
This gives me so much hope for situations in my own life—to see how God will be faithful!
And another one said,
This livecast is really touching my heart. As a single mom, I never have enough, and I'm seeing that if one is faithful to God, He will be faithful to His children—including me! 
Well, I hope that encourages you to know that God will be faithful to meet your needs.
Then, I've seen that God's people really are generous! When they know there's a need, they come together and they say, "We want to be a part of that!" My husband Robert and I have been so encouraged as we've prayed together day after day, through this season, to know that God is at work through this ministry, through this message, in the hearts of people around the world. That has infused faith and hope into our hearts as we move forward.
Now, let me play you a message from one of our dear listeners who has such a heart for this message. This is Sarah, a Revive Our Hearts listener, serving with her family as missionaries in Portugal.
Sarah: I started listening to Revive Our Hearts about ten years ago. At the time, I was engaged, and Nancy was teaching a series on the Proverbs 31 woman. It was such practical application to my life as I was preparing for marriage.
Well, fast-forward ten years. My husband and I now have two kids, and we're missionaries in Portugal. And the work here is wonderful as I invest in my family and in the people around me, but it can also be a bit draining.
There are days where I wish I had just the encouragement of a Christian friend to come by my side and to remind me of some of God's truths. I've got to say that many days in a quiet moment, as I'm folding laundry or cooking supper, I will turn on the Revive Our Hearts podcast, and the message will be exactly that.
It will be encouragement, it will sometimes bring conviction, it will remind me of God's truth. Though I've never met Nancy, I feel that through her books and through the podcasts that she has been that friend and encouragement to me—even an ocean away!
From time to time on the program I'll hear about a financial need or hear how we can give toward the ministry. I started thinking (especially during the Titus 2 series) that I was looking forward to each new podcast each day. I was anticipating it as much as I would anticipate the next episode in my favorite TV show! And I thought, How many online services do we have—like Netflix or iTunes—in which people benefit from the enjoyment of a television show or the enjoyment of music, and they gladly pay a fee for that?
And yet, for years, I've benefitted in a much greater way spiritually from the podcasts of Revive Our Hearts—and I had never given anything. I had never paid for it. So I started to almost feel guilty, as though I was mooching off of the ministry. I started talking to God about it, talked to my husband about it, and my husband and I agreed: it was time that we needed to give something toward the ministry. Wouldn't you know, that conversation happened at the very end of April?
Nancy (on a podcast at the beginning of May): For the last six months, donations have been lower than we projected—and that means that, right now, we're facing . . .
Sarah: The first podcast in May, I turned it on and I heard about the dire financial need for the month of May.
Nancy (on podcast): . . . so here at the outset of this month, I'd like to ask if you would pray with us about this important need. 
Sarah: And so, right then and there, I paused the podcast, picked up my phone, and made my first donation. And so, to Nancy and the entire team at Revive Our Hearts, thank you! For years you have invested in me, and it was a privilege for me to finally invest in you!
Nancy: Wow, I love Sarah's heart! She reminds me of what we read in 2 Corinthians 9:7,  "God loves a cheerful giver," and I think Sarah is definitely that! Well, it's been so encouraging over these weeks to hear stories of how God provided so listeners could give.
For example, we heard from a young woman who's serving in a children's ministry in Brazil. She wrote and said,
Revive Our Hearts has been a spiritual encouragement to me, especially this past year-and-a-half that I've been in Brazil. In the states, I had a few women whom I consider to be spiritual mothers, that I could go to and talk to about anything. But, being fairly new here in Brazil, I don't have that now. Revive Our Hearts has been that for me through this transition period.

When I heard about the need for the month of May, I really wanted to be a part of it, but I didn't know how I'd be able to give. Then I heard on the program the testimony of a woman who prayed that the Lord would give her a way to make some extra money so that she could give to ROH. I thought that was so cool!

I thought about that testimony the rest of the day and was hoping that something like that could happen to me—but I didn't think it really would. Then the Lord surprised me! The very next day my mom contacted me and said that the company that I had worked for in high school (four years ago!) had missed one of my paychecks. They caught it and was now giving me the money that I had never received!

It was so crazy to me, and right away I thought, The Lord blessed me in this way in order to give to Revive Our Hearts! I'm excited to give back to a ministry that is having such a big impact on my spiritual growth and that of women, literally, around the world.
Nancy: And thank You, Lord, for providing for this young woman and for all of us, so we can give back to You.
Another sweet sister named Heide lives in Germany. She's part of a regular Skype call for Revive Our Hearts listeners in Europe. These women are fasting and praying together that someday there will be a Revive Our Hearts ministry there in Europe.
Well, Heide heard about the financial needs during the month of May and didn't know how she could give, so she also asked God to provide. Heide has a small business sewing handcrafted items and sells them online.
And after she prayed for God to provide, she sold in one day four table runners that had previously not been selling well . . . and she used those proceeds to support Revive Our Hearts!
We received a number of really special notes and letters and emails from people, sharing how God prompted them to give. One of the most special letters we received during this whole time was a handwritten note from a young man named Severt. He identified himself as being eleven years old. He told such a special story that we decided we wanted to talk to him and his twin sister, Elida, on the phone and have them share with us what prompted them to make this very special gift.
So, Severt and Elida are on the phone with their mom, Christine. Thank you all for having this conversation with me today.
Christine: We're happy to be with you.
Severt and Elida: Yeah!
Nancy: Well, I understand that all of you listen to Revive Our Hearts. Is that correct?
All respond: Yes.
Nancy: How do you listen to it?
Severt: Well, whenever we're going to long appointments, like an hour or two hours away, we like to listen to them in the car while we're driving.
Nancy: So you're listening to the podcast?
Severt: Yeah, Mom has the app on her phone.
Nancy: Are there any particular things we've talked about on Revive Our Hearts that you have really enjoyed listening to, or you're particularly interested in?
Severt: I like listening to the women's testimonies, how it's like someone from Brazil and some from around the world. We also learned on Revive Our Hearts that instead of saying, "God bless you," we say "I love you" whenever we sneeze.
Nancy: You got that from my husband, Robert, didn't you?
Severt: Yes. (laughter)
Nancy: That's we do in our house. Do you sometimes do that in your house now?
Severt: Yes, we always do it now, and I love it so much!
Nancy: Oh, that is fun. Now, do you remember, Severt, when you first heard that we had a special need for the Lord to provide during the month of May?
Severt: Yes.
Nancy: What struck you as you listened to that?
Severt: Well, I love the ministry so much, and I didn't want you guys to cut anything off, so I wanted to get some money together and donate it to Revive Our Hearts.
Nancy: So you put your heads together, and you came up with some really creative ideas! Can you tell me about one of the things you did to raise that money?
Elida: Well, I have a craft table at my dad's office, and I get money for Revive Our Hearts there.
Nancy: So, a craft table . . . what do you do at that?
Elida: I make locker magnets and picture frames and coasters.
Nancy: So you made some of those things, and then, did you sell them so you could have some money to give to Revive Our Hearts? 
Elida: Yes.
Nancy: Wow! I know there were some other ways that you raised money. What was another way?
Severt: Another was, I was working for my grandma to get some money for Revive Our Hearts.
Nancy: So you were helping your grandma out, and she gave you some money for that?
Severt: My other grandma gave me some money to go at Toys 'R Us, but I used that money instead to donate to Revive Our Hearts.
Nancy: So you could have gone and bought some toys with that money, but instead, you decided you wanted to donate to Revive Our Hearts.
Severt: Yes.
Nancy: Are you sorry you don't have the toys?
Severt: Nope!
Nancy: Not at all? And, did I hear that you had, maybe like, some birthday or Christmas money?
Severt: Yes! We have some lifetime savings in our banks, and we just pulled some of that out, too, to give to Revive Our Hearts. Then we counted it up on the last day, and we got $154.
Nancy: $154! I was so amazed when I saw that, and I'm going, "How in the world did this happen!?" But it happened because you wanted to be a part of this, and the Lord gave you some really creative ideas.
I know the Lord gave your mom some creative ideas, too. Do you remember anything she did so she could be able to give to that need?
Severt: She was speaking at church for the women's breakfast, I believe, and she got some money for that and just decided to donate that to Revive Our Hearts.
Nancy: So you saw her example, and this was a whole family thing, it sounds like.
Severt: Yes.
Nancy: And now we've shared that the entire need has been met. The Lord provided even more than what was needed for the month of May, which will help us a lot in the months ahead. How does that make you feel?
Severt: I'm glad they got their goal, so I'm happy they don't have to cut anything off, because I really like the Revive Our Hearts program too. So I feel good about it.
Nancy: Well, we are so grateful. I want you to know that. In fact, when I shared your story on Facebook a week or so ago . . . You probably saw that.
Severt: Yes, me and my family were watching it.
Nancy: You were watching that live. I don't know if you saw some of the comments, but one person wrote in, "I want to hug those twins!" Did you see it? 
Severt: Yep, I saw that!
Nancy: I want to close by sharing with you a passage of Scripture that's been on my heart in relation to this whole wonderful season of generosity: 2 Corinthians chapter 9, the last paragraph, says that:
He who supplies seed to the sower and bread for food will supply and multiply your seed for sowing and increase the harvest of your righteousness.
Now, that verse is just saying that, if you want to give—if you want to be generous—God will provide for you to be able to be generous. Then He will multiply the fruit of your giving, and He will meet your needs as well. Verse 11 goes on to say,
You will be enriched in every way to be generous in every way, which through us will produce thanksgiving to God. 
And that surely has been the case! There's a lot of thanksgiving going up to the Lord here at Revive Our Hearts, in this season.
For the ministry of this service is not only supplying the needs of the saints but is also overflowing in many thanksgivings to God. By their approval of this service, they will glorify God because of your submission that comes from your confession of the gospel of Christ, and the generosity of your contribution for them and for all others while they long for you and pray for you, because of the surpassing grace of God upon you (vv. 10–14). 
And it has been a grace of God, through so many of His people, that has enabled this ministry to receive that grace and then to give out that grace to others in the days and months ahead, through the continuation of our different outreaches around the world.
And now as we're in the month of June—it's a new month, it's a new budget—we're so thrilled for how God enabled us to catch up and to get in an even, stable place financially. But, we have to trust the Lord every day, every week, every month throughout the year for His continued provision. We don't have excess. We're still needing to trust the Lord for today's provision.
I've said to our team, "We never want to be in a place as a ministry—or individually—where we don't have to trust the Lord for our daily bread . . . where we don't have to ask Him, "Lord, please provide our daily bread." And that's a good place to be. That's where we want to be, moving forward.
So, thank you—not only for your participation over this past season—but in the days ahead, as the Lord prompts. We're going to continue using whatever the Lord provides to call women to freedom and fullness and fruitfulness in Christ.
And then, I love that final verse of 2 Corinthians 9. When it's all said and done, "Thanks be to God for his inexpressible gift!" (v. 15). The greatest gift that we've all received—it's inexpressible, indescribable—is the gift of His grace, the gift of His Son, the gift of a Savior, the gift of the gospel.
That's the gift we have received; that's the gift for which we give thanks, and that's the gift that enables us, together, to continue being generous and sharing that message and that grace around the world!
Thank you so much for your participation, for your prayers, for your encouragement. May Christ continue to be magnified and exalted a we share this good news with others!
Leslie: Tomorrow, Nancy will begin a series on using your words wisely. Please join us here for Revive Our Hearts. To close our time in prayer, here's Nancy. 
Nancy: And so, Lord, we do give thanks for Your amazing grace, for your great generosity, and for the generosity and grace of Your people. Thank You for everyone who has prayed, everyone who has given. Thank You for how You've met these current needs.
And now, we trust that You will meet the needs for the rest of this month, for next month, and the next—for the days ahead. I pray for every listener right now who needs Your gift, who needs Your generosity, who needs provision of something in their life, in their family, in their finances, in their health. 
I pray that this report from Revive Our Hearts will be an encouragement to them to look to You, to trust You, and to find You faithful in the days ahead. We pray with thanksgiving, in Jesus' name, amen.
Revive Our Hearts with Nancy DeMoss Wolgemuth wants to help you display the beauty of generosity. It's an outreach of Life Action Ministries.
All Scripture is taken from the ESV.
*Offers available only during the broadcast of the podcast season.
Support the Revive Our Hearts Podcast
Darkness. Fear. Uncertainty. Women around the world wake up hopeless every day. You can play a part in bringing them freedom, fullness, and fruitfulness instead. Your gift ensures that we can continue to spread gospel hope! Donate now.
Donate Now