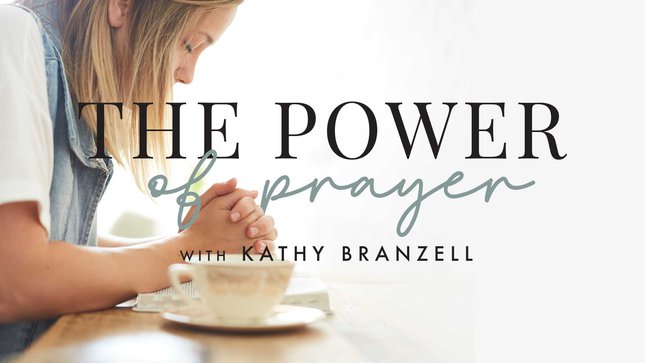 — Audio Player —
A Beautiful Way to Love
Dannah Gresh: Do you need an idea of how to express your love to others? Here's Kathy Branzell.
Kathy Branzell: Prayer really is a beautiful way to start loving people! Jesus taught us to pray; He commanded us to love. He said, "This will be your character; this is how people will know you're My follower, that you love one another as I have loved you." 
Well, how has Jesus loved me? He was praying for me early in the day and late at night. That is a wonderful way to love one another!
Dannah: This is the Revive Our Hearts podcast with Nancy DeMoss Wolgemuth, author of A Place of Quiet Rest, for May 3, 2021. I'm Dannah Gresh.
Have you ever spent time with someone who just really seems to know how to pray, and you find yourself feeling deflated, like, "My prayer life is not like her prayer life!"? Well, guess what? The disciples felt that way.
In Luke 11:1, we find that Jesus was praying in a certain place, and when He finished, one of His disciples said to Him, "Lord, teach us to pray!" If you've ever felt like that, you are in the right place today, because we have a friend who is going to help us learn how to pray.
Now, she's not Jesus, but she sure loves Him a whole lot. She is going to guide us through some things that I think will ignite your heart. Nancy, I am so excited about today's Revive Our Hearts program!
Nancy DeMoss Wolgemuth: You've been texting me about that since last night: "I'm so excited about this!" You said, "Can you tell I'm excited!?" And I can tell you're excited. Tell us why.
Dannah: Well, because, here's the thing: I met today's guest back in February, at a time when I was a little frustrated with my prayer life, honestly. Do you ever get frustrated with your prayer life? Does Nancy DeMoss Wolgemuth ever get frustrated with her prayer life?
Nancy: I would say most of my life I have been frustrated with my prayer life!
Dannah: So it's not . . .
Nancy: It's not just you.
Dannah: I'm okay? Well, I was having that season where I was like, "Lord, there must be more! Lord, awaken my heart. Lord, revive my prayer life!" And then I met this sweet woman, and He used her to revive my prayer life!
I have spent the last twenty-four hours praying that that's exactly what God does with every woman listening to our voices right now.
Nancy: Kathy was a guest back in February on our Grounded program, produced by Revive Our Hearts, which is where you and I both met her. I believe that was the impact of that brief interview. We'll have a little bit longer conversation with her today and tomorrow.
So many people were writing in the comments and just expressing that God was using this woman to give them a hunger for more of Jesus and for a more intimate relationship with Him. That's what we want to do for each other, and that's what we want this conversation to do for our listeners today.
Dannah: Yes, this program is an invitation for you to slow down and remember that God hears your prayers . . . but you've got to utter them! Our guest today is Kathy Branzell. She's the President of the National Day of Prayer Task Force.
She's been part of that ministry for twenty years; she started as a volunteer. She's married to her high school sweetheart, Russ. They have some grown children, and she's an author! We might tell you a little more about her books later, but first, welcome to the studio, Kathy!
Kathy: Oh, thank you! I'm so excited to be with you all, too. Thanks for this invitation. 
Nancy: And on this National Day of Prayer Week (the National Day of Prayer being this Thursday, May 6), what an honor to have you with us to talk about prayer and about our personal prayer life, but also about praying for our nation. We're going to hit a lot of those topics over the next couple of days.
Kathy: Perfect, personal prayer and corporate prayer.
Dannah: Okay, can I ask a completely rude question?
Kathy: Of course.
Dannah: I'll ask for forgiveness; you can forgive me later. My first question is this. I've been following the National Day of Prayer for many years. I was a volunteer way back in the nineties on a small scale, and I loved it.
Kathy: Thank you.
Dannah: I've been eyeing and following the leadership of National Day of Prayer for a long time. I know Nancy has been dear friends with some of the leaders of this beautiful organization. 
They contain fairly big household names, women like: Anne Graham Lotz, Vonette Bright (very precious friend and mentor of Nancy), Shirley Dobson. .So it made me wonder, "Wow! God picked a woman whose last name we did not know." Tell me about that.
Kathy: It's so funny that you bring this up, because I just said this to a friend out in the hall as we were coming into the studio. I said, "So many people bring up those beautiful names, and I was mentored by all three of those beautiful, incredible women."
But people say, "Wow, those are some big shoes to fill!"
And my answer is, "A closetful of shoes!"
It was actually part of my journey to get to be friends, and to be mentored by, especially Vonette and Bill (even while he was still with us). I had no idea that God was preparing me for this.
I just enjoyed being the person in the background. Shirley Dobson calls me her "Nancy Drew." If she wanted to get things done, if she needed some research, if she wanted to get to the bottom of something, I was her girl . . . her friend.
And so, when the Board of Directors called me and asked me if I would be willing to pray about taking this position, my answer to them was, "Huh! Nobody knows my name! Go back and pray, guys. You have the wrong girl!"
They came to me three different times and said, "Kathy, our board has prayed about it. We weren't talking to each other. We just said, 'If God gives you a name, call the Board Chair,' and everyone has come up with your name except you!"
And finally, my dear friend Dick Eastman said, "Kathy, have you prayed about this?" He really rebuked me in that moment of thinking in the flesh, thinking in the earthly. I went and prayed about it, and for three days I fasted. On the third day I just heard God say over me . . .
I was face down in the carpet, carpet fiber going up the nose, just crying out to God. And I heard God say, "I know your name." That was such an intimate moment. So I just said, "Lord, I don't care if anyone ever knows my name as long as they know Yours!" And so, I came and said yes to this, and I'm so grateful, so grateful!
Nancy: This brings back memories of when I was challenged to begin a daily program—which became Revive Our Hearts—but following in the footsteps of Elisabeth Elliot and Gateway To Joy. I just thought, "These are shoes that I could not possibly fill!"
Kathy: Right.
Nancy: "I don't have anything of her gifts, skills, background, experiences." People so loved that woman—as did I—but to know that God gifts those whom He calls to do what He calls them to do. And that God takes and uses our weakness, our inability, our inadequacy. I felt from the very first day of Revive Our Hearts—and now twenty years later to this day—I still feel in awe of this calling. And I am desperately in need, every day, of His grace to do this ministry. 
So my qualification for Revive Our Hearts, your qualification for the National Day of Prayer, Dannah, as you lead the True Girl ministry, and whatever your calling is as you're listening to this conversation; our supreme qualification is that we don't have any qualifications except that we know we need Jesus!
Kathy: Absolutely! He wants our availability. That's the bottom line. It's the 1 Corinthians 1:27 moment; He uses the weak and the foolish. That's not a false humility. It's not an, "I'm joking around here" moment. For everyone listening, I want you to just stop and listen. This is for you; don't think it's for some other person listening. This is for you!
You came into being, God knit you together in your mother's womb in His image for His purpose. You have kingdom purpose! And you, hopefully, have learned a song when you were really little. If not, you've heard it since then: "Jesus loves me this I know." That song is so full of theology, if we only unpacked it.
But you remember, it says, "They are weak, but He is strong." It's in that weakness that He goes, "Great! Now, here's an opportunity for My glory." That's what's so fun about what we get to do every day, things we never imagined we would get to. That's true for everybody listening.
He is beyond anything we could ever think or imagine, so just walk with Him, trust Him! 
Nancy: Oh, amen!
Dannah: I love that!
Nancy: Kathy, when that board reached out to you and said, "We think God wants you to be the person to take up the mantle to lead the National Day of Prayer efforts nationally." They must have seen or known something in you more than administrative skill, or you're a hard worker, or you can get things done, or you're a networker.
I think they must have seen a heart for prayer, because that's what that National Day of Prayer is about. Tell us a little bit about your journey in prayer. Was this something that was part of your life from childhood? Did you have any models in prayer that inspired you? How did your journey come about in the area of prayer?
Kathy: Yes, I had a love for prayer, but I had a love for pray-ers, and that's what's been beautiful. As a child we learn to pray, but I was always one that wanted to unpack that: "Well, what does that mean? Well, what is that word?"
As I became curious as a learner, then I started going to people and looking for the Jesus in them. What was it that I could learn in the way that they lived and then find out about their prayer life?
Nancy: Who was an example?
Kathy: Evelyn Christenson.
Nancy: Oh, yes, of course! Sweet friend! We were just looking out in the hallway here at a framed picture I have (and it sounds like you may have a similar one) that her staff sent me after she went home to be with the Lord in her eighties.
It's a picture of a page out of her Bible, which was the basis for her praying. It's got multiple colors and markers and lines and words. It's a clearly beloved and well-used Bible. She was a woman of the Word and a woman of prayer.
Kathy: Right, and praying the Word. That was big, and there were several things I learned from her and being around people like her. I got to pray with her one day on a National Day of Prayer.
We were sitting in the Cannon building, and she was going to get up and pray at the national observance. I'd only been part of the group for a couple years. I was the new young one in the group, just learning and listening and praying.
I went over to pray for her before she prayed, and immediately she turned the prayer to God. So I'm trying to speak a blessing over her and ask God's provision and wisdom over her and all that was about to flow out of her heart. She turns the vision to God and starts immediately blessing Him and talking about how this day is for Him and this observance is for Him.
Then she turns it to His Word and just grabs hold of His promises and starts just professing, "Lord, You said this and it is so," and that was beautiful.
And so, giants like that, and then people like Wanda Edwards, my second-grade teacher.
Nancy: Tell us about her.
Kathy: She was so fun! We moved from Okinawa, Japan to Abilene, Texas in the middle of my second-grade year. My parents went to Miss Edwards' desk on my first day of school. They said, "Miss Edwards, Kathy's been in Department of Defense schools for kindergarten, first, and second grade, so we're not really sure where she is, but we'll do whatever it takes to catch her up."
"To catch her up." Well, it had never dawned on me as a seven-year-old that I was already behind in life! Right? So my joy was like immediately squelched in this conversation! (Don't have those conversations with your kids standing there!)
I immediately just got so anxious and everything else: "I'm not measuring up. I'm not good enough. I'm not . . ." And every day of that first week, Miss Edwards was so encouraging, so affirming. At the end of the week my parents came in to meet with her.
She said, "Mr. and Mrs. Simms, I'll let you know when we catch up with Kathleen. Department of Defense schools must be pretty good." And just that encouragement that I saw in her . . . Over the years I stayed in touch with her and learned it was Jesus in her that was so kind to me, was so assuring, affirming.
Everything the heavenly Father was pouring into her in prayer, she was pouring into her second-grade classroom and in all the years in-between.
Nancy: Wow, was that a public school?
Kathy: Absolutely. 
Nancy: And the Lord had placed her there, in Abilene, Texas. What an influence! And who knows, the people that we're contacting today in out-of-the-way places and in seemingly chance circumstances, the Holy Spirit is able to move through us to bless and encourage children who grow up to be the task force leader of the National Day of Prayer! Who could have imagined that with a second-grade child? But God knew.
Kathy: That's right, how about that?
Dannah: And you know, Kathy, it's so sweet as I sit here and listen to this conversation, I'm thinking about, "Who are those women in my life who have made me want to pray—like Evelyn Christenson, like your second-grade teacher?" 
I have this little Rolodex running through my head, and I just thought, "Oh, I added Kathy to that list in February of 2021," moments after I met you. Because the first thing that happened when you jumped into the Grounded pre-production room is, "I've been praying for you guys!" And I was so sure it was true!
Kathy: Absolutely!
Dannah: I'm just sitting here thinking, that alone inspired me to want to pray. What would happen if we just showed up in our classroom if we're a second-grade teacher or at the lunch table if we're meeting some friends or whatever it is. And we just said, "I've been praying for you," and it was true! How could God work through that!?
Kathy: Right. So many people call us, so many people grab me in an elevator or in a restaurant and they go, "Teach me to pray. I want to pray; I want to love people, but I just don't even know where to start. I don't know how!"
And prayer really is a beautiful way to start loving people. Jesus taught us to pray. He commanded us to love. He said, "This will be your character; this is how people will know you're My follower, that you love one another as I have loved you." 
Well, how has Jesus loved me? He was praying for me early in the day and late at night. And so, in that, look at your schedule every day. This is why I was praying for you back in February, because you were on my schedule for the next day.
I looked up to see who all I would be with, what names could I find—even the tech people and who all was involved in this production. And I started praying for you by name and whatever Scripture God had laid on my heart that day. That's what I was praying for you.
I had never met you. But that is a wonderful way to love one another and to love people you have never even met.
Dannah: And to be like Jesus!
Nancy: Robert and I have found in the years we have been married just such a joy in stopping and praying with people all along the way. People like those we met through his cancer journey, with people who have come into our home to make repairs, or those serving us at a restaurant, or those at an airport helping with the ride to a hotel, or those at different places along the way.
We have found so many rich opportunities to touch lives by just thanking people for their service, acknowledging them. Robert calls some of these people the "shadow people," because who notices the receptionist who's letting you in the building when you're on your way to a doctor appointment?
But to notice them, to take an interest in them, to thank them sincerely for what they're doing to care for us, and then saying, "Is there any way we could pray for you?" when we have opportunity to do it right there. And we have found so many people grateful; we've never had anybody say, "No, please don't!"
It's been a means. Because if we just think we're going to pray for them later, we may not remember, though we do try at the end of the day to pray for the people we've met during the day. But I love what you did, Kathy, to just pray ahead for your schedule, the people you're going to see, the people you're going to be working with.
In this case, when you first came and were involved in Grounded, you didn't know these people. I assume a lot of days you're scheduled to have meetings with people you know well. And so, people we know well, people we know not at all, what an opportunity to lift them to the throne of grace where they can get mercy and grace to help in their time of need. And prayer is the link that helps to do that!
Dannah: So, Nancy, let me ask you this. I'm thinking, "Pray for the receptionist? Pray for . . ." Maybe I'm the only one, but I get scared when I need to pray for someone. This past year our church gave away free Christmas trees during the pandemic because some people were having a hard time affording them.
I signed up for the prayer tent. I was like, "This is awesome! I'm going to be in the prayer tent where people will come in, and I'll be the spiritual giant of the volunteer base that day." Then I showed up, and no one was in the prayer tent.
I walked up to the head pray-er and she said, "Oh, we don't really use the tent. We just walk up to people and ask, "How can I pray for you today?" My heart fell out of my chest onto the floor. I was terrified!
So, coach us up, because I do think what Nancy is talking about is an important part of our witness. We need believers out there praying for people. How do we overcome the fear, Kathy?
Nancy: And let me say, before Kathy answers that, I don't want to suggest that we pray with every person we meet or pray for them. We don't do that. But we try to connect with them and then be sensitive as the Spirit indicates that there's an open door, an open heart. We're alert to opportunities to pray with and for people.
But go ahead, Kathy, deal with the fear issue here, because we all face that.
Kathy: I want to say, too, that sometimes we over-spiritualize prayer. All of a sudden, we start speaking in the King James Version, or we think that we have to pontificate Psalm 103 perfectly.
Be practical! People need prayer in a practical sense.
You may think I'm just awful, but if you have a very loud cell phone conversation around me, I'm listening. If you're going to project that much . . .
Nancy: Sometimes you can't help listening!
Kathy: I'm praying for you whatever you're disclosing on the phone. I'm not judging you, because I have no stones to pick up and throw, but I am praying for you. You can look at someone and just pray, "Lord, I pray that the joy of the Lord is her strength, and the strength of the Lord is her joy, amen!" It's really that simple.
If you see a couple arguing or you see a child acting out . . . We're radars, we're women, we are human radars of the emotions of people around us. And the Holy Spirit prompts, so just pray when there is an opportunity. If someone looks at you in a moment of distress, if you have an open-door conversation, you can say, "I prayed for you. Would you be comfortable if I just prayed a couple of sentences (not a dissertation) over you right now? Could I just bless you?" I've yet to have anyone go, "Oh no, please don't!"
Nancy: Yes. I think the Lord is going to use your words to make a lot of us just more sensitive to opportunities today to pray. And this week, we have an opportunity to pray corporately, as the people of God, with the National Day of Prayer here in the United States.
We have people listening to this program from all around the world, but we're privileged in the United States of America to have a law that indicates that the first Thursday of May. This year it's May 6 is the National Day of Prayer. We may not always have that as a law, but what an opportunity it is for us to enter together into praying for our nation and for our world and for our communities.
We're going to talk more about that tomorrow, but Kathy, just give us a word about what the National Day of Prayer is and give a little "elevator speech" to encourage all of us to get involved in some way this Thursday in the National Day of Prayer.
Kathy: Absolutely! This is actually our 70th anniversary, so that's just a praise and thanksgiving moment right there that we live in a nation where seventy years ago—in 195—President Truman signed a law, passed by Congress, saying that the President must proclaim a day of prayer for the nation.
And so, as we've been talking about prayer, remember. . .when you pray for America, you're not just praying, "God bless America." Pray for Americans, pray for your neighbor and the nation. So that's kind of where we entered the discussion today. 
Nancy: Yes.
Kathy: In 1988, President Reagan amended the law to give us a specific day, because it was so hard to plan, not knowing what day the President might proclaim. So we have this first Thursday in May. 
You can find out on NationalDayOfPrayer.org on our event finder where there is a local event in your area. It's not just the national observance, not just our national broadcast, but we have tens of thousands of events across the nation—coast to coast, north, south, east, and west—for people to gather in unified public prayer for America.
We pray biblically. We do not pray politically. We do not pray critically. We want to bless our nation and to bless God who blesses our nation, and so we're so excited to do this on May 6!
Nancy: If you go to ReviveOurHearts.com, we've provided a link there to the National Day of Prayer so that you can find out what's happening in your area and how you can get involved.
Tomorrow we're going to hear some of what the National Day of Prayer calls "glory stories," about how God is at work through praying people to bring about His kingdom purposes—not only in the United States of America but also in our world!
Dannah: Well, I sure hope this conversation today with Kathy Branzell has jump-started your heart for prayer! I know it has mine. Prayer is an important part of our faith, such an important part! It's our way of walking with the Lord. Every now and then our prayer lives do need to be revived.
At Revive Our Hearts we want to encourage you to grow in your faith, especially in areas like prayer. That's why we bring you programs like this one and biblical teaching and resources to help you experience a life of thriving in Christ!
Nancy: That's right, Dannah. Here's how I think about it: Revive Our Hearts is like providing regular infusions of God's Word for women around the world. And you can help make that possible. The month of May is always an important time here at Revive Our Hearts. That's because the end of May is the end of our fiscal year.
This year we're asking the Lord during this month to meet a need of $750,000. Apart from the month of December each year, the month of May is when we face the greatest budget need. We often say around here that the Lord is our major Donor—with a capital "D"—so we're praying and asking Him for His provision.
I also want you to know that we're a fully listener-supported ministry, and we rely on the Lord to provide through friends like you. Your gift this month will help us to move forward with our many different outreaches to keep impacting women with the hope of the gospel! So I hope you'll consider giving a gift today to help us meet this goal for the month of May.
Dannah: If that's something you'd like to do, we hope you'll visit ReviveOurHearts.com—maybe right now—or call us at 1–800–569–5959 to make your donation today. Now let me ask you: How would you respond to a frightening medical diagnosis? 
Kathy will be back again tomorrow to share about her family's journey through a health crisis and God's healing. Plus, we're going to see how God ignited in her heart a passion for prayer through that pain. Please be back for Revive Our Hearts.
Revive Our Hearts with Nancy DeMoss Wolgemuth encourages you to pray for people as a way to love them. The program is an outreach of Life Action Ministries.
*Offers available only during the broadcast of the podcast season.
Support the Revive Our Hearts Podcast
Darkness. Fear. Uncertainty. Women around the world wake up hopeless every day. You can play a part in bringing them freedom, fullness, and fruitfulness instead. Your gift ensures that we can continue to spread gospel hope! Donate now.
Donate Now