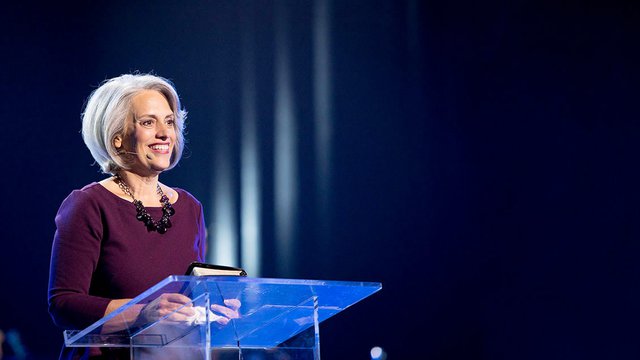 And Then I Had Teenagers: An Interview With Susan Yates, Part 5
Leslie Basham: To hit a bull's-eye, you need more than an experienced archer. Somebody's got to shape those arrows. This is Revive Our Hearts with Nancy DeMoss. It's Friday, April 26.
The Book of Psalms likens our children to arrows. If an arrow's going to hit its target, it has to be released. The job of parents, as we'll hear Nancy and her guest, Susan Yates, discuss is to shape those arrows for flight. If we do this job right, our children stand a better chance of hitting the mark.
Nancy DeMoss: Let me ask you a question that every mom needs to consider. What are your goals for your children? How would you finish this sentence: I'll feel that we've succeeded with our kids if....? (You fill in the blank.)
We've been talking all this week with Susan Yates, who's a delightful woman. She's a mom of five. All five of the children were teenagers at one time, and now Susan has written a book called And Then I Had Teenagers. It's a practical book filled with lots of life illustrations out of her own family, and a lot of wisdom from God's Word for those who are parents of teenagers. Susan, thank you for being here with us all this week on Revive Our Hearts.
Susan Yates: Thanks for having me, Nancy. It's been a real treat to be with you all week.
Nancy DeMoss: One of the passages I think is so important for parents to contemplate is Psalm 127, where the Scripture says that children are a gift from the Lord and that they are like arrows in the hands of a warrior. Arrows are not meant to stay in the quiver. They're supposed to be sent out to do their work. The Scripture says that there comes a time when children need to be released into the world. As their children are growing up, parents need to be thinking, What kind of arrows do we want to produce? What do we want them to be able to accomplish when they go out into the world?
In the last chapter of your book, you've given a list (that I thought was so practical and helpful) of eleven life skills that you wanted to make sure your children had before you sent them out into the world. We're not going to be able to talk at length about all of those life skills, but I want us to refer to several--and then we'll have the whole list on our Web site so that people can see the complete list.
Let's talk through some of those. You said, first of all, that you wanted to make sure that you taught your children good manners.
Susan Yates: That is an important one; and my children didn't like it a bit, Nancy. I have to be honest! I don't think any child likes having to learn manners. I think it's important that we as parents ask ourselves why we need to teach our children good manners. The reason is this: God is the One who's about calling our children to whatever thing that He has prepared for them to walk in.
I want to equip my kids so they will be comfortable in any sector of society in order that they would be able to fulfill God's calling wherever He chooses to place them. In other words, I want my children to be comfortable dining at the White House, eating with kings or ambassadors--to know how to sit at a table, to know how to make their host feel honored, to know how to treat other guests at the dinner table because this has to do with the character trait of respect and honor. We honor those that we eat or meet with. I want my children to be comfortable doing that at the White House.
On the other hand, I want them to be comfortable in the smallest, tiniest hut--where they can make their host feel valued and honored and at ease. So on the one hand, we're teaching our children to dine with kings; and on the other hand we're teaching our children to dine with the poorest of the poor. It's important they be equipped to be comfortable in both situations.
This is just to set the stage for "why manners?"--because your children are going to ask, "Why do I need to know this stuff?" You need to be able to tell them. One of the things we did in order to teach our kids manners growing up was, we would occasionally have pretend dinners at the White House. What we did on these nights, Nancy--first of all, we tried to make it as much fun as we could. We made a joke out of it; but I did get out the proper linens, mats, the china, the silver, and the numerous forks and spoons.
We pretended like we were dining at the White House, and we were dining with the President. We came up with good conversation starters. We discussed which utensil you used to eat what, and what you do if you don't know. Often you'll be in a situation where you don't know--well, you watch the hostess! You wait to eat until she has begun. All of this was just an effort to train our kids to be comfortable in any situation. Then give your children opportunities to serve in the inner city, to serve in other, totally opposite, venues so that they can learn to make their host or hostess feel comfortable.
Nancy DeMoss: My parents would have agreed with you so quickly on this. My Dad used to tell us he wanted to be sure that we were Christian ladies and gentlemen. That was one of his goals for us. That's a life skill, as you've said, that's important. It really is. You mentioned another life skill which is teaching your children to write thank-you notes. Do people still write thank-you notes or is that totally a lost art?
Susan Yates: It shouldn't be a lost art because it's so important. Again, it has to do with the character trait of honor and appreciation. Years ago Ann Landers was asked what two burdens does she see the most in her columns, and she said that one was couples whose spouse was found to be unfaithful in adultery, and the second were pitiful letters from grandparents who never received thank-you notes. These were the two dominant themes, and I thought that was very interesting because one is so easily corrected--the thank-you note one. We need to teach our children from a very young age to write thank-you notes.
When they hit those teen years, we simply post a sign that says that all thank-you notes for Christmas need to be done by 6 o'clock Saturday night, or there are no car privileges or no television privileges. Just set a reasonable date by when they all need to be done, and they will begin to learn the habit. Keep the vision--we're equipping them for life.
One thing that goes right along with this, in terms of manners and thank-you notes, is RSVPs. It's the greatest complaint in today's world--people who don't RSVP. We need to remind our children to RSVP any invitation that has that on it--it needs to be responded to promptly.
Nancy DeMoss: You talk about teaching your children to be a good guest, teaching them to clean up after themselves. Here's one that I think must not be very easy--that's teaching children to do their own laundry. Did you really? You had three boys?
Susan Yates: I have two boys and three girls.
Nancy DeMoss: Do your boys know how to do laundry, too?
Susan Yates: They know how to do laundry; and I learned this, Nancy, in a very humorous way. When our son John was in about the tenth grade, I inadvertently washed one of my red shirts with all of his white t-shirts.
Nancy DeMoss: You did this?
Susan Yates: I did this. It turned my son's undershirts pink, and he was horrified. He came to me; and he said, "Mom, don't you ever touch my laundry again." I looked him; and I said, "What a marvelous idea!"
And therein began the Yates' tradition that when you reach the tenth grade, you begin to do all of your own laundry. I simply got a different colored laundry basket for each child and showed them how not to mix colors, how not to shrink, how to do their own laundry. And they began to do it. Yes, it hardly ever made it to their dresser out of their basket. It stayed rumpled in their basket until they had to iron it--but they learned the principle of doing their own laundry.
This is important because the last thing your high school senior needs when he goes off to college is to struggle with how to do his wash in college. I recommend to parents that by the time your children reach the tenth grade, have them be doing their own laundry. It's a life skill that will enable them to walk into other more important decisions with a greater sense of ease.
Nancy DeMoss: And you give several other practical life skills. Again, you're talking about how to prepare your children to be released into adulthood, teaching them to remember birthdays, giving them basic medical knowledge, teaching them to manage their own finances. I love the way you expand these in such a practical way.
Let me ask, what were you praying and asking God to do in their hearts as you sent them out into the world?
Susan Yates: I believe, Nancy, it just goes back to the great commandments--to love the Lord their God with all their heart, mind and soul, and their neighbor as themself. My greatest desire for my kids is that they love and follow Jesus Christ with all of their heart; and then that they love their neighbor as themselves--but also, that they be committed to being difference-makers in the world today.
Along the way, you set the stage for this, as you begin to pray as a family. One of the things we would do once a year is share--each of us individually share our needs and goals for the coming year. We did this together as a family as our kids hit the teen years. We would always encourage them--"What two people are you praying for to come to Christ this year?" "Who are two people in your network of friends that you might pray for?" So we're always praying for each others' influence in whatever sphere God has called us to walk in that particular year.
I think, first is their commitment to Christ. And, secondly is their commitment to their families. Thirdly is their commitment to the Body of Christ. We can't walk alone; we need one another. And fourthly is their commitment to the work Christ. Wherever God calls them to be, being salt and light in the world.
Leslie Basham: Nancy DeMoss will return in a moment. Let me remind you on this last day of our series And Then I Had Teenagers about some resources that we think you'll find helpful. Our guest this week has been Susan Yates. We hope you've enjoyed her practical insights. All of what she's shared and more can be found in her book And Then I Had Teenagers. We have it available in our resource center for a donation of $13. Log on to our Web site at ReviveOurHearts.com or call 1-800-569-5959 to order.
While you're at our Web site be sure to download the list of life skills that Nancy and Susan discussed on today's program.
We'd love to hear how God is using the ministry of Revive Our Hearts in your life and family. Write to us at Revive Our Hearts. Would you also consider including a financial contribution when you write? A gift of any size helps. Thank you.
We hope you can be back on Monday when Nancy exposes lies women believe about sin. Here's Nancy with Susan Yates.
Nancy DeMoss: Susan, you've been such an encouragement to us this week by sharing with us about how to be a mom of teenagers. I'd like to ask, as we close this week, would you just lead us in praying for moms who are raising teenagers right now--and maybe struggling, maybe discouraged--and ask God to encourage and strengthen their hearts and give them wisdom in this part of the journey?
Susan Yates: I'd love to, Nancy. Dear Father, You know how hard it is to be a parent; and we are grateful that You understand and that You love us. Father, we struggle with so many things. We struggle with our own failures. We look at the things we should have done differently. We look at that child that's driving us crazy, that child that is hurting, that child that we don't know how to help.
And yet, Father, I need to look at You. It's so easy to get my eyes on the situation and try to be the one that fixes it. I can't fix it. So, Father, today I come to You. I thank You that You love my child even more than I do, that You know the plans You have for this child. Father, I pray You would be at work in a mighty way in my child's life. Father, I ask You to increase my faith, that I might trust You. Father, I pray that You would teach me a greater depth of Your love as I watch You care for my child. We pray all these things in Jesus' Name. Amen. 
Revive Our Hearts with Nancy DeMoss is a ministry partnership of Life Action Ministries.
*Offers available only during the broadcast of the podcast season.
Support the Revive Our Hearts Podcast
Darkness. Fear. Uncertainty. Women around the world wake up hopeless every day. You can play a part in bringing them freedom, fullness, and fruitfulness instead. Your gift ensures that we can continue to spread gospel hope! Donate now.
Donate Now