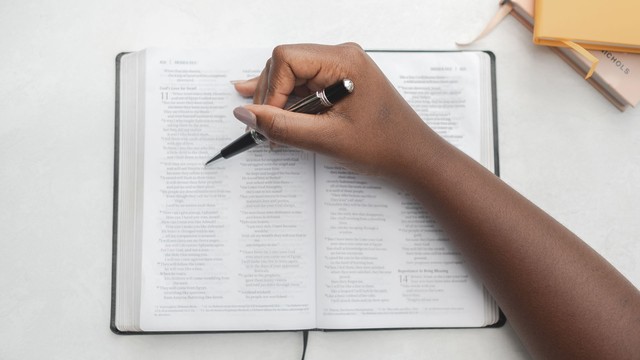 We Are All Teachers
Laura Booz: I guess you could say that I started teaching Sunday school when I was just a kid. My parents hung a blackboard in my bedroom. They gave me a box of white chalk, an eraser, and a book of Bible stories. I'd close my bedroom door, arrange my dolls in a semi-circle around my feet, and I sat in a little chair. One day's class began with the song "This Is My Father's World." Then I read the poem "All Things Bright and Beautiful."
At that point I could tell the children needed a snack, so we had a snack—a real snack. And while we munched, I prepared to teach the Bible story. I tucked pieces of notebook paper in their hands so they could take notes. I couldn't wait to begin. 
With a cookie still in my hand, I headed towards the blackboard and picked up a …
Laura Booz: I guess you could say that I started teaching Sunday school when I was just a kid. My parents hung a blackboard in my bedroom. They gave me a box of white chalk, an eraser, and a book of Bible stories. I'd close my bedroom door, arrange my dolls in a semi-circle around my feet, and I sat in a little chair. One day's class began with the song "This Is My Father's World." Then I read the poem "All Things Bright and Beautiful."
At that point I could tell the children needed a snack, so we had a snack—a real snack. And while we munched, I prepared to teach the Bible story. I tucked pieces of notebook paper in their hands so they could take notes. I couldn't wait to begin. 
With a cookie still in my hand, I headed towards the blackboard and picked up a piece of chalk. I looked back at my dolls just to make sure they were paying attention. This was going to be a very important lesson, one I hoped would stick with them for the rest of their lives. Then with all of the conviction in the world, I turned to the chalkboard, popped the chalk in my mouth, and began writing the name of Jesus with my cookie. You can imagine my surprise when the cookie crumbled in my hand and the flavorless chalk dissolved on my tongue. 
Hi there. You're listening to Expect Something Beautiful with Laura Booz. Your expectations really matter, and today's story illustrates that even if you mess up along the way, you can expect to be a teacher.
Now, of course some people are professional teachers; some people have the spiritual gift of teaching. I know James 3 says, "Not many of you should become teachers, my brothers, for you know that we who teach will be judged with greater strictness" (James 3:1). Nonetheless, we are all called to be teaching throughout our lives, even when we accidentally eat the chalk and write with our cookie. 
Here's what I mean: teaching is God's good plan for the Church to grow. 
Moses had gathered the nation of Israel together, and he was recounting how God had freed them from slavery in Egypt and how He made His covenant with them. He went through the ten Commandments. And right here in Deuteronomy 6, he is teaching the people how they will move through time to their land flowing with milk and honey. 
I am going to read some of the verses to you. I want you to listen for the words "you" and "your." Also listen for the instruction—what are we to be doing in response to God's covenantal love?
I'll start in verse 3: 
Hear therefore, O Israel, and be careful to do them, that it may go well with you, and that you may multiply greatly, as the LORD, the God of your fathers, has promised you, in a land flowing with milk and honey.

Hear, O Israel: The LORD our God, the Lord is one. You shall love the LORD your God with all your heart and with all your soul and with all your might. And these words that I command you today shall be on your heart.You shall teach them diligently to your children, and shall talk of them when you sit in your house, and when you walk by the way, and when you lie down, and when you rise. You shall bind them as a sign on your hand, and they shall be as frontlets between your eyes. You shall write them on the doorposts of your house and on your gates. (vv. 3–9 emphasis added)
Did you hear God's appeal to each individual, to you? And also, did you hear the action words? 
We are to hear God's Word. 
Do God's Word. 
Love God's Word. 
Teach God's Word. 
How will people keep covenant with God over time? By teaching one another His Word. How will future generations know God and worship Him? By learning from those who have gone on before.
Other aspects of daily life, like how to make soap, or how to make an arrowhead, may be lost over time. But if people are faithful to teach about God, we will never ever lose access to the truth. 
God's commandments will be the source of blessing all the days of our lives, and God's people will multiply greatly. I love this vision of one generation walking with God and equipping the next generation to do the same. I wish I could say I've got it down, but more days than not, I feel like I don't know my right hand from my left hand. If you can relate, take heart, because Jesus followed the Deuteronomy 6 vision to the letter, and He did it perfectly. 
First, remember how His teaching flowed from His love for His heavenly Father. I mean, He said He never did anything unless His Father told Him to. We see Him thanking His Father, praying to His Father, pleasing His Father, worshiping His Father. He loved His Father with His whole heart, and soul, and might. 
And then we see Him teach God's law, love, and promises in His House. As a twelve-year-old boy, Jesus couldn't wait to start teaching in the temple. And when Mary and Joseph found Him, He said why are you surprised to find Me here? Did you not know that I would be in My Father's house? 
He taught in other people's homes too: in Zacchaeus' house, Simon the leper, Mary and Martha's, Peter's house, Jairus' house, when He gathered His disciples together for the Last Supper in the upper room, and of course He taught when He walked by the narrow way. We see Him teaching His disciples when they go up mountains and down mountains. When they get into boats and out of boats. When they're heading into the city and returning from the city, in the wilderness, in wheat fields, walking to the temple along the roadside, Jesus is always teaching His disciples as they go from one place to another. 
And He would teach when He would lay down. I am thinking specifically of the story when He laid down to sleep in the stern of the boat, teaching His disciples that He is the God of Creation, that He is the God of the storm, and He is the Prince of Peace. 
And wow, did He ever teach when He laid His life down on the cross. He taught of God's justice, and mercy, and great love for His people. Jesus taught when He rose up, when He literally rose up from the grave, He taught us of God's power. He taught us of the authority that had been given to Him. And He taught us of our hope to live with Him forever in eternity.
Jesus taught us through the signs on His hands, and on His head. I think of the nails that pierced His hands and those scars that were the evidence of His suffering and His death on our behalf. I think of the crown of thorns that was placed on His head. Those signs teach us of His great love. 
And finally, Jesus taught us on the doorposts of His house and on His gates. In John 10:9 He said, "I am the door. If anyone enters by me, he will be saved and will go in and out and find pasture."
How perfectly Jesus modeled Deuteronomy 6 for us, and for those moments when we as teachers, parents, and mentors fall short. He fulfilled Deuteronomy 6 for us too. 
After Jesus rose from the grave, He gathered His disciples around Him one more time, before He ascended into heaven. As the disciples listened to Him, I wonder if they saw similarities to the day when Moses had gathered God's people together so many years ago.
Matthew 28 recounts, 
Jesus came and said to them, "All authority in heaven and on earth has been given to me. Go therefore and make disciples of all nations, baptizing them in the name of the Father and of the Son and of the Holy Spirit, teaching them to observe all that I have commanded you. And behold, I am with you always, to the end of the age." (Matt. 28:18–20)
Just like in Deuteronomy 6, we hear the clear command to teach, but now we teach with hearts and minds full of the gospel story, full of grace, full of good news. While we may mess up and feel foolish, while we may have a lot to learn, we don't stop teaching others about Jesus or what Jesus taught us. Because as His disciples, we're only student teachers really, following the direction and vision and words of our Teacher, Jesus Himself, who so kindly works through our humble efforts and promises to be with us always.
You know you can't teach others without being filled up with the truth yourself. I love to share truth from the Bible on my blog LauraBooz.com. One way I learn the Bible so I can pass the truth along to others is by listening to the podcast, Revive Our Hearts with Nancy DeMoss Wolgemuth. I hope you'll listen for yourself by visiting ReviveOurHearts.com.
Expect Something Beautiful is a production of Revive Our Hearts calling women to freedom, fullness, and fruitfulness in Christ. 
*Offers available only during the broadcast of the podcast season.