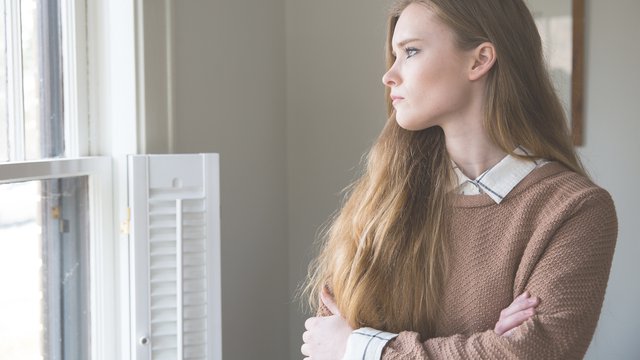 — Audio Player —
Unfulfilled Longing
Laura Booz: You know, it probably started out very much like a Hallmark movie, with snow falling outside, and I was in the back bedroom with wrapping paper and scissors and tape, and a stack of presents for my new husband. I had gotten him a sweater, a new book, and a new journal. I was a newlywed at the time, so I didn't quite understand yet those were gifts that I would have liked. Over the years I've had to learn exactly the things that Ryan likes to open up on Christmas morning.
But there was one gift that I knew he would love. I had a little cardboard box, and I planned to put something special inside on Christmas morning. I would wrap it up and put a bow on the top. You see, we had been praying and trying to have a baby for about five months now. I just thought, Oh if it would just happen at Christmas time, it would be the best gift of all. 
And so, on Christmas Eve, I took a pregnancy test . . . but it was negative. So, there would be no special gift for Christmas Eve night. But then, I was sure by Christmas morning the test would turn positive, and I could tell Ryan that we were pregnant and that God had given us a baby.
So, I woke up when it was still dark outside and snuck to the bathroom and took a pregnancy test . . . but it was negative. There would be no special Christmas morning present. But I still had a couple of tests on hand. I thought, Well, I'll take one this afternoon, and I'll take one this evening. And maybe over the weekend I can still come through with a really special Christmas present. 
But you know, it was just one negative test after another. All I remember from that Christmas is that feeling of longing and unmet expectation. Little did I know at the time that we would have many more negative pregnancy tests, and I would have to return to the truths of Christmastime over and over again. 
You see, on that very Christmas when I was longing for a baby, to tell you the truth I felt like that's all I needed. God was showing me that I don't need a baby. I don't need a baby to be valuable, to be His precious treasure, to be saved for all eternity, or to do good work in the world. 
Well, I say that but the point is, I do need a baby, just a different baby. I need the Baby who was born in a manger. I need the Baby who was promised to another mother, Mary. See, she too had longed for the Messiah. She had looked for His arrival. She too must have been going about her daily work and wondering, Is it now, Lord? Is it now that You will send the Messiah and save us from our sin and rescue Your people?
And the angel said to her, "Do not be afraid, Mary, for you have found favor with God. And behold, you will conceive in your womb and bear a son, and you shall call his name Jesus. He will be great and will be called the Son of the Most High. And the Lord God will give to him the throne of his father David, and he will reign over the house of Jacob forever, and of his kingdom there will be no end." (Luke 1:30–33)
And we know by the end of their conversation, Mary said "Behold, I am the servant of the Lord; let it be to me according to your word." (v. 38) And then she got up, and she hurried to her cousin Elizabeth's house. 
And it's really amazing, because when Elizabeth hears Mary's greeting, the baby in Elizabeth's womb leaps for joy. 
And Elizabeth [herself] is filled with the Holy Spirit, and she explains with a loud cry, "Blessed are you among women, and blessed is the fruit of your womb! And why is this granted to me that the mother of my Lord should come to me? For behold, when the sound of your greeting came to my ears, the baby in my womb leaped for joy. And blessed is she who believed that there would bea fulfillment of what was spoken to her from the Lord." (vv. 41–45)
In Elizabeth's response to Mary, I see something so much more than a celebration of onesies and bottles. Instead, I hear in Elizabeth's words a celebration of trust in God, of ironclad trust in God. That Mary would hear the Word of God and believe it. 
And of course, then Mary shares her song of praise to the Lord. We call it The Magnificat. She says, "My soul magnifies the Lord, and my spirit rejoices in God my Savior" (v. 47). Why? Not because she would be just be snuggling her own little baby, but for a much grander reason. She says, 
For behold, from now on all generations will call me blessed;
   for he who is mighty has done great things for me,
   and holy is his name.
And his mercy is for those who fear him
   from generation to generation. He has shown strength with his arm;
he has scattered the proud in the thoughts of their hearts;
   he has brought down the mighty from their thrones
and exalted those of humble estate;
   he has filled the hungry with good things,
   and the rich he has sent away empty.
He has helped his servant Israel,
   in remembrance of his mercy,
as he spoke to our fathers,
   to Abraham and to his offspring forever. (Luke 1:46–55)
If Mary had looked at her present circumstances, she would have collapsed in fear, but she looks at God, and remembers His acts of deliverance. Mary sees herself on a timeline of people, some proud and mighty, others humble and hungry, but all in God's sovereign hand. She thinks about the generations of people who have been waiting for the Messiah to come, and about the future generations like you and me, who would be blessed by His coming. 
It's interesting that she sees herself in the context of history, from God's covenant with Abraham and into the future where you and I sit, needing God's salvation in twenty-first century. When you and I wake up on Christmas morning with unfulfilled longings, we too can remember God's acts of deliverance. We're not Mary, but we too are on the timeline of history, preceded by billions of people and perhaps preceding billions more. People in all manner of circumstances, cultures, customs, and languages, under God's watchful eye, in His powerful hand, and part of the story of redemption. 
Can you see yourself there? Can you see yourself, perhaps with your unfulfilled longing? With your negative pregnancy test in hand? With your delayed adoption papers? With a text message that he broke up with you? With the phone call update that things just aren't going well? With the chronic illness you've been wanting God to heal? With the prodigal child you wish would knock on the door? With the husband who seems so cold hearted? With the silence of an apartment that just makes you feel so lonely? Can you see God there too though, thoroughly invested in your moment, clothed in majesty, kindness, and power for you?
Your place in history emanates with the presence of Jesus, the long-awaited Messiah, the baby given to you. He who bound Himself to His people thousands of years ago, has kept His promise. Oh, that you and I would develop Mary's God-centered mindset, as we travel this road with many unmet longings, but with every met need. 
Enduring months and months of infertility was not easy, and I'm not going to pretend it was. The Christmas songs, and Christmas tree and presents, and family gathered all around, didn't make the ache of infertility any less devastating. The beautiful fulfilled promise of Jesus coming to earth as a baby to save and rescue me from my sin, and to gain for me an eternity with God, that didn't make me long for a baby any less. 
But what it did do was give me a friend who sticks closer than a brother. A friend who could be there every time I took a negative test. A friend to whom I could cry and call out for help. A friend would walk with me, every day and every night through the disappointments of infertility. And a friend who I knew, in the moment, if it was His good will for my life would grant my request in a heartbeat. But until then I would trust Him, and my soul would magnify Him, even in the tears . . . even in the waiting. 
If you don't unwrap the gift you've been longing to receive this Christmas, I hope you remember that the Savior born is there for you in the disappointment, and in the longing, and in the waiting. 
The speakers, writers, and the staff at Revive Our Hearts would love to support you during this time. To support you with prayer and so many good resources at ReviveOurHearts.com. You can visit the website and search the topic where you need encouragement and strength and good cheer. I hope you will find a podcast episode or an article or a resource that speaks directly to your heart, and that God uses to strengthen you this Christmas. 
And if one of your unmet longings is a baby, I write about walking that hard road in my new book called, Expect Something Beautiful: Finding God's Good Gifts in Motherhood. I hope that you read it, and I hope that something in there warms your heart and gives you courage to keep trusting Jesus. 
Expect Something Beautiful is a production of Revive Our Hearts, calling women to freedom, fullness, and fruitfulness in Christ. 
All Scripture is taken from the ESV.
*Offers available only during the broadcast of the podcast season.
Support the Expect Something Beautiful Podcast
Darkness. Fear. Uncertainty. Women around the world wake up hopeless every day. You can play a part in bringing them freedom, fullness, and fruitfulness instead. Your gift ensures that we can continue to spread gospel hope! Donate now.
Donate Now